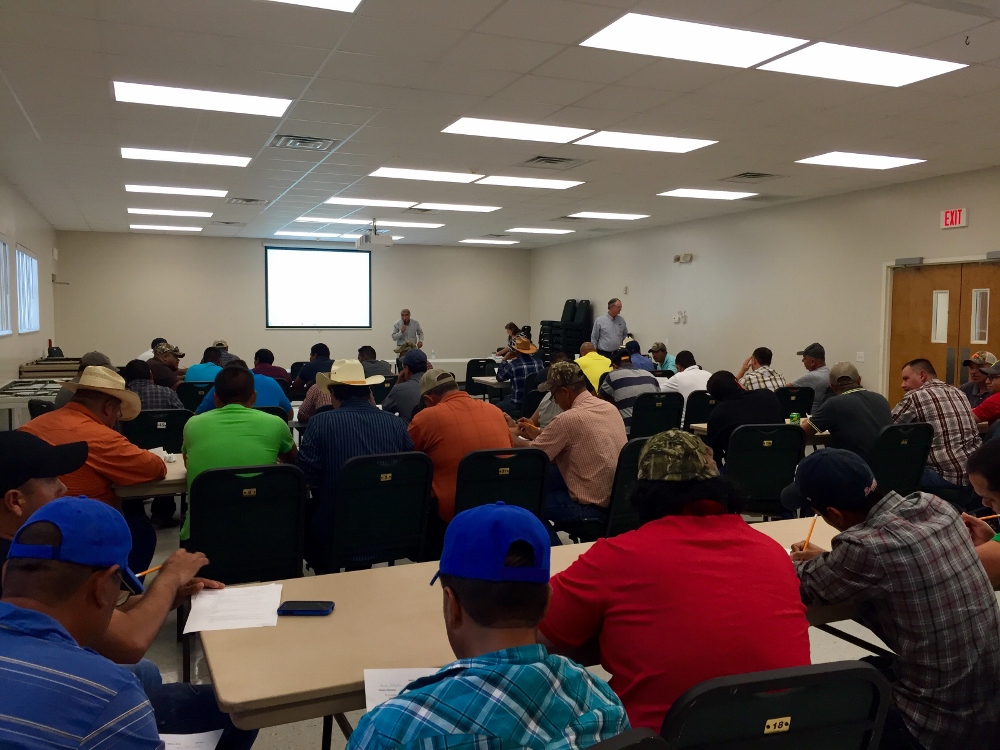 People attend a full wages and hours class, part of the Farm Labor Supervisor Training Program (Sharon Zavala)
Immokalee, Florida — Notes from the Field are reports from young women volunteering in ministries of Catholic sisters. The project began in the summer of 2015 when, working with the Catholic Volunteer Network, we enlisted four young women working in Honduras, Thailand, Ethiopia and the United States to blog about their experiences. The fall series presents two more women, both volunteering with sisters' ministries in the United States.
______
Humility of Mary volunteers are required to work 40 hours per week. I spend afternoons at my main service site, the Guadalupe After-school Program.
I had the choice of my morning site. After visiting four sites, I decided I would work at the Coalition of Immokalee Workers. The coalition's energy and dedication are beyond words. They do incredible work to help the farmworker community of Immokalee; however, I felt that my skills and time were not being used wisely in the mornings. My supervisor at the coalition and I decided it was best if I work there during the weekends instead.
Now, I will help with weekend events that take place at the coalition. I will be responsible for immediate needs, such as ordering and delivering food, driving farmworkers to protests, and acting as a community organizer who promotes events throughout the community. This will let me put to use the planning skills I learned in college.
"What am I going to do in the mornings now?" I asked myself.
I panicked for a few hours, but soon, the Humility of Mary volunteer program director told me to contact the University of Florida Institute of Food and Agricultural Sciences, which happens to be approximately two minutes away from the volunteer house
I instantly felt a sense of relief knowing that I would hopefully be using my knowledge on sustainability, the environment and Spanish to good use. This sounded great, but I had one pivotal question: Would I be involved with the Immokalee community at all? Part of the reason I decided to do a year of service was to be deeply involved with the community and help it in any way possible.
The answer seemed to be a surprising yes. After researching and talking to my university contact person, I decided I would give this new site a try.
The university has a Farm Labor Supervisor Training Program that provides training in English and Spanish to farmworkers, supervisors, human resources personnel, or anyone who works in the farming industry. These trainings, taught by university faculty or professionals, are meant to increase knowledge regarding state and federal regulations about hourly wages, field safety, housing, and personnel management standards. The goal of the program is to enhance the productivity of the farming operation and to make sure people receive fair payment and work under safe conditions. Once participants attend eight or more classes, they earn their Certificate of Farm Labor Management. The classes they can choose from include management communications, migrant and seasonal worker housing, hourly wage, agricultural equipment and field safety, human resource compliance, worker protection standard, DOT compliance, first aid, and CPR.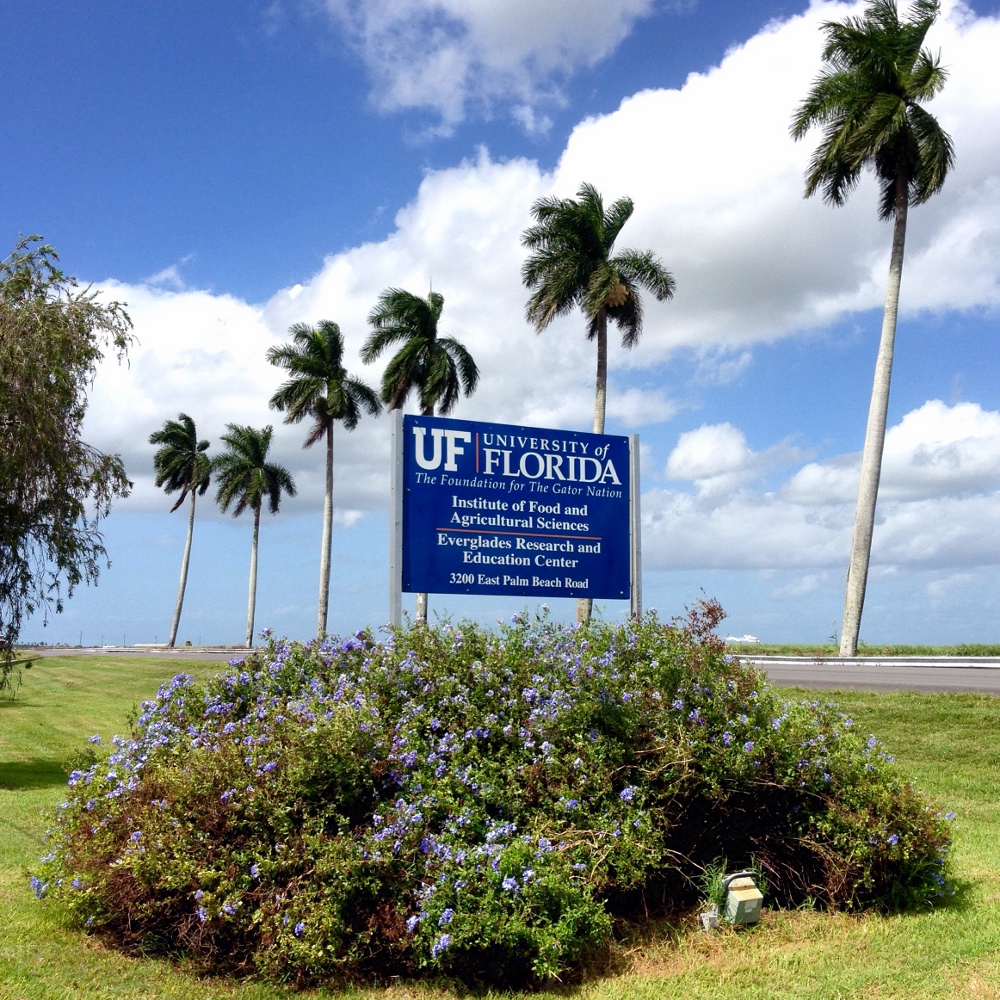 The University of Florida Institute of Food and Agricultural Sciences is only a few minutes away from the volunteer house. (Sharon Zavala)
I've been working there for only a week and have already learned an abundant amount of information about daily farm operations.
During my first training, I talked to a farmworker who told me stories about how many employers take advantage of farmworkers for myriad reasons. For example, some farmworkers are undocumented; therefore, employers know they will keep quiet about violations because they think they can get deported. Employers make them sign papers or contracts in English, knowing they can't read English. Another common form of violation is when employers do not provide their workers with the proper equipment for spraying pesticides on crops.
These stories did not surprise me. My parents used to work in celery fields in California, and they experienced these types of violations firsthand. Increasing knowledge among farmworkers about state and federal regulations is a subject very close to my heart.
Many of the farmworkers have only an elementary-school education, which can be a challenge when they attend the trainings because they have trouble reading or writing. So part of my job is to help those farmworkers who have difficulty understanding the content.
During my downtime, I will create a presentation in Spanish on heat illness. This is an important task because many farmworkers don't know what the symptoms are or what to do if they experience it.
I strongly believe this work will be rewarding because I will be tackling issues important to farmworkers and their overall well-being. My professional Spanish skills will help me tremendously in creating presentations and handouts in Spanish for those farmworkers who cannot read or write in English. The most exciting part is that I will be helping the farmworker community of Immokalee through this program, which makes them aware of what their rights are and increases their knowledge about topics they may not know anything about. This is why I am here and why I decided to be a Humility of Mary volunteer.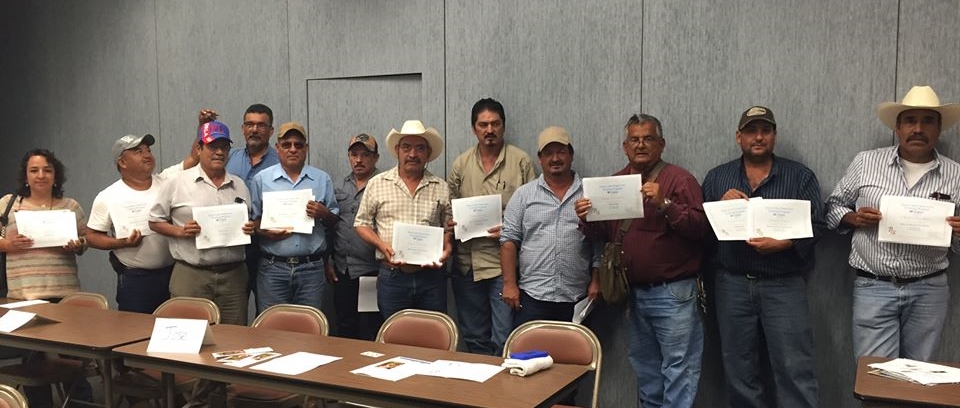 2.) Participants hold up their certificates showing they had completed the rules and regulations Spanish class in Immokalee. (Sharon Zavala)
[Sharon Zavala is a Humility of Mary volunteer in Immokalee, Florida. She has bachelor's degrees in environmental studies and Spanish from Allegheny College.]