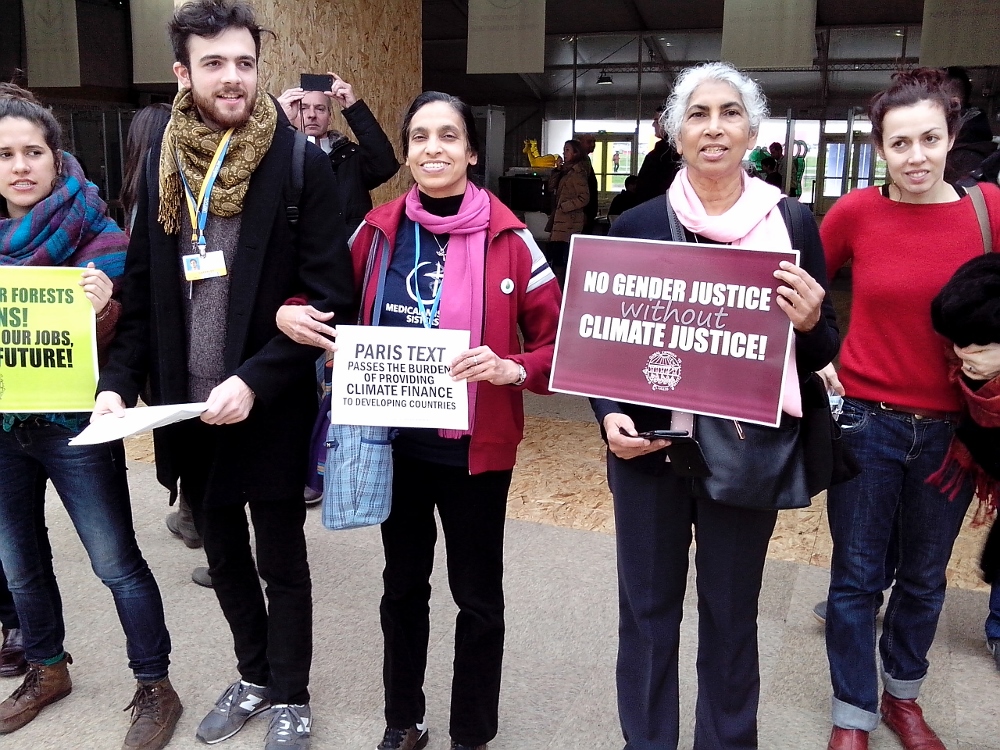 Sr. Celine Paramunda, U.N. representative of the Medical Mission Sisters, third from left, demonstrated with Sr. Teresa Kotturan, U.N. representative of the Sisters of Charity Federation, fourth from left, at the Paris meetings on climate, Nov. 30-Dec. 12, 2015. (Courtesy of Celine Paramundayil)
New York, N.Y. — A signing ceremony at the United Nations will mark this year's Earth Day, and religious leaders, including a number of prominent Catholic women religious, are urging leaders of nations not to renege on their promise to sign the landmark Paris Agreement.
On Friday, April 22, world leaders will gather at the U.N. to sign the agreement, an international climate change document negotiated in late 2015 and agreed to by 195 countries.
More than 150 countries, including the United States, say they will formally sign the document Friday, which the U.N. says will be a record for an opening day signing of an international agreement.
In a statement released ahead of the ceremony, more than 100 faith leaders, including women religious, lauded the agreement, saying that the care for the earth "is our shared responsibility."
Citing Pope Francis' environmental encyclical, Laudato Si', and statements by representatives of Christian, Hindu, Jewish, Muslim and Sikh traditions, the religious leaders said humanity "is at a crucial turning point. We as faith communities recognize that we must begin a transition away from polluting fossil fuels and towards clean renewable energy sources."
They added:
The unprecedented consensus resulting in the adoption of the Paris Agreement, welcomed by faith communities the world over, has opened up a new path towards a low-carbon, climate resilient transformation of the global economy. The global collaboration by all nations is proof that our shared values are far greater than any differences that divide us. It demonstrates that the sense of collective responsibility shared by all nations and society is far more powerful than the recklessness and greed of the few.
Among the sisters signing the statement of support are Sr. Elizabeth Delaney, general secretary of the National Council of Churches in Australia; Sr. Patricia McDermott, president of the Sisters of Mercy of the Americas; Sr. Berneice Loch, president of Catholic Religious Australia and leader of the Institute of Sisters of Mercy of Australia and Papua New Guinea (ISMAPNG); and Sr. Deborah Lockwood, Minister General of the Franciscan Sisters of Penitence.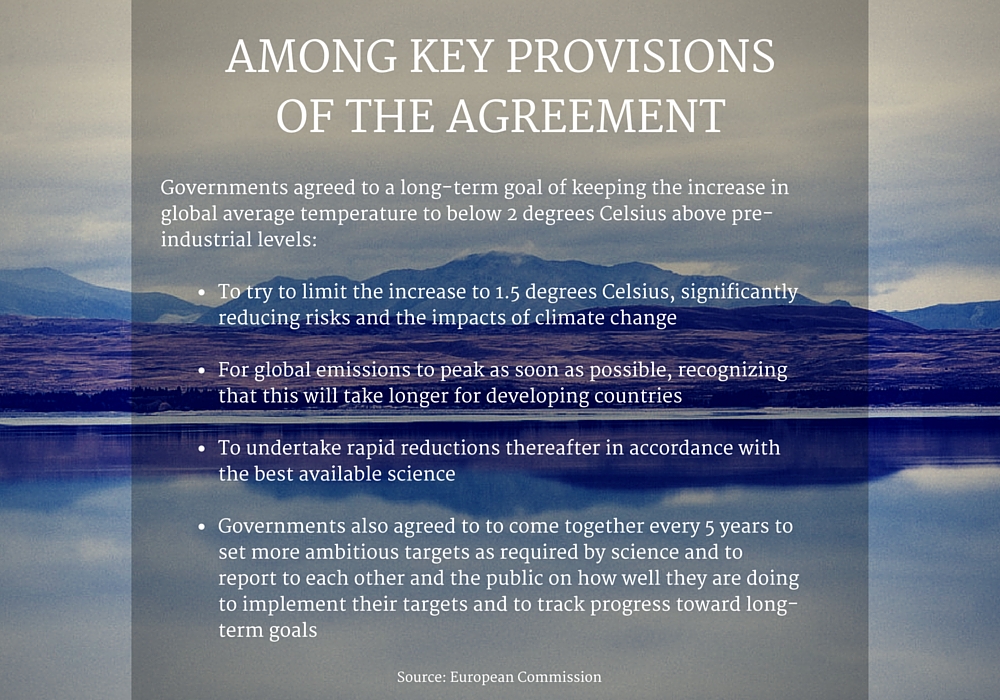 (Infographic created by Dawn Araujo-Hawkins; image source: Unsplash.com and used under Creative Commons zero)
Sr. Celine Paramunda, U.N. representative of the Medical Mission Sisters, and Sr. Teresa Kotturan, U.N. representative of the Sisters of Charity Federation, both attended the Paris meetings, held Nov. 30 to Dec. 12.
In a message to various congregations prior to the Friday signing, Paramunda and Kotturan noted that the agreement includes provisions sought by developing countries and civil society — nongovernmental groups, for example, which includes religious orders.
Among the provisions: enhancing the "capacity and ability of developing countries, in particular the least developed countries, and those that are particularly vulnerable to the adverse effects of climate change, such as small island developing states, to take effective climate change action, including, inter alia, to implement adaptation and mitigation actions."
The sisters said the agreement notes that so-called "vulnerable countries" will experience "climate-related 'loss and damage.' The inclusion of the 'loss and damage' clause will allow countries to claim for compensation for financial losses due to climate change; but rules out legal liability for loss and damage."
Of broad concern, they said, is that refugees fleeing environmental disasters "do not have the same minimal rights as political refugees fleeing war and persecution." Women in particular "suffer the most from climate change."
Climate change could displace as many as 1 billion people by 2050, according to the U.N. Paramunda and Kotturan noted that the document does not fully deal with the human rights issues of those displaced. Those concerns are included, however, in the text's non-legally-binding preamble.
"It is a springboard for further action on human rights and climate change," they said.
Other prominent Catholics signing the statement by religious leaders include Cardinal Christoph Schönborn, archbishop of Vienna and president of the Austrian Bishops' Conference; Cardinal Luis Antonio Tagle, archbishop of Manila, Philippines, and president of Caritas Internationalis; Cardinal Rubén Salazar Gómez, archbishop of Bogotá, Colombia, and president of the Latin American Episcopal Council; Bishop Georges Pontier, president of the French bishops' conference; Michel Roy, secretary general of Caritas Internationalis; and Cardinal Oswald Gracias, archbishop of Mumbai, India, and president of the Federation of Asian Bishops' Conferences.
[Chris Herlinger is GSR's international correspondent. His email address is cherlinger@ncronline.org.]