Q & A with Sr. Karol O'Connell, bringing music literacy to Irish schools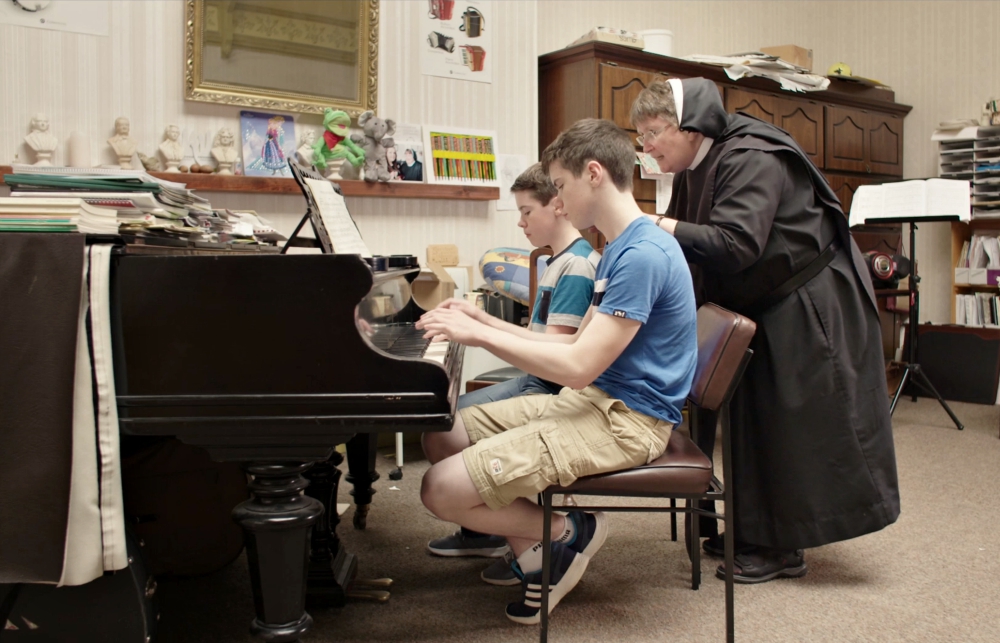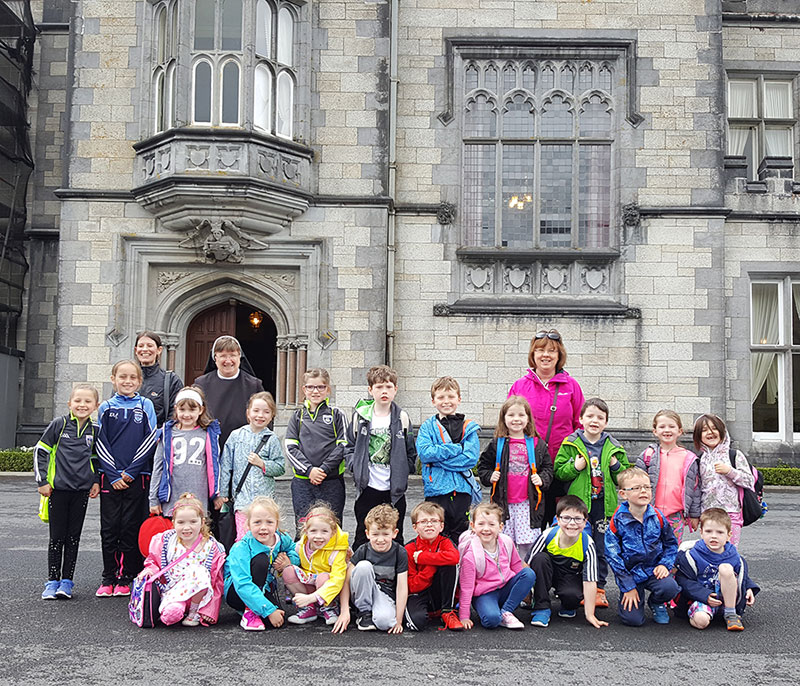 Sr. Karol O'Connell, a Benedictine nun in Kylemore Abbey [1] in the west of Ireland, was recently featured in the endearing and uplifting documentary "Making the Grade [2]," which explores the bond between piano teachers and their pupils as they struggle through music exams. It is also a story about the power of music to bring pride and happiness to students and teachers alike.
A native of Midleton, County Cork, O'Connell's ministry is one of the most traditional in religious life: teaching. This year, the 62-year-old is celebrating 40 years since she first entered Kylemore Abbey in 1978. She grew up immersed in music, studying piano, cello, violin and, later, voice and flute. She gave her first piano lesson at the age of 13.
After entering the Benedictine community of Kylemore Abbey, O'Connell taught music to the students of Kylemore Abbey School before it closed in 2010. She also served as the abbey's choir mistress and chantress.
With a master's degree from the Kodaly Institute in Hungary, she is currently helping teachers in the Connemara area of Ireland introduce music literacy into their schools, starting at the lowest level and building up musicianship skills based on the principles of the Hungarian composer Zoltan Kodaly, who pioneered a method of music education that uses singing to teach children to become good musicians. The idea behind this methodology is that every child has a God-given and free instrument in his or her voice. If a child learns to sing properly before taking an instrument, he or she will learn the instrument much faster.
GSR: Tell us a little about your background.
O'Connell: I am from Midleton in County Cork — the whiskey town [3]. I was born in 1956. Growing up, our house was literally across the road from the local convent school. From the age of 4, I was educated by the Presentation Sisters. They were the nicest bunch of nuns ever. I loved my school days.
When I was 13, I took time out from school over four years to concentrate on studying music. I knew I wanted to be a music teacher. While I worked in a shop and did babysitting to earn a few bob to pay for lessons, I studied piano, violin and cello. Then I went back to school when I was almost 19 — into a class of 15-year-olds — to finish my schooling and sit my Leaving Certificate. It was a pretty unusual approach at the time.
From the age of 12, I knew I wanted to be a piano teacher. My mind was set. I had been playing the church organ since I was about 9. I had had a very elderly piano teacher, Sister Gertrude, who was 92. But then she died, and I was left without a teacher for a few years. When I did find a new teacher, I was like a sponge — I couldn't get enough. My new teacher brought me from Grade 2 to Grade 8 in the space of two years.
After your Leaving Certificate exam, you applied to University College Cork to study music, but you didn't take up your place. Why?
I got the place, but there was a vocation stirring in me. I had always been close to the church on account of playing the organ at four Masses on a Sunday, and I was involved in confraternities and holy hours. Living so close to the Presentation Sisters, they greatly influenced my life. I cannot emphasize enough the positivity these sisters gave me. Everywhere I looked, there was just goodness.
I came to Kylemore Abbey on a visit and saw that they had a school here. I wanted to teach music. I had actually started giving piano lessons when I was 13, taking beginners. I loved teaching music, and the school was a real draw. Then I found out that in Kylemore Abbey, they actually sang their divine office and that they had a great interest in music. They used so much music in their liturgy.
I entered on my 22nd birthday on July 11, 1978, 40 years ago. I finished teaching music at home in County Cork at the end of June and entered here in July and began teaching music in the school in September. So it was a very easy transition for me.
You enjoyed teaching music in the school.
I just love working with young people. It is very fulfilling. You have a huge responsibility because you are sort of directing their lives, and you have a chance to bring the spiritual into that. I also taught art; music and art are two very easy things for me to put the spiritual into. It is not like a job at all.
The school in Kylemore closed down in 2010. Was that difficult for you?
It was, because I had spent an awful lot of my time teaching in the school. We had some fabulous choirs. They had won competitions every year, and the school choir made a CD called "Echoes of Kylemore." I was the music director on the CD. While I was very sad, at the same time, these things happen, and there are different chapters in one's life.
How did it come about that you went to study in Hungary?
When the school closed, Mother Máire [Hickey] [4], my superior, spoke to me about taking a sabbatical. There were two possibilities. One was to go to Rome to study Gregorian chant, which I had already studied a lot, or go to Hungary and study this Kodaly method of music education.
You have to be practical about these decisions. It would be all very well going off to Rome to study Gregorian chant if I was coming back to a monastery of 50 to 60 nuns, but that was not the case. Whereas going to Hungary to study music education allowed me to come back and work with children in the Connemara area.
Studying in Hungary was such a wonderful experience. Initially, I went out there for one year, but then my professor told me I would be an ideal candidate to do the master's. The community was very supportive, so I went back for the second year and did the master's. It has changed the way I teach. It was one of the best things I've ever done.
How does the Kodaly method differ with other methods?
It teaches that every child has music within them, and you have to bring that music out. It is teaching through singing because everybody has this instrument within them. Each child is trained in singing and reading music, and it is very inclusive.
How many students are you teaching currently?
Between 60 and 70 students come to me. Some of them are in the choir of about 30 children I teach. I also teach students at secondary level because the schools in Clifden and in Cornamona don't teach music. So any child in the locality who wants to do music for Leaving Cert comes to me.
I have written a literacy program called Music Is Fun [5]. When I came back from Hungary, I spoke to teachers at the 15 schools on the peninsula here. They all told me that they'd love to be teaching music in their schools. Traditional Irish music is huge in the schools here, and the children are brilliant. There are four or five traditional music teachers going around the area, but there wasn't anything for music literacy or classical music. The teachers wanted to teach it, but they were having difficulty with the books that were available. I offered to make out lectures to help them, and now I've written a whole music literacy program. There are five workbooks for children, a teacher's handbook and a teacher's resource book. On July 2, we launched a book of lesson plans for teachers to go with Workbook 1.
What was the reaction to the documentary "Making the Grade"?
I've had loads of positive reaction. I so enjoyed it and found it very funny because I could relate to every teacher's experience in it and to every child's, as well.
How difficult is it to be a nun in 21st-century Ireland?
I don't find it difficult at all because I believe so strongly in what I am doing. I do find that more and more people would giggle at us for wearing a long habit. But that said, it wouldn't bother me. I might notice it, but it wouldn't upset me. It's a very small thing, really.
I don't read every article that is written about the church and about how people are anti-religion at the moment or anti-nuns. I have always been lucky in my life. I've had so many positive experiences with nuns, so I suppose I am naturally cushioned. The negativity wouldn't undermine me. I would be stronger than that!
Music Is Fun is a series of music books, including teachers' guidebooks and children's workbooks, that have been compiled and illustrated by Benedictine Sr. Karol O'Connell. They are published by Kylemore Abbey Publications. See: music-is-fun.com [5].
[Sarah Mac Donald is a freelance journalist based in Dublin.]