Salesian college in Dilla, Ethiopia . . . and false assumptions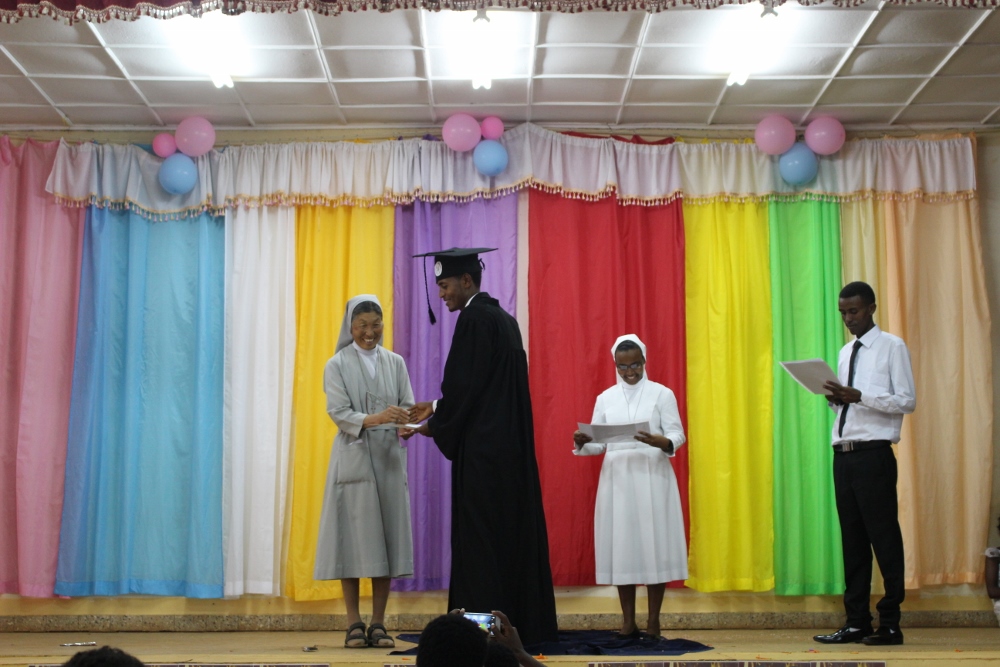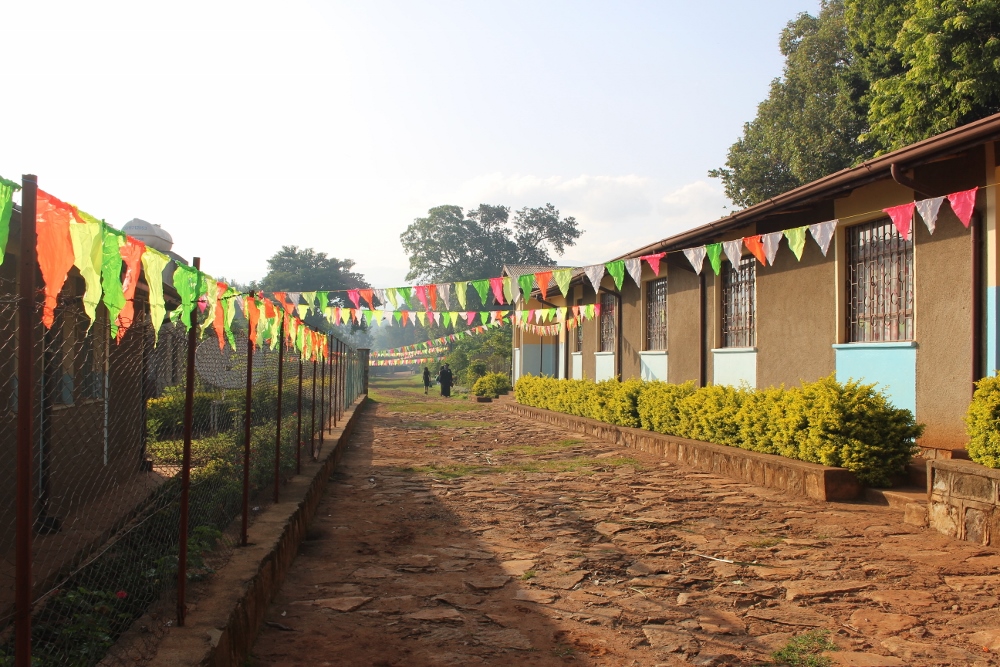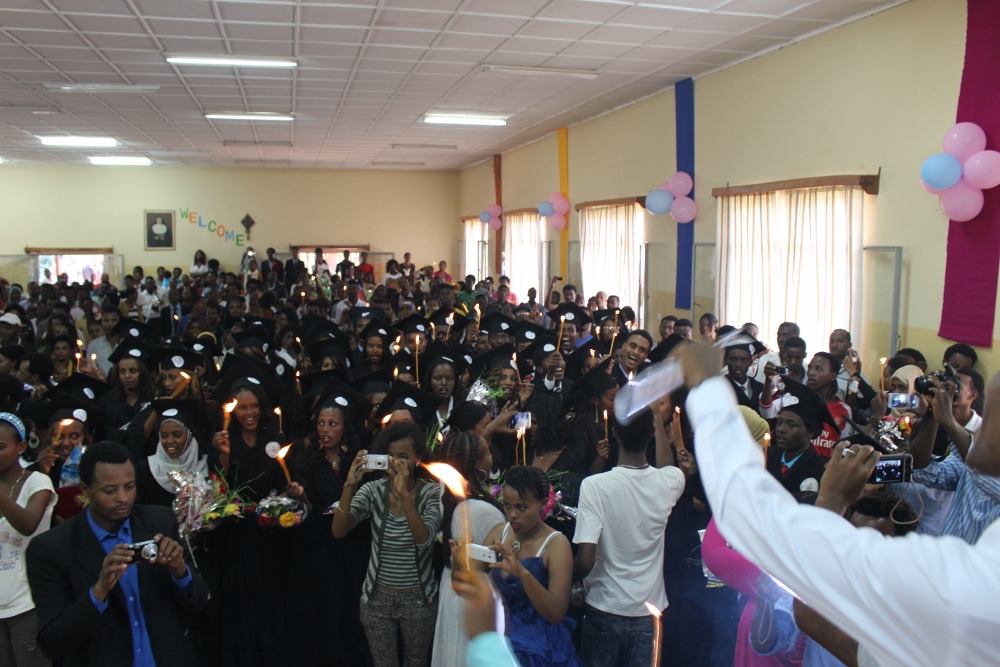 Dilla, Ethiopia — Notes from the Field is GSR's summer blogging project. Working with the Catholic Volunteer Network [2], we've enlisted four young women working in ministries of Catholic sisters around the world – Honduras, Thailand, Ethiopia and the United States – to blog about their experiences, each for six weeks.
_____
Graduation Day! The sun is shining and all the decorations are up. Preparations are finally over for the students, sisters and teachers, and now it is time to celebrate.
The Mary Help College students are very excited to graduate. High heels, curls and suits can be seen everywhere. Streamers are hanging above the road, and banners and balloons are in their places. Inside, to the right of the stage in the auditorium, a coffee ceremony is prepared to start.
The graduation program for 93 students lasts for three hours. There are talks led by teachers, certificates handed out to students, traditional dancing performed by young girls and a fashion show hosted by the fashion department. The theme of the graduation was "Go Light the World," so at the end of the program all the students got a lighted candle, which they held while they sang.
All semester the teachers have been preparing the students for their graduation and Certificate of Competency (COC) exams. These are the standardized exams that the students must pass in any Technical and Vocational Education and Training (TVET) college.
The college here has three departments: Fashion Design, Information Technology, and Administration and Secretarial Science. These are diploma programs that usually take students two years to complete.
The education system in Ethiopia is different than in the United States. Here, students are divided in the 10th grade. The students who don't pass the national 10th-grade exam can attend a college but cannot continue to 11th and 12th grade (which they call preparatory secondary education). Those who continue on are eligible to attend a university if their grades are high enough and they pass the 12th-grade national exam. One teacher says the system is constructed this way because of the limited spots available in the universities. Hence, they feel the need to start narrowing down the number of students earlier.
The colleges are all TVET colleges that only have diploma programs. Universities have degree, master's and PhD programs. And then there are university colleges that have both diploma and degree programs. Students who graduate from a college are eligible to apply to continue their studies at a university.
Sr. Netsanet Asfaw is dean of the Mary Help College. One of the most rewarding things for her, she says, is to see students pass the COC exams. She knows that, if they pass them, they will be able to get jobs, because most of the students have been able to get jobs after graduating from Mary Help College.
During the school year here, Sr. Netsanet has the students start their day in the assembly hall, where a sister or a teacher will give the "Good morning" talk and prayer. The "Good morning" is a tradition with some Salesian orders, when they give a nice story or thought to the students before they start their day. After, the students go to their prospective classes, and the school day begins.
Around 200 students attend the college here and many of the students are from poor families. I didn't realize this when I arrived here because most of them dress nicely, similar to what I would see in the States (except for the fact that making outfits match isn't a priority here). Hence, by their appearance and because they attend college, I made a false assumption about their living situation. I didn't realize I had made an assumption until I visited one of the student's homes and I was surprised that it was very small and made out of only mud and stick with a metal roof.
I believe it is easy to make assumptions without realizing it. When I heard the sisters had a college here, I assumed I already knew what a college was and how it worked, but now I know nothing can be assumed about a place: not the time, not the calendar, not the lifestyle, not the education system and not the language. For instance, I bought a book on Amharic (the national language of Ethiopia) before I came here, and it taught me "Ameseginalehu" meant "Thank you," but it didn't tell me "Egziabiher Yistilegn" was a common way for people to thank someone also, and a more traditional way, even though the direct translation isn't "Thank you."
Hence, the only thing that is safe to assume is that you are going to learn something new in any country you live in, even if you think you know everything about that country through books. I feel this reality has made me more cautious when speaking with people here. When I speak, it is common to hear me say "Well, my understanding, is that . . ." or "Well, in the U.S. it means . . . . "
But I really enjoy learning new things and being surprised by differences I never knew existed, because, through them, I am becoming more aware of the diversity of the world and I am being shown different viewpoints and opinions that I can use to help me puzzle out or reinforce my answers to society's and life's questions.
[Angela Mahoney is a VIDES volunteer [3] in Ethiopia. She is there teaching Communications and English, and on Sundays she helps the sisters with the Oratory for children.]