Flurry over Sr. Jean Dolores Schmidt can open clearer, more complete look at women religious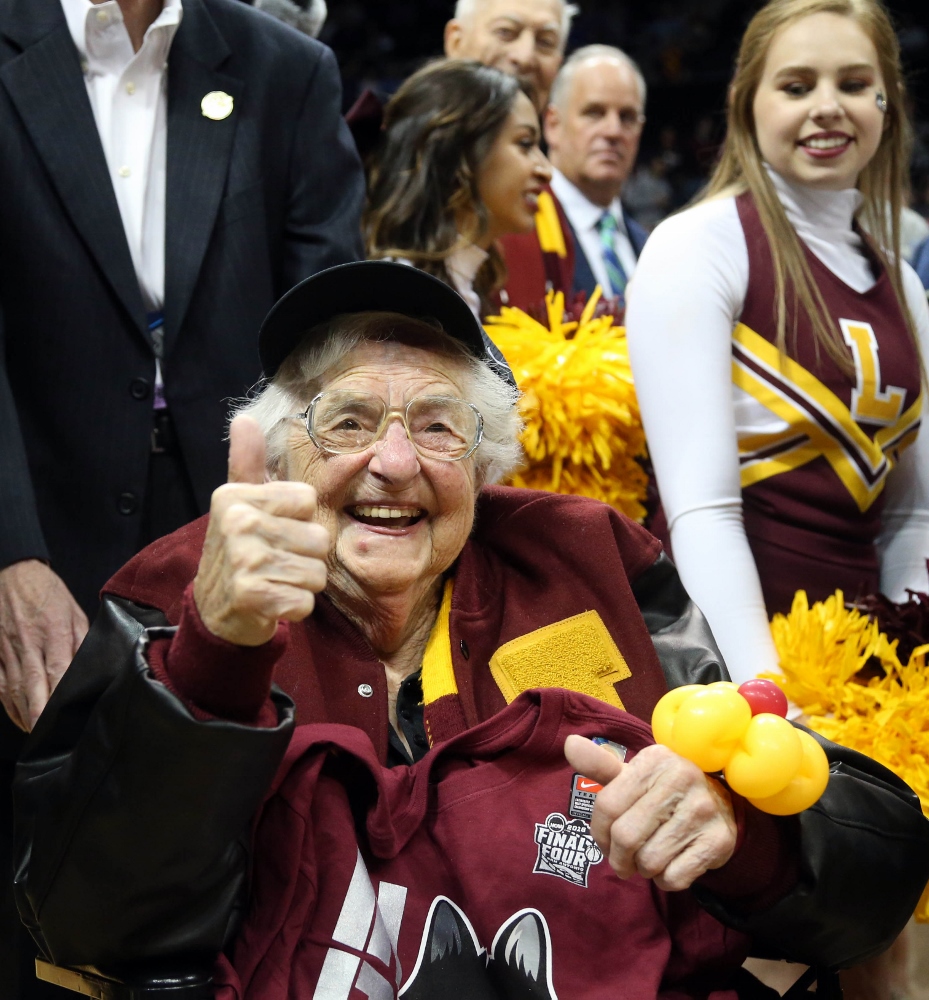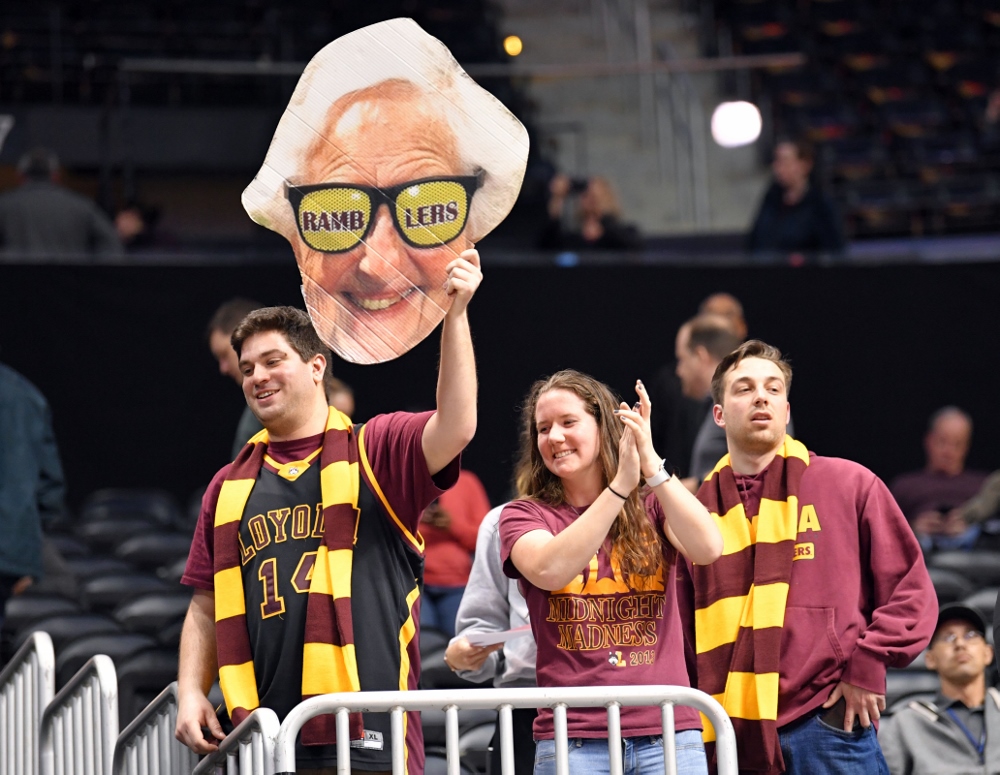 Sr. Jean Dolores Schmidt is everywhere.
The 98-year-old chaplain of the Loyola University Chicago men's basketball team is a media darling, capturing national — indeed, international — attention in the Ramblers' improbable run to a coveted slot in the Final Four of the NCAA Tournament.
In the past month, she's appeared on national morning news shows like "Good Morning America" and in multiple stories from the New York Times, USA Today, the Washington Post, BBC, The Guardian and others. She has been featured in memes [1] and song parodies [2] amid a social media onslaught. She's been the most-tweeted-about person [3] in the 2018 NCAA Tournament, including by former president Barack Obama [4].
Her image is on socks, T-shirts, collectible toys, and now is the best-selling bobblehead [5] in history. National stories [6] have also focused on her community, the Sisters of Charity of the Blessed Virgin Mary in Dubuque, Iowa, and the accomplishments of their members as they cheer on and marvel at the media frenzy around their beloved sister.
Her grace, wit and wisdom are rightly spotlighted in the media, along with her basketball smarts. Her love and loyalty to the team and her deep involvement since becoming chaplain in 1994 is evident. She's even been described as a de facto coach, offering players advice as well as prayers.
The media affection for Sister Jean is welcome. But there are some points that we at Global Sisters Report, as a publication that focuses on women religious around the world, would like to share with our media colleagues.
Sisters across the globe do amazing work, most often out of the media spotlight. At the same time that so much of the nation's attention was on college basketball, women religious at the United Nations were among the speakers  [7]at the annual Commission on the Status of Women forums focused on the scourge of the trafficking of women and girls from rural areas. They recounted examples of Good Shepherd Sisters rescuing trafficked women in the Philippines, a Franciscan Missionary of Mary who has labored for a decade in rural India to try to prevent girls from becoming victims, and a Mercy sister who ministers to trafficked women in London.
Those are just a few examples of sisters in a range of ministries that Global Sisters Report chronicles regularly. These women daily live out the Gospel message to care for "the least of these."
Some of these sisters also have garnered national and international media attention, such as Sr. Nelly Leon [8], chaplain of the women's prison in Chile that Pope Francis visited in January, and Sr. Norma Pimentel, who ministers to migrants at the U.S.-Mexico border and who the pope recognized [9] during a 2015 nationally televised town hall.
Get beyond "cute" and stereotypical images. Some of the many media reports about Sister Jean have taken the time to dig deeper into who she is and portrayed her as more than a team cheerleader or mascot. She's an accomplished woman on many levels, having taught as a college professor for decades. Members of her community, a New York Times article noted [6], include a former mayor and several former college presidents.
Recall the photo of Sister Margaret Ann that went viral: The image of the principal of Archbishop Coleman F. Carroll High School in Miami wielding a chainsaw [10] while wearing her full habit was followed by a flurry of media reports. Her actions to help out after the storm were admirable. But other women religious also worked to help victims in that disaster, as hundreds, even thousands of sisters do after natural disasters across the world, as GSR often reports [11]. Would that photo or the story have garnered that same attention [10] if she'd not been wearing a habit?
For our taste, there are still too many images of "sisters doing stuff"— liking basketball, going to baseball games — just because of their choice of dress.
Aging doesn't have to be scary or negative. A key focus in the Sister Jean story is her age: 98 and still active, witty and fully engaged. But that's not a surprise to readers of Global Sisters Report. We write often of women religious who remain involved in their ministries or other responsibilities in their communities well into their 80s, 90s [12], or even past 100 [13]. Even "retired" sisters often are rarely retired in the common definition of that life stage. Having a sense of purpose, a greater mission, is a big part of the reason.
We hope the affection for Sister Jean spills over into bolstering broad appreciation for Catholic women religious. In the United States, recognition of their contributions garnered widespread support for sisters during the Vatican's multiyear, two-pronged examination of women religious: the apostolic visitation [14] of congregations and the doctrinal assessment [15] of the Leadership Conference of Women Religious. While the studied reaction of the women religious in exercising contemplative power [16] and the election of Pope Francis no doubt changed the tenor and the outcome of these examinations, the support of the laity also played a role.
As Loyola University Chicago enters the Final Four, team loyalties may differ (some of us at GSR are Ramblers fans), but we'll all be rooting for Sister Jean. Yet long after the swish of the last basket of the 2018 NCAA Tournament, there will be women religious calming the fears of refugees torn from their country by war, drying the tears of a young woman recovering from a life of exploitation, and helping disaster victims start anew. Because that's what sisters do.