Q & A with Sr. Kathleen Long, helping immigrants become US citizens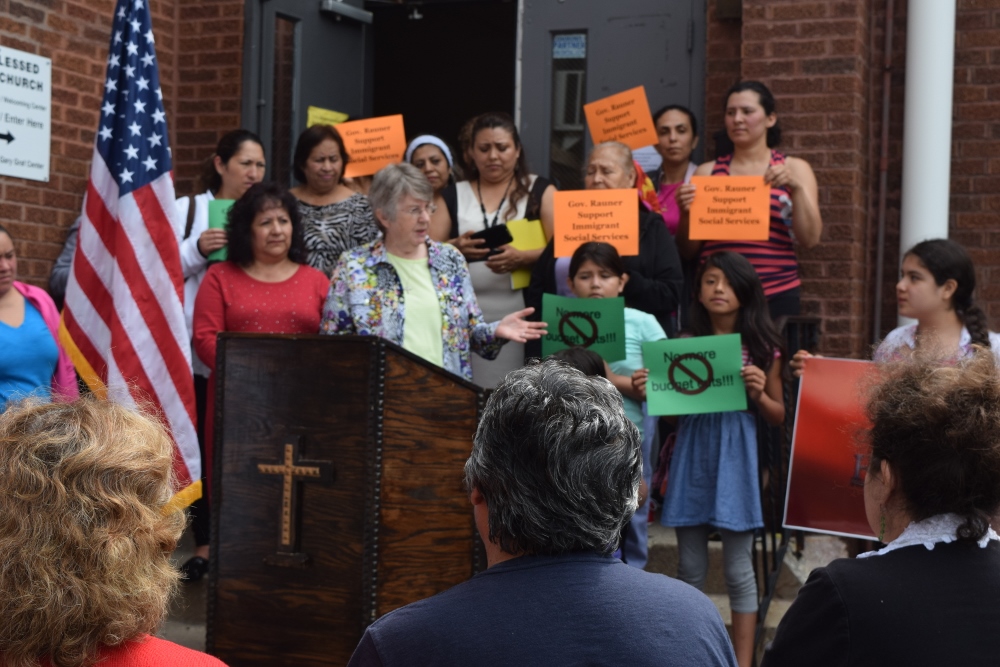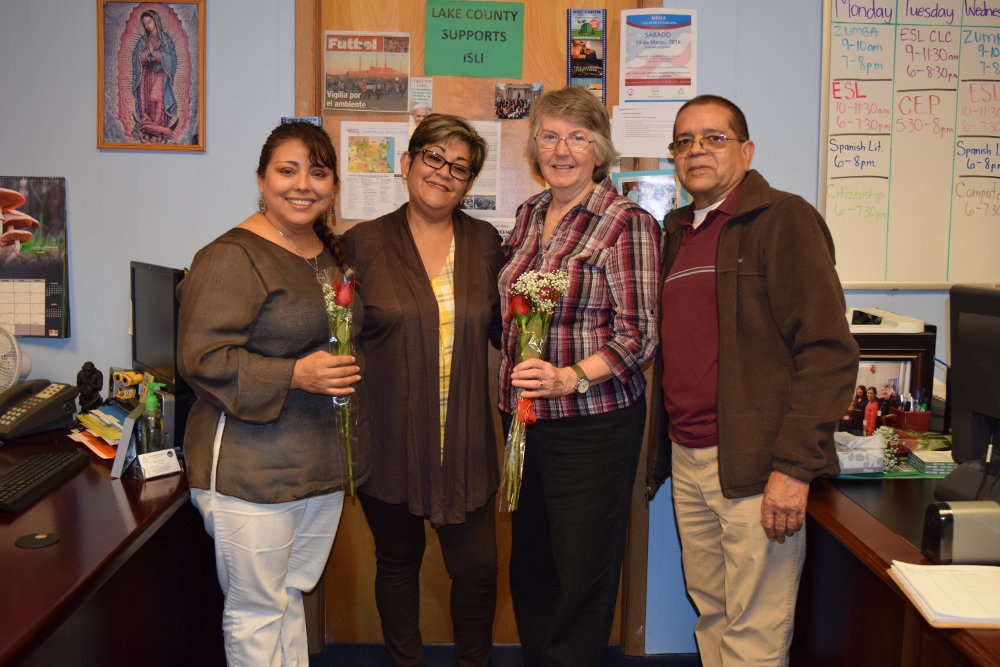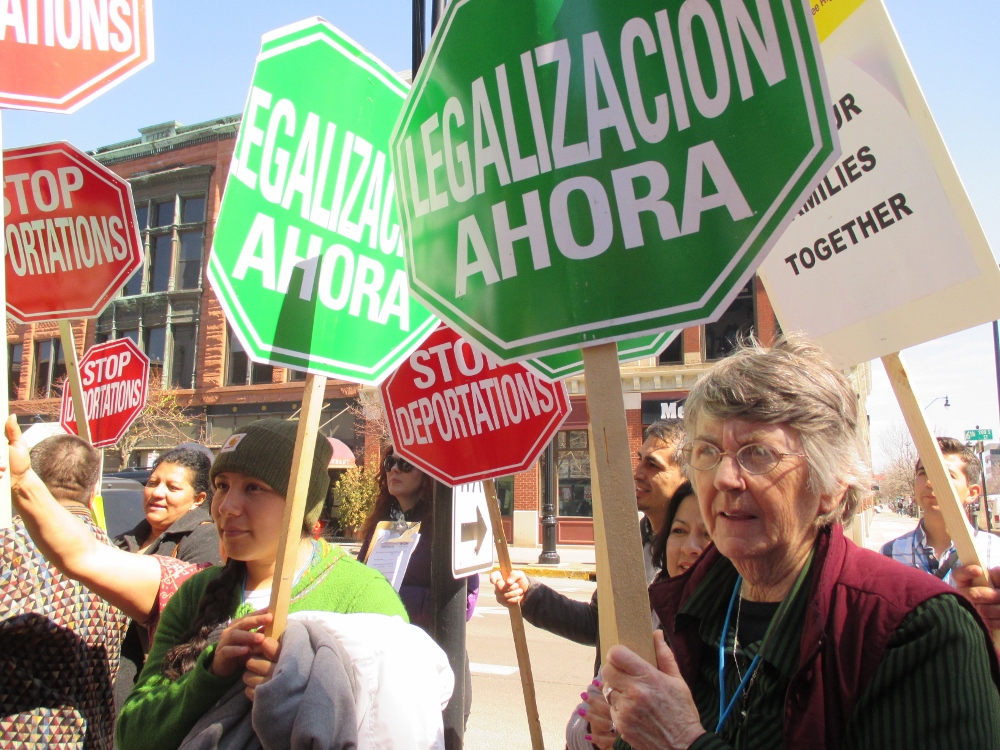 At Most Blessed Trinity Parish in Waukegan, Illinois, the largest parish within the Chicago archdiocese, 80 percent of the 7,000 parishioners are Hispanic. Though some are bilingual, many are not citizens, which keeps Sinsinawa Dominican Sr. Kathleen Long, the parish's director of community social services, especially busy.
The parish center and its four-person staff offer English and literacy classes and courses to help in job training, computer skills and more. They also offer citizenship classes to the parish's constant flow of immigrants eager to take the exam — one that has become increasingly difficult to pass, Long said.
GSR: Tell me about the process to become a citizen.
Long: We have citizenship classes right now three nights a week (soon it will be four), which are offered in English or Spanish as needed. You have to be a legal, permanent resident for five years — unless you're married to an American, then it can be two and a half years — and then they can apply for citizenship.
We help them get all the documents they need, figure out what their requirements are, and offer these classes. They have to memorize 100 questions about the Constitution, the history of our country, who our current office-holders are, etc. Many don't know English well, so it's a dual process, learning about the Constitution in English and the responses.
Then they have to fill out a 22-page application from the government, and half are questions from Homeland Security, [such as] have you ever been part of a communist organization, tortured anyone, been involved in a totalitarian group, a military group; have you ever sold weapons or drugs; have you been in prison [or] a detention center; have you been part of the Nazi government; on and on. These are all in English, whether you take the exam in Spanish or English.
Since the end of July, the test [in Illinois] has become incredibly difficult. Usually, when they fill out the Homeland Security questions about four months before the exam, there's a paralegal or lawyer there, reviewing it. Now, what they're doing — and this is brand new — they're asking all these questions during the exam period. But people don't understand English well enough, and a number of our people are not passing that exam because they don't know what that means, 'a totalitarian organization,' if the interviewer asks that.
One question, for example, is: 'Have you ever not paid your federal or local taxes?' It's not, 'Have you always paid taxes?' — which is clearer. The wording of some of these questions is difficult for people learning the language, and they're frightened because it's an exam.
So now we have double the work, teaching them this vocabulary related to Homeland Security. It makes our work a lot more challenging. But people don't give up. We've had five people in the last two months not pass because of these questions, but before, everyone passed. They knew the 100 Constitution questions; who the Speaker of the House is; the amendments; the Supreme Court justices, and how one [justice] has died; and now there's eight — all these issues. But to talk about these other Homeland Security questions? I think it's something intentional, that people don't want as many folks to pass the exam.
What happens if they fail the exam?
If they failed, they're sent another date in a few weeks. They don't have to pay [the exam fee of $680] again, but if they fail a second time, they pay the $680 and have to wait a year to apply and pay again. It's been that fee for the last three or four years, but now, the government is talking about raising it. It started out to be $45 in the '90s, so it's just ridiculously expensive. . . .  And it's not just Latinos. One person came back from her ceremony a week ago and said there were people from 42 countries out of about 420 people, and that's just Chicago.
Tell me how you got involved in this field.
When I first entered the community, my second mission was in Denver in St. Dominic's parish, where we had a lot of Mexican parishioners, so I started working a little bilingually there. . . . From there, I went to Bolivia for four years, from 1987 to 1990, mainly helping mothers. There, I got to know more about the plight of poverty in Latin America. I also went to Catholic Theological Union [in Chicago] and got a doctoral ministry degree with a focus on cross-cultural ministry and studied a lot about Latino community needs.
Since the early 1990s, I was involved with my other Dominican sisters protesting at the School of the Americas with the School of the Americas Watch [1] in D.C. There's a military training school in Fort Benning, Georgia, that trains Latin American soldiers in techniques of violence, torture and low-intensity warfare.
Fr. Roy Bourgeois, a [former] Maryknoll priest, with his friends discovered this in the '80s. He had been a missionary in Bolivia as a Catholic priest, and he was being followed and on a hit list to be killed. He had been in the Navy prior to being a priest, and he investigated this after being asked to leave Bolivia so he wouldn't be killed. They realized there was a School of the Americas run by the U.S. government under the Department of the Army, training soldiers from countries in Latin America in techniques of torture and violence. Our country paid for it — those countries don't pay to come here.
This had been in Panama, but part of the Panama Canal treaty was to move that training school out of the canal and to Columbus, Georgia, at Fort Benning. Many women religious and priests started protesting with Father Roy starting in the early 1990s, but I first started in 1997. Then I went every year down to protest with our sisters.
What have you learned about the immigrant community that you'd like our readers to know? Any common misconceptions?
That they're taking the jobs away from people. That's just not true. I also learned their passion for families, for hard work, and how they're very spiritual. Our Masses are always overflowing with people, and we have 12 Masses every Sunday. But if you're not there early for the Spanish Mass, you don't get a seat. I realized that [level of spirituality] in Mexico and Bolivia when I was there, but I've never worked in such a large Latino parish in the U.S. until I came here.
I want your readers to know that these are human beings, no matter what their language or culture, and God has created all of us equal, women and men, and it's a long haul for justice. But people like Antonio de Montesinos, [Bartolomé] de las Casas, Susan B. Anthony, Dorothy Day, Martin Luther King Jr. — these people give me hope.
I want people to know that the immigrant community is no different from the nonimmigrant community. They all want truth and justice, they want a good job, they want to take care of their kids, they want to take care of their health care needs, they want to contribute to society. . . . I'm Irish, and I want to preserve my culture, so why can't someone from Honduras or El Salvador or Mexico do the same? The passion they have to change their lives and learn a language, becoming citizens and becoming involved in society, to have safer lives so they don't risk deportation: That's what energizes me, walking with people to make those changes.
How do you see the Holy Spirit in your work?
Oh, my gosh. The Holy Spirit empowers me to get up every day. I realize what baptism and confirmation means every day. It's not just a sacrament of a moment, but it's a path. The Holy Spirit gives me the wisdom and joy and goodness to work each day and to work hard and to work for justice. The Spirit guides me in seeking truth and being compassionate and loving to people in need, to those most vulnerable. People walk into this office with tremendous needs, and if it weren't for the gifts and presence of our staff, people wouldn't keep coming. They know this is a place of compassion and a receptive ear and an embrace of care, and those are the gifts of the Spirit.
[Soli Salgado is a staff writer for Global Sisters Report. Her email address is ssalgado@ncronline.org [2]. Follow her on Twitter: @soli_salgado [3].]