Ankur school for girls: 'Picking me up from the slums'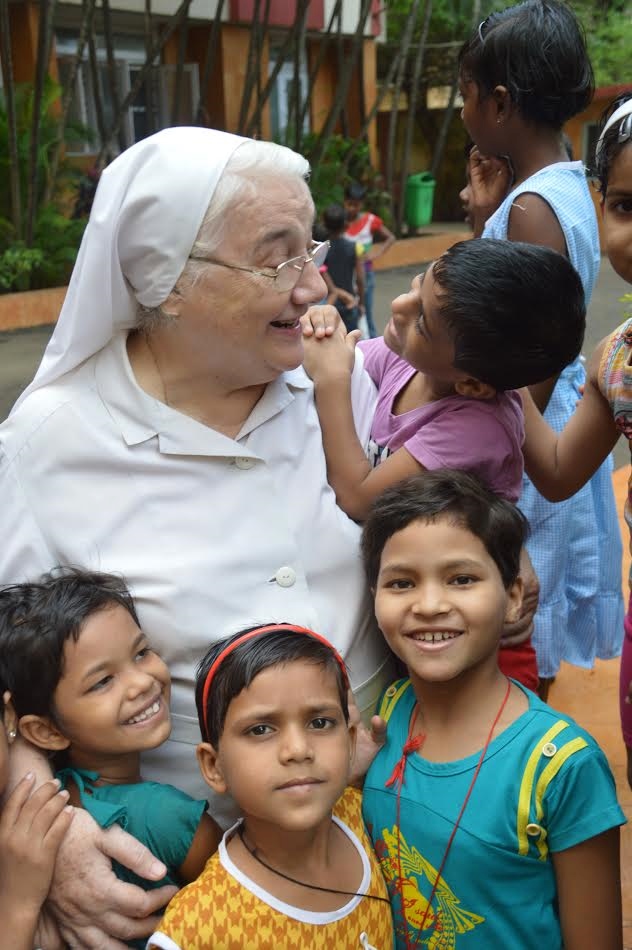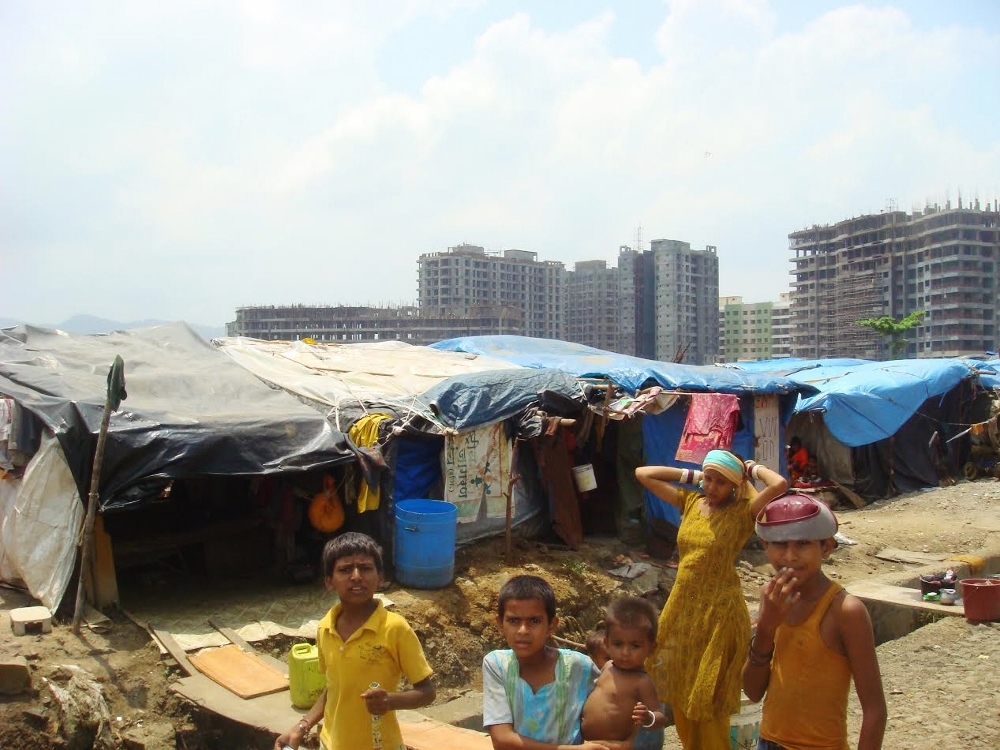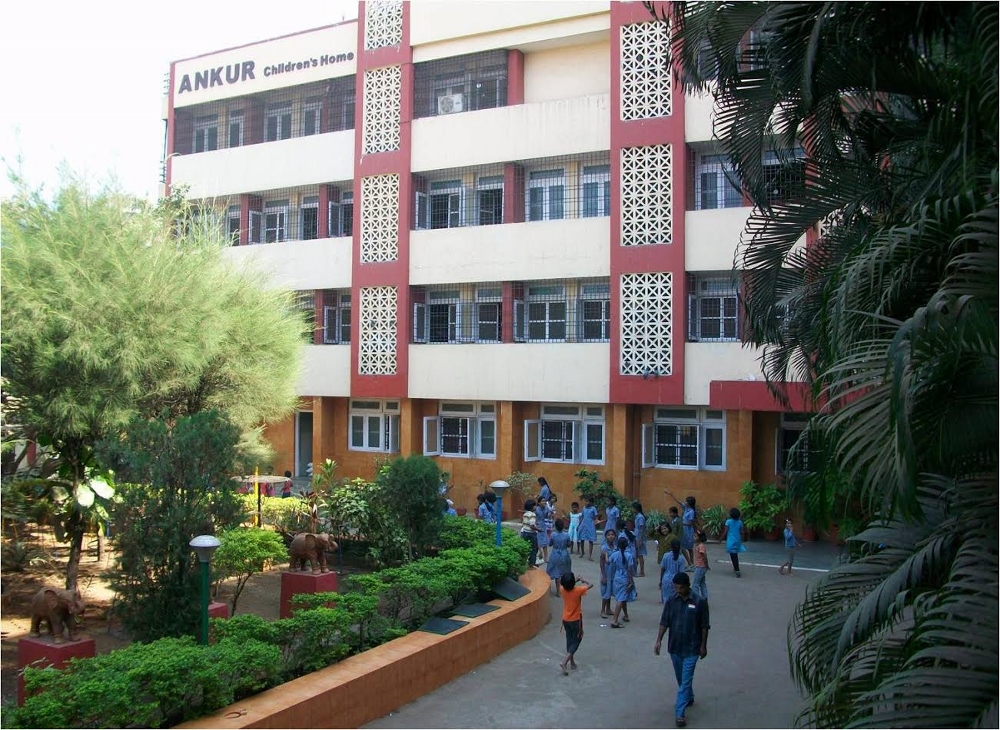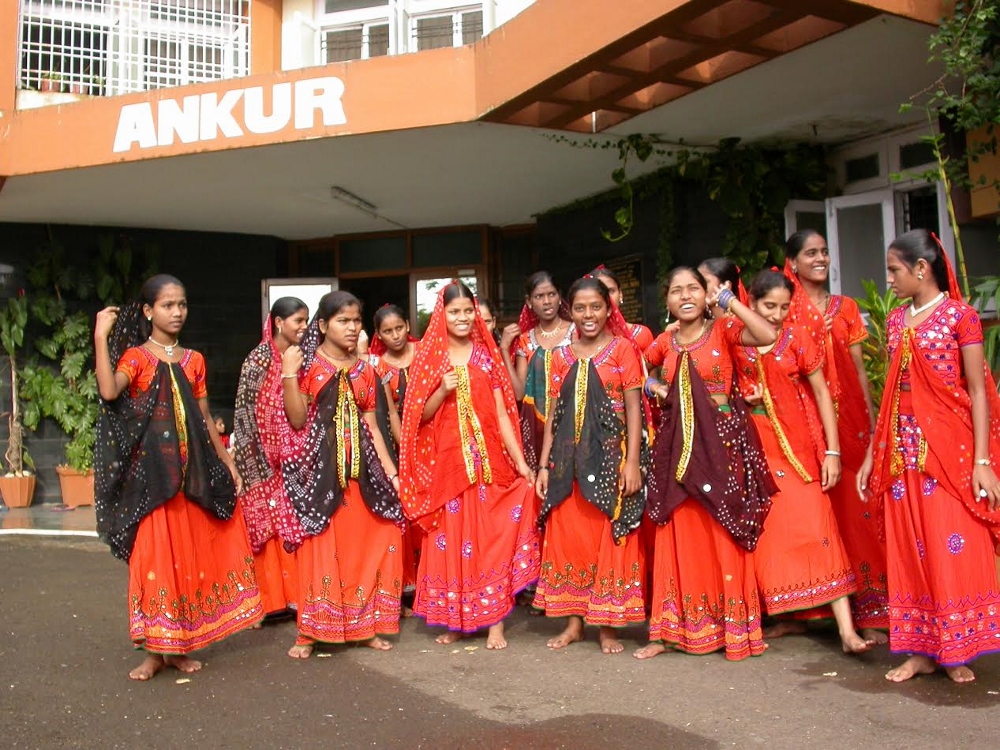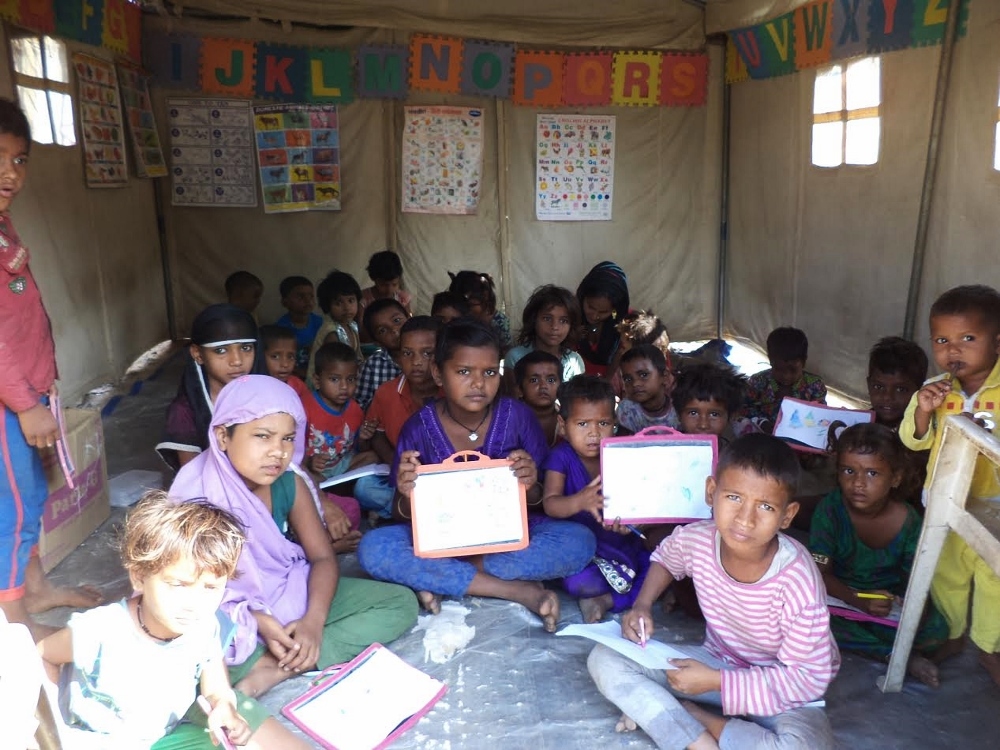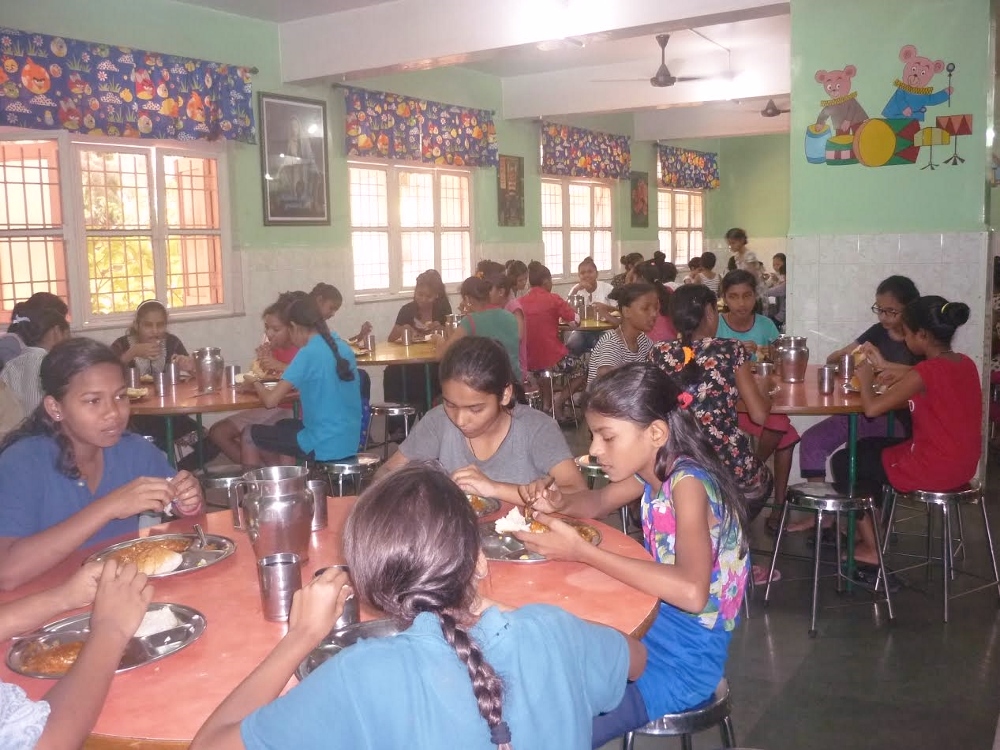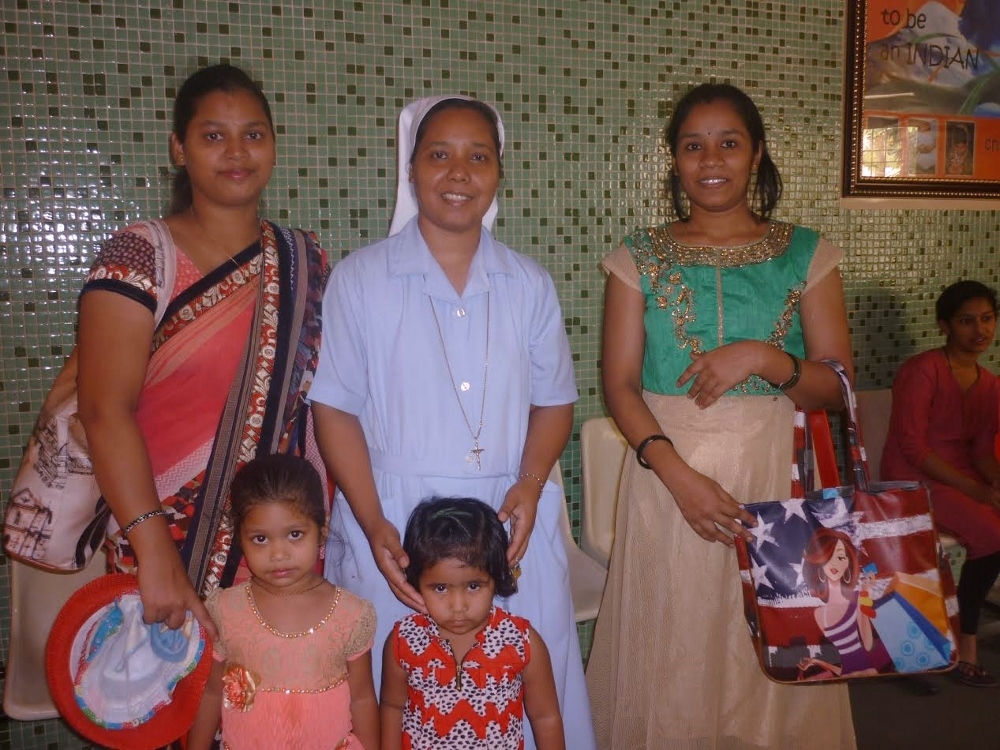 Mumbai, India — It was a Sunday afternoon in April at a children's home in Mumbai, western India.
Three Catholic nuns stood at the entrance, chatting with some girls after lunch. Just then two women in their 20s came rushing to them through the main gate. The nuns embraced them as the women's husbands and children, who had come with them, watched.
"We are Ankur children and they are like our mothers," Gita Patel, one of the women, told Global Sisters Report, clinging to the nuns.
Ankur [1] is a home for girls in need, situated on Mira Road in a suburb of Mumbai, India's commercial capital. The nuns are members of Sisters of Charity of St. Anne [2], a Spanish congregation that manages the home.
Patel and her companion, Kalpana Dhile, are among hundreds of young women the home has educated to lead a better life over the past 20 years. "We were here for 12 years," said Patel, who left home a few years ago after completing 10th grade.
Patel thanks Sr. Primitiva Vela, the home's founder, for "picking me up from the slums and giving me a new life."
The 72-year-old nun, who came to India from Spain as a missionary in 1972, says the home began focusing on educating girls long before the government's "Teach a Girl, Save a Girl [3]" campaign launched Jan. 22, 2015. The government campaign aims at ensuring girls are born, nurtured and educated without discrimination so that they can become empowered citizens.
Sister Primi, as she is popularly known, says her home aims to improve the capacity and opportunities for young women who come from the most economically and socially excluded groups in society.
The idea to start such a home came to her when she was appointed the Indian provincial, a post she held for six years until 1993. She was then in Borivali, a slum suburb of Mumbai where the congregation manages a school adjacent to the provincial house: She started putting her idea into practice.
"I noticed little children in nearby slums engaged in rag-picking. We decided to bring them to the school in the evening for two hours," Vela told GSR.
The nuns used the school bus to bring children 3 and above to teach them the alphabet. "We served them snacks before sending them back home," she recalled.
As the number of children increased, the nuns needed more space. The bought a new house on Mira Road and "Ankur became a reality in 1997," she said.
The home, a four-story building, was funded entirely by their benefactors. "When we came here, this was the only building in the middle of marshy paddy fields," Vela recalls.
Over the years, the home has tried to eradicate poverty through education. The nuns also provided professional training to enhance the girls' social and personal development to help them join mainstream society, explains the nun who began her missionary life at Gujarat, western India, at the age of 28.
She was among three young nuns, the last group from Spain to come to India. "We were thrilled to be chosen for India, and our companions were jealous," she recalls while flipping through an album with black-and-white photographs of her work in Gujarat-area villages. The other two returned to their native land, but Vela stayed.
She was excited when the government enacted a law to make primary education compulsory in 2009. The Right of Children to Free and Compulsory Education Act [4] has made education a fundamental right for people age 6-14.
Vela says the law has benefitted girls the most because Indians generally educate only boys. "Education of girls has been our priority from the beginning. Now, education is not only their right but the best assurance against oppression," she adds.
Educating girls will help change future generations for the better, she says. "If you educate a man, you educate a person, but when you educate a girl, you educate a family. Education helps make women conscious of their rights," she explains. Educated women will also ensure their families remain healthy and that children are educated, she adds.
The parents of the girls at Ankur live in shacks and are engaged in odd jobs, including scavenging, though some of the girls are orphans.
The nuns work with a team of educators to offer their holistic development.
Sr. Clara Paul, a nurse who joined the Ankur team a year ago, says the home has become a refuge where girls can prepare for a better future.
The home educates girls up to 10th grade and then sends them home. "If they are orphans, they stay on until they do a career-oriented course," Vela explains. "The girls staying with parents are encouraged to continue their training in whatever field they choose. We guide and help them with funds."
At least 16 girls from Vela's care have become nurses. Others have completed short-term courses while working to support their families.
Rani Raju, one of those nurses, says she had lost her mother when she was 4 years old. She was washing dishes at a restaurant when Sister Primi spotted her. "I passed through my childhood and teenage [years] under the loving protection of my dear sisters," she told GSR.
Similarly grateful is Kalpana Madhukar Gaikwad, who has completed her bachelor's course. "I lived in Ankur for 10 years and learned to live a disciplined life. I also learned to help those less fortunate," she says.
After the 10th grade, the nuns helped her join a college nearby. "I collected tamarind and picked cotton to meet my college expenses. I did not depend on my uncle for the studies," Gaikwad says.
Theresa Noronha, who completed a bachelor's course in commerce after moving out of the home, says she always returns to Ankur to meet new students and share her success story. She now wants to complete a master's degree and become a college professor.
Vela says she has seen many girls like them become self-confident women — like a sprout grows into a healthy and beautiful tree.
All this came after some hardship.
Vela says they had a hard time initially convincing the parents to send the children to school. "We had to pay the family when we brought the children [to us] because the kids used to supplement family income."
At home, the nun works to make sure the children pick up values for life along with education. She greets the Ankur children with "God is good," and they respond, "All the time." This helps the children become aware of God's presence in their lives, she says.
The nuns have put up pictures of Jesus at various places in the home with the words, "God Loves Me," and they have posters on all the floors of the home with quotes from famous people. Vela says reading them daily will help children absorb the values.
The values have also spread to the children's parents. Vela says she is happy that, as the girls get educated, their parents' living standard also improves.
For example, when the nuns first met some of them, the parents were staying in huts made of sacks tied to poles. When builders took over the slum, they had to leave everything and go on the road.
The nuns requested a firm make them army-type camp sets. Now the parents can carry these living supplies with them wherever they go.
The nuns also encourage the parents to rent a room to keep their belongings safe, by paying the initial deposit.
Vela does not limit her philanthropy to Ankur alone. She and other nuns visit other places and organize classes for children with their mobile clinic.
These visits five days a week help the nuns learn about people's life situations. "We find many children and young people undernourished and illiterate," Vela says.
Sr. Paul, the nurse who accompanies Vela on these visits, says the slum people would have remained in their pitiable conditions but for her Spanish senior. As for her, she has found more satisfaction during her one year at the home than the 30 years she spent working in hospitals.
Sr. Josna Bang, who joined Ankur for community experience, says the nuns are like mothers to the children. "The 215 children here are divided into groups under the care of us six sisters," the junior nun explains.
Bang is full of praise for Vela. "Sister Primi is a model for all of us. She knows India better than us. She is up to date with all topics. She is also very prayerful, pleasant and happy," she said.
Funding for the home comes from local people. "When we do something, God reaches out to us through others," she says pointing to the towels and toiletries arranged neatly in a wardrobe. They were donated by Reliance Industries Limited, India's richest firm.
People come to know about the home through its website and by word of mouth. "We have more than what we need. This is how God provides," she adds.
The home does not cook meals for its children. People bring them. "In fact, we have a long queue of people who want to supply various meals," Vela says.
Patel and Dhile joined the Ankur kids for the evening tea.
"We had enjoyed our stay here. We can never forget this place or these sisters," Dhile told GSR as the two friends left the home after another round of hugs and kisses on that sultry Sunday.
[Lissy Maruthanakuzhy is a member of the worldwide Congregation of the Daughters of St. Paul in India and a correspondent for Matters India [5], a news portal that focuses on religious and social issues.]