Vietnamese sisters commit to housing hospital patients from remote areas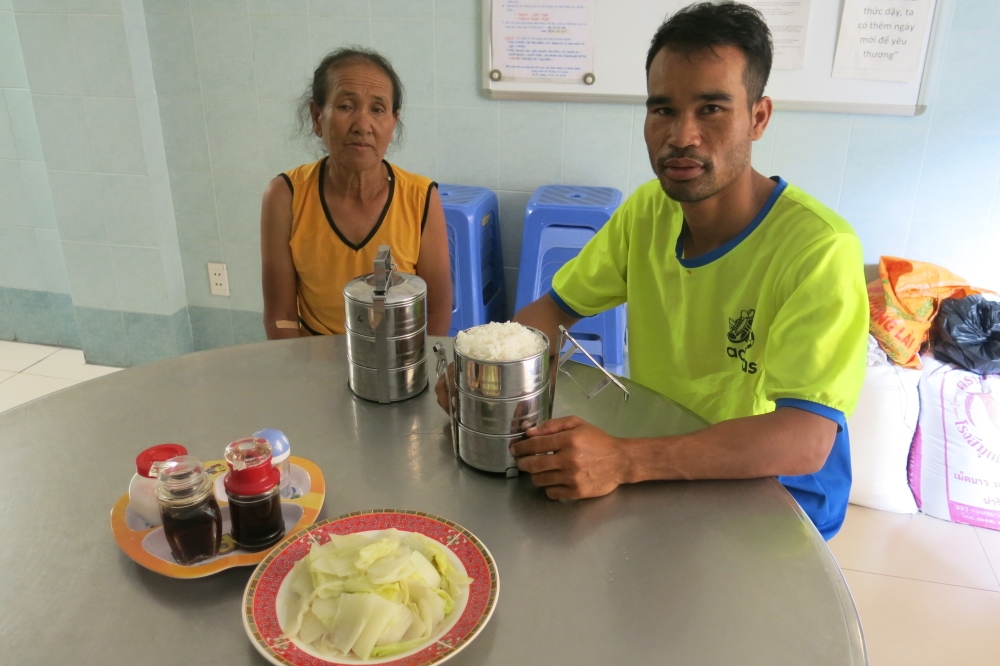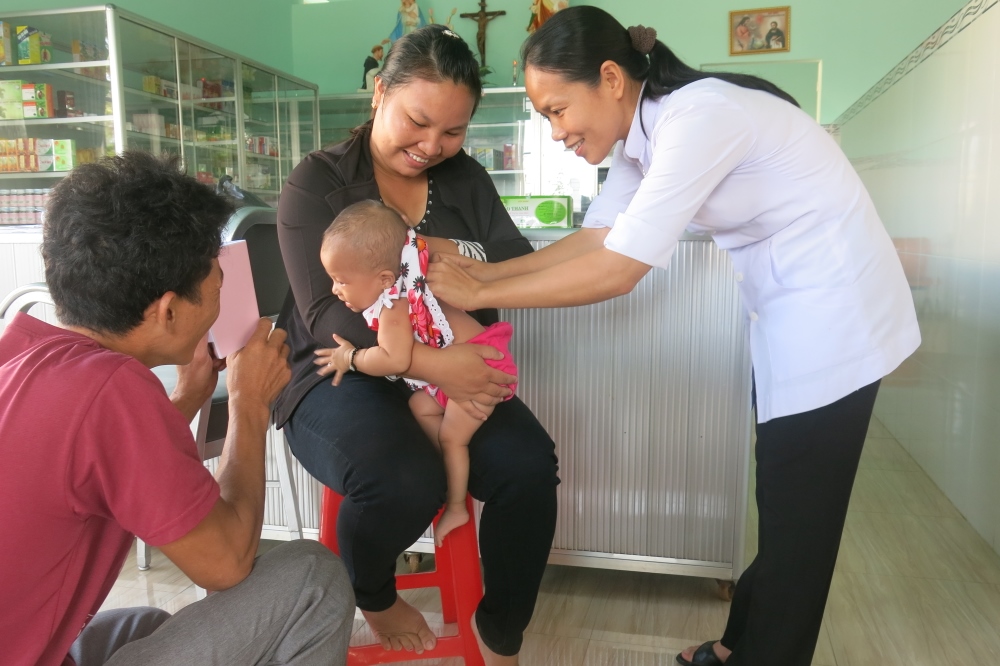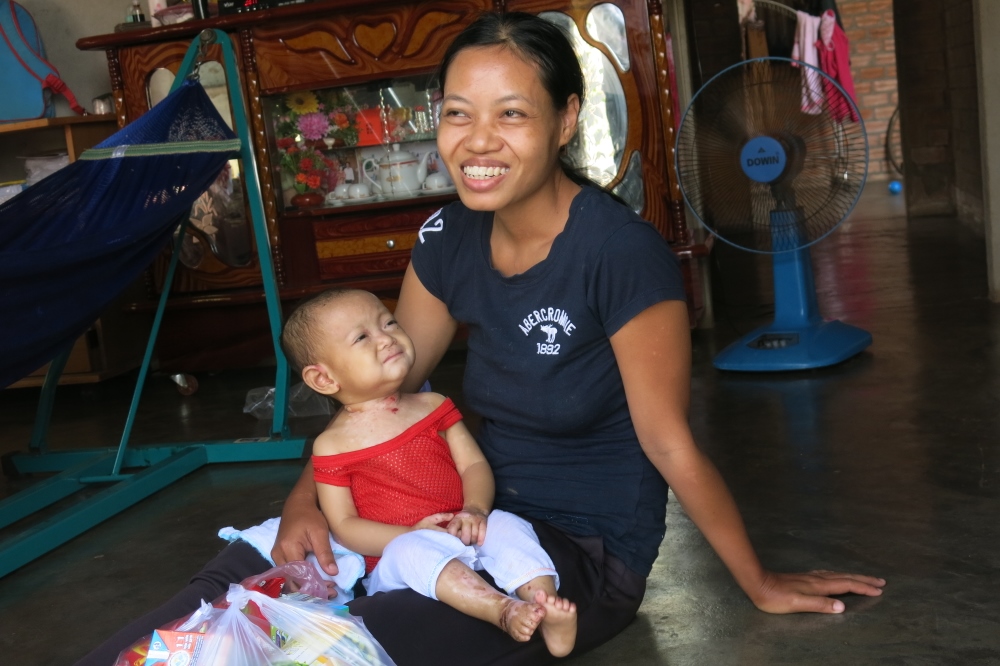 Ho Chi Minh City, Vietnam — Since his mother was diagnosed with lung cancer early this year, Ya Yoan has had to take her every month to the Oncology Hospital based in Ho Chi Minh City. Each time they spend three to five days there performing tests and receiving medical treatment.
In the past they had to sleep on the ground in the hospital compound because they had no money to cover accommodations. They also spent 100,000-200,000 dong (US $4.50-9) a day for meals.
Then, last June, a parish priest in their home village introduced them to the Daughters of Charity of St. Vincent de Paul and their convent in the city.
"We are very lucky to stay here. The nuns offer us free accommodation and food. We feel safe here," says Yoan, a Chu Ru ethnic from Lam Ha district of Lam Dong province, in the central highlands of Vietnam.
Yoan, a stranger to the city, says he saves travel fees because the nuns take them to the hospital by motorbike and have shown them how to take a bus there by themselves.
Sr. Martha Cao Thi De, head of the convent, says the nuns use part of their facility to offer accommodation to up to 30 patients and their relatives at a time. Most of the lodgers are from families with few resources or ethnic minority groups who live in remote areas.
"We cook meals for them, provide money to pay for medical treatment and travel costs, take them to hospitals on motorbikes and help them complete hospital procedures," she says, explaining that "ethnic patients do not know Vietnamese and ways to get to the hospitals."
Patients accompanied by their relatives usually stay at the convent from two days to a week to undergo medical tests and treatment at hospitals.
The city is home to major hospitals and health care centers, so patients from all over Vietnam come here to get treatment.
De says the nuns started to house patients in 2000 when sisters in remote areas began to bring them to hospitals in the city for treatment. Priests and religious from out of town also stay at the convent while they are receiving hospital treatment, and they also introduce patients to the convent.
De says three sisters from the convent serve at local public hospitals so they know how to help patients get proper treatment and how to get them where they need to go. "We manage to meet the needs of poor patients at our convent as our main ministry," she adds.
She says many people injure limbs or eyes while working on farms and in the forests. Other patients suffer cancer, heart attacks, stomachache, childbirth problems, mental illness and other diseases.
Hospitals in remote areas lack medical equipment, and doctors are not as well trained. Consequently, diseased patients often get worse and can even die from the lack of adequate care.
The convent covers its expenses with donations from benefactors, De says, and patients also give the nuns vegetables and fruit from their homes.
"Thanks to the nuns' service, I can stay healthy to look after my mother in the future," Yoan says. "Staying at a quiet convent gives me a chance to pray for my mother to be cured."
The 34-year-old farmer says his mother is in her early 70s, cannot speak Vietnamese and does not know she suffers from lung cancer. His 13 siblings cannot afford to help pay her travel costs.
His mother's treatment is covered by health insurance, however.
Reaching out to patients at homes giving medical treatment to poor patients
Dominican sisters in the neighboring province of Dong Nai run a charity clinic giving medical treatment to patients. The clinic was inaugurated in August 2015 and is partly funded by the Conrad N. Hilton Fund for Sisters [1]. (The Conrad N. Hilton Fund for Sisters is part of the Conrad N. Hilton Foundation, which funds Global Sisters Report.)
The Dominicans combine Western medicine with traditional herbal medicine, acupuncture and physical therapy to treat 50 patients each morning. Five days a week, the clinic is served by three nuns who are qualified physicians and three other doctors.
Sr. Mary Doan Thi Thuy An, a physician, says the rural clinic is very helpful in treating patients in remoter areas who cannot afford to get medical treatment at public hospitals.
An says they also visit, comfort and give medicine and food to poor patients and people without relatives at their homes on weekends. Many patients cannot afford to go to the clinic.
"As nuns, we show mothering instincts to serve poor people and bring happiness and peace to them," An says.
Thi Phung, a Chau Ro ethnic minority mother, says her 2 1/2-year-old son suffered severe scalding at birth and still struggles with illnesses.
"The nuns often visit and give me milk and herbal medicine to look after my son. We are extremely grateful to them because we have no money to take him to hospitals," Phung says.
[Joachim Pham is a correspondent for Global Sisters Report, based in Vietnam.]