When a meal is more than food: Sisters in India deliver hope to the elderly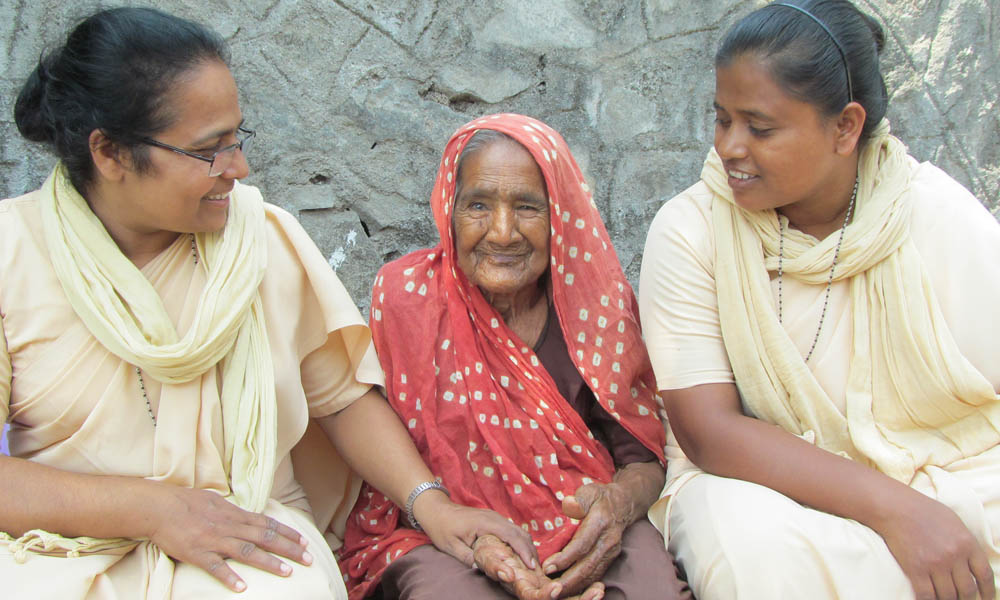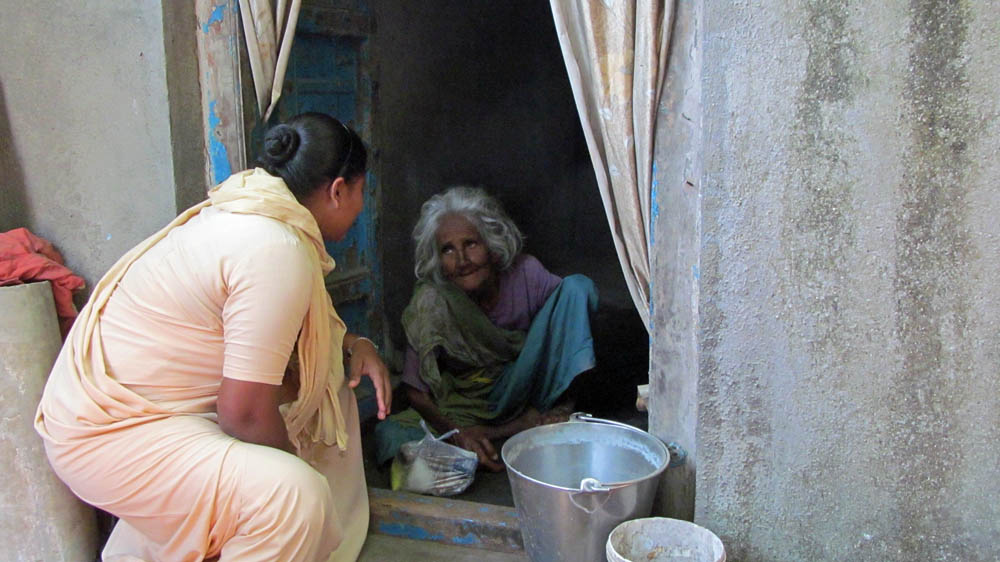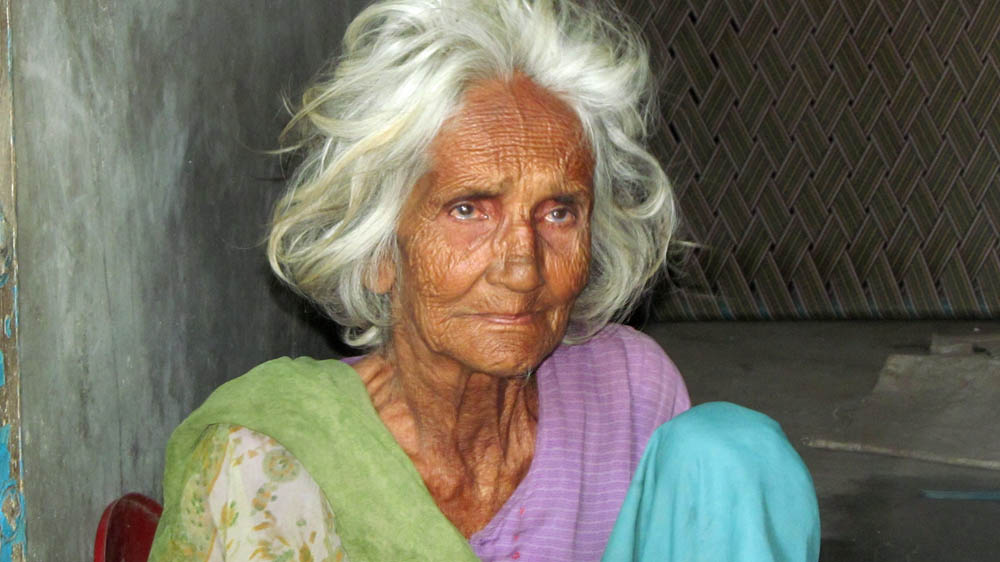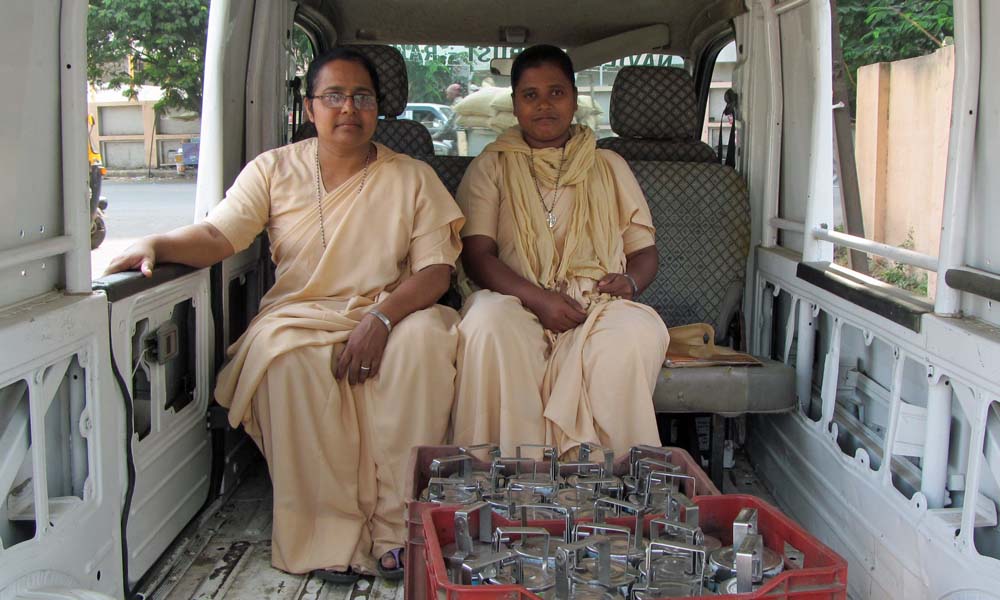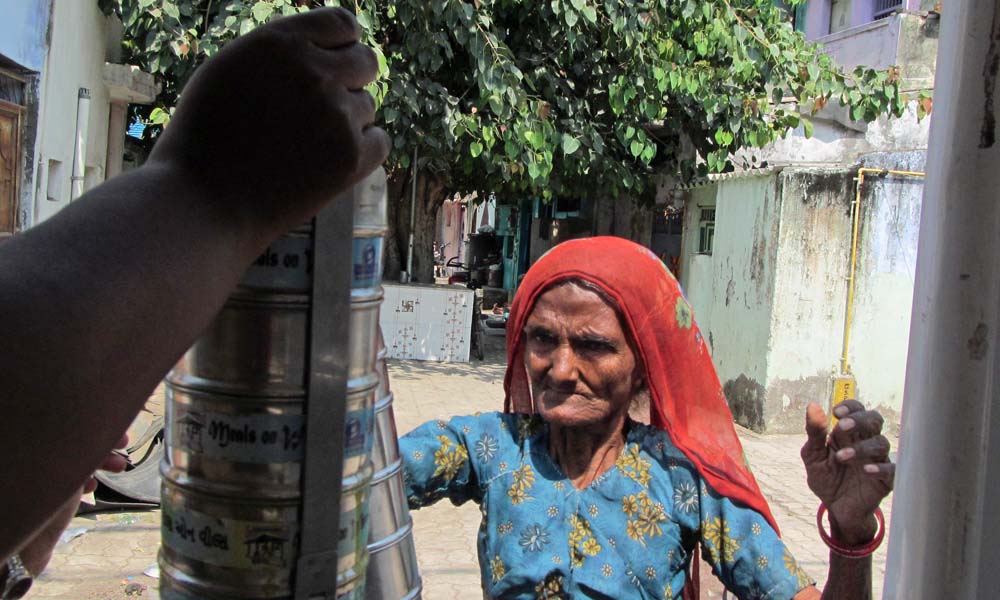 Rajkot, India — Kanta Parbat Makwana had only stories of rejection and hopelessness to tell until members of a congregation of Catholic nuns entered her life.
The 90-year-old Hindu widow says she wanted to end her life, but her religious upbringing had held her back. "I no more think of death because the sisters have given me hope to live," Makwana told Global Sisters Report.
The hope comes to her in the form of a lunch bag that the members of the Society of Devapriya (God's beloved) Sisters deliver to the destitute woman at her home in Rajkot, a major town in the Saurashtra region of Gujarat state in western India.
Makwana is among 100 elderly people who benefit from the "Meals on Wheels" project of the indigenous congregation based in Rajkot.
At noon every day for the past three years, the nuns have brought them boxes filled with chapatis (flattened bread prepared with wheat flour), rice, lentils, and some vegetables.
"This is the only food I have for the whole day," Makwana says with a trembling voice, sitting alone inside a 64-square feet room with a concrete floor and wooden door in Popatpara, a slum in the outskirts of Rajkot. Two steel cups, one bucket and a couple of plates lie scattered in the room. A cot woven with plastic strips is kept folded in a corner.
The mother of two sons eats a portion of the food at noon and keeps the remaining for dinner.
"I have two sons and they are married and settled. They do not want to keep me with them," said the former domestic worker with a forlorn look on her wrinkled face trying to pat down her unkempt white loose hair.
"It is too painful to realize that nobody wants me," says the woman, whose husband died when her sons were young boys, though she cannot remember the years. After his death, she worked hard to raise their sons, she said.
She now finds happiness from the Catholic nuns who also provide her medicines for various ailments. She suffers pain in her hands, especially her stiff fingers. To ease her pain, the nuns bring her food in a plastic bag so that she can open it easily. The nuns also sweep her room and wash her plates "when they find me totally down," Makwana says.
Sr. Nirmala Bahara, coordinator of the "Meals on Wheels" ministry, says they usually supply food in small metal boxes, called tiffins, but make exemptions for people such as Makwana.
They cook the meals at the diocesan social work center and at the congregation's headquarters, about two miles apart, Bahara says. They use a van to take the tiffin boxes to various parts of the city.
Bahara's superior Sr. Grace Kollencherry says the elderly destitute are a new trend in Indian society that traditionally revered and cared for their elders. "Earlier, people lived in joint [1], or multigenerational, families where they gave the elderly respect and care," she says. When the older children grew up and moved away, the youngest son got the ancestral house so that he could look after the parents.
However, as families became nuclear and both spouses began working, values and ethics of life changed and elderly parents became burden.
"The new generation now feels comfortable in nuclear families," Kollencherry, 48, told GSR.
In some cases, even if the children want to take care of their parents, poverty does not permit them to do so, she says. "This trend is a major cause of concern for everyone," she laments. Many elders end up living alone with little means for survival.
Bahara, 28, says the idea of "meals on wheels" came from their founder, retired Bishop Gregory Karotemprel of Rajkot.
The 84-year-old second bishop of the Syro-Malabar Diocese founded the congregation [2] in 1989 to support the growing pastoral needs of the diocese that covers the Saurashtra region.
The congregation's charism — compassionate love of Jesus — prompts the nuns to pay special attention to the neglected and lonely, besides their involvement in ministries such as education, health care and social awareness creation, says the superior general Sister Tresa Puthussery.
Karotemprel says his main intention to start the meals program was to give a dignified life to the poor old people who struggle to find food.
An incident in early 2014 prompted the Carmelites of Mary Immaculate bishop to start the unique ministry.
During Hindu festivals, some people distribute food to the poor. "Once I saw a group distributing free food on a roadside. The poor jostled with each other to get their share while the distributors shouted at them."
The prelate noticed that the old and infirm were left behind as there was nobody to care for them. "They were sick and weak and could not reach anywhere near the distributors," he recalls.
The prelate then decided to offer food to the elderly in a dignified way.
He visited slums in the city accompanied with the nuns and identified the elderly destitute. "We began to bring food to their home or wherever they stayed," he told GSR.
They started with 10 people. The prelate says they had offered to accommodate the destitute in the church-managed orphanages and hospices. "But they do not want to move from their residences where they have lived for years. They also feel their freedom of movement will be restricted if they stay with us," he explains.
However, the church wants them to lead decent lives without begging for food, he says.
The project is funded by individual donations and the diocesan social work department.
Sara Ban, a 95-year-old Muslim woman, says she "totally depends" on the nuns' generosity for her survival. The widow's only son died five years ago and since then she is in misery. "My daughter-in-law and grandchildren threw me out," she says with choked voice.
Now, she eagerly waits for the nuns' visit with the lunch box.
"We make it a point to reach them with food in time as they are hungry and waiting for us," says Kollencherry. One lunch packet is sufficient for the aged to eat twice.
The nuns have kept the same vegetarian menu as their beneficiaries come from different religious backgrounds. Some communities do not eat meat or fish. Those from the Jain religion avoid even onion and vegetables grown underground.
Kollencherry says they also reach out to those who have made sidewalks their home.
"Besides distributing food, we also help them clean their houses, wash their clothes and take them to hospital and any other help as they require," she explains.
Some senior people from rich families had requested the nuns' help. "But we decline such cases after visiting them. We accommodate only abandoned elderly persons who are not able to earn and live on their own," Kollencherry says.
She says the government has old age pension for elders and offers 1,000 rupees a month for each. However people such as Makwana are not eligible as they have no legal document to prove their identity.
The superior general says they involve their aspirants in the ministry. "They join as in cooking and distributing food to the elderly," she says.
Currently, they have five aspirants and "all of them are involved in the project as part of their training to get a feel for the poor and their vocation," the 43-year-old general told GSR. The congregation has only 62 members.
Puthussery says the congregation invites the elderly to spend a day with the nuns. "We share meals with them. This make them comfortable and help bond with us," she adds.
The nuns also bury the dead if no relative turns up to claim the body. So far, the nuns have done last rites for 10 persons.
"We keep details of their children or close relatives and inform them about their death. If anyone turns up we hand over the bodies to them," she explains. "If not, we will perform their last rite as per their religious belief."
[Saji Thomas is a freelance journalist based in Bhopal, a central Indian city. He has worked for several mainstream newspapers such as The Times of India.]