Sisters urge US, North Korea to dialogue, disarm to resolve nuclear conflict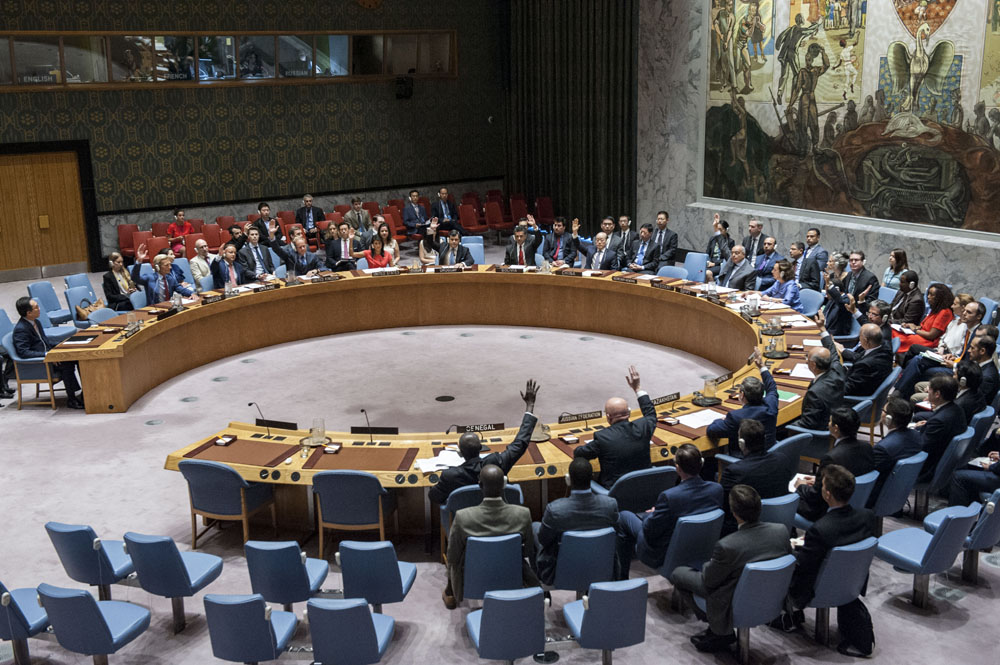 Worried about the unresolved tensions between the United States and North Korea, Catholic sisters are adding their voices to those calling for diplomatic efforts to ease recent hostilities.
In an Aug. 13 statement issued following its Aug. 8-11 assembly, the Leadership Conference of Women Religious, or LCWR, called on President Donald Trump "to engage in constructive dialogue and negotiation to resolve the current crisis between the governments of the United States and the Democratic People's Republic of Korea in a manner that guarantees the peace and security that all people seek."
The assembly of more than 700 LCWR members, who are leaders of U.S.-based religious congregations, also said, "We commit ourselves to promote nonviolence and a compassionate response to the thirst of the world for integrity and communion."
Calling this a "critical moment for our country and global community," the LCWR assembly, meeting in Orlando, Fla., said it had "discerned the Gospel call to embody love for the sake of the world." LCWR has nearly 1,300 members, who represent more than 38,800 women religious in the United States.
"We commit ourselves to promote nonviolence and a compassionate response to the thirst of the world for integrity and communion."
Both North Korea and the United States have in recent weeks escalated a war of words, against a backdrop of North Korea conducting a series of missile tests. This is fueling worries about a conflict on the Korean peninsula that could escalate into a nuclear war.
North Korea has threatened to send intercontinental ballistic missiles, or ICBMs, near Guam, a United States Pacific territory. In the wake of recent North Korean missile tests and worries about North Korea's nuclear capability, the U.N. Security Council, in a unanimous vote Aug. 5, imposed new economic sanctions against the country. The sanctions are targeted at North Korean exports such as coal, a large share of the country's export goods. Meanwhile, Trump has vowed threats by North Korea will be met by U.S. "fire and fury like the world has never seen." Days after that Aug. 8 statement, Trump said the U.S. military was "locked and loaded" to respond to any threats by North Korea.
In the week since Trump made those comments, the verbal volleys between the two countries has calmed somewhat, with North Korea saying it was postponing any attack toward Guam. Meanwhile, U.S. Secretary of State Rex Tillerson and U.S. Defense Secretary James Mattis have said the United States is seeking a diplomatic solution to ease the tensions.
To Catholic sisters such as Maryknoll [1] Sr. Jean Fallon, a longtime anti-nuclear arms activist, that is good news. But in an interview with GSR on Aug. 16, Fallon said immediate efforts need to be part of a longer term strategy to solve a longstanding global problem.
"The countries involved need to sit down, talk and keep at it," she said, comparing instability on the Korean peninsula to "a terrible boil that has been in the body and has now come to the surface of the skin."
A long-term goal, she said, is that the U.S., North Korea, and neighbors South Korea, China and Japan ultimately agree to the de-nuclearization of the Korean peninsula and that the countries "will not use nuclear weapons. Otherwise, it [the nuclear threat] holds everyone hostage."
There is a history of negotiations between the different parties, Fallon said, and the U.S. has a proper role to play in any future talks, with "our best negotiators at the table." Though worried about attrition of such diplomatic expertise in the Trump administration, she said, "Some are still around."
Though she said North Korea "has always been unstable," Fallon doubts that the current regime of supreme leader Kim Jong Un is bent on self-destruction. "They stand to lose everything with this gamble," she said, acknowledging that the North Korean government can appear "crazy" to the outside world.
At the same time, Fallon said the United States needs to understand that North Korean leaders see the U.S. as a military threat against their country. Trump's comments, which implied the use of nuclear weapons, have not helped the situation. "Just look at that threat," she said of Trump's declarations. "It has destabilized the whole region. If you use that as a threat, to use nuclear weapons, that's destabilizing."
The current crisis has put into stark relief the issues raised by the recent action of 122 United Nations member states to outlaw nuclear weapons [2] on July 7 — a move that was opposed by major nuclear powers such as the U.S. (Like the United States and others, North Korea did not participate in the U.N. conference that resulted in the international agreement.)
Srs. Carol Gilbert and Ardeth Platte, two Dominican Sisters of Grand Rapids and long-time anti-nuclear activists who attended the recent U.N. meetings, said in a joint email to GSR on Aug. 16 that the Korean situation "is a prime example of the rationale for all nations to sign, ratify and implement the nuclear weapon ban treaty of July 7."
"Without this treaty more nations will choose to obtain nuclear weapons as their sign of power in the world," they said. "We are convinced that the amounts of money spent in this power-mongering causes poverty and suffering, contamination and pollution, waste of resources and devastation without ever being used. Dialogue and response to the real problems within nations is essential for good relations."
Fallon noted another problem, citing recent reports that North Korea's ability to fire an ICBM was due to "black market" purchases, probably from Ukraine, The New York Times reported this week [3]. "It's a business. They (nuclear arms producers) don't want it to go away," Fallon said. "There's no purpose for this except for them to line their pockets."
The recent tensions along with the recent action at the United Nations have put the issue of nuclear war and weapons "back on the agenda," she said — a needed move for a world that, Fallon added, has too long ignored the nuclear threat.
[Chris Herlinger is GSR international correspondent. His email address is cherlinger@ncronline.org.]