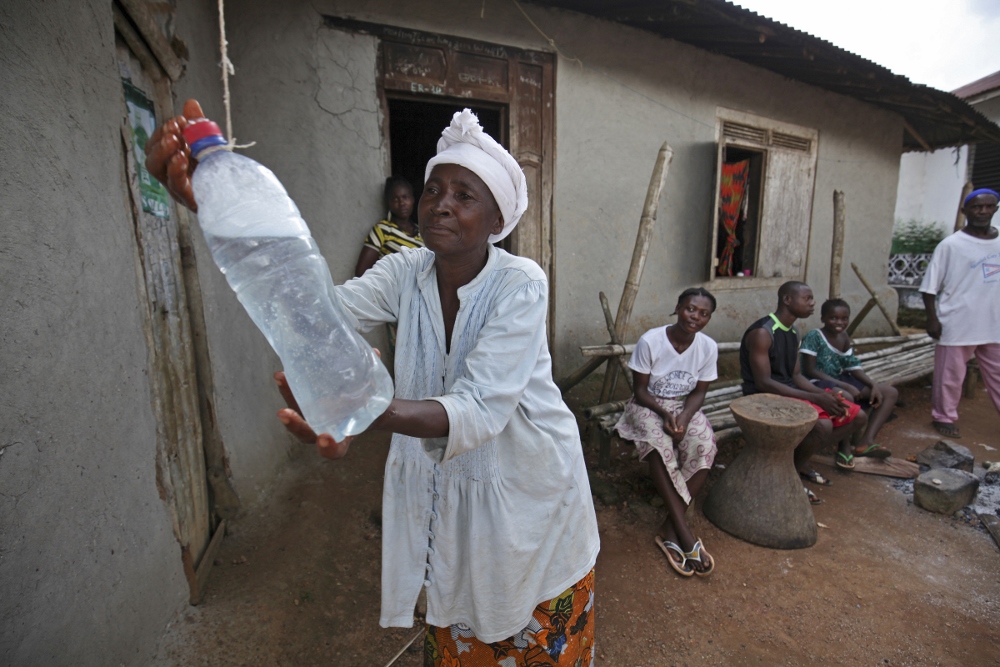 To curb the spread of Ebola, a Liberian woman washes her hands using a bottle of chlorine water in Jene Wonde, a village near the border with Sierra Leone, Nov. 9, 2014. Catholic Relief Services committed $1.5 million to its pre-existing programs in Sierra Leo ne, Liberia and Guinea, the three West African countries affected by widespread transmission of the Ebola virus. The money is being used a number of ways, including to train heath workers, ensure safe and dignified burials, and maintain local Catholic-run health care facilities. (CNS photo / Ahmed Jallanzo, EPA)
Every killing of a nun is beyond description, but when there appears to be little or no resolve to bring their killers to justice, the wound stays particularly fresh and deep.
Public television's Frontline and ProPublica joined forces recently to investigate the killing of five Adorers of the Blood of Christ sisters in Liberia in October 1992, a massacre that took place during the blood bath of a civil war that raged there for four years thanks to warlord Charles Taylor.
The story, which has a long printed version and a 16-minute video, even interviews one of the alleged killers.
"The Catholic Church, the U.S. Embassy and Liberia's Truth and Reconciliation Commission all investigated. All came to a similar conclusion: The killers were soldiers in the army of Charles Taylor, the Liberian warlord convicted by an international court for crimes against humanity," the story says.
But no one has ever been brought to justice.
The bodies of Srs. Barbara Ann Muttra, Shirley Kolmer, Kathleen McGuire, Agnes Mueller and Mary Joel Kolmer lay in the street until West African peace keepers could retake the area and retrieve them.
Muttra, 69, was a nurse who had spent 21 years in Liberia. Shirley Kolmer, 61, was the leader of the group. McGuire, 54, taught school. Mueller, 62, taught local women to read and worked at a nearby health clinic, while Mary Joel Kolmer, 58, (Shirley Kolmer's cousin) was a teacher and mentored young Liberians interested in entering the order.
The five a memorialized in a statue at the Adorer's convent in Ruma, Illinois, about an hour south of St. Louis.
Despite more than two decades without justice, there may be a change, the report says: In May, the FBI arrested Tom Woewiyu, Taylor's former Defense Minister, for lying on an application for citizenship.
The report says the press release announcing Woewiyu's capture is headlined: "Alleged War Criminal Arrested," and that the indictment notes that when Woewiyu was Taylor's minister of defense, Taylor's forces conducted a campaign "characterized by the torture of perceived adversaries, the execution of civilians, the killing of ECOMOG peacekeepers, the forced sexual slavery and rape of girls and women, the conscription of child soldiers, and the murder of humanitarian aid workers."
The story is worth a look, especially as we remember the 10th anniversary of the murder of Sisters of Notre Dame de Namur Sr. Dorothy Stang, who was killed for defending the Brazilian rainforest and the indigenous people living there. You can learn more about her here.
Lessons learned – again
Liberia, of course, has been in the news for its massive Ebola outbreak. And over and over, we heard from people fighting the disease there that education was key: Education about why the disease was happening, how it spread, and how to properly bury victims.
Next door in Guinea, those lessons are being learned all over again.
The New York Times reports that Red Cross workers say they're attacked at funerals on average 10 times a month, because safe burial practices are so different than the traditional practices – practices, such as washing the body, that can easily spread the disease.
Meanwhile, a new study finds that Ebola victims remain contagious up to a week after death.
Says the Times story: "Dr. Anthony S. Fauci, director of the [U.S.] National Institute of Allergy and Infectious Diseases, said the study offered 'microbiological proof positive of what we've been observing in a field setting — that kissing or washing or caressing bodies is almost certainly the way a lot gets transmitted.'"
The World Health Organization reports that a single unsafe burial in Guinea spreads the disease to nearly a dozen other people. All told, Ebola has killed nearly 9,000 people.
Remember, links, tips and accounts of the response to any crisis anywhere in the world are always welcome at dstockman@ncronline.org.
[Dan Stockman is national correspondent for Global Sisters Report. Follow him on Twitter @DanStockman or on Facebook.]