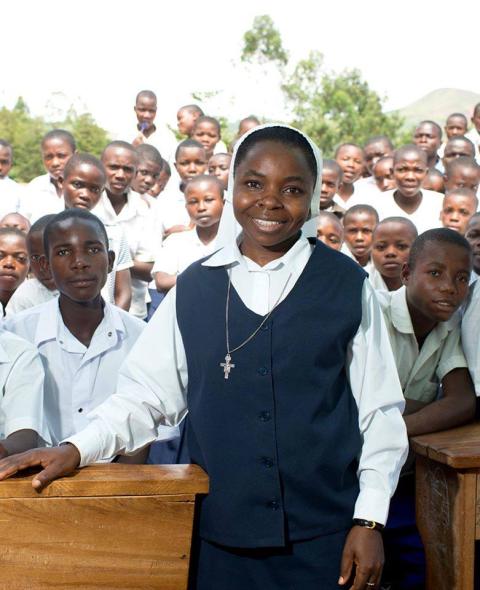 (Courtesy of the School Sisters of St Francis of Christ the King)
Date of Death
November 29, 2016
On Nov. 29, 2016, Sr. Clara Agano Kahambu was killed at the Mater Dei Parish in Bukavu, South Kivu, capital of the Democratic Republic of the Congo.
The Franciscan Sister of Christ the King was in her office talking to a student when a man masquerading as a parent seeking his daughter's admission at the school entered her office, launched himself at the nun and stabbed her neck with a knife. Kahambu died en route to the hospital, and her assailant was captured.
Hailed as an advocate for gender equality and women's rights, Kahambu died at age 40. She was born on July 3, 1976, in her local parish of Luofu, a diocese of Butembo-Beni. She was the fifth child of Jean-Pierre and Anastasia Kahindo, who had 10 children total. She began her novitiate on Aug. 25, 2002, at the Spalato Franciscan Sisters of Christ the King. Kahambu was the headmistress of Marie Madeleine School in Bukavu, where she taught pedagogy, catechesis and psychology.
References: http://www.fides.org/en/news/61299-AFRICA_DR_CONGO_Sister_Clara_killed_she_dedicated_her_life_to_improving_the_conditions_of_girls
http://cisanewsafrica.com/dr-congo-catholic-nun-murdered-in-bukavu/
More information from this obituary on Facebook:
https://www.facebook.com/Lemontfranciscans/photos/rip-sr-clara-agano-kahambu-ssfrcin-the-congo-clara-agano-kahambu-ssfcr-was-kille/1334685776563136/