The Latin American sisters who arrived to the United States as part of an exchange program in 2014 heard the same mantra repeatedly: You will only be here for five years. From day one, they had to plan ahead in their new ministries.
Now, after they served 10 underresourced dioceses for those five years, the 36 sisters have graduated from the U.S.-Latin American Sisters Exchange Program and are heading back to their home countries. But now they are largely fluent in English and have bachelor's or master's degrees from Boston College, as well as leadership and pastoral experience.
"It truly is the definition of an exchange because the sisters that come to the U.S. are building these wonderful ministries, but they're also training leaders to grow the ministries after they leave so that it becomes sustainable," said Erika Cedrone, senior director of mission at Catholic Extension, the papal mission society that funds the exchange program, launched in 2014.
"Then they return home with all the academics they learned, the experiences they had in the U.S., and grow their home congregations in the Global South," a selling point to their mother superiors, she said.
The sisters from Mexico, Honduras, Guatemala, Puerto Rico, El Salvador, Colombia and Venezuela were in their 30s and 40s with a few exceptions, including one who was 70 when she arrived. They were chosen largely because of the leadership potential their superiors wanted to tap and develop to "help them become better leaders within their congregations and eventually better mother superiors," Cedrone said.
"It's all about potential. If she only has an eighth-grade or high school diploma but she has the potential to do amazing things, that's the sister we want."
Sr. Maryud Cortés, a Missionary Servant of the Divine Spirit, left Colombia with a high school diploma and did not have a basic understanding of English. But after five years in the Diocese of Kalamazoo, Michigan, she's acquired bachelor's and master's degrees in psychology and has become conversational in English.
"These five years happened just after my perpetual vows, so it was a formation that came at a critical time in my life," she said.
Reaching the 'should-be Catholics'
The 10 dioceses that Catholic Extension selected to receive a sister from the program had experienced a recent Latino population boom, but the local Catholic churches were unequipped to minister to its new population. (The dioceses were Bismarck, North Dakota; Des Moines, Iowa; Charleston, South Carolina; Kalamazoo; Little Rock, Arkansas; Monterey, California; Richmond, Virginia; San Angelo and Tyler, Texas; and Yakima, Washington.)
Bishop Joseph Strickland of Tyler told the National Catholic Reporter in 2014 that his diocese's need for this program came from its lack of resources, creating what he called "should-be Catholics": people who have a Catholic background or strong connection, but once they move to rural Texas where the nearest church could easily be a half-hour drive away, it becomes easy to stop participating.
A vast majority of the diocese's 33 counties are heavily Protestant — churches, Strickland said, that are much better at knocking on doors and inviting people to join.
Culture was the biggest challenge Sr. Brenda Hernández, a Daughter of Mary Immaculate of Guadalupe from Mexico City, and two other sisters faced in the Bismarck Diocese. She said North Dakotans were far more unfamiliar than those in border states with the customs of Mexican people, not knowing "why we bring flowers to the image [of Mary], why we prefer singing to silence, why we're so loud," she said.
"But they welcomed us and came to our events, and I'm proud of that. It's like they're accepting our culture and our way of expressing our faith."
Fr. Fabio Garzon said the four sisters who came to his Kalamazoo Diocese were instrumental in helping the burgeoning Hispanic population "understand how to be Catholic in the U.S., which is a whole different story where we come from." Garzon and the four sisters in Kalamazoo from the program are all Colombian, ministering to a largely Mexican group.
"The diocese has been changed; the impact is all over," he said.
Hispanic women, especially, "have been affected beautifully; the sisters brought them pride, taught them skills, recovered their dignity, because sometimes the machismo can be challenging."
"This program gave the possibility to reconstruct the fabric of this community," Garzon said. "It's like now we're woven together. They connected us more, parish to parish."
Language, weather and distance were also some of the challenges Hernández said she and the other sisters faced while ministering. The priests would read Mass in Spanish but couldn't communicate beyond what they had just read. The sisters had never seen snow before, and severe cold was a new phenomenon. Hernández found herself needing to drive in those conditions for hours at a time, commuting three hours from one parish to the next, sometimes only staying for two hours to teach a class before driving back.
One important touch point for ministering in the vast and largely unpopulated state, Hernández said: Walmart, the sole superstore for hours that attracted people from all over the diocese. For three years (before Walmart changed its loitering policy), the sisters stood outside the store in their habits, handing out information about local parishes.
Whether they went door to door or met people in restaurants and stores, Hernández and her fellow sisters found local Hispanics and invited them to church. Some of the Catholics had no idea where the nearest parish was.
"A lot of them were still trying to find work, so we accompanied them in different ways, not just offering Mass or catechesis. We'd help them with their papers or connect them with other Hispanics," she said. "I'm proud of this bridge that the church has become for [local] Hispanics, because now we are like a family, a community."
A 'learning experience for everyone'
Before the sisters were sent to their respective dioceses, a nine-week orientation at the Mexican American Catholic College (MACC) in San Antonio helped them understand life in the United States: the everyday errands, their basic civil rights, what Hispanic ministry looks like, and administrative rhythms in parish life.
Many sisters also had to become acquainted with Mexican culture, as the dioceses where they were to minister would have largely Mexican populations with customs foreign to the Central and South American sisters. For example, Garzon in Kalamazoo said Mexicans tend to be more traditional in their practice; Colombians, on the other hand, lean toward a "popular religiosity."
Arturo Chávez, president of MACC, coordinated lesson plans with his team based on team members' experience working with immigrants and sisters and the various idiosyncrasies of daily life that can pose a challenge, such as how to use an ATM, put gas in your car, use a washing machine, or find your way around Walmart (an overwhelming scene for those who have never seen a superstore).
Though the orientation also emphasized the expectations around communication — such as replying to emails and returning calls quickly, which tends to be more relaxed in Latin America — Chávez said he found this younger generation of sisters had a better grasp on this than he expected.
"They're part of this global culture that is very media- and tech-savvy," he said, adding that they even taught him how to communicate through WhatsApp.
Hernández said the orientation "opened our eyes to the life of Hispanic ministry in the U.S. and how it's different in our own countries. ... The training helped us be ready for the challenges in our dioceses and made our way easier. I am so grateful for that."
When the program began in 2014, Chávez told NCR he anticipated the biggest challenges to be the culture clash with church operations. Often, when immigrants seek to join a church, the administrative needs appear unwelcoming, as do the classes and paperwork required for sacraments. Now with the pilot program behind them, Chávez said it indeed was a "learning experience for everyone."
For the second cohort of sisters, who are expected to arrive Sept. 15, Chávez said streamlining the partnership with Boston College will be a priority so every online class the sisters take from beginning to end can count toward a bachelor's or master's degree.
Beyond the nine weeks of orientation, MACC's role is to accompany the sisters throughout the five years, and Chávez said one topic to keep at the forefront is the complexities of gender and power.
"That's one thing we plan to do differently, to keep that focus throughout and ask the questions not only when it's a crisis. ... We need to know that power relationships are part of everyday life, so how do we help and mentor and accompany sisters in that daily life of these issues?"
'When you need something done ... call sisters'
Though the first group of sisters primarily focused on catechesis and evangelizing, Cedrone said she anticipates the incoming class — 30 sisters from Mexico, Honduras, Nicaragua, Ecuador, El Salvador and Guatemala — will be more focused on intentionally supporting at-risk women, children and families while still prioritizing their academics.
"The sisters are already doing that; it's part of their calling, so how can we make it more intentional by providing support around those areas?" she said.
Chávez said this experience only confirmed for him a belief he's long held: "When you need something done, when there's a real sign of our time that needs addressing, call sisters.
"That's been the history of our country; that's the need that we have now," he said. "This isn't just about bringing women and having them work, work, work. It's about investing in their education and formation, and when you do that, you impact the whole community."
Hernández said she plans to keep practicing or teach English after her June 30 return to Mexico so she does not lose what she learned. But regardless of how well she maintains her language skills, she'll be returning home with a master's degree in leadership and exposure from living in another country, which "makes me rich in experience and skills. I don't know what I'm going to do next year, but I know that I'm different. I'm more open-minded in many ways."
"I am living the best version of myself at this moment."
[Soli Salgado is a staff writer for Global Sisters Report. Her email address is ssalgado@ncronline.org. Follow her on Twitter: @soli_salgado.]
Images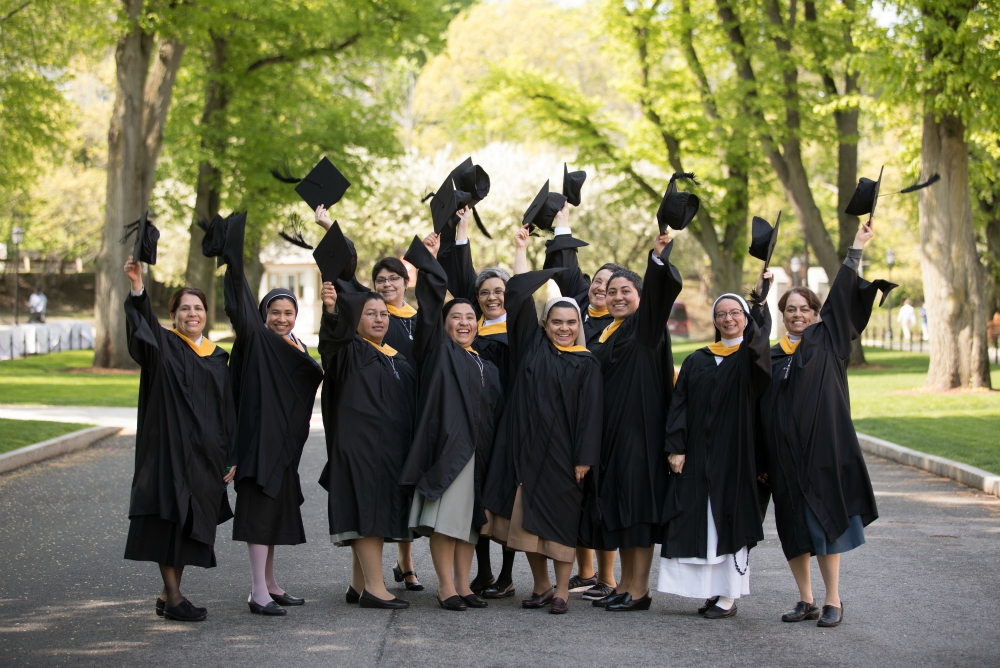 The sisters who participated in the first U.S.-Latin American Sisters Exchange Program ended their five years with a bachelor's or master's degree from Boston College. They graduated May 20. (Courtesy of Rich Kalonick)