In a fairly industrial-looking part of South Boston, four women gathered in a crisp classroom at the Notre Dame Education Center. It was time for their twice-per-week math lessons with AmeriCorps volunteer Nason Heywood. The students were reviewing addition and subtraction concepts, working through the sometimes complicated processes of carrying 10s and borrowing. Heywood posed problems at the white board.
"Let's say I have $17 and I find 5 more dollars on the ground at the T station," Nason said, referring to Boston's transit system. "How much do I have now?"
Later, he shifted to hypothetical grocery store purchases, first showing up with $101 and spending $9, then moving into less realistic territory. When the shopper showed up with $12,345 and spent $6,789, one of the women, Demoz Mengesha, laughed out loud, her eyes open wide.
"Wow! That's too much," Mengesha said. "That's like if you work in a bank."
"Why did you spend so much at the grocery store anyway?" Maria Andrade chimed in before she and her peers grudgingly but good-naturedly walked Nason through the banker's transaction.
Heywood, 29, is wrapping up his second year at the Notre Dame Education Center, where he has taught basic math and English skills to mostly immigrant adults. The experience has changed his life. Like virtually everyone who dedicates an entire year or more to full-time service, whether it is through the AmeriCorps partnership with the Notre Dame Mission Volunteers or one of the 200 other programs affiliated with the Catholic Volunteer Network, Heywood is leaving the program a different person than he was before he started.
Heywood, for one, never expected he would be a teacher. Sure, his parents had told him for years that he should be one – with the advice becoming increasingly more insistent as an alternative to his life as a "bum painter" – but Heywood demurred, somewhat stubbornly, he will admit. Heywood spent about seven months focusing on painting and sculpture, foregoing full-time work in favor of his art before joining AmeriCorps.
His intro to teaching was going to be a bit of a coup. Heywood first applied for a position as an art teacher at the Notre Dame Education Center, but by the time he interviewed, the position had been filled. His eventual assignment was primarily for basic math. Heywood accepted, and four months in, he was enjoying himself so much he decided to extend his AmeriCorps contract into a second year. By this past spring, Heywood had enrolled at Lesley University for a doctoral program in special education, planning a long-term career in exactly what he thought he'd never do.
"The nontraditional learners are the ones who impress me the most on the most consistent basis," Heywood said. "That student population is the one I have the most to learn from, I feel."
More than 3,100 long-term volunteers served at sites affiliated with the Catholic Volunteer Network during the 2013-14 program year, the latest for which there is data available. These mostly 20-somethings turn to a year or more of service to follow bachelor's degree programs or prompt a pivot from one job to another. Many programs are open to both men and women of all ages and all faiths, while some are limited to younger adult volunteers or just women. The 200 programs that will be active in the 2015-16 program year span all regions of the United States and select locations abroad, where dedicated volunteers will come together to serve others and learn more about themselves.
Natalie Brown is the development coordinator for Notre Dame Mission Volunteers. She said during the interview process with prospective volunteers, she stresses the idea that joining the program is not only going to be a year of service.
"A lot of people don't realize it's going to be a year for themselves," Brown said.
Notre Dame Mission Volunteers is based in Baltimore and has program sites in 20 cities nationwide as well as a handful of international locations. The organization was originally founded by the Sisters of Notre Dame de Namur in 1992 to place volunteers in roles where they'd work alongside the economically disadvantaged, promoting literacy and education. Since they partnered with AmeriCorps when it launched in 1995, the program has expanded, maintaining a strong commitment to the Sisters' original mission.
Like Heywood, Notre Dame volunteers often develop a passion for teaching. Others go on to be social workers, civil or human rights lawyers and shapers of public policy. That is not unlike the alumni of other Catholic Volunteer Network-affiliated programs.
In the Mercy Volunteer Corps, Executive Director Marian Uba calls her program's impact like ripples in a pond.
"It's really about putting a face to the poor and marginalized in our society and hoping that it connects with them [volunteers] in a meaningful way," Uba said. Then, in the future, whether it is through their work or their voting habits, Uba said, volunteer corps alumni know they have the ability to make change in a positive way.
Beyond their placements in education, healthcare and social service organizations, Mercy Volunteers are transformed by the focus on mercy and justice that grounds the selective, one-year program. Inspired by 19th-century Irishwoman Catherine McAuley's commitment to following Jesus through compassionate service, the Mercy Volunteer Corps was founded in 1978 "to address the needs of the poor and marginalized throughout the United States."
Uba has served as the executive director for seven years, during which time the program has grown by about 50 percent. Now, close to 40 volunteers are selected to serve domestically each year, and about four more serve in international locations. Their volunteer positions are in agencies with strong support to guide them through what can be a tough year, and that support is compounded by monthly team meetings through the volunteer corps.
"Some of them will see things they couldn't possibly have imagined," Uba said. "They may have done a week of service, but living in solidarity with the other is a much, much different experience."
Teachings from the Sisters of Mercy justice curriculum add to a Mercy Volunteer Corps members' experience. They get opportunities to participate in various events with the Sisters. Volunteers this past year attended Ecumenical Advocacy Days and a climate march in New York City. After their program years, a majority of alumni stay engaged in social activism and find careers in education, social service and healthcare fields, Uba estimates. Many go on to graduate school for degrees in social work.
Like in many peer programs, some even accept full-time jobs and transition from volunteers at their placement sites to paid staff members.
That's a transition Brooklyn Vetter is preparing to take in St. Paul, Minnesota. Vetter, 22, has spent the last year working at The Lift Garage through the St. Joseph Worker Program, which is sponsored by the Sisters of St. Joseph of Carondelet. The Sisters have been responding to the needs in the community and serving neighbors since 1650. The worker program took up that mission 14 years ago.
Vetter's site, The Lift Garage, provides low-cost car repair for low-income Minnesotans.
"It was a barrier I had never really recognized," said Vetter, whose father is very knowledgeable about cars. Growing up in Sioux Falls, South Dakota, if Vetter had a problem, she would drive her car home and have it fixed for free. Over the past year, Vetter has realized just how much of a crisis one breakdown can cause, putting people behind on rent, forcing them to miss work. "One car repair turns into something so much bigger than what it originally was."
Vetter graduated from Minnesota State University, Mankato, putting off her original plan of graduate school to volunteer. She was drawn to the St. Joseph Worker Program's focus on an inclusive, broad definition of spirituality after a college experience that forced her to struggle with her own connection to religion. Over the last year, Vetter has grown with the help of a spiritual mentor who, she said, has managed to give her the right prayers at all the right times. Living in an intentional community of other young women across two houses, all volunteers with the program, Vetter has enjoyed weekly "sharing of the heart" gatherings that ask each woman to say how the spirit loved her and how she loved the spirit.
"It's kind of nice to think about that and process that and really be a part of my spirituality," Vetter said, "rather than trying to do it but really be active in it and let it be active in me as well."
The intensive St. Joseph Worker Program creates strong bonds among volunteers and between them and the organization. Virtually all participants are women between the ages of 21 and 30, joining the program with at least a base understanding of social justice and a desire to live simply, contributing to poor and marginalized communities. The program is organized to teach these women "the two feet of justice" – direct service and systemic action. Besides Vetter's time working at the Lift Garage completing intakes, ordering parts and dabbling in fundraising efforts, she also lobbied state representatives on a bill that will allocate funding to nonprofits providing transportation.
Sr. Suzanne Herder, director of the St. Joseph Worker Program, said most women selected for the program have an understanding of social justice, but many are at the "charity level."
"They want to help people," Herder said. "We move them to the next level, which is the caring level of journeying with the people." This second stage, instead of seeking just to help the marginalized, seeks to empower them.
The women of the St. Joseph Worker Program, long after they finish their service years, remain connected to the organization that shapes their worldview. The long-term commitment is evidenced by a recent survey sent to 110 former volunteers. Fully 95 percent of them responded, and nearly three-quarters are still actively connected to SJW sites. Virtually all of them work for nonprofits and have found ways to continue in the spirit of service fostered by the Sisters of St. Joseph.
"They live that life of loving God and neighbor without distinction after they leave us," Herder said.
Imparting such values is a goal of many programs affiliated with the Catholic Volunteer Network. These programs collaborate among each other throughout the year, working together to be a force for good in this world. Directors have a chance to seek answers from the collective wisdom of the network and benefit from CVN training about program expansion, staff development, marketing tips, and other topics.
The Catholic Volunteer Network, funded primarily by grants and member dues, provides a basic infrastructure to help even the smallest programs make an outsized impact. The network's visibility provides a recruitment tool for programs, though they also benefit from their own website presence, word-of-mouth, volunteer fairs, churches and universities. The combined recruitment work helps connect energized volunteers like Heywood and Vetter with communities that need them, which in turn gives them the chance to discover their own passions and strengths that will set them up for the rest of their lives.
Vetter said she has learned a lot about herself over the past year, both professionally and personally. She entered the program with the long-term goal of starting a nonprofit. Working at The Lift Garage, a fledgling organization itself, has taught her the true challenges of such a venture. She has learned lessons about her own capacity and fleshed out her understanding of community. Looking forward, Vetter said she feels more connected to her work, to the greater metropolitan area of St. Paul and to the Earth. She recognizes more deeply how her actions affect other people and the world she is living in.
"This has been a really great year and exactly what I needed," Vetter said. "Not exactly what I expected, but it's been exactly what I needed."
[Tara García Mathewson is a freelance reporter based in Boston. She has produced award-winning work for the Kitsap Sun in Bremerton, Washington, and the Daily Herald in suburban Chicago. She started freelancing in 2013 and has written for a number of magazines, newspapers and online outlets since then. Find samples of her published work at www.taragm.com and keep up with her latest reporting by following her on Twitter @TaraGarciaM]
Images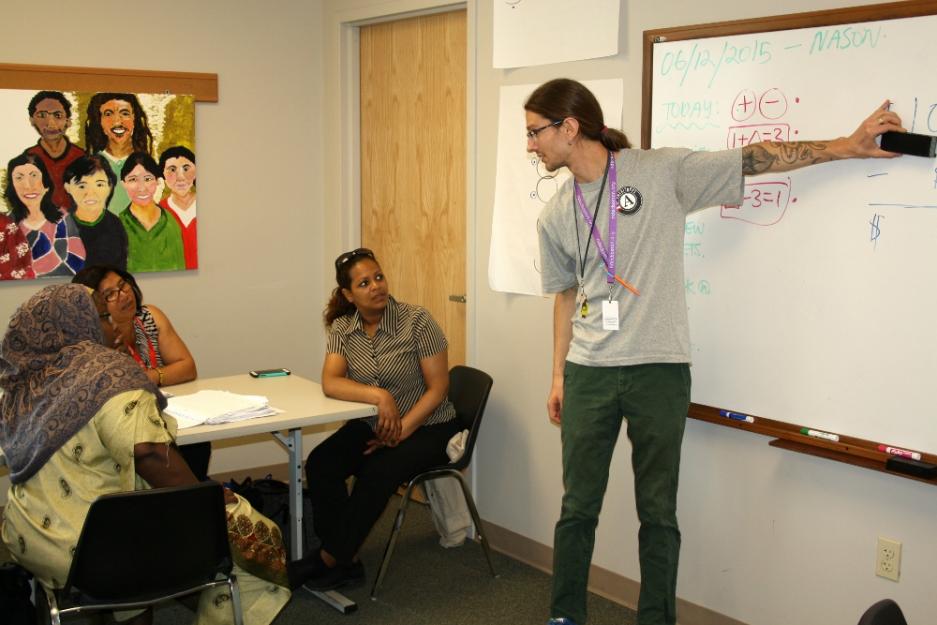 Notre Dame AmeriCorps Boston volunteer Nason Heywood leads an adult basic math class at the Notre Dame Education Center in South Boston. Heywood is just wrapping up his second year of teaching at the center. (GSR photo/Tara García Mathewson)