On Tuesday night — from a stage lined with LED candles and backlit with the Leadership Conference of Women Religious' signature green and blue — LCWR president Sister of St. Joseph Marcia Allen officially kicked off the conference's 2016 annual assembly in Atlanta.
LCWR leadership planned for contemplative dialogue to be the focus of this year's assembly, and the opening night was no exception. After a brief contemplative exercise, School Sister of Notre Dame Catherine Bertrand and Sister of St. Joseph Liz Sweeney chronicled the contemplative dialogue process that will guide sisters of the next four days. After the keynote speeches on Wednesday and Thursday, LCWR members will meet in "deepening groups" of six to process what they've heard. In addition to this structured dialogue, a contemplation room will be available to sisters throughout the assembly. 
"I sense [the Spirit] already in this room as a light right in front of us," Sweeney said in her remarks. "The Spirit is the allurement that brought us to this assembly. Spirit is the mystery asking for our complete yes so that we might be broken open and transformed."
In what was perhaps the most comedic portion of the evening, representatives from the assembly's three regional hosts and co-hosts took the stage dressed as Georgia peaches.
"We're not home-grown Georgia peaches, but we are transplants from New Orleans, Baltimore and Boston," said Holy Family Sr. Greta Jupiter, chair of the LCWR's Region 5, before welcoming everyone to Atlanta.   
The regional hosts were followed by Wilton D. Gregory, Atlanta's archbishop, whose recent appointment to head the United States Conference of Catholic Bishop's racial justice task force was lauded by the crowd.
"I thank you, sisters, for being here. But more than just being here in Atlanta, I thank you for the witness of faith that you continue to provide throughout the United States and throughout the world," Gregory said. "You give the church a gentle face. and we need that gentle face perhaps now more than ever."
Fr. Hank Lemoncelli, an undersecretary for the Congregation for Institutes of Consecrated Life and Societies of Apostolic Life, was also on hand in Atlanta to deliver a letter from the congregation's secretary, Archbishop José Rodríguez Carballo.
However, before reading Carballo's letter, Lemoncelli took time to address the fact that a number of communities of women religious have been invited to further conversation with the Vatican in relation to the apostolic visitation. 
"If you are among one of those few congregations that has been summoned to Rome, this is not the Inquisition," he said. "We have had several of the dialogues — it's a dialogue. It's simply a clarification that some things that arose in the report we received. You have nothing to fear. Breathe easy." 
The night concluded with a wine and cheese social in the exhibition hall. 
The LCWR assembly continues through Friday's banquet and Outstanding Leadership Award. Global Sisters Report will have daily recaps and will be tweeting updates at @sistersreport. 
[Dawn Araujo-Hawkins is Global Sisters Report staff writer based in Kansas City, Missouri. Her email address is daraujo@ncronline.org. Follow her on Twitter: @dawn_cherie.]
Images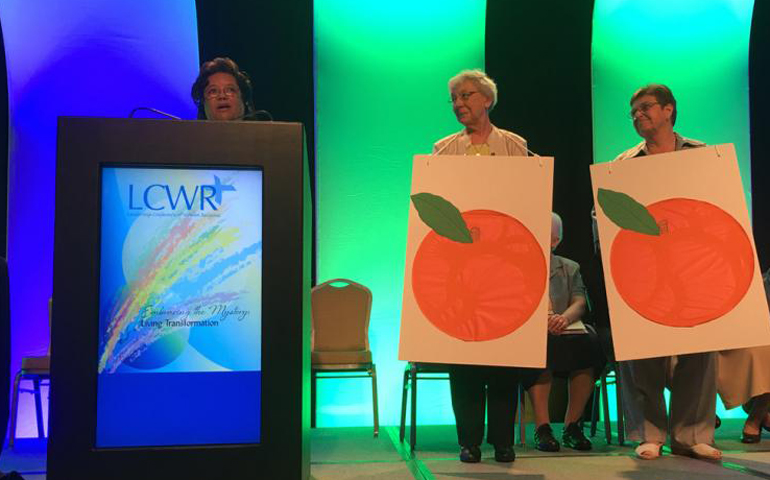 This year's assembly is co-hosted by three LCWR regions. Holy Family Sr. Greta Jupiter, at podium, is chair of the LCWR's Region 5. Catholic Felician Sr. Rose Marie Jasinski is chair of Region 4, and Congregation of St. Joseph Sr. Rosemary Brennan is chair of Region 1. (GSR/Dawn Araujo-Hawkins)