Bomb blasts, shootings and suicide bombers are the every day stories we hear about Afghanistan, but in the midst of it all, brave women religious are undeterred. Three sisters serve the most underserved people of Kabul, creating alternative stories of hope. They have come together from Pakistan and India to help create new futures for children with mental disabilities and their families. The sisters live together in a small house with three tiny bedrooms, a community room, chapel and kitchen. Next door is Pro Bambini di Kabul (PBK) school.
Last week I heard their story via Skype. Sister Razia, a Pakistani Dominican Sister of St. Catherine of Siena, is responsible for the small community of sisters. She has been in and out of Kabul since 2004 and I met her in 2008 when I visited the school. Inspiration for the school came from the call of Pope John Paul II in his Christmas message of 2001 during the long war that had left many children orphans, abandoned and without homes and his cry was, "Let us save the children, in order to save the hope of humanity!" God opened the heart of Fr. Gian Carlo Pravettoni of the congregation of St. Luigi Guanella. To answer this call certainly he could not have been able to do it alone, so he asked the Italian Conference of Religious to join him in this work.
This is how the school for the children of Kabul project was born, under the direction of Mr. Luigi Biondi, who was the country representative of Italian Caritas, while Fr. Giovanni Guarino of the Congregation of Rogazionisti was the president of PBK (Associazione Pro Bambini di Kabul). At the present, Don Wladimiro Bogoni, of the Congregation of St. Luigi Guanella, is president of PBK.
When Sister Razia's superior asked her to consider joining the mission over a decade ago, she jumped at the chance. She was soon off to Italy with a companion to meet two sisters from other congregations. The four courageously looked forward to establishing a new venture of inter-congregational collaboration for the sake of the children of Kabul. Razia spent a year in Rome preparing for the mission. She worked with children with disabilities at a local school and met frequently with her new mission companions. In 2004 she and the others formalized their two-year commitments and flew off to Kabul.
Pro Bambini di Kabul enrolled 10 children the first year. It was unthinkable to most Afghan families that children with mental or physical handicaps could go to school. Families traditionally kept the children out of sight because their disabilities brought shame to the family. However, by word of mouth and witnessing miracles happen, more children began lining up to enroll. I witnessed some of the miracle stories myself. I saw children who had never stood upright or had their feet off the bed walking with walkers or using wheelchairs to move about. Children who could not feed themselves, tie their own shoes, dress or bathe were becoming self-sufficient. Laughter was boisterous as we danced and sang and enjoyed the home grown plays.
Today, 40 children, ages 6-10, attend school here, and more than 25 are on the waiting list. Three of the original sisters have returned to their congregations and Sister Razia also went back March 17, 2011. She returned March 27, 2014, to work with other two Indian sisters (from different congregations) experienced in ministry to children with handicaps.
Sister Mariammal, a Daughter of St. Mary of Providence (Guanellian Sisters), came April 10, 2013, and is vice director of the PBK school. Sister Seena, a Sister of St. Joseph Cottelengo, came January 27, 2014, and is the school's administrator. The sisters no longer teach — there are four local Afghan teachers now — but they do engage with the children at play time, meals and other activities. Brother Carlo, of the Congregation of St. Luigi Guanella, is the director of PBK, and every six months he comes to give the report to the ministry of it finances.
Having women in charge of the school in Afghanistan was jarring to cultural sensibilities of the teachers and parents at first, but the sisters have earned their love and respect. The four female Afghan teachers, at first resistant, were won over by the sisters' competency, patience and respect for the Afghan culture. The teachers also recognize the benefits of the training in special education they receive t at the school, and they enjoy having a job working with the children. The program is so successful that every year, students qualify to enter into the public school system. Of course, not all can reach this goal.
Gaining community credibility for the school was not an easy task. It took time for parents to see its value. The sisters hold regular meetings with parents teaching them how to work with their children at home and about the need children have for patience and expressions of love even in difficult times. The government recognizes the gift the school is to the national education program and sends teachers to Pro Bambini di Kabul to observe how the sisters work these miracles. It is the only school of its kind in Kabul.
The daily schedule begins at 7:30 a.m., when parents and the school bus arrive. The kids eagerly leap about, ready to begin within an hour, when the teachers lead them for assembly, prayer and exercise. Then they disperse to their particular class rooms. A different subject is taught each day: Dari (Afghan variety of Persian language), math, general knowledge , drawing , art and poetry. The students also develop their motor skills in class and at recess where they jump and run and learn to play games. Good food is another important part of the day, and it is another learning opportunity for motor skills. The children love their tea break and lunch times during the day: snacks and cookies at 10:30 a.m., and a lunch of pasta, rice, eggs and meat at 12:30 p.m. School ends at 2:30 p.m., and the bus and parents are ready to pick up the children. The sisters and teachers take turns accompanying the children on the bus to make sure they are kept safe.
The enthusiasm of these sisters for their mission in the midst of the dangers their face is amazing. Going out of the compound is always risky, especially traveling with the children twice a day. At other times the sisters wisely go out only when necessary. They shop in small markets to avoid potential bombings and other threats that go on in large ones. There are also occasional meetings to attend outside their compound, and of course Mass. The sisters attend the one Catholic church in Afghanistan with other Christians.
The church opened in 1921 inside the Italian embassy with special permission from Amanullah Kahn (sovereign of the Kingdom of Afghanistan from 1919 to 1929), who appreciated Italy's recognition of Afghanistan as a sovereign nation. On Sundays, anywhere from 20 to 60 expatriates participate in services, but no Afghans are allowed inside. Barnabite Fr. Giuseppe Moretti had served as Ecclesiastical superior and local ordinary of Kabul since 1977; at the present Rev. Fr. Giovanni Scalese is Ecclesiastical Superior and local bishop. Mass is also a time for sisters to meet others serving in Kabul. Three Little Sisters of St. Charles the Foucauld have a longstanding history in Afghanistan, and four Missionaries of Charity have a home for severely handicapped children who have been abandoned and or orphaned, for example.
When asked about challenges or adjustments they have made in taking on this mission at Pro Bambini di Kabul, the sisters mentioned: language, small inter-congregational living, learning about and working with the cultural differences of these special children, parents' struggles with the challenges they endure and perhaps the most challenging, learning to "live for today." Here they are inspired by the Afghan people who also live daily with uncertainty and hope. A saving grace for them too is an annual visit home with family and time got retreats. No matter the challenges, I learned from my call that the sisters all love this mission and feel it a privilege to be with the Afghan people.
[Joyce Meyer, PBVM, is international liaison to women religious outside of the United States for Global Sisters Report.]
Images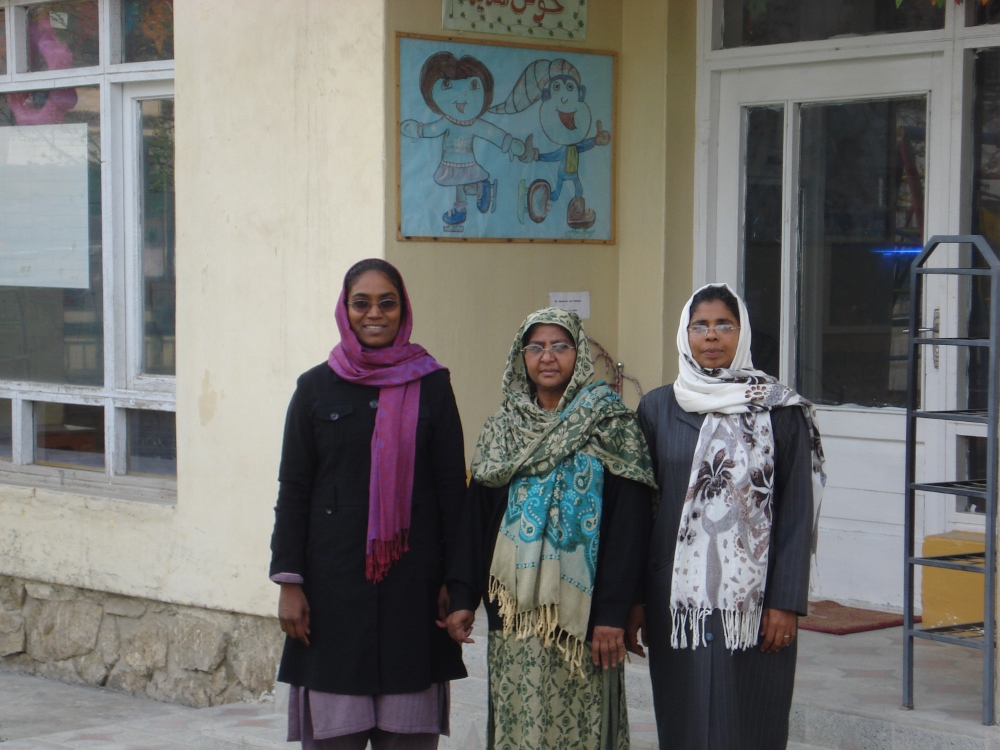 From left: Sister Mariammal, a Daughter of St. Mary of Providence; Sister Razia, a Pakistani Dominican Sister of St. Catherine of Siena; and Sister Seena, a Sister of St. Joseph Cottelengo, pose for a photo in 2015. The three sisters come from Pakistan and India to create new futures for children with disabilities and their families in Kabul, Afghanistan. (Provided photo)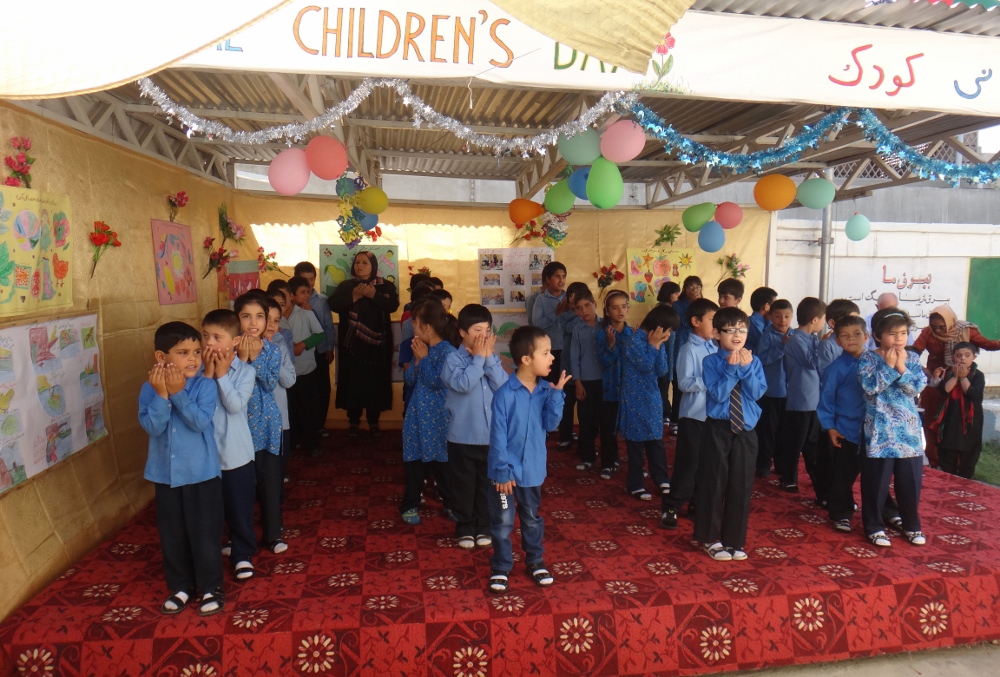 Children of Pro Bambini di Kabul, a school for children with disabilities in Kabul, Afghanistan, present a dance program in 2015. (Provided photo)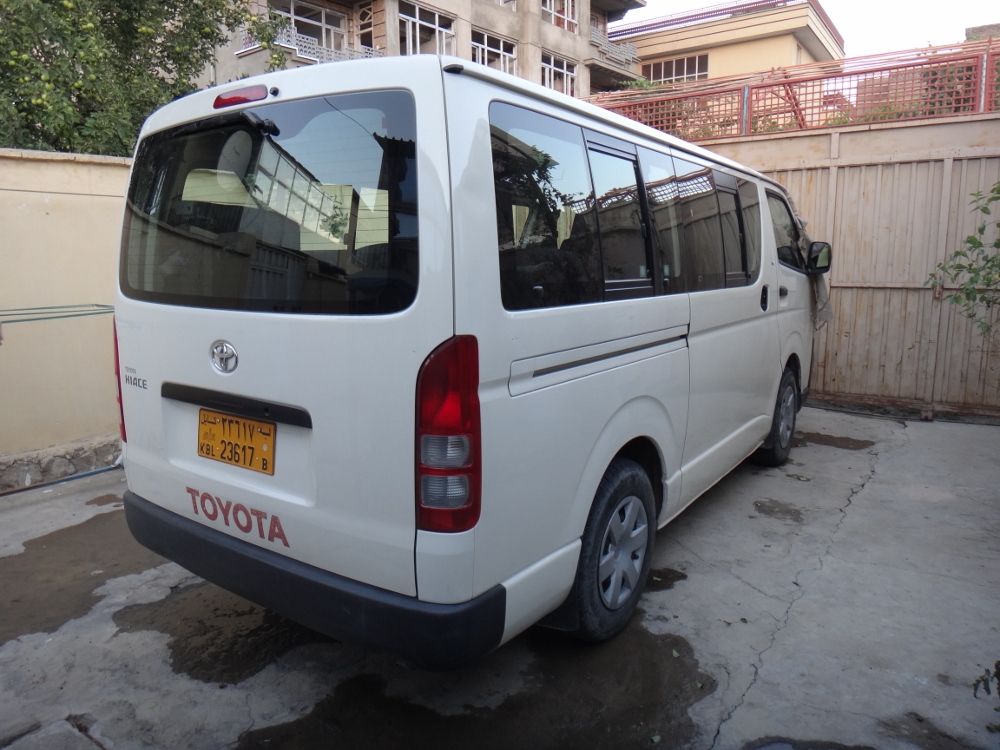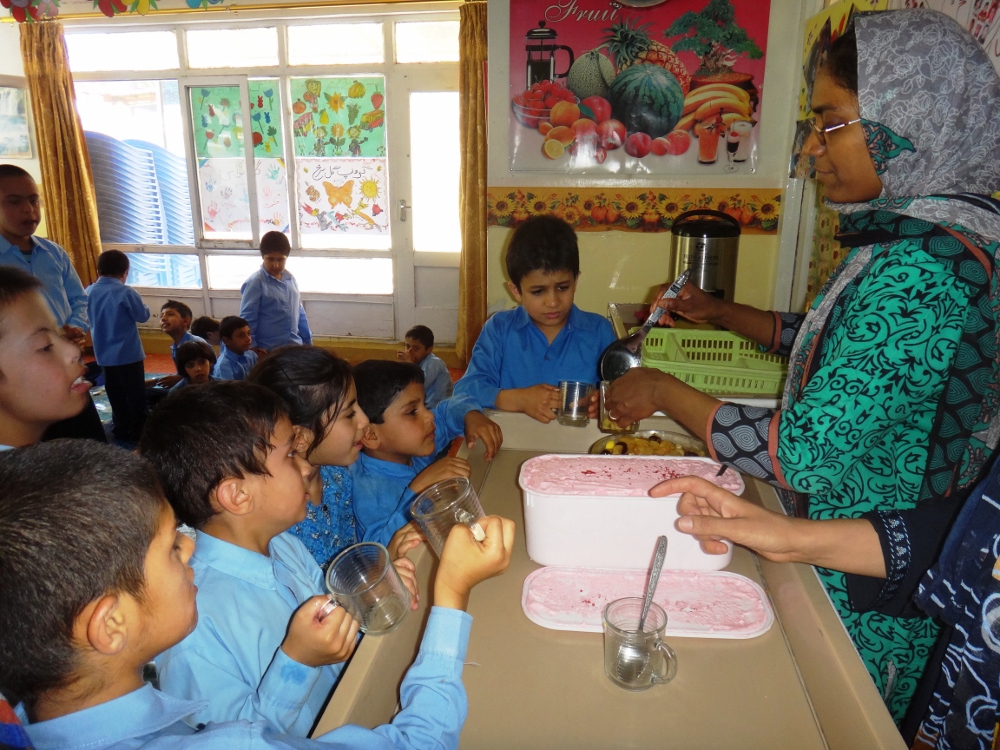 Sister Razia serves ice cream to the children at snack time at Pro Bambini di Kabul, a school for children with disabilities in Kabul, Afghanistan, in 2015. (Provided photo)