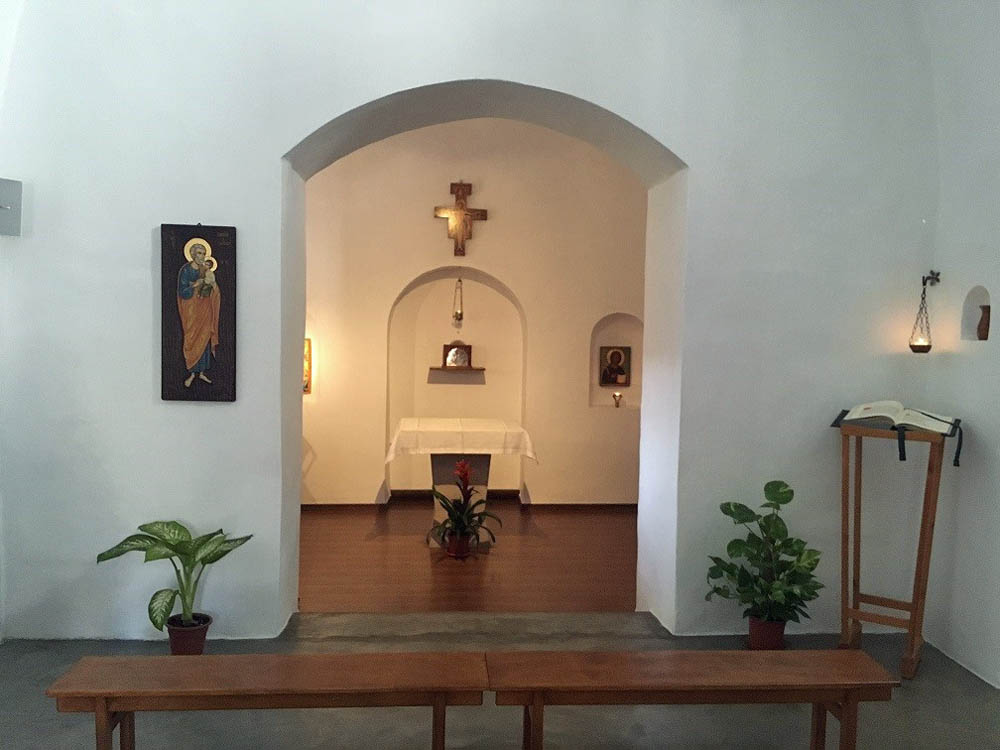 Chapel of Charles de Foucauld, the retreat site (Natalia Liviero)
Nazareth, Israel — Notes from the Field includes reports from young people volunteering in ministries of Catholic sisters. A partnership with Catholic Volunteer Network, the project began in the summer of 2015. This is our sixth round of bloggers: Natalia Liviero is a volunteer with VIDES+USA serving in the Middle East, and Janie Rosko is a Humility of Mary volunteer serving within the Ursuline Ministries in Youngstown, Ohio.
______
Every second Sunday of the month, the Salesian Sisters in Nazareth have a silent retreat. In November, they decided to have it at Charles de Foucauld house near the Basilica of the Annunciation in Nazareth.
On that Sunday, I joined them for the early-morning prayer at 7 a.m. We then had breakfast, prepared our brown-bag lunch, cleaned up, and by 9:30 a.m., we were at our retreat site.
We had an hour and a half for an individual meditation, followed by a lecture on hope from Father Lorenzo, a Salesian priest from Italy. We continued the retreat in silence until 4 p.m., when we headed back to the Salesian Sisters' house.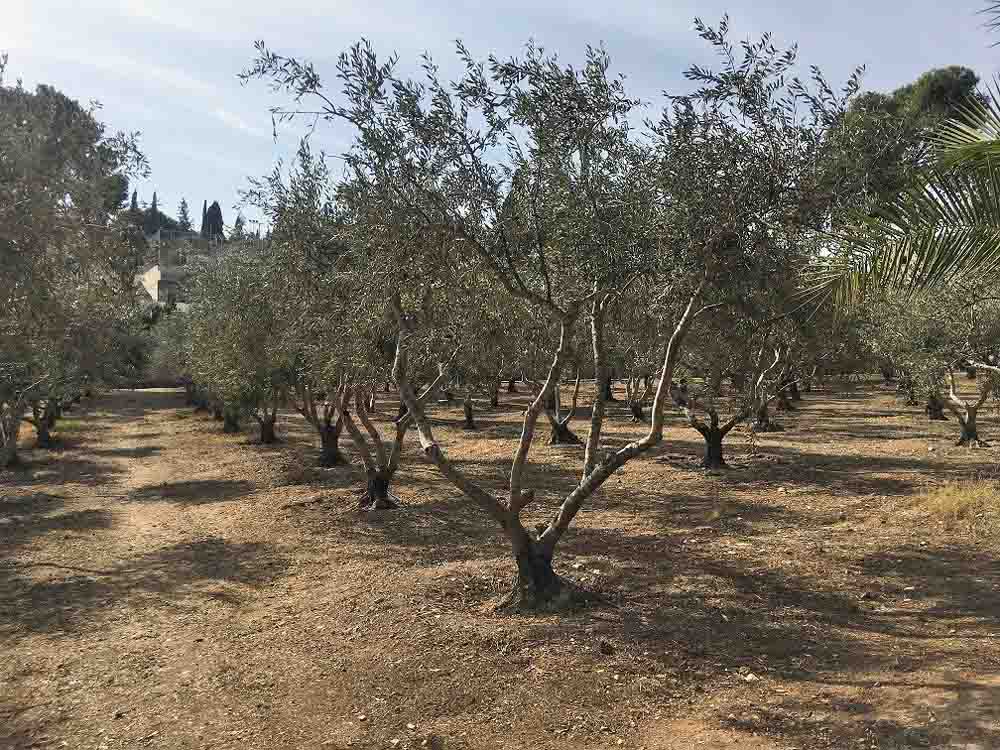 The olive garden, where the author did most of her meditation. Olive trees are a symbol of peace, and they are everywhere in the Holy Land. (Natalia Liviero)
I love retreats and hadn't had one since May 2016, when I did Cursillos de Cristiandad, so I was very excited about it. For the initial meditation, I prayed for the Holy Spirit to guide me through the retreat, and, with eyes closed, I opened the New Testament randomly and read the Scripture that was going to lead my day. This was the text:
"Then Peter began to speak: 'I now realize how true it is that God does not show favoritism but accepts from every nation the one who fears him and does what is right. You know the message God sent to the people of Israel, announcing the good news of peace through Jesus Christ, who is Lord of all' " (Acts 10:34-36).
I was amazed at the text, given my profound interest in interreligious dialogue, in particular among the three main Abrahamic religions: Judaism, Christianity and Islam. During my meditation, I discovered this was a message to me to continue working for unity and to build bridges among people and among religions, because I believe we are all brothers and sisters created by the same God.
A similar message was given to me by a Palestinian Muslim I met by chance in Jerusalem the weekend I spent there in October. I was walking in the Old City and followed the signs to go to the Muslim Quarter when an open door got my attention. It was the entrance to an old patio with a lot of clutter.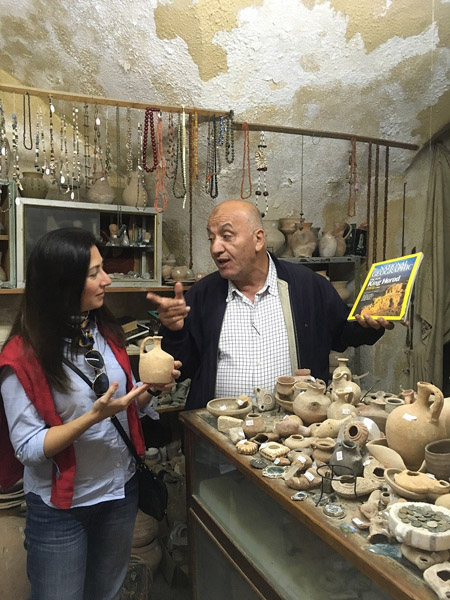 Old City in Jerusalem, at the antiquities place with its owner, telling the author about his experience with National Geographic and U.S. universities who interview him (Natalia Liviero)
Four friendly men welcomed me. The patio's owner happened to be an antiquities collector who had inherited the business from his father and who proudly showed me how he was featured in National Geographic. He was surprised I knew Arabic and invited me for a cup of tea, as is customary in the Arab culture, and we spent some time talking about religion.
He showed me the Quran where it spoke about Jesus and Mary and explained to me how Islam accepts Christianity as people of the book. He also said something that surprised me because it's exactly how I think: He said God created Jews, Christians and Muslims, and we should all respect each other and learn to live together.
When I heard the call to prayer from the mosque, I offered to leave so they could pray, but instead, he took me next door, where he had a beautiful gallery with all the antiquities displayed for sale. He introduced me to his son, who was in charge of the store, and left.
His son told me a little bit about the gallery and then said to me that I was a special person that God had chosen to be a messenger to build bridges among people. And he told me to spread his message, that they, Muslims from Palestine — he is from Jerusalem, a contested city between Israelis and Palestinians — love everyone and accept all Jews and Christians to share the land and live together because we all believe in the same God. I was surprised he spoke to me like that without knowing me.
During the retreat, Father Lorenzo spoke about hope, the topic chosen by Pope Francis for 30 consecutive Wednesday general audiences at the Vatican, and he thought it was an important theme. He said hope should lead our lives, and Christianity is a community that should live in peace, that each of us has a charism for always doing our best and for bringing peace among us. This topic was also related to the Scripture I meditated upon during the retreat.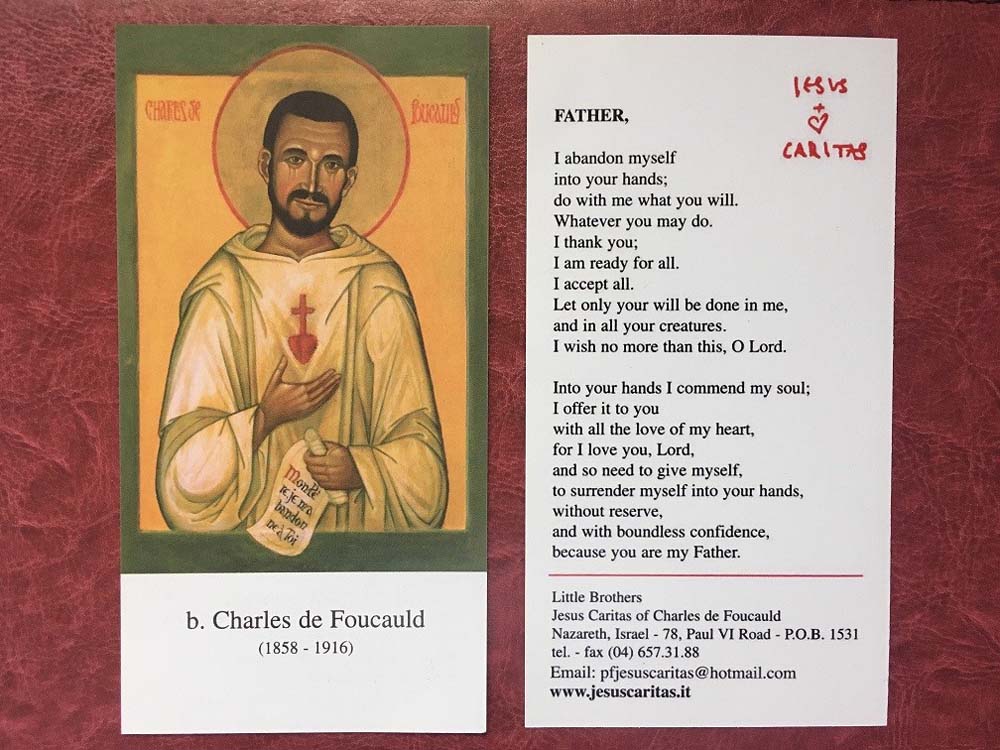 Charles de Foucauld prayer (Natalia Liviero)
Another moment that impacted my retreat was confession. While I was finishing my lunch, one of the sisters came to tell me it was my time for confession. I had one about a month earlier, and usually I have a confession either if I did something wrong or a couple of times a year, so I was surprised and didn't think I needed one. But I thought about it, and since I had so much anger for a lot of small things that had happened the week before during mission and back home, I changed my mind, thinking it could be a good idea to speak to a priest and have a confession.
The priest was from Italy, so I had my confession in Italian. He was kind and told me to offer my anger and sad moments in mission to God. His penitence was to do the prayer of Charles de Foucauld.
Interestingly, we had been to the Charles de Foucauld play, "Charles de Foucauld," prepared by the Salesian priests at the Don Bosco School across the street from us, where Sister Ibtissam told me about an experience she had with that prayer and sent it to me on WhatsApp to pray it. But after reading it, I got scared to abandon myself to God, so I abandoned the prayer instead. After the confession, I decided to abandon myself to God during my mission and to leave everything that worries me in his hands.

Father,
I abandon myself into your hands; do with me what you will.
Whatever you may do, I thank you:
I am ready for all, I accept all.
Let only your will be done in me, and in all your creatures.
I wish no more than this, O Lord.
Into your hands I commend my soul;
I offer it to you
with all the love of my heart,
for I love you, Lord,
and so need to give myself,
to surrender myself into your hands,
without reserve,
and with boundless confidence,
for you are my Father.
[Natalia Liviero is a volunteer with VIDES+USA serving in the Middle East.]