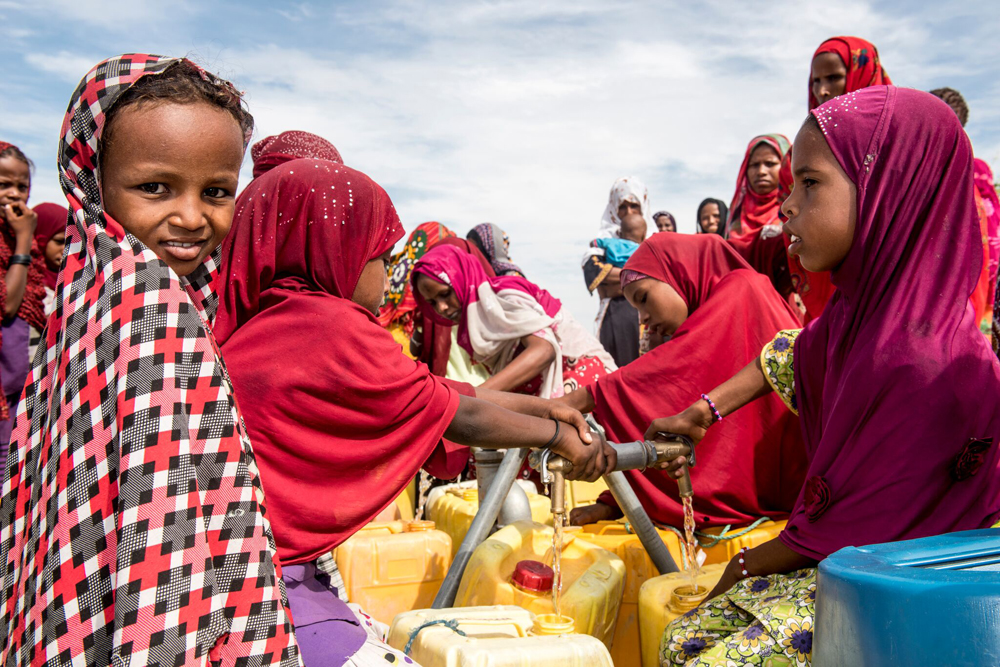 In Kindjani, Niger, people collect water Sept. 12, 2016, that was delivered to the community by Catholic Relief Services. (CNS photo/Michael Stulman, CRS)
It may be hard to believe, but the crisis caused by Boko Haram in Africa is getting worse.
In October, we told you how more than 3 million people in Nigeria were displaced and isolated, creating one of the biggest humanitarian disasters in the world. That was then, and that was just Nigeria.
On Jan. 12, United Nations humanitarian chief Stephen O'Brien told the U.N. Security Council that one year ago, 3 million people across the Chad Lake Basin were "severely food insecure" and needed assistance, The Associated Press reports. Today, he said, there are 7 million who are severely food insecure, part of the "10.7 million people in need of aid in northeast Nigeria and parts of Cameroon, Chad and Niger," according to the AP.
To give you an idea of the scale of the problem, the U.N. appealed for about $486 million last year to aid those in crisis in the region, of which it received just less than half. This year, the appeal will be for $1.5 billion.
There have been notable military gains made against the Islamic extremists, but their terrorism and the fighting have destroyed livestock and food stores, brought the economy to a halt and forced millions to flee. U.N. officials estimate the economic impact of the insurgency has been about $9 billion just for northeast Nigeria. For more information about how you can help, go to wfp.org/emergencies/Nigeria.
Daily miracles on the house
The Dominican Sisters of Hawthorne, New York, recently shared on Facebook a news report by WSB-TV in Atlanta featuring their Our Lady of Perpetual Help Home, which treats those with incurable cancer. At no charge, the sisters provide care, medicine and even joy to anyone in need, regardless of their faith or lack of it.
The report explains that the home does not accept insurance, Medicare, Medicaid or payment of any kind, relying instead on donations. The 12 sisters have faith that God will provide, and he always has.
If you've been in fear that the nation has lost its way, that those who hate outnumber those who love, take a few minutes and watch the Hawthorne Dominicans in action.
And then remember that they also have homes just like it in New York and Philadelphia.
Remember, links, tips and accounts of the response to any crisis anywhere in the world are always welcome at dstockman@ncronline.org.
[Dan Stockman is national correspondent for Global Sisters Report. Follow him on Twitter or on Facebook.]