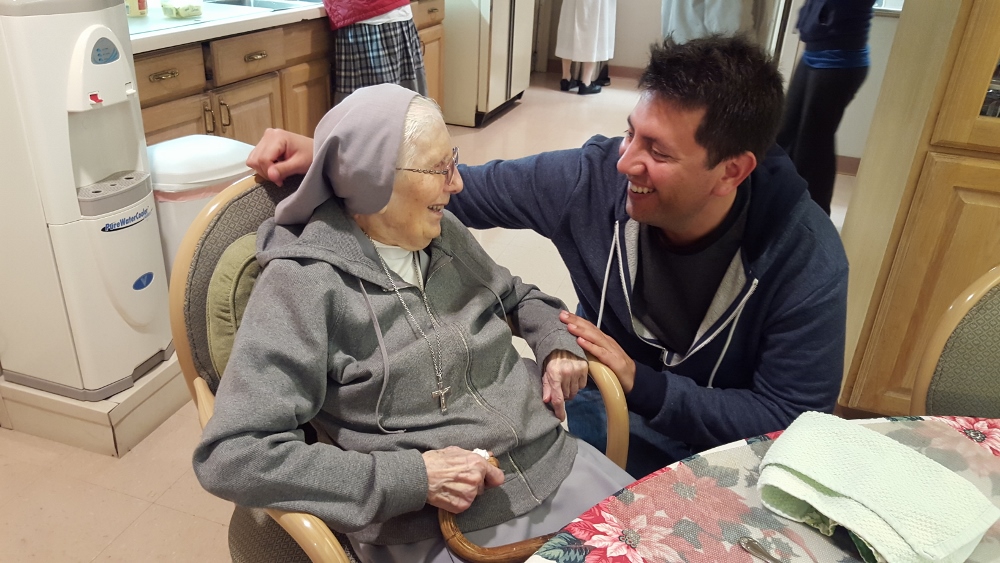 Christian Ruehling shares a laugh with one of the sisters. (Provided photo)
Geneva, Switzerland — Notes from the Field includes reports from young people volunteering in ministries of Catholic sisters. A partnership with Catholic Volunteer Network, the project began in the summer of 2015 This is our fourth round of bloggers: Christian E. Ruehling is a volunteer missioner for VIDES+USA currently serving in Geneva after five months with the Salesian Sister in Dilla, Ethiopia, and Maria Beben is a staff writer for Franciscan Mission Service in Washington, D.C. This is Christian's first blog; read more about him here.
______
In mid-2015, while sitting in an office that overlooked the Hudson River in a tall skyscraper in downtown Manhattan, I realized that there was more to life than reviewing policies and procedures, creating PowerPoint presentations, editing Excel spreadsheets, and attending endless meetings.
I was privileged to have lived a life in the corporate sector, shuttling between cities as an anti-money-laundering consultant and doing important work to help protect the U.S. financial system, albeit indirectly, from being abused by financial miscreants. But deep down, I felt it was time to take a break in my career, to stop serving companies and to serve others in need instead.
Serving in soup kitchens and helping build homes have been my favorite volunteer activities in the United States. But I had a desire, selfishly perhaps, to volunteer abroad, where I could be challenged, both culturally and linguistically, in a living environment devoid of the comforts I was accustomed to.
Even more importantly, I knew I wanted to fulfill this experience within the framework of a Catholic organization because it was important for me to stay centered and accompanied by my faith. And this is how I became acquainted with the international volunteer organization VIDES, which is associated with the Daughters of Mary Help of Christians (Salesian Sisters), whose charism is to provide education to the young and people who live in poverty.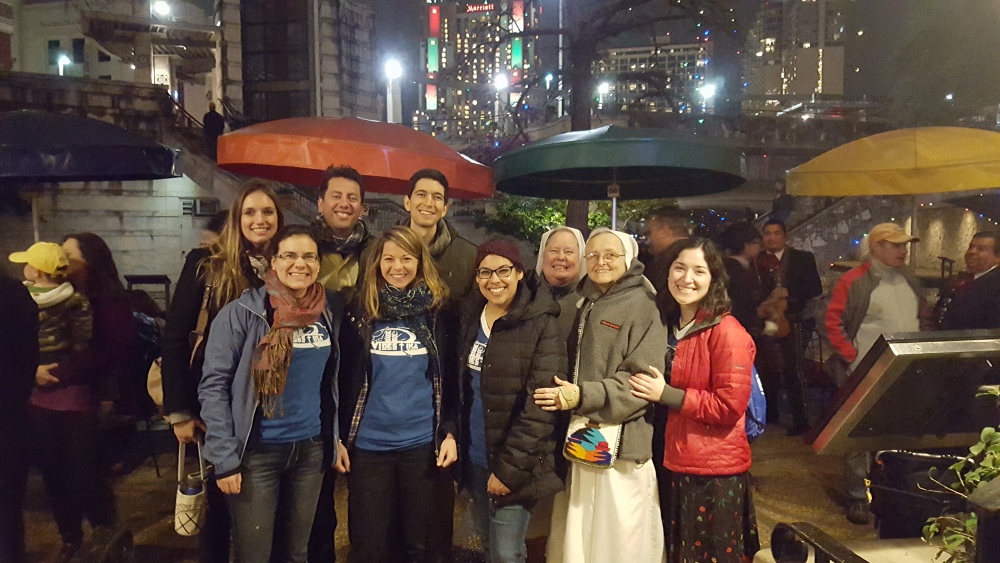 The VIDES group in training enjoying a night out at the River Walk in San Antonio. (Provided photo)
I decided that serving my volunteer experience in Africa would be ideal, and the only possible skills that I could offer were those of an English teacher. So I was happy to receive confirmation from VIDES that I would serve in this capacity from February to July 2016 at a vocational school operated by the Salesian Sisters in Dilla, Ethiopia.
Many friends, colleagues and family members told me it took courage to leave my career to pursue my goal to volunteer abroad, and even more so when I told them I would be serving in Africa with a Catholic organization for five months. For me, however, it was not courage, but determination to fulfill this personal goal so I would not have any regrets later in life. Courage, I thought at the time, would have to come once I arrived to the local mission site, far away from the personal and familial relationships that I relied on for strength and support.
Before embarking on my journey to Africa, several other VIDES volunteers and I went to San Antonio, Texas, in January 2016 to participate in a three-week Formation and Service Camp hosted by VIDES. The formation part of the camp introduced us to life accompaniment in the style of St. Mary Mazzarello and to the preventive system pioneered by St. John Bosco and practiced by the Salesians throughout the world. These educational methods helped prepare us for our missions, where we would serve the youth at our local sites as teachers or youth ministry leaders.
But the formation camp also prepared us for community living with the sisters, including sharing mealtimes, doing chores after the meals as well as participating in daily Mass and morning and evening prayer. There was a certain amount of joy and admiration to be had when in the presence of such holy sisters who have dedicated their lives to the service of others. It was a privilege to give back to them in little ways, such as cleaning the dishes and singing songs and playing games with them during recreation time.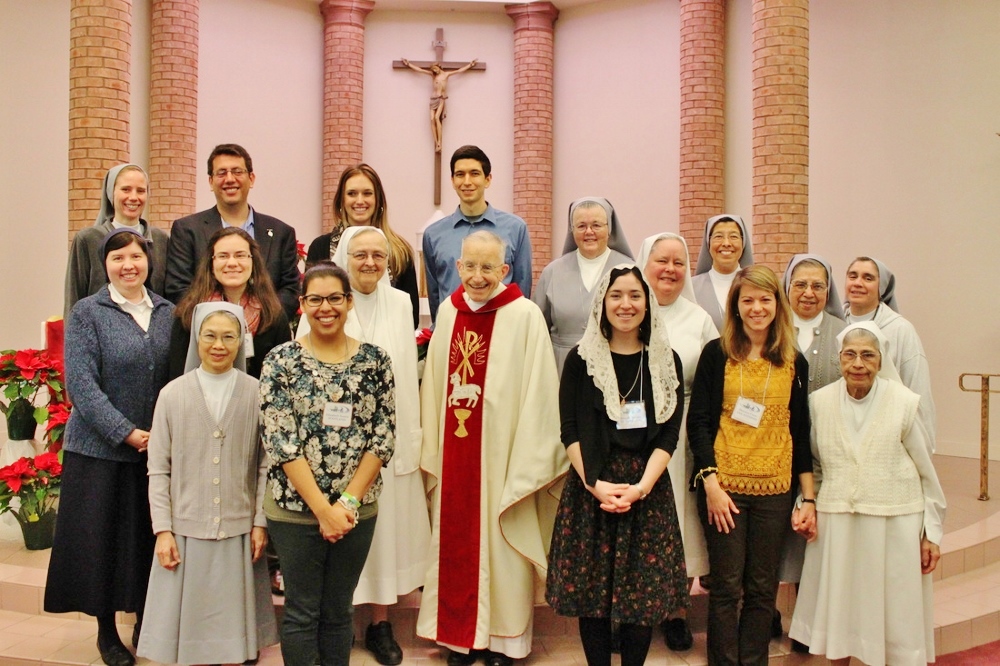 VIDES volunteers with the Salesian sisters. (Provided photo)
However, our formation would not be complete without the service portion of the camp that took us out of the classroom and into reality.
We were given the opportunity to work with a local organization in San Antonio that operates a transition housing facility for unaccompanied migrant children. These children arrive to the U.S. border after trekking for hundreds of miles from their homes in Guatemala, Honduras, El Salvador and Mexico. The facility houses boys and girls between the ages of 12 and 17 while they wait for the outcome of their immigration process. They can be in the facility for as little as two weeks, but some of the adolescents we spoke with were still there after nine months. They risked their lives on a journey filled with risks, but also with hope.
The VIDES volunteers, along with the Salesian Sisters, spent one week with these young people. For three hours every day, we talked to them about Jesus Christ, his arrival, crucifixion, and resurrection. We incorporated games, skits and crafts to introduce them to the theme that Jesus Christ loves us above all else.
It was during the time spent with these adolescents that I also saw courage. They had courage to leave their families and hometowns to take the journey to the United States, a journey fraught with many unknowns, questions and unimaginable fear and hope that they would reach their destination safely. I realized that no matter what we taught them, Jesus Christ was already in their hearts and had accompanied them on their journey. It was a privilege for us volunteers to share this stop with them as they continued on their life journey while we departed for our own missions knowing that Jesus Christ will also accompany us along the way.
With the Formation and Service Camp completed in San Antonio, it was time to pack my bags, say my goodbyes and prepare for a change in fields, from career professional to international volunteer/missioner in Africa and later in Switzerland, where I continue to do my missioner service, albeit in a different capacity.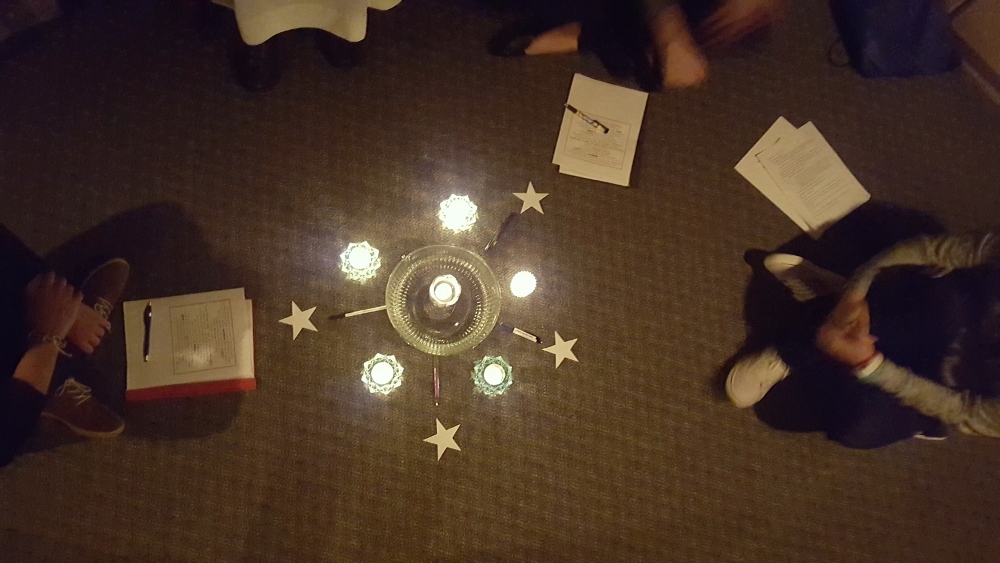 VIDES volunteers share a moment of evening prayer. (Provided photo)
[Christian E. Ruehling is a volunteer missioner for VIDES+USA.]