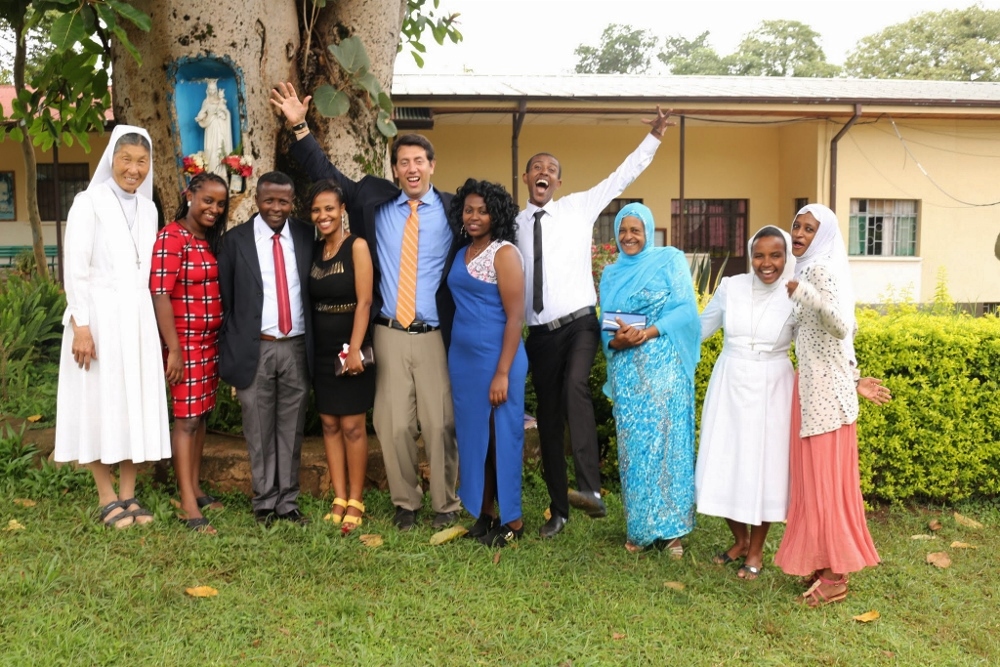 The staff of Mary Help College celebrate the close of another school year. (Provided photo)
Dilla, Ethiopia — Notes from the Field includes reports from young people volunteering in ministries of Catholic sisters. A partnership with Catholic Volunteer Network, the project began in the summer of 2015 This is our fourth round of bloggers: Christian E. Ruehling is a volunteer missioner for VIDES+USA currently serving in Geneva after five months with the Salesian Sister in Dilla, Ethiopia, and Maria Beben is a staff writer for Franciscan Mission Service in Washington, D.C.
______
After a long flight from Washington, D.C., with a stopover in Dubai, and an 8-hour drive from the capital Addis Ababa, I finally arrived in the southern city of Dilla, Ethiopia, where I was going to spend the next five to six months. Dilla is one of four communities that the Salesian Sisters have in this country.
The sisters have been present in Dilla for 30 years and have provided the community with health services and education programs. Their sprawling compound has a health clinic, a kindergarten, and a technical vocational school in addition to other buildings such as their living quarters and small bakery where fresh bread is made every morning. The community is comprised of seven sisters, all of different nationalities, who were led by the ever present and kind Sister Agnese.
My main role as a volunteer was to teach English to the students of Mary Help College (MHC), a technical vocational school of about 180 students that offers two-year programs in fashion design, secretarial studies and information technology. If the students pass all their exams at the end of the two years, they receive a Certificate of Competency (CoC). The CoC means they can apply to the university, and it also opens up more opportunities in the job market. Mary Help College is led by the formidable Sister Netsanet, an Ethiopian sister, who, along with three department heads and seven teachers (all of whom are locals or former students), provide the educational training necessary for these students.
I arrived with unknown expectations as to how I would go about teaching English. The first month provided to be challenging, not just because it was my first time teaching English but also because the students were from a different culture and background. Theoretically, all the students learned English during primary or secondary school; however, they all had varying proficiency because of differences in the quality of teaching across villages and regions. Nevertheless, they are expected to know and understand the language well, since their semester-end exams are all administered by the government in English.
English is not a mandatory subject in the government curricula for this program, but the sisters provide these classes, through the assistance of volunteers, to help the students improve their language skills. However, since there had not been a regular English program, I had to start from scratch. Luckily the school had a library filled with English learning books I scoured through to extract lessons for the students.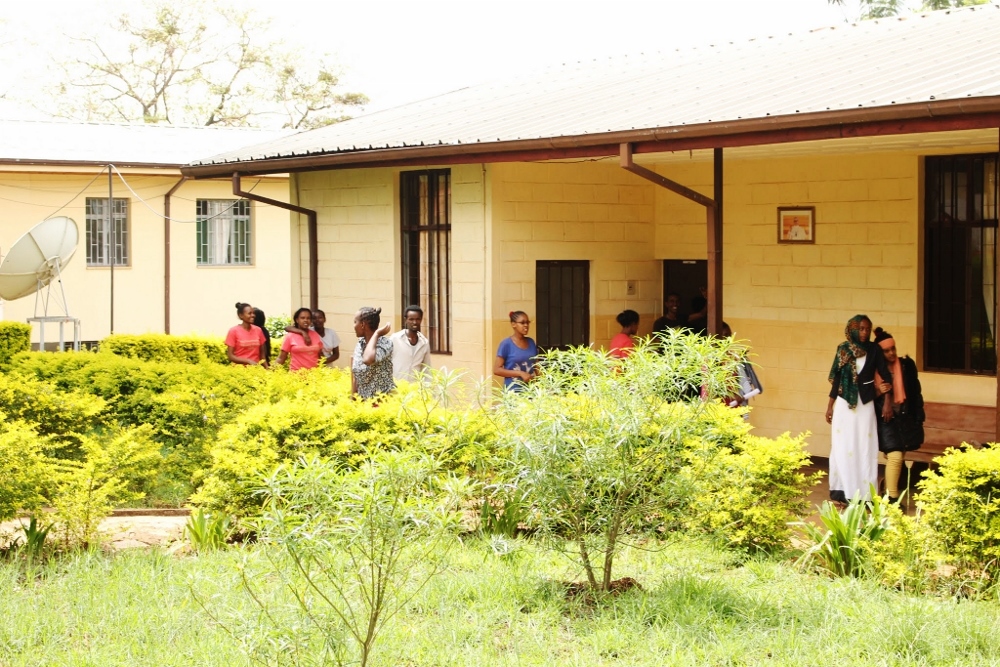 Students at Mary Help College going to class. (Provided photo)
Even with a draft program in place, the first month required some adjusting and patience! Lesson plans were frequently adjusted based on my assessment of students' reading, writing, and speaking skills. I also had to deal with frequent power outages, which were a nuisance in the middle of lesson relying on a projector for a tutorial video or PowerPoint presentation. This forced me to be prepared with other materials.
The language barrier was by far the hardest part of this experience. The students all had different levels of English, but I was proud of the ones who tried their best to communicate and participate in class. Others were more difficult to engage because of cultural shyness. You can imagine the excitement when one student, who hardly said a word during class, responded with the words "thank you" at the end of the semester. I was elated at her participation, as minor as it may have been, because it made me feel better that what I was doing in front of the classroom was actually reaching them.
I could not help feeling sometimes that I was learning more from them than what I was teaching. I tried during my lessons to open up their minds and dreams to the world outside of Ethiopia. But they also helped me understand their language, culture and values.
Many of these students come from villages and other remote areas to attend the college. Their dedication and commitment to improve their standing and prospects for a better future for themselves and their family is very remarkable and inspiring. It has been a difficult semester for many of these students; several lost close family members, and a couple of students gave birth. Some students are forced to stop their studies mid-way in order to find a job to support their families. Despite those adversities, their determination shined through and they continued to finish their schooling so that they could obtain their certificates.
I was impressed by their responses when I asked them what they wanted to do with their future. The majority of the answers always included wanting to help their community. Even at this stage of their lives when many would be thinking only of improving themselves, they also remembered the community that helped support them. It is something that I admired; I knew that they represented a bright future, not just for themselves and their families, but also for the continuous development of their country.
The college staff did an excellent job this semester — helping all the students to succeed in passing their CoC examinations — a 100-percent passage rate which was a first for the school. There was much joy and celebration, capped by a wonderful graduation ceremony. While I was able to complete my service of teaching English, there were so many other things that my students and the community taught me during my stay in Dilla that I will always treasure.
[Christian E. Ruehling is a volunteer missioner for VIDES+USA.]