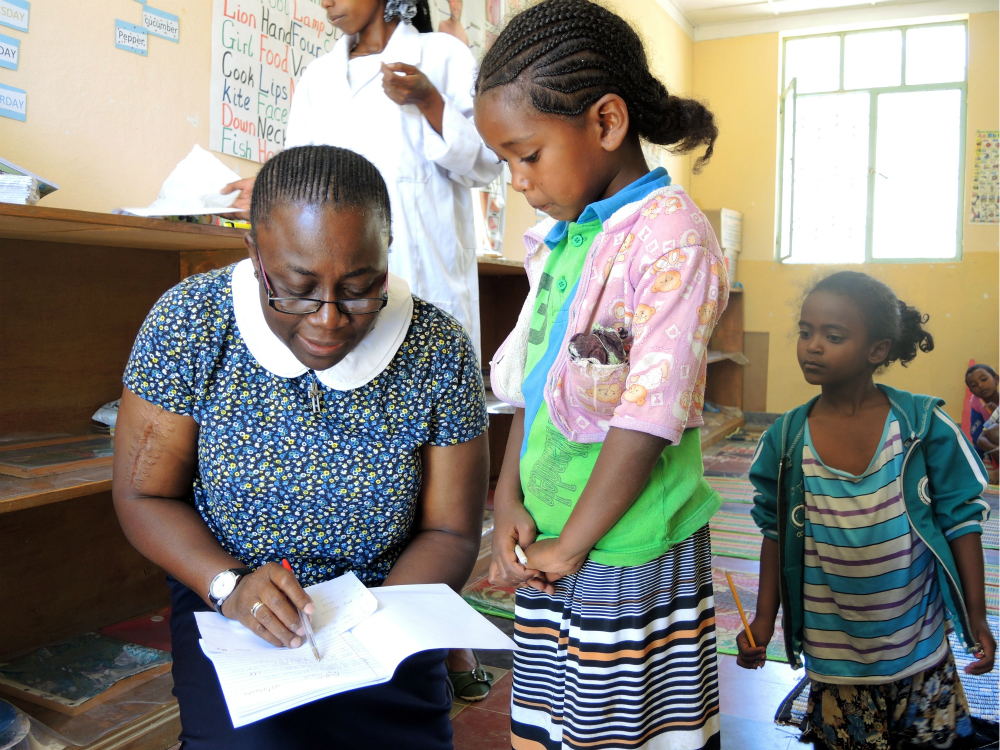 St. Louis Sister Sr. Justina Ihechere reviews a student's English work at the preschool that is part of the sisters' mission in Dawhan, Ethiopia. (GSR photo / Melanie Lidman)
Global Sisters Report is planning a new feature called "The Life," and we need the help of sisters across the globe.
Our goal is to create a panel of 15 to 20 sisters who will share their thoughts and expertise by answering a question posed to the group. Our hope is to further the global sisterhood by sharing approaches and solutions in pursuit of a better world.
Here's how we think "The Life" will work: Once a month, GSR will pose a question on spirituality, formation, ministries, developing leadership skills and other topics. (We hope sisters and GSR readers will send questions, too.)
We're asking for a commitment of up to one year. During that time, we would ask that individual sisters submit a written response of up to 300-400 words about four or five times. Sisters would receive a stipend per response.
We are looking for new voices for GSR but also invite those who have written for us to consider participating. We at GSR are excited about creating an international panel of sisters. And over time, with your ideas and enthusiasm, we hope that "The Life" takes on a life of its own.
If you are interested in being considered for the panel, send an email to sisters@globalsistersreport.org with the following by May 15:
Your contact information
A brief description of your ministry and background
A resume if you have one
A response of no more than 300-400 words to one (or both) of the following questions:

How do you spend Sundays?
Two years after the publication of Pope Francis' Laudato Si', how are you and/or your community carrying out Pope Francis' call for caring for the Earth?