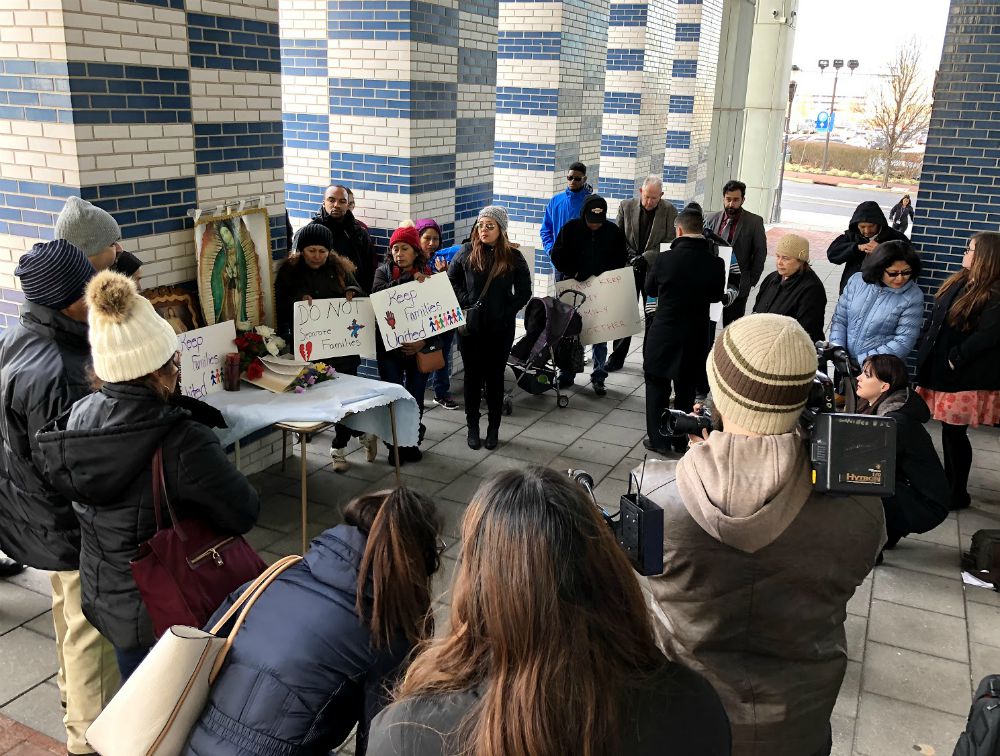 Supporters of Oscar Campos and his wife, Humberta, gather outside the office of Sen. Cory Booker, D-N.J., in Camden Dec. 6, the day before the couple was scheduled to be deported. The group held a prayer vigil urging their deportation to Mexico be stopped. (CNS photo / Mary McCusker)
Catholic Legal Immigration Network (CLINIC) and seven other immigrant-rights organizations filed a complaint Dec. 7 with the Department of Homeland Security's Office of Civil Rights and Civil Liberties and Office of Inspector General.
The complaint is on behalf of the approximately 400 people arrested this summer in an Immigration and Customs Enforcement effort that the groups allege used unaccompanied minors as bait: When parents and other relatives came forward to sponsor children who would otherwise be kept in detention centers, they were arrested and detained.
"How is it in America's safety interests to keep these boys and girls in government-run shelters while their families are flung into chaos and potential deportation?" CLINIC executive director Jeanne Atkinson asked in a statement announcing the complaint.
"Not only do ICE and other agencies of Homeland Security misrepresent themselves in order to obtain information about the families of children, these efforts ensure that vulnerable minors will continue to be separated from their relatives."
In fiscal year 2017, which ended Sept. 30, U.S. Customs and Border Protection reports 41,435 unaccompanied minors presented themselves at the southwest U.S.-Mexico border asking for asylum, a wave that has stretched immigration officials' ability to house and care for them all. In that same time period, 42,416 minors were released to sponsors, down from 52,147 the year before, according to the Department of Health and Human Services. (Because it can take months to find sponsors, more minors were released in that year than were apprehended.)
Ideally, the minors are released from detention into the homes of relatives who sponsor them while they await a hearing on their asylum case. But the complaint charges that enforcement officials used efforts to locate family members to lure people who might be living in the country illegally to go to ICE offices so they could be arrested, interfering with safe placements and child reunification efforts of the Department of Health and Human Services' Office of Refugee Resettlement.
The complaint details the stories of eight cases, including:
• A single mother was called to an interview with DHS's Homeland Security Investigations in which she was accused of smuggling her daughters into the United States, despite the fact that her daughters are not in the United States. During the interview, the agents refused to provide adequate interpretation and attempted to separate the mother from her attorneys. At the conclusion of the interview, the woman was given an order to appear in immigration court, where she now faces deportation.
• A woman who is the primary caretaker for four children, including a kindergarten-age U.S. citizen with severe medical issues, was interviewed by Homeland Security Investigations after she was approved as a sponsor for her niece, who had arrived alone in the United States. After the interview, agents admitted to the woman's attorney that the agency had no information about her case but had been given a list of names and told to "go after them."
"DHS has weaponized children's longing for safety and their families' desire to protect them," said Diane Eikenberry, associate director of policy for the National Immigrant Justice Center, which coordinated the complaint, in the statement. "In its ongoing efforts to break up families, DHS officials have threatened children, misled their caregivers, and denied them fundamental constitutional protections. This deliberate and systematic campaign to use children as bait to ensnare their parents and relatives punishes children for seeking refuge with their families and punishes their families for offering them protection."
Michelle Brané, director of the Migrant Rights and Justice program at the Women's Refugee Commission, said the effort was not only bad policy but intended to subvert legal protections in place for children.
"To use children as bait and use misrepresentation and vulnerability to accuse parents who are trying to save their children's lives of smuggling is an intentional misapplication of protection laws and damaging to children and families," Brané said in the statement. "ICE's actions are intended to interfere with family unity and prevent children from reaching safety."
Jessica Jones, policy counsel at Lutheran Immigration and Refugee Service, said the program went against everything the nation stands for.
"Using kids as bait to target parents and other family members for immigration enforcement contravenes the most basic child welfare principles," Jones said in the statement. "Children deserve protection, not exploitation."

"These ICE operations reflect an appalling disregard for the importance of keeping children safe and preserving families," CLINIC's Atkinson said in the statement.
Wendy Young, president of Kids in Need of Defense, said in the statement that aside from the appalling nature of the effort, it doesn't even make sense.
"Targeting sponsors of children who are seeking safety in the United States is not only extremely traumatizing to the children, it is poor policy as children would remain in extremely expensive detention centers while their immigration cases proceed," Young said. "It will also drive sponsors away, leaving children extremely vulnerable to predators and human traffickers."
A personal note
It has become clear from emails I have received that a recent blog post of mine was misunderstood by a few readers. The piece mentioned writer Ann Carey and others in a discussion of the divide within the Catholic Church and our seemingly constant need to judge each other.
Unfortunately, I should have made clearer that my criticisms were not aimed at Carey or the right or anyone else: They were about me.
Remember, links, tips and accounts of the response to any crisis anywhere in the world are always welcome at dstockman@ncronline.org.
[Dan Stockman is national correspondent for Global Sisters Report. His email address is dstockman@ncronline.org. Follow him on Twitter or on Facebook.]