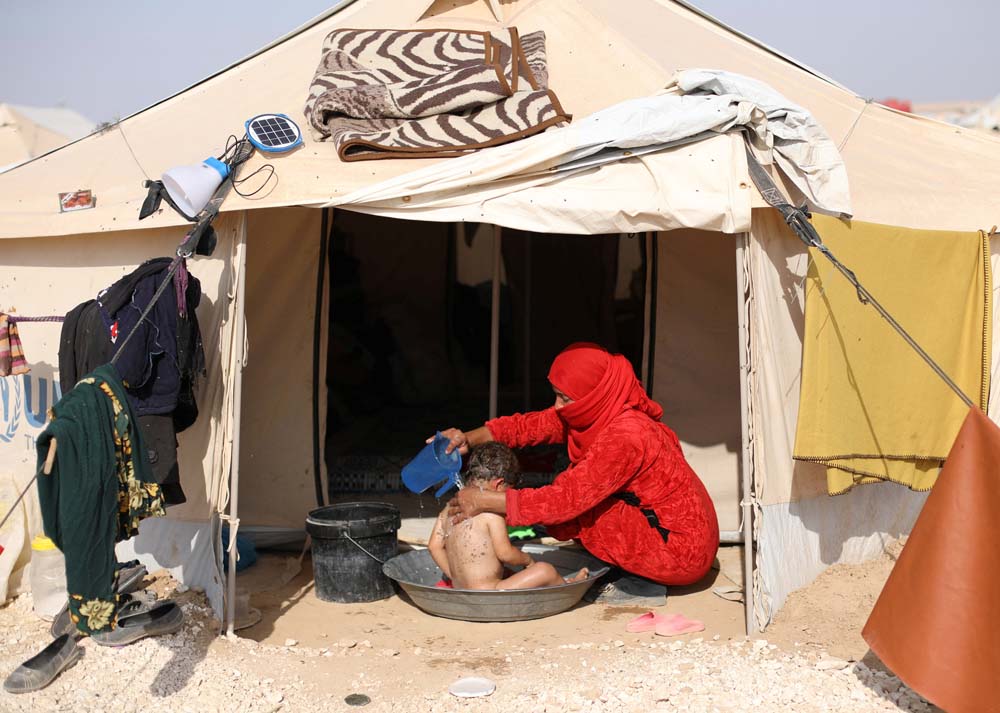 An internally displaced Syrian woman bathes her child at Qana refugee camp in Al-Hasakah, Syria. (CNS photo / Rodi Said, Reuters)
Temporary protected status, which allows those legally in the United States because of a natural disaster or some other calamity in their home country to stay beyond their normal visa limits, is already ending for those from El Salvador and Haiti, and now Catholic Legal Immigration Network Inc., also known as CLINIC, warns it could be ending for thousands of Syrians, as well.
CLINIC has produced a 31-page report, "No Safety in a War Zone," which details how dangerous the situation remains in Syria, which has been convulsed by civil war since 2012. The report notes that nearly 500,000 Syrians have been killed, 6 million are internally displaced, and nearly 3 million are trapped in besieged areas where they cannot receive humanitarian aid. About 13 million people in Syria need help, and more than 5.4 million have fled, creating one of the largest refugee crises in history.
"A failure to extend TPS for Syria would be an affront to the long-standing and cherished American principles that compelled Congress to establish it," the report says. "It would be a decision to send at least 5,800 Syrians back to an active war zone, where they would be exposed to violence, be at risk of imprisonment and torture and face a lack of food, water, medical care and other basic necessities."
The Trump administration must decide by Jan. 30 whether to extend the status.
Seeing the need
A documentary film that premiered last week at the Sundance Film Festival honors the work of Sisters of the Holy Cross who ministered to those with HIV and AIDS during the height of the epidemic in the United States.
"Quiet Heroes," by Utah filmmaker Jenny Mackenzie, focuses on the compassionate care provided by infectious-disease specialist Dr. Kristen Ries and physician assistant Maggie Snyder, who were the only medical professionals in the state during the mid-1980s who would treat people with HIV or AIDS.
The victims of what was then an almost certainly fatal disease were treated at Holy Cross Hospital in Salt Lake City "with the sanction and support of Holy Cross Sr. Olivia Marie Hutcheson, then vice president for mission at the hospital," as detailed on the Sisters of the Holy Cross website.
Srs. Roberta Bennett, Joan Marie Steadman, Linda Bellemore and Bernadette Mulick "served in ministry with the marginalized population," according to the sisters' website. Bellemore, "a nurse who developed a comprehensive continuity of care program for HIV/AIDS patients," and Mulick, "a nurse who served as a physician assistant to Dr. Ries and helped staff a clinic in St. George, were interviewed for the film."
According to the Holy Cross Sisters website, "People suffering with HIV and AIDS were considered 'the lepers of our time,' said Sister Bernie, recalling her experiences in Utah. 'The need was great,' she said, and 'Dr. Ries saw the need.' "
How did your congressman vote?
Wondering where your representative or senator stands on social justice issues? Wonder no more: Network, a Catholic social justice lobby, has issued its 2017 Voting Record.
The report shows the votes of every U.S. senator and representative on bills the group says were key to supporting families, advancing social justice and mending the economic gaps in the nation. It details eight Senate bills and nine House bills.
"The unfortunate reality of 2017 was that nearly all the most critical congressional votes represented serious setbacks to mending the gaps in our nation," said Social Service Sr. Simone Campbell in a statement announcing the report. "The Catholic Sisters and activists of NETWORK strive for positive priorities that we can support. However, in 2017, legislative attempts to undermine healthcare, institute harsh immigration and refugee policies, and exacerbate economic inequality through a regressive tax overhaul, dominated the legislative agenda."
Remember, links, tips and accounts of the response to any crisis anywhere in the world are always welcome at dstockman@ncronline.org.
[Dan Stockman is national correspondent for Global Sisters Report. His email address is dstockman@ncronline.org. Follow him on Twitter or on Facebook.]