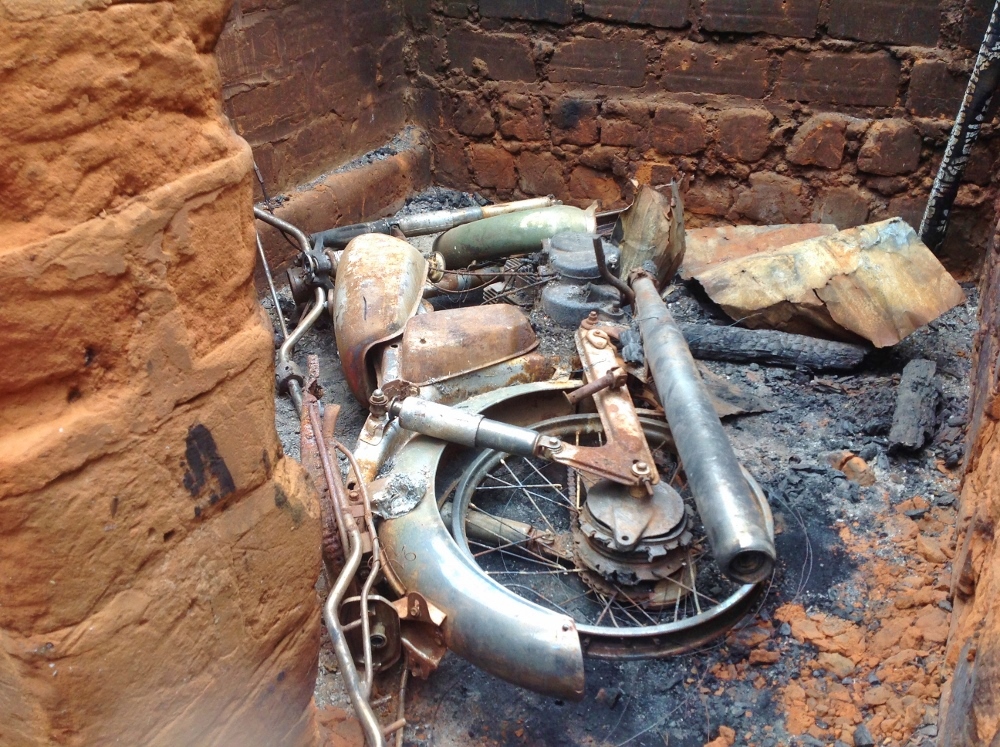 Burned property (Provided photo)
Speaking softly yet passionately, the sister from the Democratic Republic of Congo told us of the crisis engulfing her country: the burning of villages, brutalization and rape of women, militias' conscription of children, and the targeting of Catholic convents, schools and clinics.
Between sessions of the Council of Delegates meeting of the International Union of Superiors General in November in Manila and with the help of a Canadian sister who translated, she shared heartbreaking accounts of months of terror and atrocities she and her sisters have witnessed and photos of mass graves, charred houses and traumatized orphans.
We are not using her name or her congregation in order to protect her. Despite the risk, she wanted to get word out of her and her sisters' experiences in the hope that if people in other countries realized what is going on, there might be more pressure brought on Congo's government to make changes.
The country's bishops are trying to keep alive a Catholic Church-brokered peace accord from December 2016 between President Joseph Kabila and his opponents that called for elections by December 2017. But by March 2017, talks had fallen apart and the elections were delayed, sparking protests, according to National Catholic Reporter.
The killing of a local leader who was outspoken in his opposition to the Kabila government in August 2016 escalated conflict that pitted local militias against military and police. The widespread clashes, which began in September 2016, led to the deaths of hundreds, including two U.N. workers, and the displacement of 216,000, according to an April 2017 Newsweek article.
The bishops' conference in letters issued in November 2017 criticized the country's National Electoral Commission and called on Kabila's government to work with the U.N. for proper and legal procedures for a vote. According to NCR, "Catholic Church observers had recorded 56 deaths and 355 arrests during opposition demonstrations between April and October 2017, as well as three fatalities in attacks on police."
The United Nations is investigating an attack Dec. 7 that killed 15 U.N. peacekeepers, all Tanzanian, and wounded more than 50 others in North Kivu, an eastern province bordering Rwanda and Uganda.
U.N. Secretary-General António Guterres said the attack constitutes a war crime and called it the worst against U.N. peacekeepers in recent history.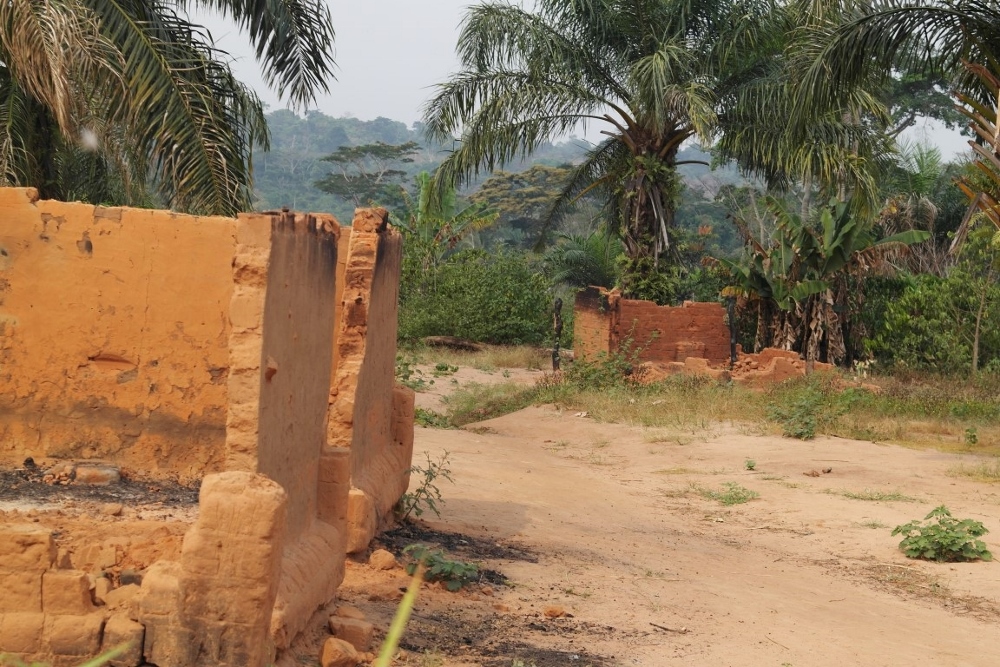 Destroyed houses in a village in Kasai region (Provided photo)
A 'neglected crisis'
In a joint Dec. 6 communique with other religious leaders, Cardinal Laurent Pasinya of Kinshasa said 4 million people are displaced and 7 million face starvation in Kasai alone, where 160,000 children are dying yearly of malnutrition, according to a Nov. 30 United Nations report. The situation in the country was named "the most neglected crisis of 2017" in a Thomson Reuters Foundation survey of aid agencies.
The interview with the sister in November and the detailed written account she provided GSR from another sister in Kananga, a major city in Kasai, tells of the extraordinary courage of sisters caring for orphans amid horrific conditions in the war-torn region. (We are not identifying the sister who wrote the account or her congregation.) The written report is anguishing to read, recounting month by month — from September 2016 to June 2017 — the terror, deprivation, cruelty and tragedy the sisters faced.
As the conflict erupted in September 2016, five sisters caring for 54 orphans huddled in a corridor of their convent for eight hours, trying to calm the children and shield them from crossfire from a battle between a militia group and the military that waged around the building. By 6 p.m., "after eight hours of anguish and fear we were able to leave the corridor," the sister wrote. "It was necessary to calm the children, to give them food and to put them to bed."
At midnight, gunfire started again and lasted until 6 a.m. A nearby community of priests were unable to help them, nor were neighbors, as the fighting continued.
"Until today our little orphans bear the traumas of these two days: to see policemen or soldiers causes crying and screams of anguish," the sister wrote. When the fighting finally stopped, neighbors tried to get help from the sisters. An 8-year-old boy died of a bullet wound to the throat when he could not get medical attention to stop the bleeding.

Godé, Andre, Jerome, Josée, Jean-Luc and Sam are all orphans. (Provided photo)
Throughout October and November 2016, "fear and anguish never left our children," the sister wrote. Houses were abandoned and schools closed as confrontations between militias and military forces became a daily reality.
"Almost every day we witnessed attacks and killings," she wrote. "The military acted without human respect and mostly attacked the young boys. One morning I witnessed a cruel act: a soldier was coldly beating a young student to death because he wore a red shirt, the color of the militia."
Amid the chaos, "there are times of normalcy," she wrote. For example, "when the Eucharist is celebrated in community, with a reception afterwards, and the atmosphere is calm and serene." A poignant passage told of preparing a Christmas party in 2016 and "inviting all [sisters and children] to believe in the protection of the Child Jesus."
But as the Catholic Church-brokered election accord stalled weeks after it was signed, militias became more aggressive to the nuns, blaming the church for lack of a resolution. Conflicts escalated, with the militias burning villages and conscripting children, drugging them and using them as shields to carry out attacks.

Throughout the early months of 2017, the sister's account tells of sorrow. An orphan suffering from anemia died because the sisters couldn't get him to the hospital for a transfusion.
"When we manage to get him to the hospital the little one dies," she wrote. "Like so many victims we buried him in anonymity and discretion."

She wrote of another set of five sisters and 28 children who in May attempted to flee their war-torn village to the relative safety of another community nearby. After little more than a mile, they were stopped by "15-year-old rebels who force the sisters to lie on the ground and threaten to behead a sister unless they are given $110. The crying of little children and the anguish of the older children, as well as the anguish of sisters, leave them indifferent," she wrote. After a three-hour ordeal, the rebels let them continue after taking what money they had and their cellphones.
The sisters traveled just 3 miles when they were stopped again, this time by soldiers.
"The same Way of the Cross is waiting for us," she recounted the sister saying. "Some children scream as they see the rifles." The military confiscated the truck, food and remaining money. The sisters and children completed the 6-mile journey, "sick with fear" as they arrived at the sisters' house and farmhouse, already filled with other refugees.
Amid such anguish, it's hard to see much hope, but the Catholic Church "works very hard to bring back hope," the sister from Congo we met with in the Philippines told us. "We try to go out and restore peace and hope for the population amid all the terrible, terrible catastrophes."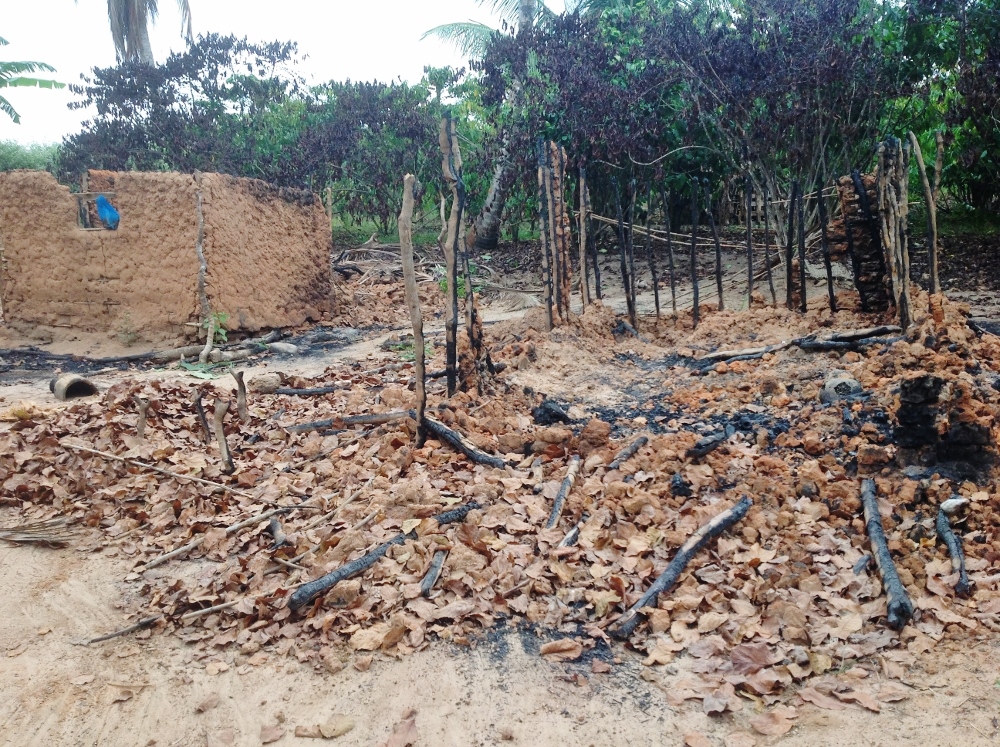 Destroyed houses in a village in Kasai region (Provided photo)
Possible action
One measure of hope: The plight of people in conflict areas such as Congo is not forgotten. On Jan. 18, roundtable dialogues on "Building Peace Together" in Congo and South Sudan will be held in Rome "at the invitation of Pope Francis," hosted by the Dicastery for Promoting Integral Human Development.
"We're talking about personal peace, national peace and international peace and how these elements can be integrated together," said Sr. Sheila Kinsey, executive co-secretary of the Justice, Peace and Integrity of Creation Secretariat, which is organizing the event along with Solidarity with South Sudan.
More than 200 people have already registered for the event, which features speakers experienced in the countries and presided over by Cardinal Peter Turkson.
Participants will be coming "not just to listen," Kinsey told GSR. "It's asking for an up-front involvement and commitment to see how we can make a difference."
She knows the sister we interviewed in Manila and speaks highly of her courage and that of the other sisters in Congo.
"Those who practice nonviolence are courageous people, working to make a difference in their own lives and the lives of others," she said. "The courage of these people is remarkable — they want their country to be what they hope it can be."
As the discussion with the sister from Congo in Manila came to an end, I asked if she felt frustrated or angry given that she had devoted much of her life and ministry to various peace initiatives, even helping with election education when the prospects for democracy and peace seemed brighter in the country in 2006. She said she is confident that the work that has been done to build peace will have an impact.
"Working for peace does not have results right away," she said. "It is a long journey."
[Gail DeGeorge is editor of Global Sisters Report. Her email address is gdegeorge@ncronline.org. Follow her on Twitter: @GailDeGeorge. Joyce Meyer is a member of the Sisters of the Presentation of the Blessed Virgin Mary and GSR's liaison to women religious outside of the United States. Jonathan Luxmoore contributed to this story.]