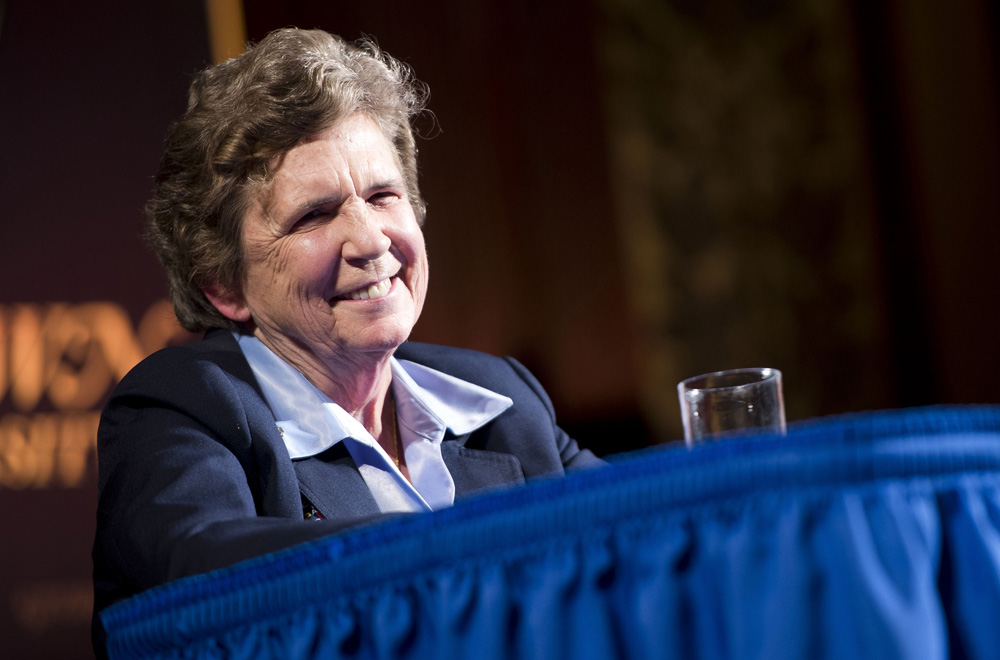 Daughter of Charity Sr. Carol Keehan, pictured in a 2015 photo in Washington. (CNS/Georgetown University/Lisa Helfert)
Last week, Daughter of Charity Sr. Carol Keehan announced her retirement as president and CEO of the Catholic Health Association or CHA, a post she has held since 2005. CHA will conduct a national search for a successor: There can be no real replacing Sister Carol.
I remember well the first time I met Sister Carol. It was the late 1990s and I had an assignment from the New York Times Magazine to do a short commentary about someone who lived in surprising circumstances. I talked this over with my friend, Msgr. Lorenzo Albacete, who said, "You must write about Sister Carol. She is the only CEO I know who lives in a one room cell like all the other sisters in her convent." He arranged a meeting at her office at the hospital. She was friendly, a little wary of someone from the press, although the Albacete seal of approval quickly overcame that. I remember her having several large volumes on her desk and her pointing to them and saying, "I got into this work because I want to help the poor. I found out that to really help them in this day and age I had to learn all about Medicaid regulations."
Later, I went to her convent in Bladensburg, near St. Elizabeth Seton High School. She lived, as Albacete had said, in one room, a bed and a desk. The closet had perhaps half a dozen identical outfits. We walked around the convent and she explained that whenever she could, she enjoyed cooking for the other sisters, a pastime she continues to this day.