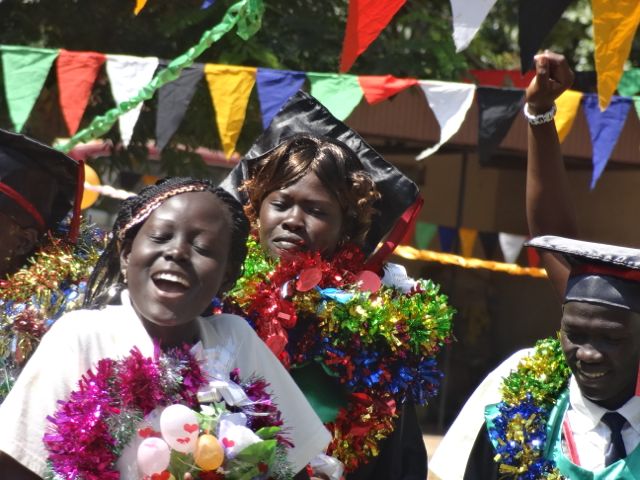 A colorful celebration at a graduation for midwives and nurses from Catholic Health Training Institute. (Courtesy of Solidarity with South Sudan)
For more background on South Sudan over the past 11 months, see our Letters from South Sudan blog.
There is both good news and bad news, but – as is so often the case in South Sudan – the bad news seems to overwhelm the good.
December 15 marked the one year anniversary of when political struggles turned violent in South Sudan, plunging the world's youngest nation into civil war. Since then, reports Solidarity with South Sudan, upwards of 50,000 people have been killed, and those who survive are struggling in every way.
Solidarity is a consortium of more than 200 religious congregations that trains teachers, nurses and pastoral personnel throughout South Sudan. The faith-based organization was formed by congregations of women and men who are members of the Union of Superiors General, the International Union of Superiors General and the church in South Sudan after an invitation by the Sudan Catholic Bishops' Conference.
One year after the civil war started, the Comboni Missionaries issued a report on how the conflict has devastated an already struggling nation:
 Over 1.9 million people have been displaced, with more than 470,000 of them fleeing to neighboring countries.
More than 100,000 are held in protected sites run by the United Nations.
There have been struggles with malnutrition and cholera outbreaks due to a lack of clean water.
The fighting and displacements have affected agriculture and livestock so severely that most people will have to rely entirely on food relief efforts, and United Nations officials warn there could be famine if the conflict continues.
Oil production, which represents about 98 percent of the country's income, has dropped almost 50 percent.
Groups have been recording gross violations of human rights, including "extrajudicial killings, enforced disappearances, rape and other acts of sexual violence, arbitrary arrests and detention, targeted attacks against civilians not taking part in hostilities, violence aimed at spreading terror among the civilian population and attacks on hospitals," carried out by both sides of the fighting.
Both sides have also recruited child soldiers, with the U.N. estimating that 11,000 children are serving in both the government and opposition armies.
With a list like that, it would be easy to assume there is no good news to be had, but those serving in South Sudan see reason to be hopeful.
"The Catholic Church in South Sudan has once again proved to be a mother to all," the Comboni missionaries wrote in their report, and a good number of priests and religious have resumed their work, even in the Diocese of Malakal, where churches, schools, hospitals and residences were completely looted and partially destroyed.
The missionaries also report that there has been progress in the peace talks, in areas of calm clinics have reopened and schools are operating.
"Despite the difficult situation, there is much hope for peace and people's expectations are that South Sudan will not fall down the slope of hatred and madness," the report says.
Solidarity With South Sudan officials said in their Christmas letter that though their training center in Malakal was looted and all the students dispersed, the teacher training college in Yambio has graduated two classes of teachers, the health training institute in Wau is graduating nurses and midwives, the Solidarity pastoral team his holding trauma healing, reconciliation and peace building workshops, and the Solidarity agricultural program is working with the local population to develop community farming and sustainable agriculture practices.
As you celebrate the holidays, take a moment to pray for peace in South Sudan, and especially for all of those working to bring it about.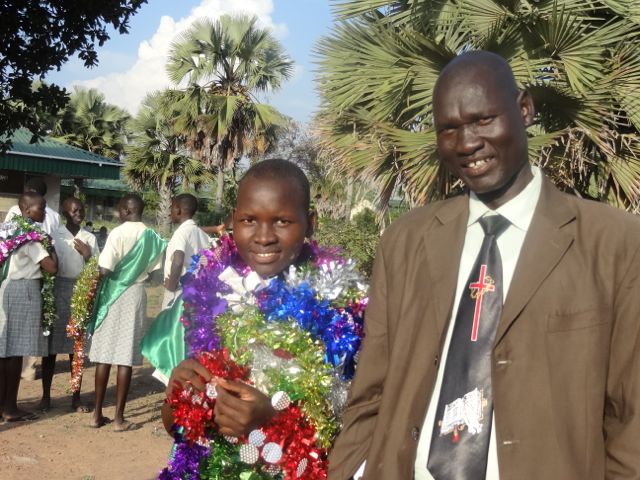 A father and his daughter who graduated in 2014 from Loreto in Rumbek. (Courtesy of Solidarity with South Sudan)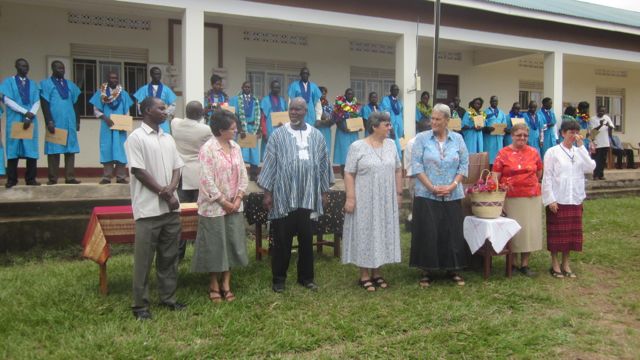 Graduates of Yambio Teacher Training College ready to teach, stand on the porch of the school, while their instructors line up on the lawn in front. (Courtesy of Solidarity with South Sudan)
Remember, links, tips and accounts of the response to any crisis anywhere in the world are always welcome at dstockman@ncronline.org.
[Dan Stockman is national correspondent for Global Sisters Report. Follow him on Twitter or on Facebook.]