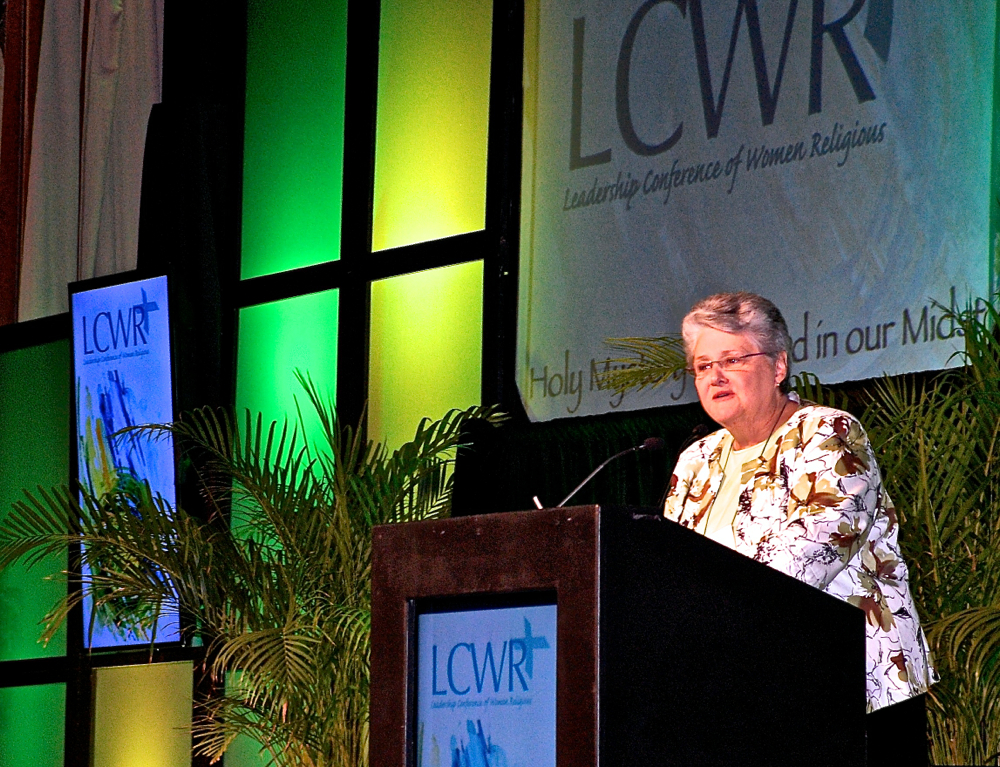 Sr. Nancy Schreck gave the keynote address yesterday, "However Long the Night." (Dan Stockman)
Nashville, Tennessee — Editor's note: For an ongoing list of all coverage of the assembly, go to this series link: LCWR 2014.
Today is my third (and last!) day in Nashville, and it already feels different.
Later today, the members of the Leadership Council of Women Religious are expected to vote on how they will proceed with the Vatican's demands for oversight of their organization, and until now – at least publicly – everything surrounding that issue has seemed to be classified as That Which Shall Not Be Named.
Throughout the week, speakers and presenters have made what I can only assume are thinly veiled allusions to the LCWR's relationship with the Vatican – but I can never be quite sure. In Wednesday's panel discussion, Sr. Nancy Conway, a Sister of St. Joseph, joked about the stresses of trying to communicate with "intractable" people. She could have been talking about Vatican officials, but she also could have been talking about anyone on the planet.
But the message in yesterday's keynote address by Sr. Nancy Schreck, a Sister of St. Francis, seemed to be less veiled than other talks.
"Have not religious orders moved too far into that middle ground where everything is nicely balanced and moderate – tamed by the institutional church?" she asked.
After Vatican II, Schreck said, the sisters went to the margins, ministering to those living in darkness and despair. And it changed them. And it changed what they knew about Christ. What the sisters cannot do now, Schreck said, is abandon decades of knowledge gleaned from decades of prophetic life.
They cannot return to darkness.
Schreck urged LCWR members not to be afraid of exile, walking them through the story of the Israelite's Babylonian exile and the hope that came from that despair when God created a "remnant" that stood in prophetic opposition to the "dominant powers of politics and religion."
In today's world, she said, women religious are that remnant.
"Walking by faith is to seek a world other than the one from which we are swiftly being ejected," she said.
For the first time this week, a speech was interrupted by applause, and there was a swell of energy as the crowd got to its feet when Schreck ended her address. I live-tweet each open session so people at home can follow along (if you want to join in on the last day, search the hashtag #LCWR2014), and even the Twitter response to Schreck's speech was electrified.
And, so, today is different.
Like any outsider, I don't know what's going to happen today. A few days ago, I spoke with Joyce Rouse – perhaps better known as Earth Mama – about the then-pending vote on an LCWR resolution to adopt renewal energy technologies. I asked her if she thought the resolution would pass (which it later did) and she replied, "I don't know. I know they will be led to do what is best for this time."
What is best for this time.
That seems to be a refrain here in Nashville – or anywhere there are sisters, really – and it's especially fitting today. No matter how their relationship with the Vatican progresses, the LCWR will have significant and transformative decisions to make.
If you're on Twitter, I will let you know what I know, when I know it. If you're not, I hope you continue to follow our coverage of all things LCWR both here at the Global Sisters Report and also at NCR.
[Dawn Cherie Araujo is a staff reporter for Global Sisters Report.]