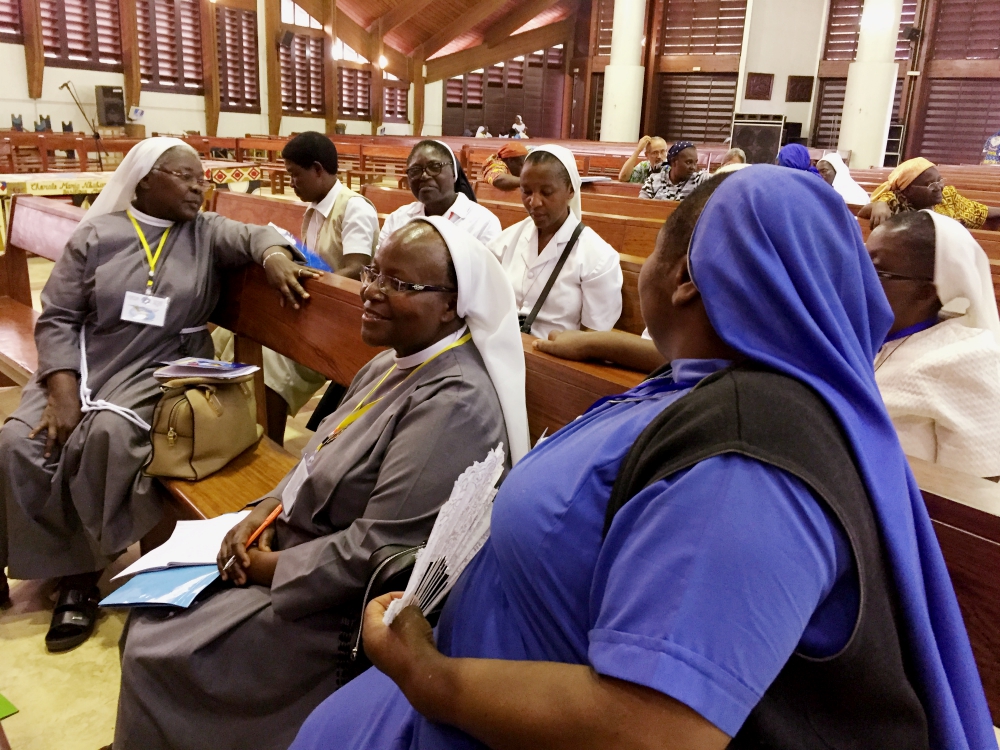 Sisters join a small group discussion during the gathering of the Confederation of Major Superiors of Africa and Madagascar in January in Yaoundé, Cameroon. (Joyce Meyer)
Yaounde, Cameroon — More than 400 brightly habited women and men religious from some of the most troubled areas of Africa gathered in Yaoundé, Cameroon, in January to reflect on their roles in the future of their countries and the continent.
The symposium, "Consecrated Person: Identity, Prophecy and Mission," had a special guest. Cardinal João Braz de Aviz, prefect of the Congregation for Institutes of Consecrated Life and Societies of Apostolic Life, represented the Vatican and remained for the symposium and the assembly of the Confederation of Major Superiors of Africa and Madagascar (COMSAM) that followed.
The keynote speaker of the second day of the symposium focused on celibate chastity as an apostolic, prophetic and missionary commitment. One might think such a vow is only personal, but in fact, it has potential for prophetic and apostolic impact when lived well. Sr. Marie-Paul Ross, a Canadian Missionary Sister of the Immaculate Conception and sexologist, presented this perspective to the audience in the beautiful cathedral of Yaoundé.
Ross is an international consultant on sexuality issues. As a clinical sexologist, she uses psychological counseling, including cognitive behavioral techniques, to identify dysfunctional myths and beliefs surrounding sexuality and sex education to assist her clients to experience sexuality in a different way. Her reputation caught the attention of Pope John Paul II, who invited her to discuss with him in a private audience some of the issues he was finding with clergy. It was my first experience in Africa of such open conversation about sexuality and affectivity.
Ross began by noting that attention in formation usually focuses on the vows of poverty and obedience, and there is little attention given to celibate chastity. This oversight and neglect of celibate chastity, which she identified as the "heart of religious life," leaves young and even some older religious vulnerable to the impact of cultural norms and beliefs about sexuality.
Our current globalized world, she said, is preoccupied with pleasure in all aspects of our lives, including sexual, as we can see in advertising, films and other media. Even attempting to live celibate chastity is an impossibility and folly to many people of the world.
Ross said the vow of celibate chastity when lived well can be an antidote and witness to counteract this preoccupation and perception. Such witness is only possible with appropriate formation and information in which people learn to understand and manage the connections between affectivity, physicality and sexuality and the impact of cultural beliefs and attitudes.
Cultures shape our minds with certain images and beliefs about ourselves that need transformation so that celibate chastity is lived with integrity. From her global experiences, Ross found that many cultures promote beliefs that men have no control over sexual desires, believing that since they are natural, they must be fulfilled. Unconsciously, they project these impulses on to women, whom they then see primarily as temptations.
Without transformation of these beliefs, even men who vow celibate chastity can be led into inappropriate sexual behaviors. Women religious who are also impacted by these beliefs about men and themselves and thinking they have no rights to counter them are also led into inappropriate behaviors.
Ross debunked these beliefs by attesting that the human brain is elastic and can be educated to different ways of thinking about cultural beliefs and attitudes. She gave examples of how education and counseling can change the brain's responses and heal the impact of harmful sexual experiences and beliefs that enable religious to live authentic celibate chastity. It was inspiring to witness how Ross' open conversation elicited enthusiastic engagement by both women and men religious.
Two days after the symposium, COMSAM convened with about 50 participants from many African countries and Madagascar. COMSAM has great potential to bring together women and men religious from all across Africa and Madagascar to reflect and act together to strengthen religious life locally, continentally and globally. It was unfortunate, however, that of the nine countries of East Africa, only two were represented, and those representatives were three men religious, two from Zambia and one from Kenya. Women's voices from East Africa were missing.
Although the organization has important potential, it is struggling to answer the question of COMSAM's role in Africa and the whole church and how religious can work together to address common issues.
Immaculate Conception Sr. Marie Sidonie Oyembo has served as president of COMSAM since being elected in Kinshasa, Democratic Republic of Congo, in 2015. Oyembo is from Gabon and is the third female president in COMSAM's 10-year history. She began the meeting by presenting a report of the past three years, reviewing accomplishments and challenges that engaged her and the executive council of six.
Very significant was the approval COMSAM statutes received from the Vatican, indicating how important the hierarchy views this organization for the future of religious life and the church in Africa. A second accomplishment was the plan of action that directed the activities of the past three years.
Challenges Oyembo and the executive committee identified throughout Africa and Madagascar included initial and ongoing formation, primarily because of few well-trained personnel; self-reliance of congregations for economic transformation to lessen dependency on outside resources; deepened fidelity of members to the vowed life that is authentic witness of Gospel commitment; and communication technology used for Gospel living.
She encouraged regional COMSAM conferences to address these important issues to assure a strong future for religious life in Africa.
The report noted that continuing vulnerability of COMSAM is due to three significant issues. First, there is a lack of communication technology in many parts of Africa along with intermittent electricity in many of the countries. Second, there is a lack of understanding by regional and national conferences that they are automatically members of COMSAM. Not realizing this, they do not respond to communications regarding COMSAM and do not pay dues, which is the third issue: lack of finances to run the organization.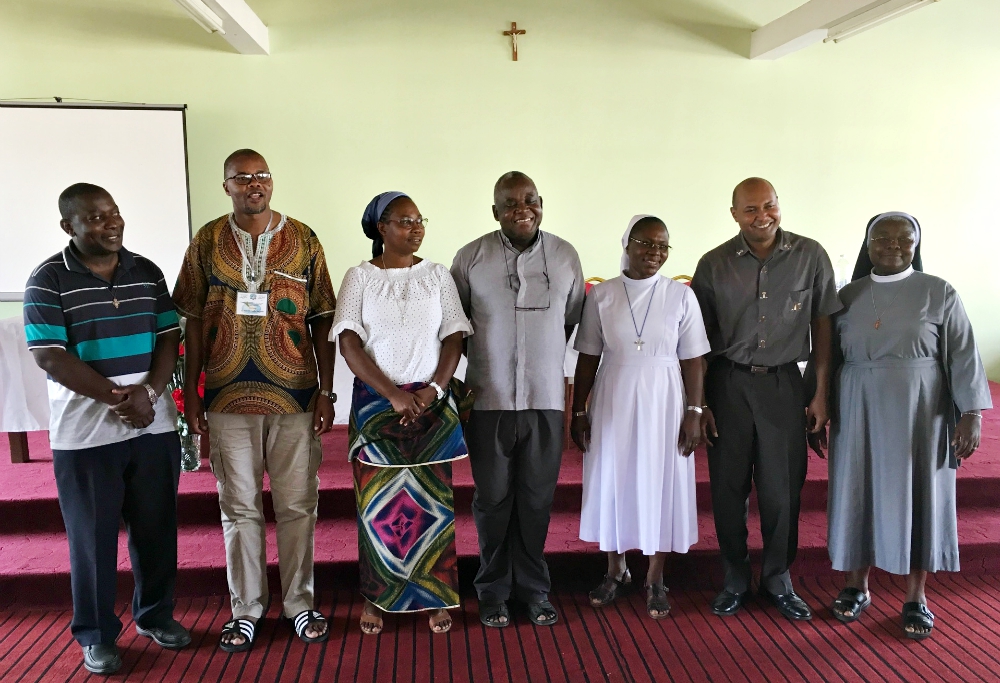 The new executive of COMSAM for 2018-21, from left: Conventual Franciscan Friar Richard Chimfwembe of Zambia; Blessed Sacrament Fr. Agostinho de Conceição Maholele of Mozambique; Charity Sr. Germaine Bayoundoula of Côte d'Ivoire; Josephite Fr. Guillaume Kipoy of Democratic Republic of Congo, COMSAM's new president; Sacred Heart Sr. Marie Diouf of Senegal, vice president; Spiritan Fr. Rodin Rabotovao of Madagascar; and Sr. Roberta Feh, a Tertiary Sister of St. Francis, of Cameroon. (Provided photo)
East and North African countries do not have organized formal regional conferences. East Africa does have a regional organization of women religious, the Association of Consecrated Women Religious of East and Central Africa, which includes 10 countries and has a long history of functioning, but because it does not include men, the Vatican does not consider it a regional conference. North Africa lacks a formal conference because the Muslim-dominated region has few religious.
Oyembo noted that one goal going forward for COMSAM is to help organize the countries of these two areas into regions. Regional conference reports throughout the four days confirmed the findings of the report, and most noted the difficult political unrest they face on a daily basis. Refugees and displacement of people fleeing out of fear is a constant that makes evangelization nearly impossible. It also uses up most of the already-limited resources congregations have to work with.
On one of the days, we took a road trip to see a plot of land donated by the archdiocese for the future office of COMSAM. It was several miles into the bush on dirt roads, but there is an assumption that the site will someday be more accessible. Nearby is the convent of Filles de Marie de Yaoundé, the first local congregation founded in the Yaoundé Archdiocese. The hope is that they will be able to staff the new offices.
What inspires me at all of these international meetings in the global south are religious who face so much turmoil and few resources for mission but keep planning for a future of a vibrant religious life.
This was my third COMSAM experience; my first was in 2012 as a co-facilitator. What made it unique is that we were without simultaneous translation, and my limited French was sorely tested. Ten days of listening to everything twice was frustrating. I was also disappointed that no sisters from East African countries participated. Even so, the days provided a valuable experience of intercultural living and learning that started the night I arrived. My plane was delayed, and no one was there to meet me as planned. Even the telephone numbers I had been given went to voicemail.
I eventually found someone who spoke a little English to help me change money, buy telephone minutes and find a taxi, but since none of the money-changing or telephone-minute kiosks were open, I had to do my business with unofficial street vendors. These interactions triggered feelings of vulnerability, confusion and anxiety.
As I was there going through this, the many immigrants and refugees of our world came to mind. They enter countries very different from their own and feel lost and vulnerable, too. As I reflected on this, I felt grateful for the experience, remembering that unlike many of them, my experience was only a few hours, and theirs lasts for months or even years. They often have no place to go, and I had a place ready to receive me.
[Joyce Meyer is a member of the Sisters of the Presentation of the Blessed Virgin Mary and GSR's liaison to women religious outside of the United States.]