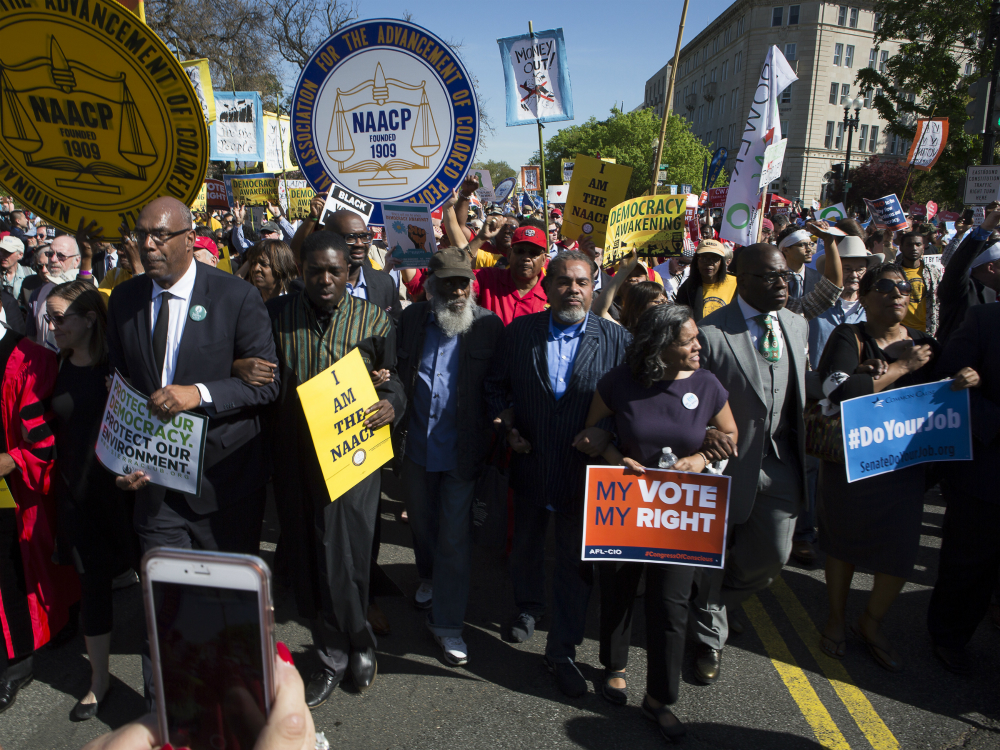 Demonstrators gather outside the U.S. Supreme Court in Washington April 18, 2016, as the justices hear oral arguments in a challenge by several states to President Barack Obama's deferred deportation programs. (CNS photo/Tyler Orsburn)
Words matter, and people should know what you mean when you say it to them.
But there is confusion about President Donald Trump's stated immigration stance while he was campaigning and policies once he became president. That's why it should be no surprise that immigration agents seem to be repeatedly following not his stated presidential policies, but his campaign rhetoric.
That's why there was such chaos caused by Trump's Muslim travel ban issued in January: Though the written policy said nothing about detaining people or subjecting them to hours of interrogations, immigration officials did just that.
Now, despite having stated after the election that his immigration policies would target only undocumented immigrants who have committed crimes, people are being deported based on their undocumented status alone.
The treatment of Maribel Trujillo-Diaz and Juan Manuel Montes stand out.
Trujillo-Diaz was deported to Mexico April 19, despite efforts such as letter-writing campaigns and religious leaders trying to intervene on her behalf, and despite the fact that her removal separates her from her four children, including a three-year-old daughter. Immigration and Customs Enforcement officers arrested her April 5 as she was attempting to get a ride to work.
Immigration officials became aware of her when they raided an Ohio chicken-processing plant where she was working in 2007. She has asked for asylum because gangs have targeted her family, but has been denied twice. Her attorney, Kathleen Kersh, said Trujillo-Diaz has another asylum case still pending.
"Maribel's deportation shows that the Trump administration is not focused on deporting criminals, but rather on separating peaceful mothers from their American children," said Kersh. "It is horrific that American children will be the ones to pay the price for these heartless policies."
And here's where words matter: Immigration officials say her crime was entering the U.S. illegally, reported Cincinnati.com.
Federal courts have ruled that candidate Trump's repeated promise of a ban on Muslims entering the United States while campaigning means that his executive orders — despite the administration's insistence otherwise — are an unconstitutional ban on Muslims. Immigration officials appear to be following the president's harsh campaign statements on deportations, regardless of what the policies may actually be.
We saw this again April 18, when USA Today reported that Montes had been deported, despite the legal protections of the Deferred Action for Childhood Arrivals program, also known as DACA, which was put in place by President Obama and has been kept in place by Trump.
Montes was brought to the United States at the age of 9, and has twice been granted DACA protection. He was approached by a U.S. Customs and Border Protection officer Feb. 17. When Montes couldn't produce identification or proof of his DACA status, he was arrested. Within three hours he was deported to Mexico.
"We've seen Trump and (Department of Homeland Security Secretary) John Kelly say, 'The DACA program is alive and well.' We've seen (House Speaker) Paul Ryan look straight into the eyes of one of our members and say, 'You have nothing to worry about,' " Greisa Martinez told USA Today. "And then this happens."
In January, Trump told ABC News that those protected by DACA should not be very worried and that he has "a big heart," which he would use while deciding on a policy.
Martinez is a director at the advocacy group United We Dream, made up of DACA enrollees. The group says that despite the legal protection in place, immigration officials are targeting DACA enrollees and have at least 10 in federal custody.
Of course, we've seen this before: During the campaign, Trump repeatedly called for violence against protestors at his rallies, including at one point saying he would pay the legal bills for those who carried it out. And people did just that. Now, his legal team says that's not what he said or meant.
Netflix docuseries examines sister's unsolved murder
The Netflix docuseries "The Keepers" focuses attention on the lingering mystery surrounding the tragic murder of School Sister of Notre Dame Catherine Cesnik, who disappeared in 1969 and was found murdered two months later. The 26-year-old was a popular teacher at a Catholic school in Baltimore. The seven-part docuseries launches May 19.
There's much more to the case than just Cesnik's tragic murder, including allegations that a priest who was chaplain and a guidance counselor at the school, A. Joseph Maskell, was sexually abusing students. Some of the students confided in Cesnik and believe Cesnik was killed because of her knowledge of the abuse.
Maskell denied the allegations of abuse before his death in 2001, but he is on the Baltimore Archdiocese's list of credibly accused clergymen, and the archdiocese has paid out about a dozen settlements to alleged victims, the Baltimore Sun reported.
Jean Hargadon Wehner told the Huffington Post in 2015 that when she was a 16-year-old student at the school, Maskell took her in his car and showed her Cesnik's body, then whispered in her ear, "You see what happens when you say bad things about people?"
Baltimore County Police say the case is still under investigation. The series follows Netflix's highly successful and controversial true-crime series, "Making a Murderer."
Remember, links, tips and accounts of the response to any crisis anywhere in the world are always welcome at dstockman@ncronline.org.
[Dan Stockman is national correspondent for Global Sisters Report. Follow him on Twitter @DanStockman or on Facebook.]