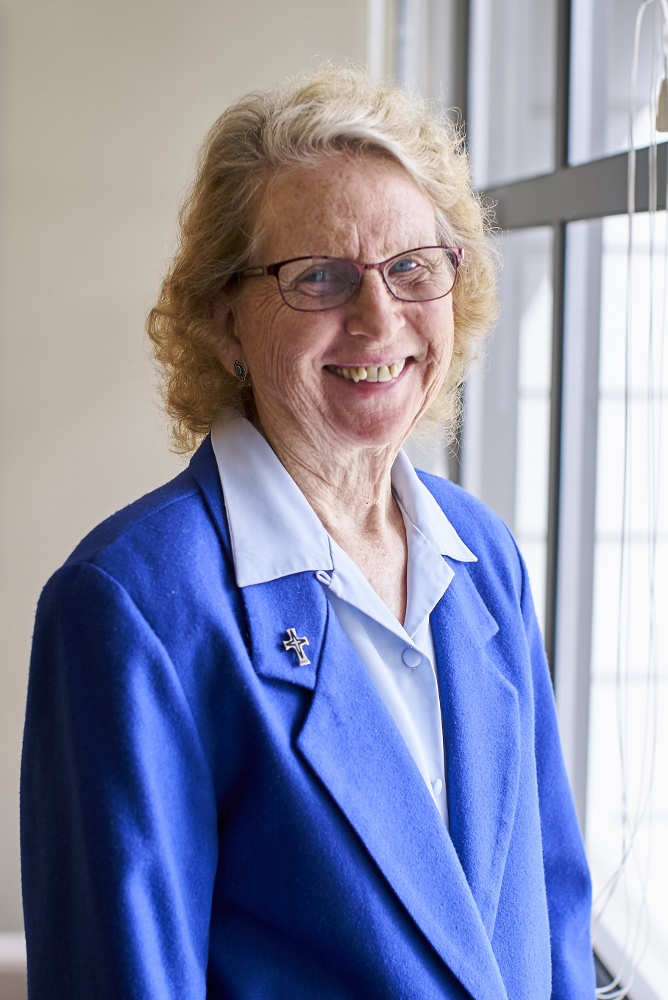 Mercy Sr. Phyllis Hughes (Courtesy of Catholic Health Association)
Sr. Phyllis Hughes started working in health care so long ago, there were no copy machines and no computers. Intensive care units were a brand-new idea.
More than 51 years later, the Mercy sister had a chance to look back on that career as she accepted a Lifetime Achievement Award from the Catholic Health Association on June 10. Also honored with a Lifetime Achievement Award was Sr. Mary Jean Ryan of the Franciscan Sisters of Mary.
Hughes, 74, watched as the health care industry in the United States changed dramatically and helped hospitals and health systems deal with that change. She has an eye for how to make organizations work best, but her focus is not narrow: She also sees the connections between health and housing and health and education, and she has worked to change how the broader system encompassing all of them functions.
Hughes has served on 28 Catholic health care boards and numerous other sponsorship councils, task forces and committees. She has held leadership positions within religious life and Catholic hospitals as well as positions in Catholic health systems and associations. She was president of the Catholic Health Care Federation.
She has accompanied medical teams into the mountains of Peru, visited remote clinics in South Sudan and volunteered assisting orphans in Romania. She managed the HIV and AIDS unit for Catholic Relief Services in sub-Saharan Africa, Latin America and the Caribbean.
Hughes holds a doctorate in public health in international health care from the University of California at Berkeley, and her dissertation focused on the ethics of humanitarian aid in complex political emergencies.
GSR: Is there anything in Catholic health care you haven't done?
Hughes: I've been very blessed. The Sisters of Mercy are multifaceted in terms of their ministry, so I've had an opportunity to do many things in my life for which I'm very grateful. You know, there was a time when there were almost no other women in health care except for sisters. We used to laugh that there were men, women and nuns, like we're a third something. But sisters were doing things even 150 years ago that weren't typical for the culture. That trend continued, and I was very privileged to be part of it.
One thing I haven't done is the clinical side. Most Sisters of Mercy who went into health care management were nurses, and I was not. I was an anomaly. Was that a benefit? I don't know. The times were so different.
You're known for your ability to see how an organization should work.
I'm not one of those people that is naturally gifted with figuring out what the vision should be for any entity, particularly as health care goes through what may be its biggest changes since the development of the X-ray. But once that vision's clear to me, I can usually figure out how to get there. That's one of the things I've been able to contribute. It comes naturally, it's not something I've cooked up.
I was always interested in all the connections between things. Some people like the clinical side and are perfectly happy staying in a hospital all their lives. I was always interested in the bigger picture. For example, the link between health and affordable housing. You can't be healthy if you can't afford to live. It's kind of a no-brainer, you would think, but here we are.
I was [president and CEO of Mercy Hospital in Bakersfield, California, in the 1980s], which at that time was a very divided city. There was a street down the middle of town with wealthy and middle-class people on one side and a barrio on the other. People on one side wouldn't go to the other side. They just wouldn't go. So we couldn't get people [from the barrio] to go to the hospital.
But when we talked to people about what their needs were, they said there was nothing for the kids to do, so they got in trouble. This isn't rocket science today, but in the 1980s, it was all new. So we started a basketball team for them. They were good — they won games and went to tournaments.
Then there was a town in California's Central Valley where all kinds of children couldn't access dental care because their parents couldn't afford it. So we went to the private dentists quietly and said, "We'll pay you if you'll at least take a few." And most would.
We complain in this country about how our health care costs are so much higher than in other countries, but look at where other countries invest their money that we don't, like affordable housing and education. We're kind of the scorekeeper for what happens when people don't have affordable housing and health care and education.
You said health care is seeing dramatic changes. What's happening, and what's next?
It's the question about financing and insurance coverage. It's basically a mess. There's only four ways to pay for health care [employers pay for insurance, individuals pay for insurance, individuals pay the costs themselves, or the government pays], and we have all four of them, and people can't afford any of them.
I think you'll see a de-emphasis on hospitals. There will probably be a lot fewer of them. The ones that are left are going to be giant ICUs. You're going to see the entry of all sorts of other players, such as genomics and 3D printing of organs. That will be a challenge because these are niches that haven't been addressed before.
You'll see more remote medicine, tele-ICUs, tele-pharmacies. Because how do you find a neurologist at 2 o'clock in the morning when you live in a tiny town in Minnesota? The economics of what we're doing just aren't going to be sustainable. I think everyone knows that.
I think you're going to see the rise of the mini-hospital, a little hospital with 10 or 15 beds, and maybe it has an ICU, or maybe not. It's a big question about rural health care because some of these facilities are just not sustainable. There simply aren't enough patients. These little bitty hospitals are just not going to make it.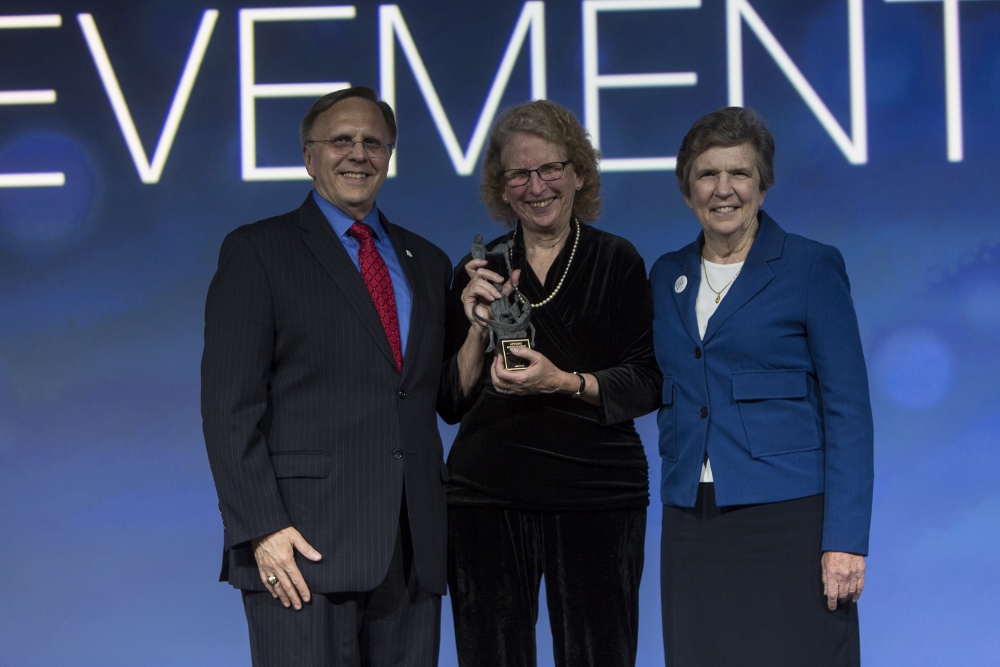 From left: Michael Slubowski, board chair of the Catholic Health Association; Mercy Sr. Phyllis Hughes; and Sr. Carol Keehan of the Daughters of Charity, president and CEO of the Catholic Health Association, at the June 10 presentation of Hughes' Lifetime Achievement Award (Courtesy of Catholic Health Association)
It seems as if the one constant in your career has been change.
My grandfather was born in 1894, so the first 10 years of his life, transportation was by horse and buggy. But by the time he died, he had been in a jet plane. I started in health care when there was no Xerox [brand photocopy machine].
Change isn't always bad. I remember one of the sisters — we would have recreation at night, where everyone after dinner would play games. And this sister was the hospital administrator. We didn't have CEOs in those days, we only had administrators. She would sit every Thursday night during recreation and hand-sign 1,000 payroll checks. That was when I started thinking, isn't there a way we can do this better?
Hopefully one thing that will change is coordination of care. One of the things that's very hard for people is navigating it all. We knew a long time ago that coordinated care — where all your different doctors work together — was better than uncoordinated care, but no one was doing it. Hopefully, we'll have a system where you're the patient and your care is relatively seamless, where you have one file and one payer that's incentivized to have you in the best place possible.
And what's next for you?
Now, I'm mostly involved in governance. I can never remember, it's either that I'm on six boards and five committees or five boards and six committees. I volunteer for this, that and the other thing. It's wonderful because for many years of my life, [leading health institutions] was a very demanding job.
I've had a marvelous life. I like being a Sister of Mercy a lot, and it's just been a real privilege to be in some of the roles I've been in. Of course, I've gotten a lot of mentoring and support and ongoing encouragement, and not everyone gets that.
[Dan Stockman is national correspondent for Global Sisters Report. His email address is dstockman@ncronline.org. Follow him on Twitter or on Facebook.]