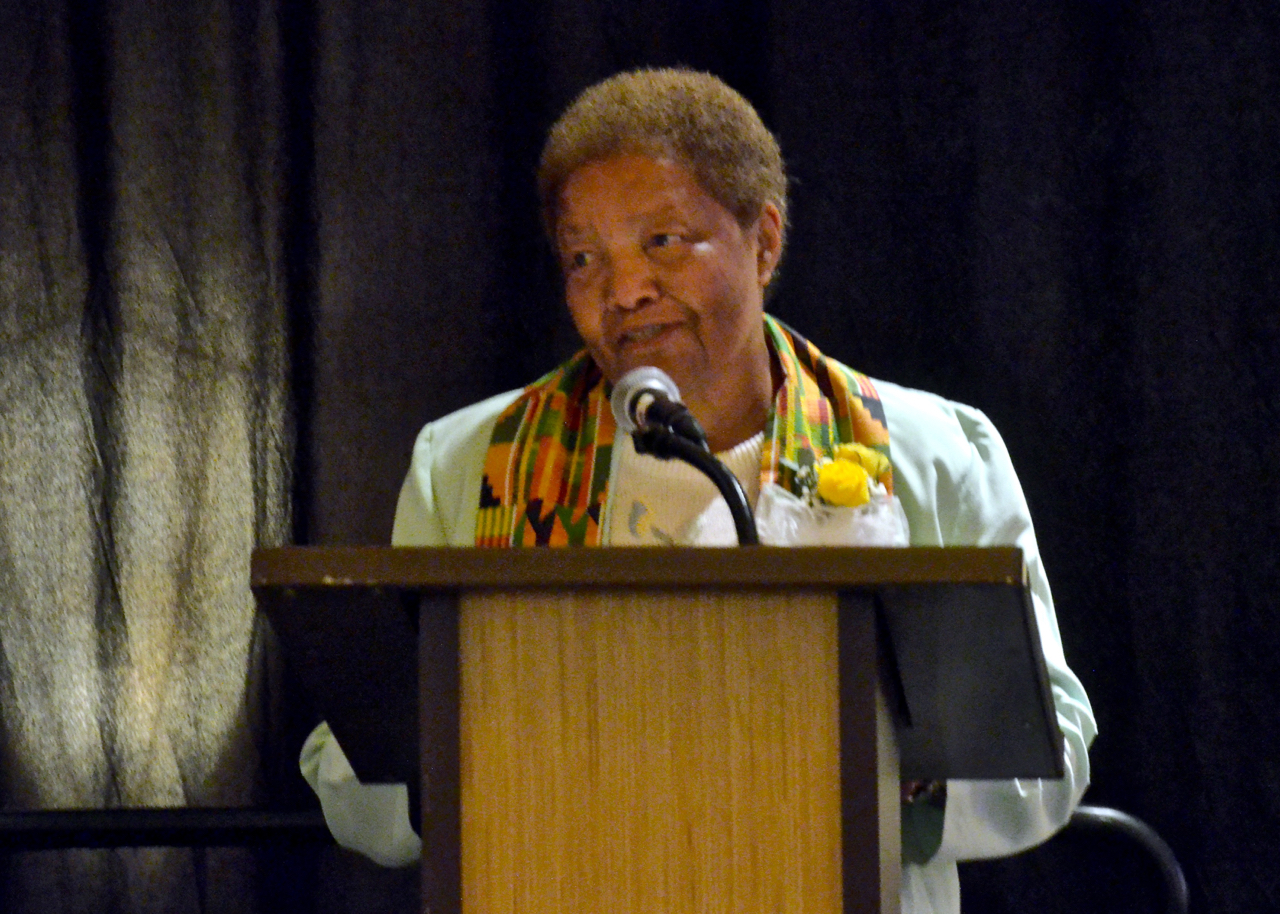 Sr. Thelma Marie Mitchell thanks the National Black Sisters Conference for naming her its 2018 Harriet Tubman Award recipient, Aug 1, 2018, in New Orleans. (Dan Stockman)
Catholic women religious do not like to talk about themselves. Or make a big deal out of the work they do.
Sr. Thelma Marie Mitchell, a Franciscan Sister of Mary, is a perfect example: When she was awarded the National Black Sisters' Conference's Harriet Tubman Award on Aug. 1, she was invited to address attendees at the awards banquet, but said only 13 words.
"Thank you. Thank you to all of you, and thank you to God," Mitchell told the crowd, and then returned to her seat.
She told Global Sisters Report she had no idea why she was being awarded.
"I didn't think I'd done anything to deserve it — I wasn't a Moses to my people or anything," Mitchell said, laughing. "It was a big surprise."
And as for passing up the invitation to speak at the banquet?
"I'm not one for being on stage," she said. "What can you say?"
Mitchell, 89, was born in 1929 in Clarksdale, Mississippi, but her mother died in childbirth, so her aunt — already mother to seven boys — came to get her and raised Mitchell as her own in a little town near East St. Louis, Illinois.
She entered the Sisters of St. Mary in 1954 and professed final vows in 1961. She received a bachelor's degree in nursing from St. Louis University in 1961, a master's degree from the University of California in maternal and child nursing in 1969 and another in community health nursing in 1970, and a master's degree in management and supervision of health from Central Michigan University in 1977. 
In 1987, the Sisters of St. Mary reunited with a congregation of women that had left in 1894 to form their own community, the Sisters of St. Francis of Maryville. The reunited congregation changed its name to the Franciscan Sisters of Mary.
After a long career in nursing, nursing supervision, teaching nursing and congregational leadership, she now works at Nia Kuumba, a spirituality center for African-American women in St. Louis, and volunteers at SSM Health St. Mary's Hospital and SSM HealthCardinal Glennon Children's Hospital, both in St. Louis.
GSR: What was it like growing up with essentially seven brothers?
Mitchell: My aunt — my mother's oldest sister — she was a woman who got things done. So when my mother died, she came down and got me and brought me up here to Illinois. I was just a baby, so I don't remember that, all I remember is being here and being loved and well taken care of.
My aunt was a very strong, staunch Baptist, and we went to church every Sunday — we didn't miss. She died when I was 11, so it was just my uncle and the boys. One of the boys, the oldest, was thinking about getting married anyway, so then he did get married so that — in his words — "There'd be a woman in the house."
How did you go from being a staunch Baptist to a Catholic nun?
At age 16 I got the idea of becoming Catholic because my cousin's wife was always talking disparagingly about Catholics, so I wanted to see what that was all about. I was a teenager, you know, and if someone said something was terrible, that's what I thought I wanted to do. So I had a friend take me to learn how to be a Catholic.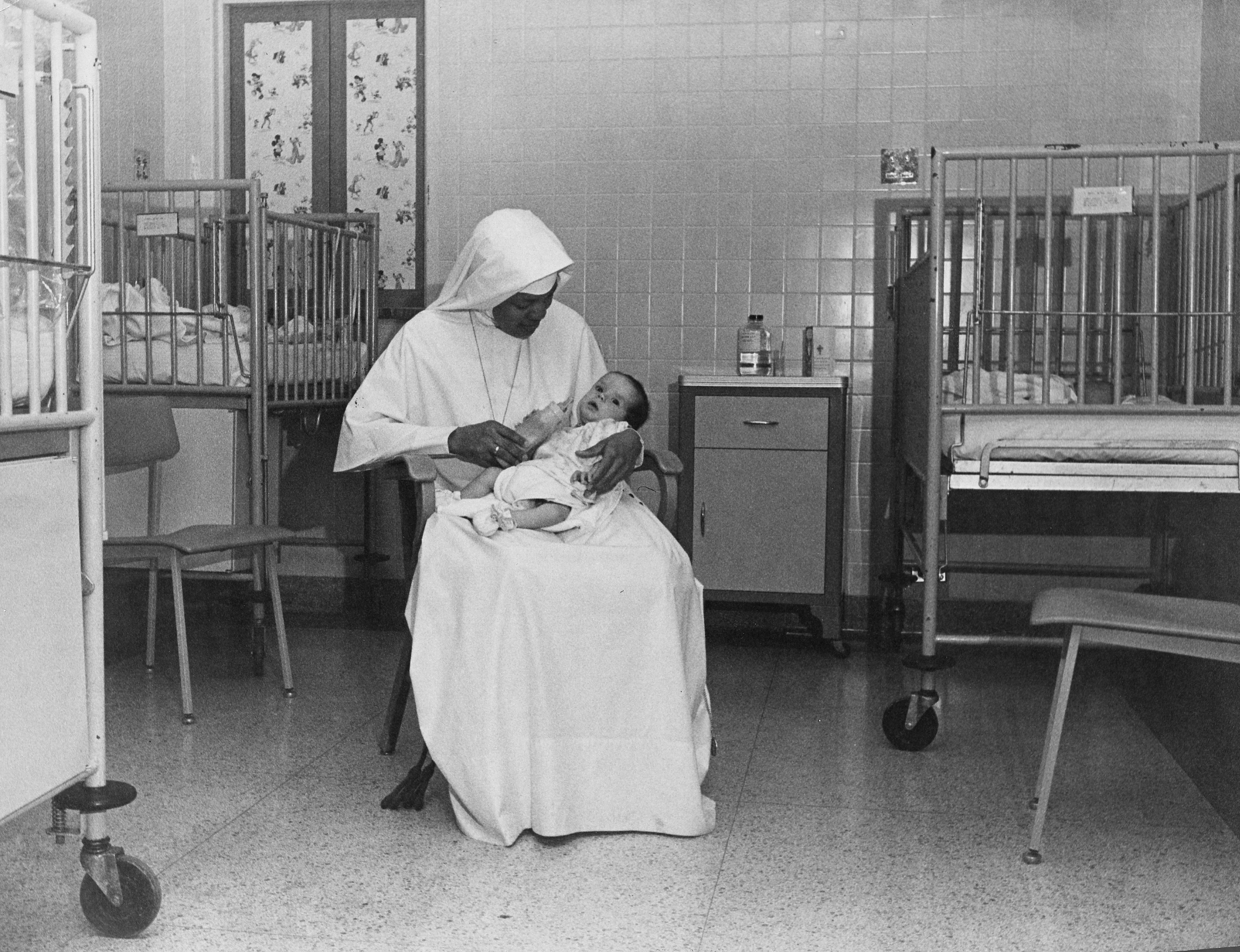 Sr. Thelma Marie Mitchell holds an infant at Cardinal Glennon Children's Hospital in St. Louis in the late 1950s. (Courtesy of the Franciscan Sisters of Mary)
I didn't know anything about nuns and all that, but I wanted to go to nursing school. In 1947, there was a nursing school in St. Louis for black women — the Sisters of St. Mary started taking in black women into the congregation, and those novices were living and working down there at the hospital. It was named — oh Lord — St. Mary's Infirmary for the Colored. Times were different, and everything was segregated in those days.
Mother Concordia, I think she was planning that, once the novices were fully professed, they would be put in charge of that hospital, but then Cardinal Joseph Ritter came to St. Louis and desegregated all the Catholic schools and told Mother Concordia to move the black novices up to the motherhouse with all the others.
But going to nursing school at the hospital, that was the first time I encountered any nuns. It was something I knew nothing about. I knew about the hospital, but not nuns. 
When I finished nursing school, three of us went to work in a hospital in Jefferson City, Missouri. They called our hospital looking for nurses — they had never had a black nurse. There was a college there in Jefferson City for black people. I guess they thought, "Well, we should have some black nurses." They picked the three of us who went to church every Sunday — maybe they figured we wouldn't embarrass them.
So we went to Jefferson City, but we wanted to go to California. We were young and wanted to see the world, and there was nothing to do in Jefferson City, so after about a year we went to California. When I was there, the administrator of the hospital [a Catholic sister] asked me if I had ever thought about becoming a sister. I don't know why she asked me — I thought the other two were much holier than me. It was just out of the blue, but I said I'd think about it. Then I went off and didn't think about it.
But I went to a retreat during Lent, and, well, I guess I got the spirit. So I came back [to Missouri] to go to the convent in 1954.
The congregation began admitting black women in 1945, but there couldn't have been many by 1954. What was the atmosphere? Were you welcomed? Embraced?
There were four others when I got there, one was a novice and three were professed. We never had more than about five black sisters at a time — now there's two of us. But I always felt welcomed. The leadership was clear that we belonged there; I never felt I wasn't wanted by the congregation. Of course, different sisters had their own little things they'd say and do, but I was accustomed to that attitude. I had come up with my aunt saying those kinds of things would be said and done, and we should know we were just as good as anybody else and we should just cast that off as their ignorance.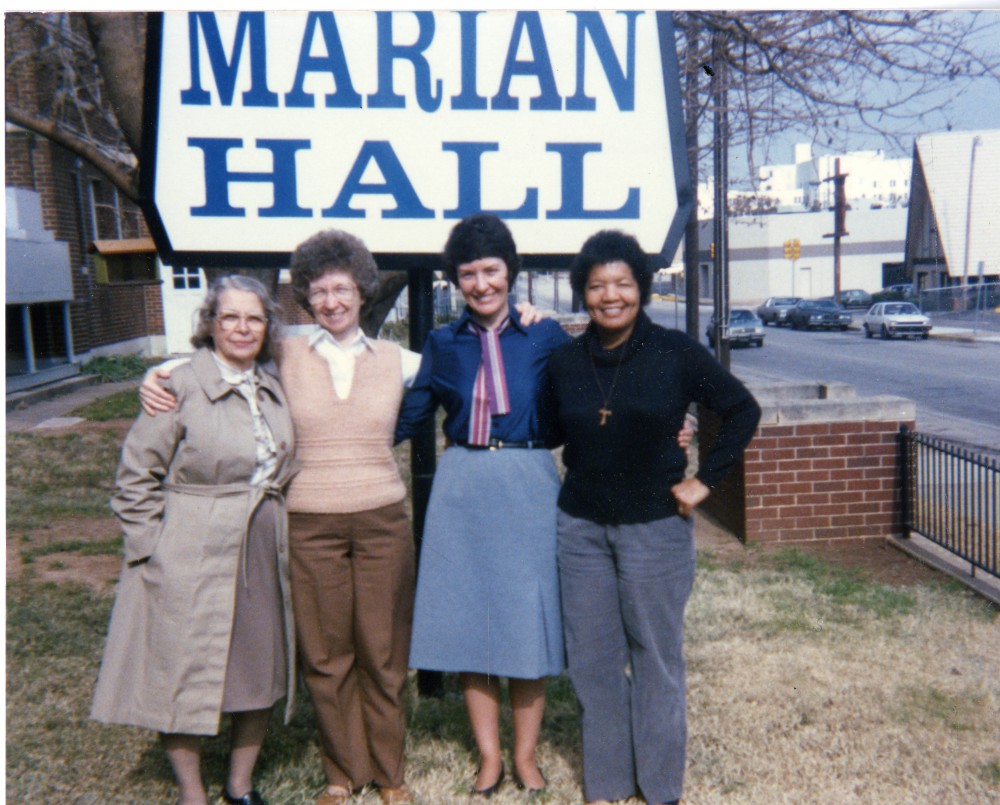 Sr. Thelma Mitchell, right, at St. Anthony Hospital in Oklahoma City, Oklahoma, in 1986. (Courtesy of the Franciscan Sisters of Mary)
You've done just about everything in nursing from administration to teaching to being an employee health nurse, but your first love is pediatrics.
I wanted to be a pediatric nurse because that's what I enjoyed in nursing school. The sister in charge of pediatrics was just so wonderful with the children, I fell in love with it. She would sing and dance with them; it was wonderful. 
I did mostly children's nursing, but I liked the variety. I was at San Francisco General Hospital when I was going to grad school, and also a hospital for developmentally disabled children.
I still volunteer at St. Mary's Health Center with the pediatrics and I used to volunteer at Cardinal Glennon Children's Health Center three days a week, but that was when I still drove. Now I only go one day a week, not three, because I have to take a taxi.
You even worked on a hospital ship in Jamaica and Brazil. How did that happen?
When I was in grad school, a woman who had left the order and was now a med student, she had done a rotation there and was telling us about this ship. It sounded like something I'd like to do — I had always wanted to do something in missions.
Each tour was 10 or 11 months, I did two tours and it was wonderful. It was a teaching hospital ship, so the people from the country we were in came on the ship to get experience. We each had counterparts that we helped educate or train, most of mine were training in administration of the unit. 
You got to know a lot of people, you got to know people from all over the United States and of course the people from the country you were in. Some of them I still keep up with.
So what's next?
I'm doing what I want to do. I volunteer, I go lots of places with my friends. It's been a good life and I just thank God for them. Everything I've done that was good came from God.
[Dan Stockman is national correspondent for Global Sisters Report. Follow him on Twitter @DanStockman or on Facebook.]