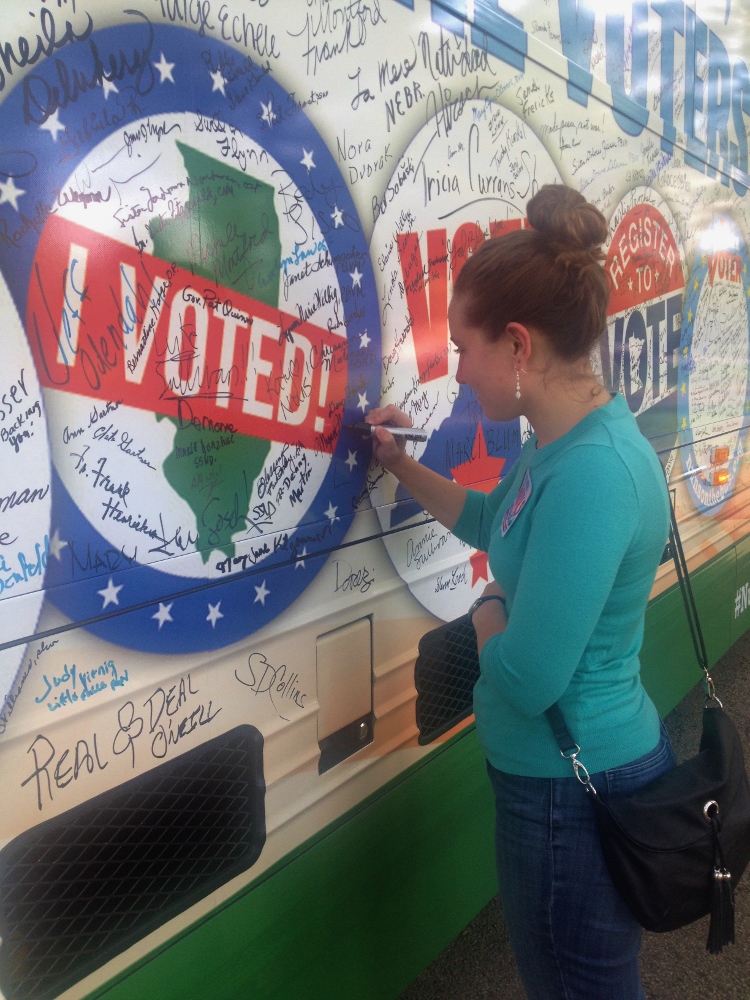 A woman signs the bus, which is very crowded already with hundreds of voters' signatures, at a Rally for the 100% in Union Park in Chicago on Thursday, Sept. 25. (Courtesy of NETWORK)
Chicago, Illinois — Nuns on the Bus have been busy since our last live post from the road. Since leaving Iowa and making two stops in Minnesota, the bus spent Thursday in Chicago, where Sr. Simone Campbell and others talked with business leaders. This quote from Campbell's blog on the NETWORK page offers insight about how we judge success in our country:
We came to realize that the reason the CEOs keep wanting more in salary is not because of needing more money. Rather, we realized that entrepreneurs are very competitive and money becomes the measure of success. We discussed what could be a new measure of success so that we could distribute more of the money to those who are being left out.
Nuns on the bus then went to the University of Chicago to do voter registration and on to Union Park where they held a Rally for the 100%.

Waking up early as usual, by Friday at 10 a.m. they were already in Landsing, Michigan for another rally, then went on to Kalamazoo after lunch for yet another.
Lest it seem that repetition is dulling these sisters, know that each state hosts a new bus group, and remember that wherever the Nuns on the Bus stops, it's the first time for the people who are meeting it in their hometowns. It's the first time people are hearing Campbell's speech in person, the first time they get to express their opinions and get some positive energy about the power of voting.

Click here to read what Sr. Bernadine Karge, OP, relates from workers in Chicago.
There are plenty more first-hand accounts on the Nuns on the Bus News from the Road blogpage on NETWORK's site, where you'll also find a tab to click on the schedule to see if they are coming to your area. The tour runs through October 20.
After events in Traverse City, Flint Township and Ann Arbor over the weekend, the sisters are in Detroit today before heading down to Kentucky for more site visits, rallies and Town Halls starting Wednesday.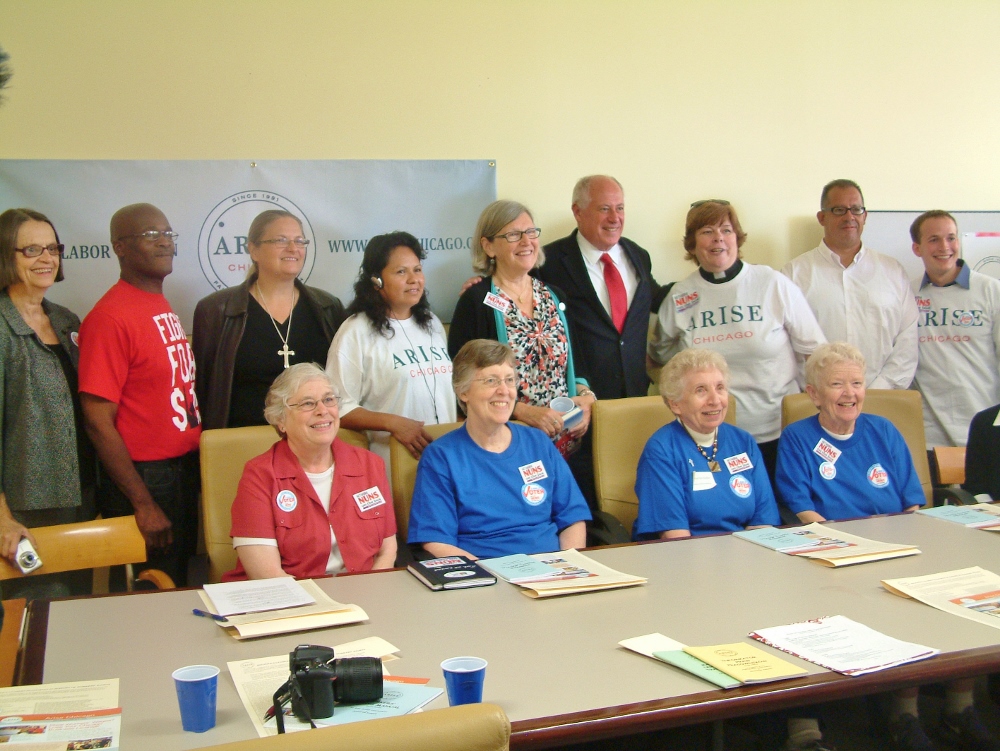 Nuns on the Bus visited ARISE Chicago, which "builds partnerships between faith communities and workers to fight workplace injustice through education, organizing and advocating for public policy changes." To the right of Sr. Simone Campbell, who is standing back center, is Illinois Gov. Pat Quinn. (Courtesy of NETWORK)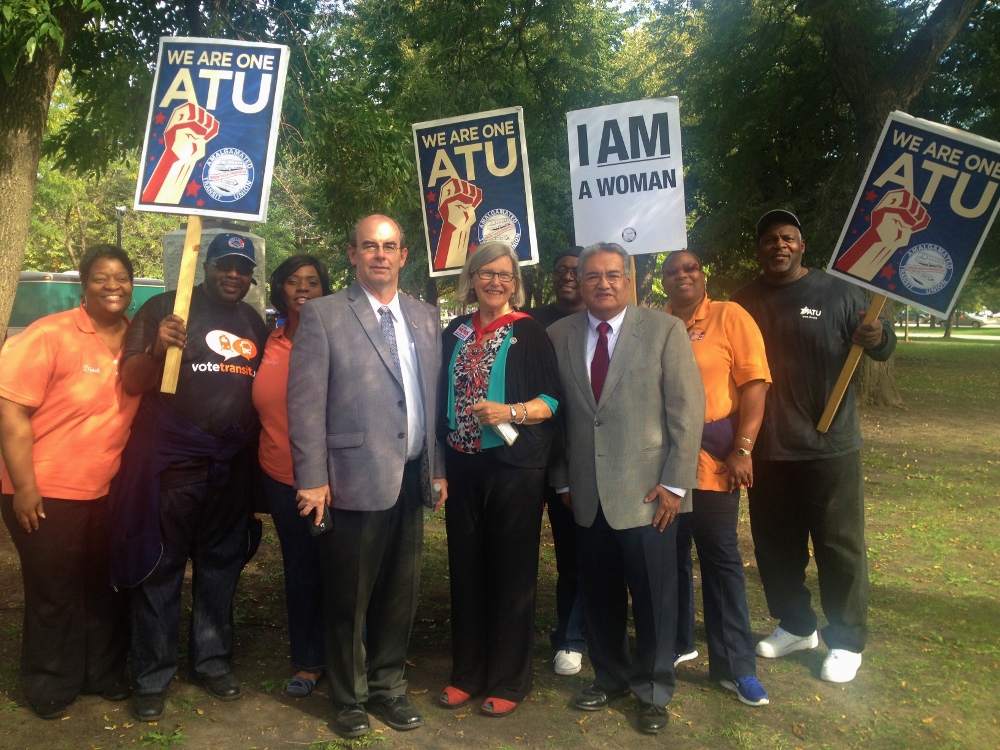 Labor organizations and activists joined Sr. Simone Campbell and Nuns on the Bus at a rally in Union Park. (Courtesy of NETWORK)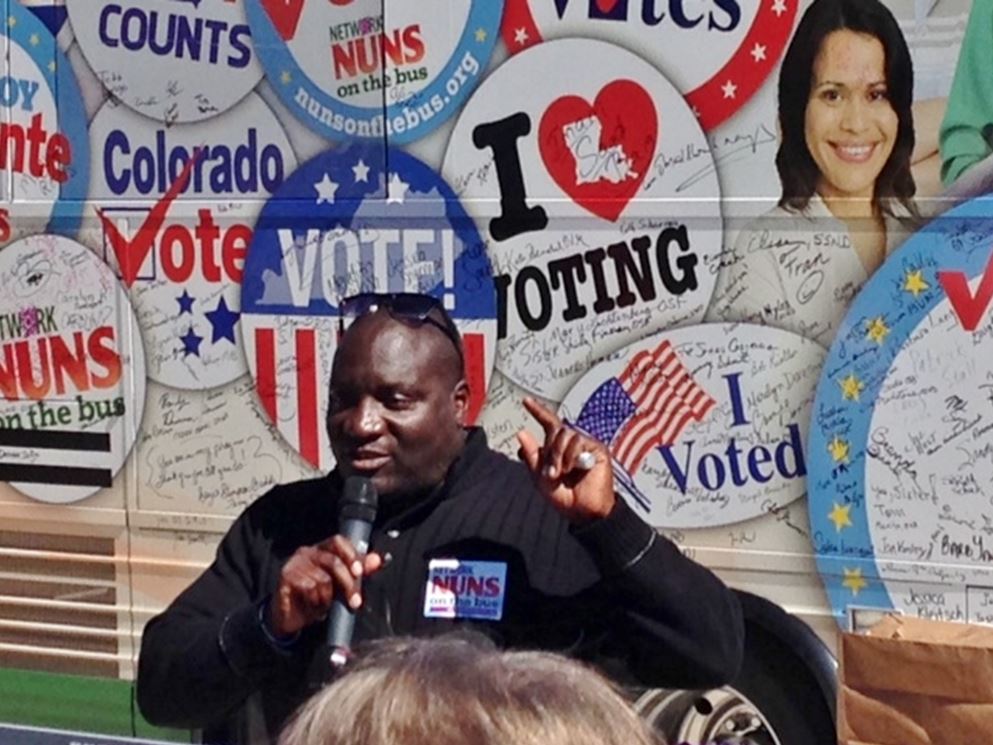 Kalamazoo, Michigan Mayor Bobby Hopewell addresses the crowd Friday, Sept. 26 at a rally in Dr. Martin Luther King Memorial Park where Nuns on the Bus stopped. (Courtesy of NETWORK)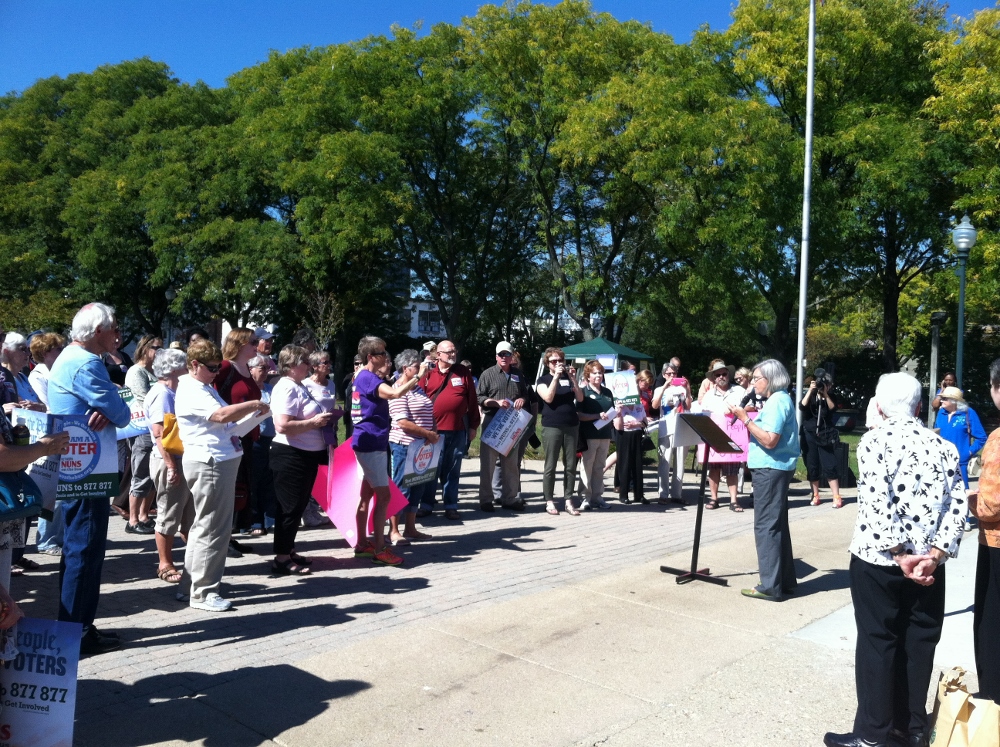 Sr. Simone Campbell addresses the crowd at the voter rally in Kalamazoo, Michigan. (Courtesy of NETWORK)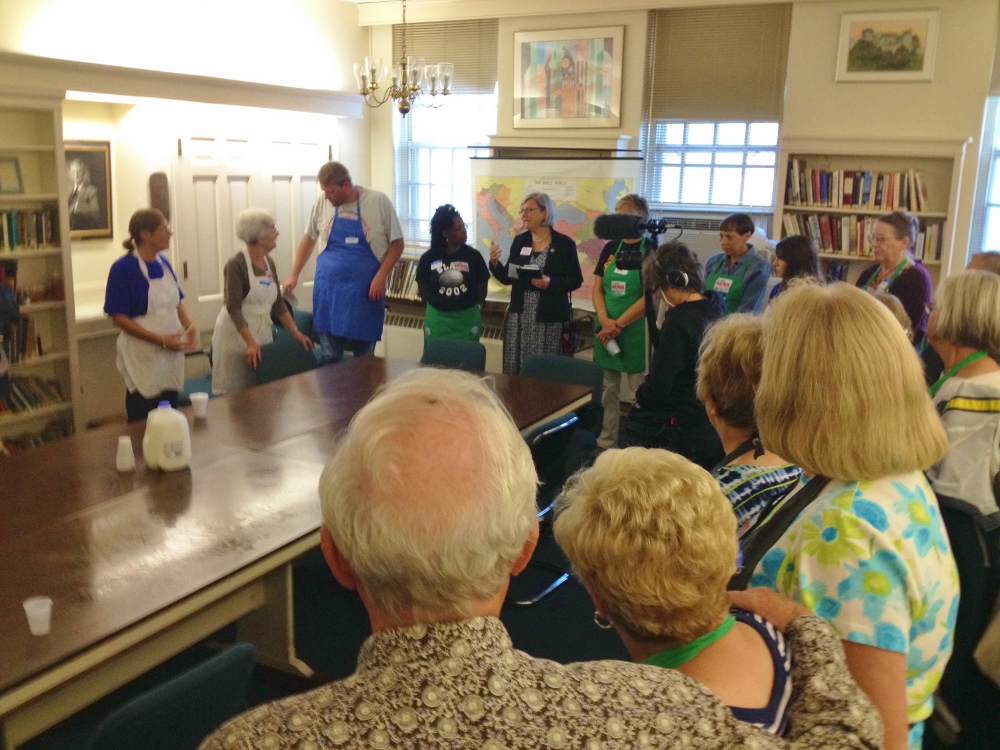 Nuns on the Bus makes a site visit to the First Congregational United Church of Christ in Muskegon, Michigan, Sunday, Sept. 27. (Courtesy of NETWORK)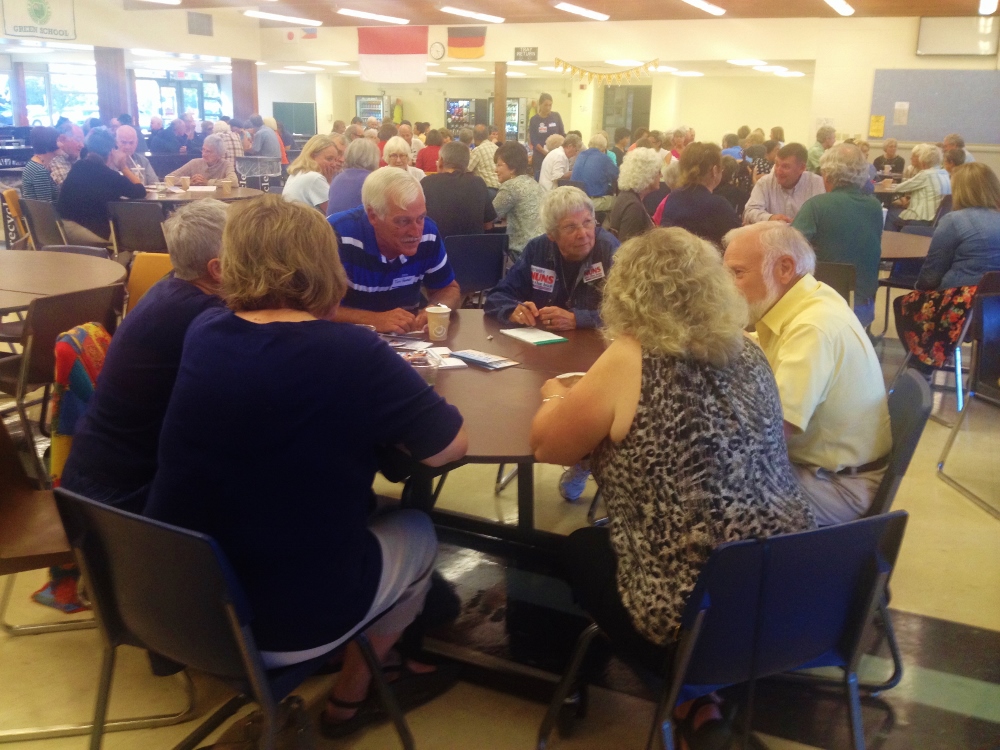 The Town Hall for the 100% was well attended in Traverse City, Michigan, Saturday, Sept. 27. (Courtesy of NETWORK)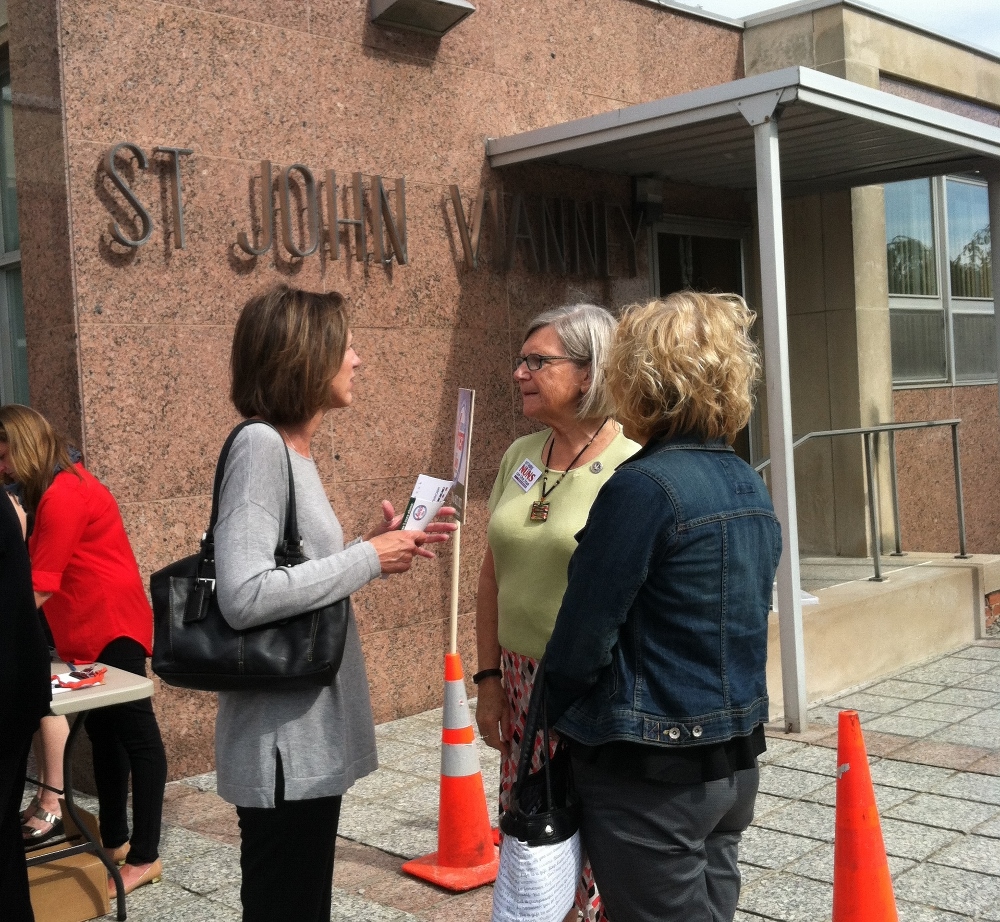 Sr. Simone Campbell talks to residents outside of S. John Vianney Catholic Church in Flint Township, Michigan, where Nuns on the Bus went to Mass on Sunday. (Courtesy of NETWORK)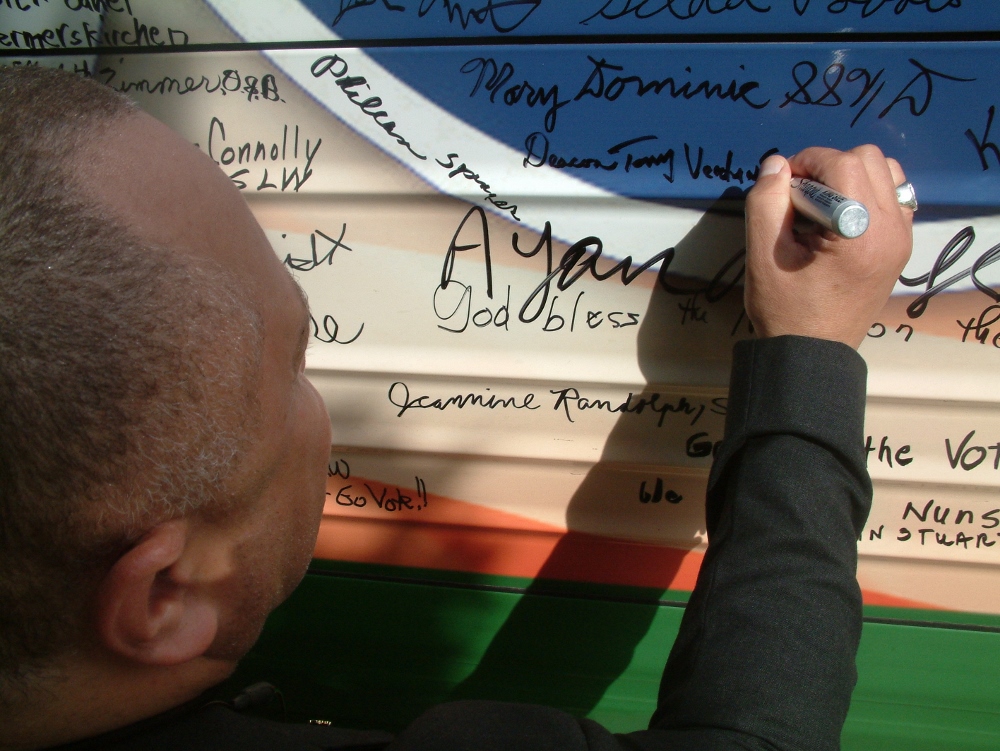 A man signs the bus parked outside of St. Luke's N.E.W. Life Center in Flint Township, Michigan. (Courtesy of NETWORK)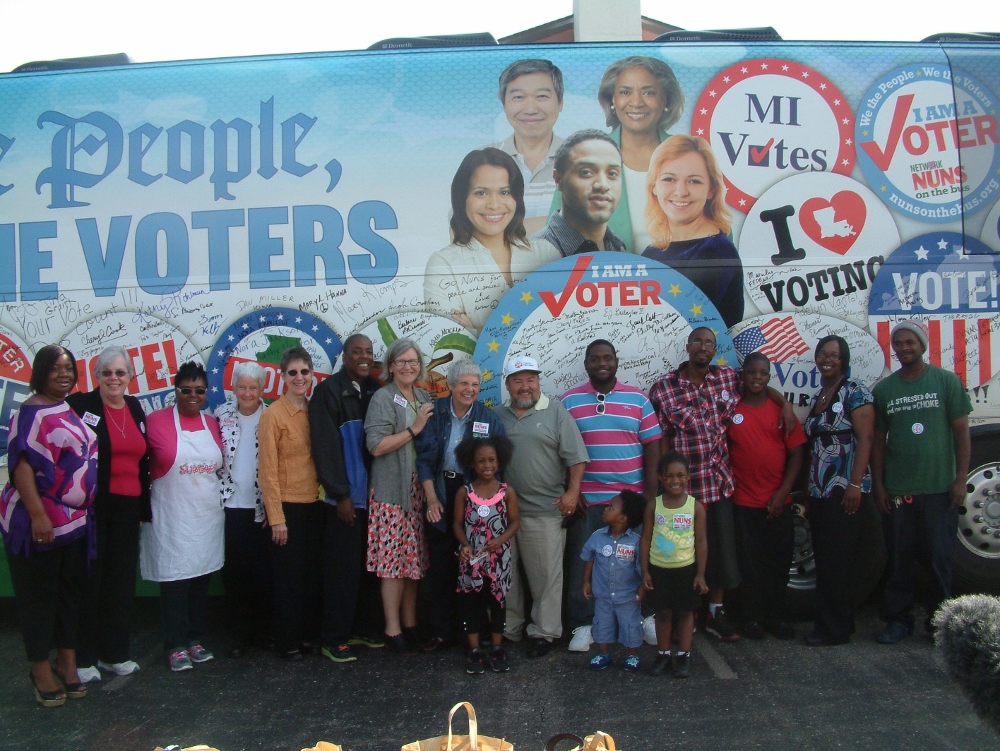 Nuns on the Bus pose with people outside of the St. Luke's N.E.W. Life Center Sunday. (Courtesy of NETWORK)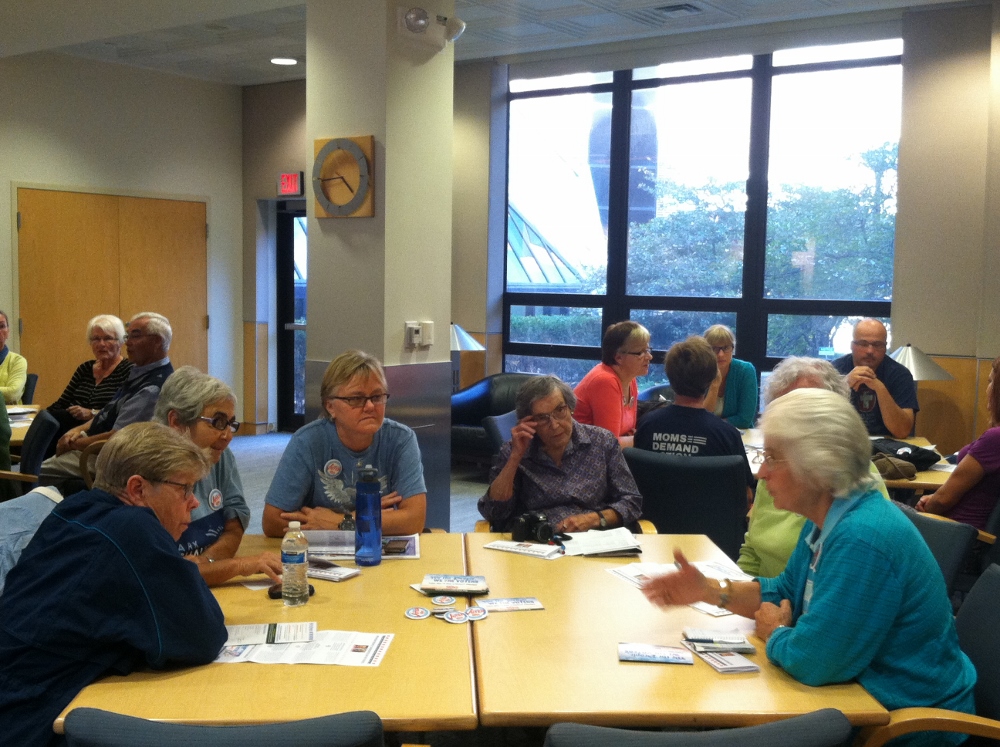 The scene from Ann Arbor on Sunday, Sept. 28 at the University of Michigan's School of Social Work, where Nuns on the Bus hosted a lively Town Hall for the 100%. (Courtesy of NETWORK)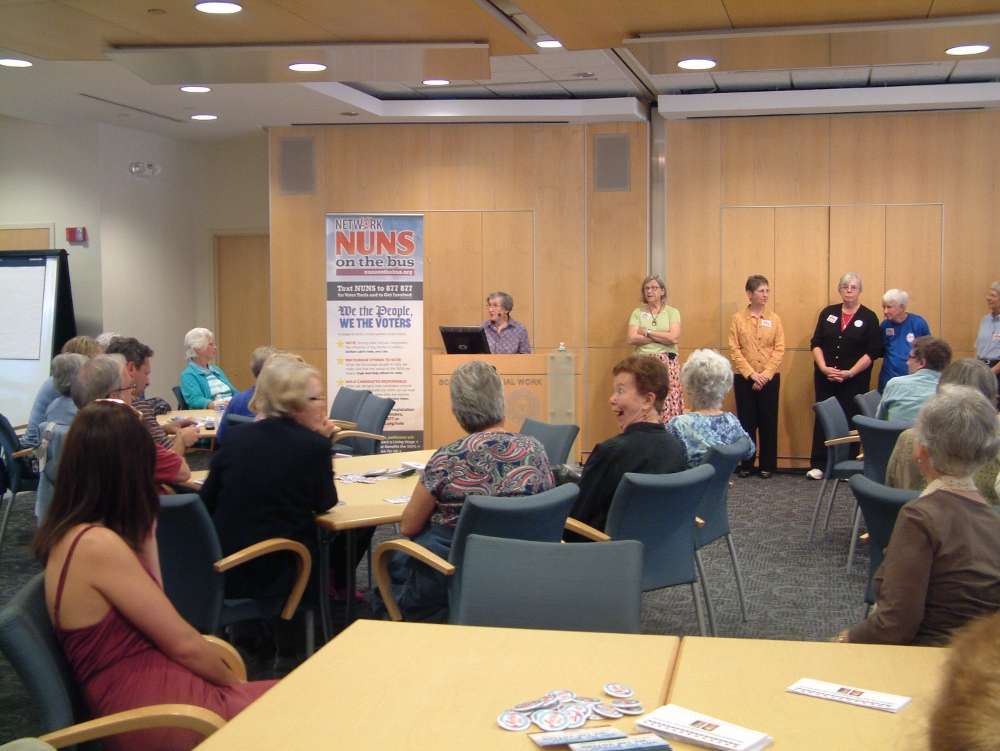 Some members of the audience are caught on camera displaying the vibrant enthusiasm Nuns on the Bus has been finding among voters this year. (Courtesy of NETWORK)