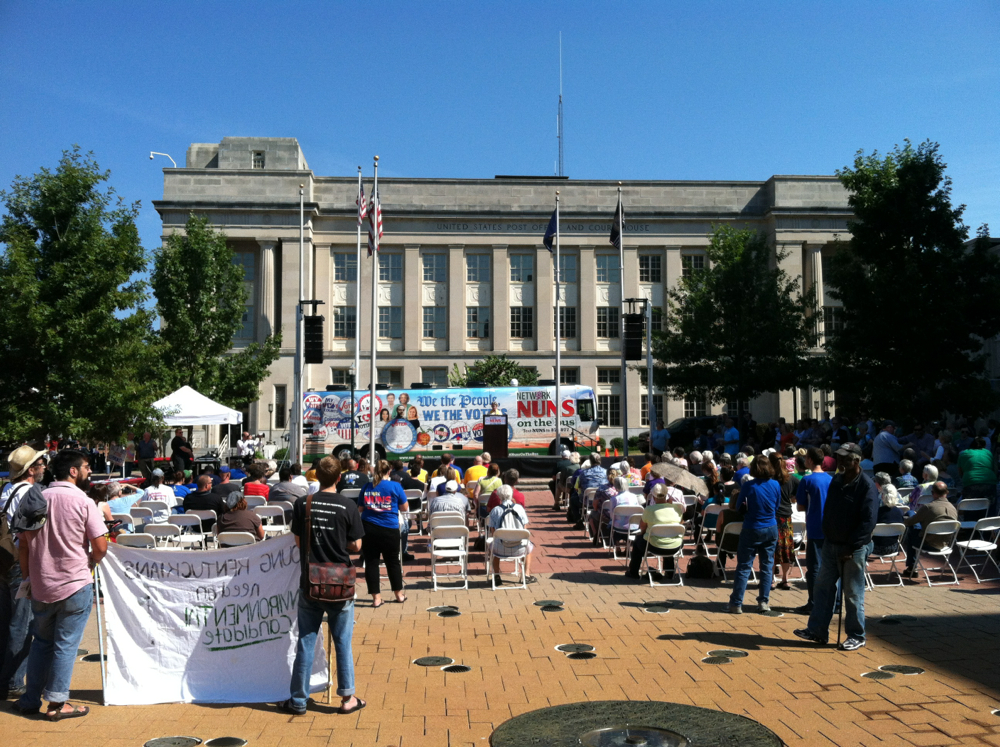 When Nuns on the Bus pulled into the Courthouse Square in Lexington, Kentucky at about 12:30 p.m. Thursday, they were greeted by an enthusiastic crowd of about 200 supporters and at least 4 TV crews. (Courtesy of NETWORK)
Lexington, Kentucky — Isn't it amazing how great the weather has been every place Nuns on the Bus stops? We're struck by the brilliant autumn skies showing up in these photos coming from the road. Get inspired to help get out the vote in your own community by reading what Sr. Jean Ann Zappa, OSU, describes as a Rousing Rally that happened yesterday when they were in Lexington, Kentucky. This courthouse-steps appearance rivals the kick-off in Des Moines, Iowa, with more than 200 supporters and four television news crews!

In other News from the Road, Sr. Loretta Spotila, CSA, reports on the Labor/Worker Forum held in "coal country." She writes about the concerns that came up, like low minimum wage, the state's "Right to Work" bill and the lack of skilled tradespeople to fill jobs.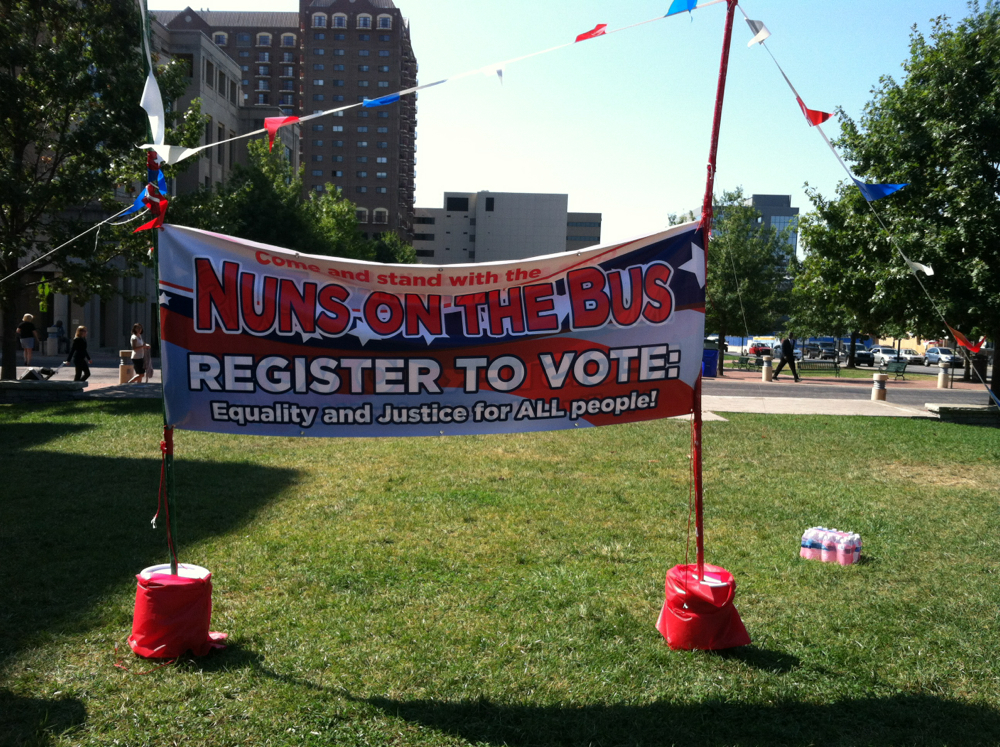 Nuns on the Bus was well expected Oct. 2 in Lexington. (Courtesy of NETWORK)
"Of interest to me was that almost everyone referred to these as moral issues! As a Catholic Sister who grew up in a family of union workers, I grew up hearing about many of these issues and knew several had been resolved in the past, thanks to interventions by the unions. And yet, today we are still discussing them!"
You can find voter registration information on the NETWORK Nuns on the Bus site, resources, toolkits (even in Spanish). Keep up with Nuns on the Bus as they head from West Virginia today into North Carolina over the weekend through Tuesday.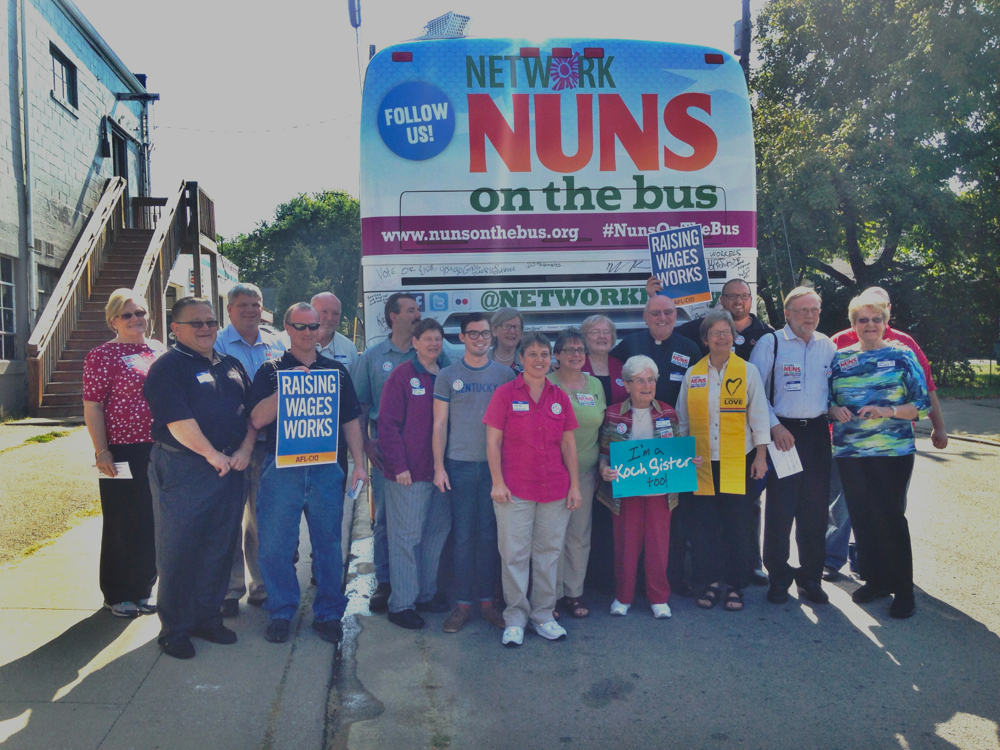 The Nuns on the Bus met with Fr. John Rausch, a Glenmary priest, leaders representing at least six different unions, volunteers and others for a forum in Lexington. (Courtesy of NETWORK)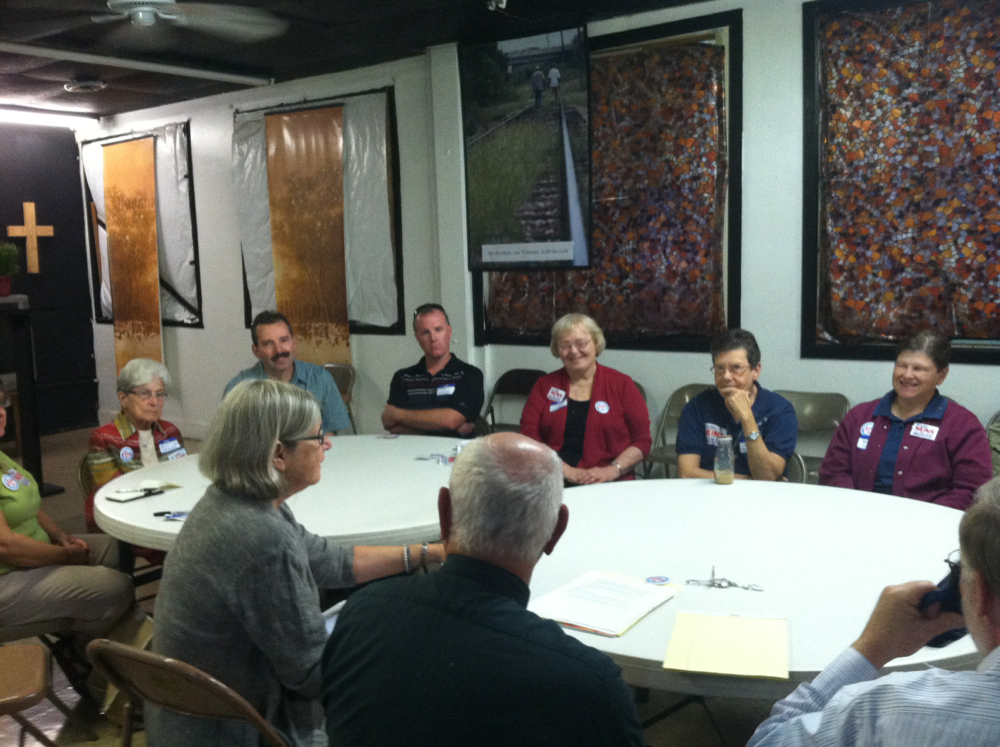 Literal round tables at the Labor/Worker forum at the Community Inn. (Courtesy of NETWORK)
The deadline to sign up to vote or to change your address is fast approaching in most states, so talk to your neighbors, people you run into at the grocery line, at work; it's important that We the People do act and be We the Voters. The midterm Congressional election is Tuesday, Nov. 4, and Nuns on the Bus will be on the road through Oct. 20.
Click here to catch up with all the Nuns on the Bus Blogs on GSR (or use the orange tag at the top of the article).