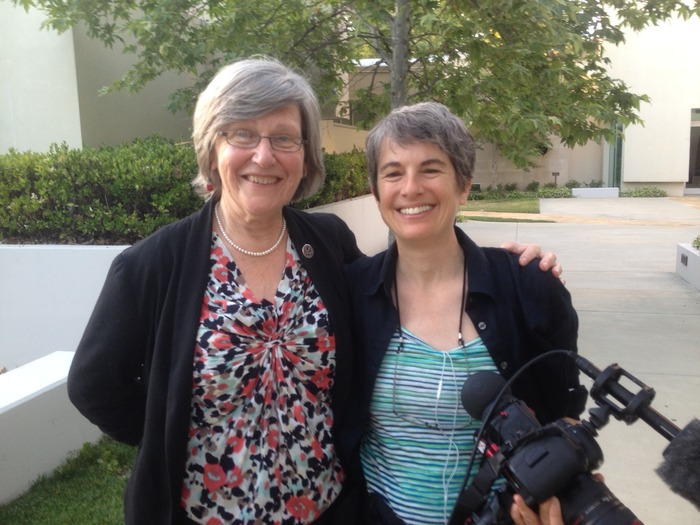 Social Justice Sr. Simone Campbell, left, and independent filmmaker Melissa Regan. (Courtesy of Melissa Regan)
In 2012, filmmaker Melissa Regan read about the Nuns on the Bus in the newspaper. It was the first she'd ever heard of Sr. Simone Campbell or NETWORK, but she was intrigued. She called Campbell and within a few weeks, she was on a plane, headed to Iowa to film the first Nuns on the Bus tour. Regan and her camera have been on every tour since, and she's planning to release a feature-length documentary called "Nuns on the Bus: The Movie."
Global Sisters Report chatted with Regan about the film and what it's like to hang out with Simone Campbell.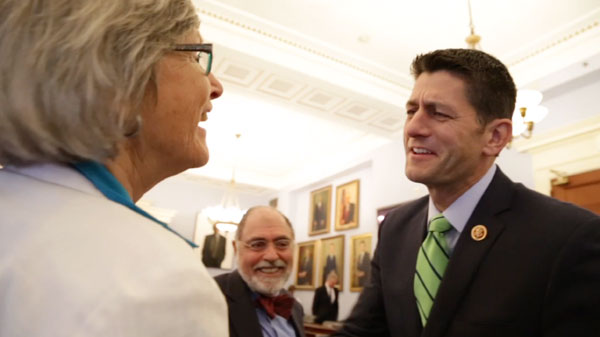 Sr. Simone Campbell discussing budget issues with U.S. Sen. Paul Ryan. Campbell was one of four panelists who testified July 30, 2013 before the Senate budget committee during a session dedicated to "The War on Poverty: A Progress Report." Sen. Ryan's claim that his budget was justified under Catholic Social Teaching was a major impetus for Campbell in launching her first Nuns on the Bus tour. The hearing in 2013 came after the second tour and provided her an opportunity to bring real stories about poverty to the lawmakers. (Melissa Regan)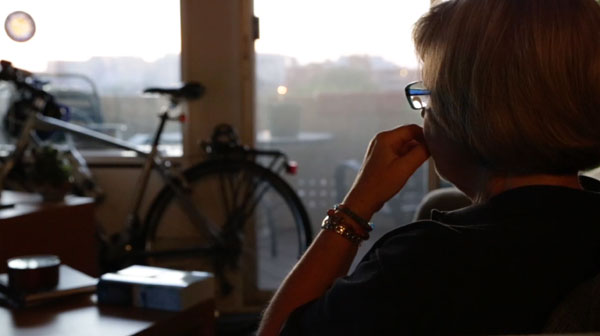 Sr. Simone Campbell sits in her office during a quiet moment of reflection. (Melissa Regan)
So, you had no idea who Simone Campbell was before you jumped on a plane to meet her in Iowa?
I didn't know any nuns before I started this project; I had my own limited impressions of who nuns were as people. Actually, while I was on the airplane flying out to Iowa to jump on the bus the first time in 2012, I was like, 'Oh my God, what have I just gotten myself into? Who are these nuns and how do I act around them? Am I supposed to call them Sister? Do I call them ma'am? Are they sweet little old ladies that I have to be gentle and really nice around?'
One of my sisters was texting me, 'Are they going to be okay with you being gay?' And I'm like, 'I don't know! That didn't even occur to me! You're freaking me out!' But from the beginning, I really enjoyed just being around them. I want to hang out with the nuns. I think everyone is just a little bit more authentic and the days seem more real, somehow, when in the presence of sisters.
But now you've been on all three Nuns on the Bus tours. How did that come about?
After that second bus tour, I decided that maybe we had enough footage; maybe it was time to hunker down, to stop trying to follow Simone everywhere and to make a film out of what we had captured in this one year. But then I realized when the third big bus tour was announced this past summer that this was going to make the perfect three-act structure for our film.
And the fact that this bus tour was – instead of being about a specific issue, like budget or immigration –was now more higher level, conceptual, all-encompassing thing that really seemed to get at the heart of what the whole Nuns on the Bus mission and Simone's mission is all about – the 100 percent and 'We the people,' and all that stuff – that it was going to be really important to be there for that. This would now be the end of the story, having looked at the evolution of this Nuns on the Bus movement in the context of the world.
Part of how you're financing this film is through crowdfunding, and one of the things supporters of the film can buy is a Simone Campbell ringtone. Who came up with that idea?
[Laughs.]

Well, thankfully one of the great appeals of Sr. Simone and the Nuns on the Bus is humor – just the sense of joy and not taking ourselves so seriously that I think Simone approaches a lot of this with. And so, we were just brainstorming, trying to think outside that box and do something that would be fun for people – and we started to realize that Simone had some fun little phrases that she was saying that people would repeat.
Like when she was on Rachel Maddow, she said her thing about, 'The Holy Spirit is alive and well and making mischief.' And it just tickled Rachel so much. And she said, 'That's my kind of Holy Spirit.' And I thought, 'Oh! That'd be a good ringtone!'
I have found that part of the reason I want to hang around her so much and continue to film her is that I'm learning from how she gets through the day and lives her life. And it's almost like, if every time somebody called me, Simone's voice told me to do something or reminded me to not take the day so seriously, that would be cool. It's a fun way to keep her top of mind.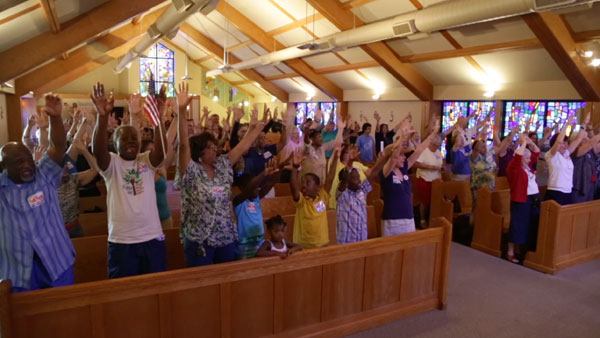 During the second (2013) Nuns on the Bus tour, which focused on immigration reform, Campbell and other sisters on tour held rallies like this one, at which people raised their hands and chanted, "Raise your hands, raise your voices, comprehensive immigration reform now!"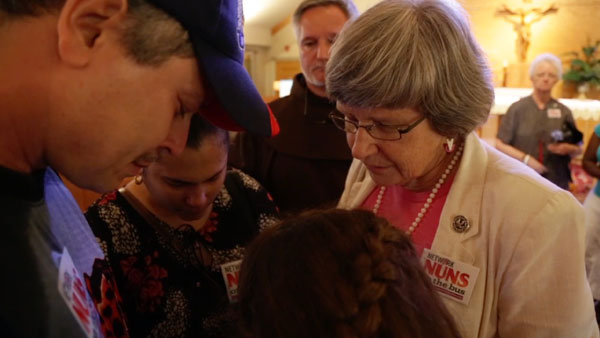 Sr. Simone Campbell listening to a Cuban family who traveled 18 hours to one of the Nuns on the Bus 2013 stops so they could talk to her and the crowd about their personal immigration plight. (Melissa Regan)
What has been your favorite part about making this film?
For sure my favorite part has been all my new nun friends. I was only actually going to spend only a few days filming this last bus tour, so I flew in with a backpack and two days' worth of clothes. But I just felt like I was home; I felt like I was visiting relatives. Something just felt really good about being there, and I couldn't leave. So I spent the rest of the bus tour rotating through those two outfits. It just feels like coming home now, hanging out on the bus with the nuns. 
In the first couple of months, while I was still getting to know Simone and a lot of the sisters, I remember I had some footage from the first bus tour that we had pulled together into a 10-minute or so sample – just to give a flavor for the kind of storytelling I was hoping to do with all this filming. We were in Los Angeles at Simone's motherhouse, and I showed them this clip.  I remember them sort of standing back and almost breathing a sigh of relief. They said, 'You're showing us as we really are.' I guess I didn't even really realize it was such a need for that. But I hope we can do that, and bring a sense of who sisters are to the rest of the world – and hopefully it rubs off on the rest of us a little bit.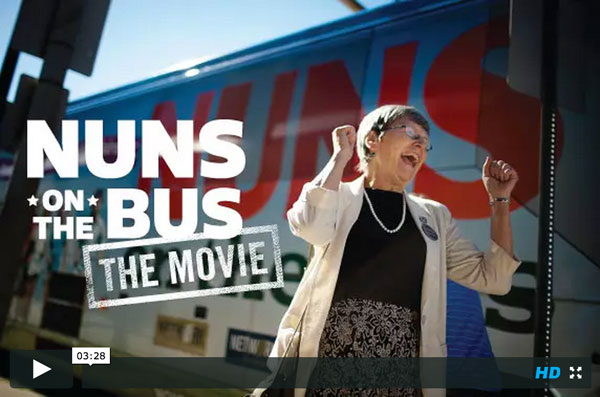 Trailer still. Go to NunsOnTheBusMovie.com to watch it. (Melissa Regan)
[Dawn Cherie Araujo is staff reporter for Global Sisters Report, based in Kansas City, Mo. Follow her on Twitter @ Dawn_Cherie.]