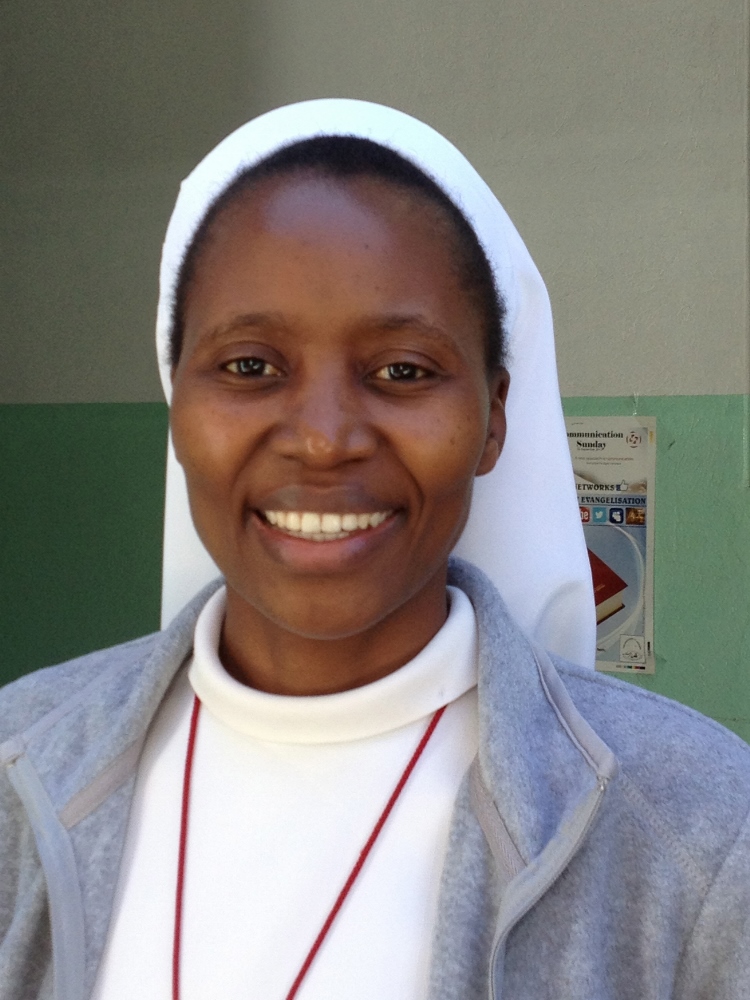 Sr. Clara Mangwengwe, secretary of the Conference of Major Religious Superiors of Zimbabwe, started life without running water or electricity in Zimbabwe's barren heartland.
A Missionary Sister of the Precious Blood, Sr. Clara Mangwengwe is secretary to the Conference of Major Religious Superiors of Zimbabwe (CMRS). It is a long way from her home in the deeply rural central province.
She is the communications' hub for the conference and runs the organization either electronically from her convent 55 miles outside Harare or her office in the capital city twice a week.
What do you do at the Conference of Major Religious Superiors?
CMRS has been recognized from Rome, and our role is to coordinate activities of religious congregations: let's complement, not compete. It represents 22 women religious and 19 men religious congregations, and the chairmanship revolves between them. Sr. Mercy Shumbamhini, CJ, is now president and also regional leader of her congregation in Zimbabwe, Zambia and Malawi.
I was appointed the conference's first full-time secretary in May 2013. I had to negotiate a little delay in taking up my appointment until I had written my final exams in June 2013. I am just about to complete my studies (which involve a thesis) for my master's in business administration, but I have been balancing work and studies well.
We operate from the Inter-Regional Meeting of Bishops of Southern Africa  premises, keeping in touch with its constituent bodies as well as the Zimbabwe Catholic Bishops' Conference, the body of bishops and the various dioceses.
We are in the process of re-establishing the All Africa Conference: Sister to Sister (AACSS), an organization of sisters with its headquarters in America that focuses on sisters working on HIV/AIDS projects.
The All Africa conference works in Malawi and Zambia, and we would like to team up with them since they are close to us. I am also trying to link up with other sisters in Africa, especially those in Uganda where AACSS also operates.
We have set up sub-committees for education, justice and peace and formation. We need to track policies that affect our members and try to influence them in line with religious interests.
How did you come to this position?
I was the administrator of our primary school when I was asked to come to Harare. It's been a challenging and exciting time for me.
Why do you stay so far from where you work?
I live with one other sister. We are not many in Zimbabwe although we own and run a boarding primary school for boys and girls outside Bulawayo, our second largest city.
Why did you decide to join the Precious Blood Sisters?
I moved with my family to Zimbabwe's second city and met the sisters at St. Pius parish in Njube, one of the poorer suburbs. My parents and six brothers are also devout Catholics and understood my need to dedicate my life to God.
When I was 18 I applied to join the Precious Blood Sisters but, as I hadn't heard from them, I attended two aspirants' workshops in other congregations.
I wasn't as inspired as I had been by the Precious Blood Sisters, and when I returned home in 1994 I found an invitation to visit one of their convents 571 miles away.
Our charism is to live the Pascal mystery – life, death and resurrection of Jesus Christ. We try to make the Blood of Christ fruitful in our work; in everything I do, I keep this in mind. We were founded in 1885 in Mariannhill South Africa by a Trappist monk, Abbot Francis Pfanner. He believed that "to educate a woman is to have educated the whole world."
What did you do after you joined?
I joined the congregation in February 1994. In September I was received as a postulant, and I made my first vows in 1997. I went to Monte Casino Girls High School and was a pioneer student when it introduced the higher school leaving certificate.
I served in community for two years before doing my honors degree in international marketing. I finished it in 2007 but I had taken my final vows in 2005.
What drives you?
This is the work of God, not mine. I pray I will pass on the baton stick to others yet to come. I need to do my best in the here and now. I devote my talents and ability for the growth of the conference.
[Jill Day is a contributing writer and editor for GSR based in Harare, Zimbabwe.]