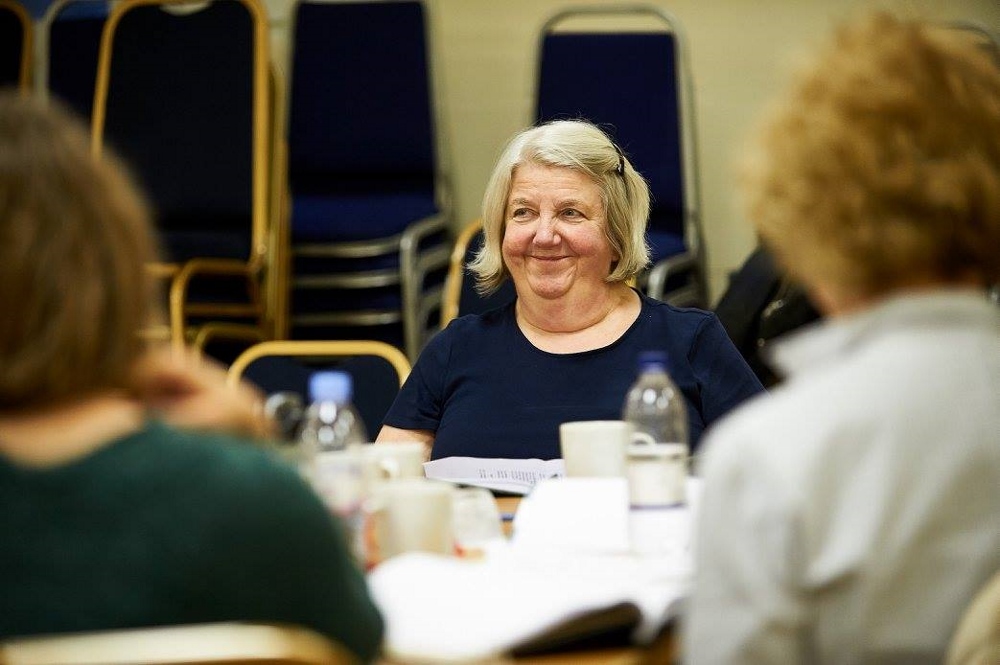 Maggie McCarthy plays Sister Bernie in the London performance of "We Wait in Joyful Hope." (Kevin Murphy Photography)
Playwright Brian Mullin's love of theater began when he was a child growing up in a Catholic family outside of Boston. He says he used to corral the other neighborhood kids and write musical revues for them to perform. Today, Mullin is one of five writers-in-residence at Theatre503 in London, where his debut drama, "We Wait in Joyful Hope," premieres this week, starting May 17.
Mullin's play tells the story of the fictional Sr. Bernie D'Amato, an aging Catholic sister who has dedicated her life to peace and justice works. Now, nearing the end of her life, she must rally to save the New Jersey women's shelter she's run for the last 40 years from property developers.
Mullin spoke to Global Sisters Report from his London home about theater-as-politics and the "radical, feminist" women religious who inspired the play.
GSR: There's a description of your play floating around the internet that calls it an 'exploration of religion and capitalism' in the United States. How did you decide to tackle such a topic through a play?
Mullin: When I went to college, I studied theater and thought I was going to be a director. I did a lot of Shakespeare and Tennessee Williams, things like that. But I was living in the Haley Catholic Worker House in Boston the summer before 9/11 happened, and I was really becoming politicized. I wanted to be a politically engaged theater-maker, and I thought to myself, 'You know what? Putting on old, classic plays, as good as they may be, that's never going to be really relevant to what's going on in the world. I have to write my own plays.'
So I transitioned into being a playwright and creating original work instead of just directing. I was in New York for quite some time, and I worked with a young people's theater company there. We made original, politically engaged work with kids from the outer borough areas — mostly black and Latino — that were about things like the war in Iraq. But when I wanted to take a bit more time to focus on my own writing, I came over to London. I did my master's degree at Goldsmiths University.
So politically engaged theater is your thing. But why a write a play about a Catholic sister?
In many ways, this play is very personal for me because of my family background. My father had three siblings; one of them was a priest, and my aunt — when I was born — was a Franciscan nun. My whole family, but both of them in particular, were in the progressive, social justice wing of the Catholic church, and these were the things I was kind of inculcated with when I was very young.
When I was about 2 years old, my mother passed away, and my aunt left the sisterhood to help my father raise me, almost as a surrogate mother. So, in a sense, I was raised by a nun, and she is as close to a living saint as anyone will ever meet. She's trained as a nurse, and she still works today at the age of — well, I won't say exactly how old she is, but she's in her 70s, and she still works in a clinic for homeless people. Helping others has been her life's work.
As a sister, she had worked in the emergency room at St. Clare's Hospital in New York City, but sometime in late '60s and early '70s, she and some of the younger sisters started saying, 'What we're doing in the hospital is valuable, but if we really want to respond to the imperatives of Vatican II, we need to get out of the convent and into the world.' They took over a tenement building on West 40th Street in Hell's Kitchen and turned it into The Dwelling Place.
It was a response to the fact that they were seeing poor and often mentally ill women in the streets. So they created a place where the sisters lived side-by-side with them. But they weren't just providing them with food and a roof over their heads; they were creating a sense of community. Eventually, they were able to get them into more permanent housing. As a young boy and then as a teenager, I went down with her to visit The Dwelling Place and meet the sisters who worked there.
And I guess that's a long way to say that her example really informed for me what faith was.
When I applied to the Theatre503 program and pitched them a play about a radical Catholic nun, that definitely raised a few eyebrows. I think, perhaps, they even thought they could dissuade me from writing this play [laughs] and to move on to some other topic. But as I worked on the play and shared it with them, I think some of my intentions became clear.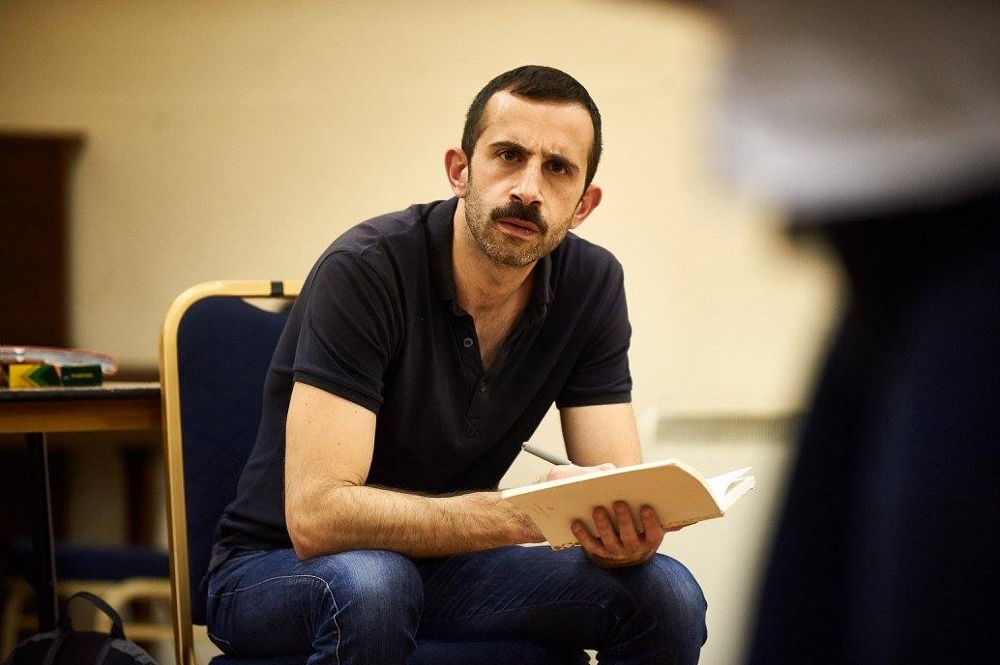 Brian Mullin at a rehearal of "We Wait in Joyful Hope." (Kevin Murphy Photography)
Which were?
A lot of people, when I told them I was going to write about nuns, thought it would be funny, thinking it was going to be like 'Sister Act.' It has its moments of humor, for sure; Bernie is a funny and unconventional character, but also a strong and opinionated one. It is the story of what it means to be a nun and to have been driven by faith, steadfastly doing something for 40 years or more.
I think so few people realize that nuns are these incredibly tough and crusading foot soldiers of peace and justice in the world. They're doing so many amazing things at the grassroots, which is so often not the case of priests and bishops. And there are wonderful priests and bishops around, but it's often nuns who are the ones who are tending to the sick, working with the marginalized or helping people who really need it. And they're so unsung. That's what I wanted to say in the play. 
That really resonates with people, even if they didn't think they would be interested in a story about a nun. They can connect with the story of Sister Bernie through teachers or mentors or community organizers in their own lives. I think we all know people who are engaged in their communities and have a sense that they might challenge the powers that be in certain ways. So it's a political play, but not in the kind of strident, overly ideological way. I think it's told through characters that I hope people can relate to. 
You've mentioned that the Congregation for the Doctrine of the Faith's doctrinal assessment of the Leadership Conference of Women Religious was also a motivation to write this play. How so?
I probably had this play bubbling up inside of me for quite a long time, and the whole controversy of the investigation of LCWR kicked me to know that I had to write it. People were so angry about it because it seemed like the nuns were being unfairly scapegoated and not getting their due. If anything good came out of that, I think it's been more attention to the amazing work that nuns do. The play doesn't directly comment on any of that, but definitely my spark and impetus to write came from that. 
Has your aunt read the play?
She hasn't read it yet because I'd been revising and revising it up until we started rehearsals. But she's heard a lot about it, and she'll be coming to London in a few weeks to see the show. I think she's very excited.
I should also mention that, in a fascinating way, real life has kind of mirrored the actions of the play. I just learned a couple of weeks ago that The Dwelling Place is now under threat from the Port Authority, which wants to take over the city block where the sisters live. It's a changing, gentrifying area, and I'm not sure what, exactly, the Port Authority wants to do with the area. But it's painful for me to think that this thing that I envisioned in this fictitious play is somewhat mirrored in a real life crisis.
What a coincidence.
It's an ongoing question, whether they're going to survive. But they're doing such amazing work.
You know, I grew up in the '80s and '90s, which was a time of some conservatism in the church and of people falling away. I'm a gay man, I'm progressive, and I have definitely had moments where I find that the direction from the Vatican and certain church officials really challenges my ability to feel at home in and connected to the institutional church. But the example of my aunt and the many other sisters who I met through her affected my spiritual formation.
Even if I'm not always in sync with the official church teaching, and even if I go to Mass more or less at different times in my life, this strain of Catholicism — this kind of activist strain — will always resonate with me very deeply. And I wanted to tell that story in the play.
[Dawn Araujo-Hawkins is Global Sisters Report staff writer based in Kansas City, Missouri. Her email address is daraujo@ncronline.org. Follow her on Twitter: @dawn_cherie.]