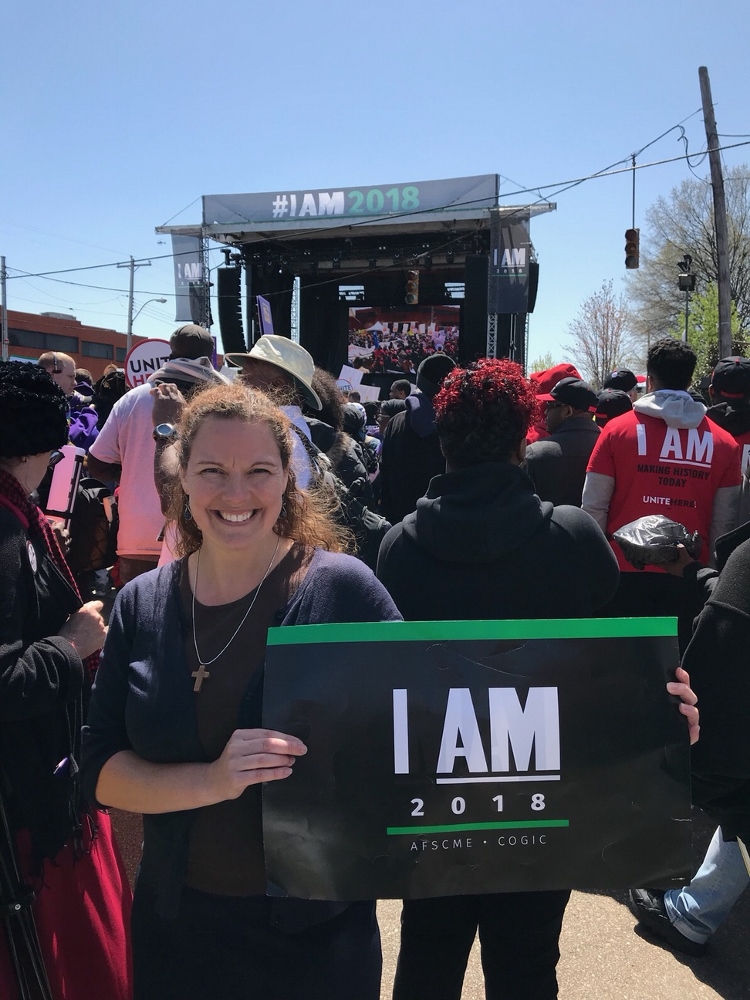 Alison McCrary at the Martin Luther King assassination 50th anniversary march in Memphis, Tennessee, April 4. (Provided photo)
Sister for Christian Community Alison McCrary, the executive director of the National Police Accountability Project, laughs when she explains how she came to be a lawyer and a Catholic sister.
"It's really just listening to the Spirit's invitation," she said. "None of it was ever planned."
McCrary grew up Southern Baptist in rural Georgia; she became Catholic after Hurricane Katrina at the invitation of New Orleans' legendary Fr. Jerome LeDoux. She became a lawyer at the encouragement of death row inmates at Louisiana's Angola State Penitentiary despite the fact that, in her family, most people did not graduate from high school.
McCrary spoke with Global Sisters Report about her journey to the Catholic Church, to law school and — as of September — to the head of a national civil rights nonprofit.
GSR: When did you first become interested in human rights?
McCrary: When we were growing up, we'd go to the town square where the public library was, and the Klan would be marching. We would leave because we were scared of them since my mother's not white: She's Cherokee, and my father's white. So I was very aware of race and felt called to do good in the world.
When I started going to a local community college, I had professors who really encouraged me to continue studying and keep getting educated. I went with a professor to live in Germany for a year, and I went to the Women's International League for Peace and Freedom's international congress in Sweden while I was living in Germany. There was lunch at that congress, and one of the women there worked at the United Nations office and coordinated their internship program.
I applied to the program and started as an intern at the U.N. in New York. And I met these amazing women of diverse backgrounds who were doing incredible human rights work and found out they had all gone to law school. And I was like, "Law school seems like such a far stretch." I could never afford it, my parents could never afford it, I wasn't sure if I could get accepted into any law schools, and if I did get accepted, I didn't know if I could make it intellectually or emotionally.
But you did make it.
While interning at the U.N., I started teaching and working for Kaplan so that I could get a free LSAT class. [She laughs.] And I sat for the LSAT to apply for law schools.
New York is such a fast-paced city, it's kind of hard to find your place. And I felt like to do social change work or racial justice work or human rights work, it's a lot easier to do it in the cultural and social environments from which we came. So after my internship ended, I really wanted to come back down South and try to do this work in the South.
I ended up in New Orleans. I started first as a community organizer with a local nonprofit and then started working on death penalty cases as a paralegal. The guys on death row at Angola State Penitentiary really encouraged me to go to law school. They said, "Alison, we need you as a lawyer. We need lawyers with a heart, lawyers who really care about us and who love us."
So I continued to put in applications to law schools and ended up getting into a few and decided on staying here in New Orleans to go to Loyola's law school.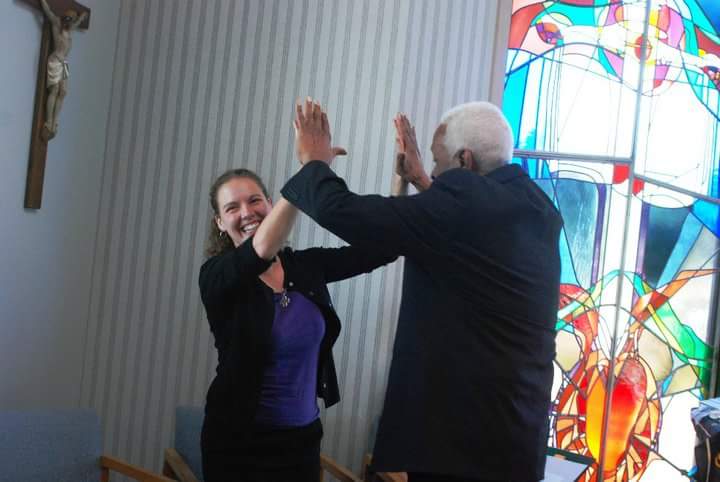 Alison McCrary with Fr. Jerome LeDoux at her postulant entrance ceremony (Provided photo)
Why did the men on death row have so much faith in you?
Angola State Penitentiary is called Angola because it was a former slave plantation, and most of the slaves were from the country of Angola in Africa. And it still operates as the largest prison in the United States and very much as a slave plantation.
I went there and saw how this plantation-prison was run and studied how slavery was never really abolished in the United States — it was abolished unless you were duly convicted of a crime, is what our 13th Amendment says — and seeing how mass incarceration continues to perpetuate slavery today.
Just in the news today, our Louisiana legislators are in the process of passing a bill to allow for more inmate labor, where inmates can work in the kitchens and gardens of the Capitol building and other government offices making 4 cents an hour. And so, slavery is alive and well in the U.S. South and in our country. I wanted to work to change that.
In the middle of all this, you became Catholic — and not just Catholic, but a Catholic sister. Tell me about that.
After Hurricane Katrina, some friends and I were doing needs assessments in the community and came across this Catholic priest, Fr. Jerome LeDoux. We started a food pantry out of the church hall at St. Augustine Church, which is the first and longest-standing black Catholic church in the United States. Fr. LeDoux kept inviting me to go to Mass there.
I would sit in the back on the last pew, and I didn't understand a lot of what was happening. When do we sit? When do we stand? When do we kneel? How do people have all these lines memorized? But there was a sacred energy in that space. The Spirit was so alive and ever so present and many times brought me to tears. And then in studying the encyclicals of the Catholic Church and the social justice teachings within those, I was like, "OK, this is my spiritual home."
And St. Augustine was threatened with closure after Hurricane Katrina, so we had an occupation of the church. I was one of the organizers. We changed the doors and locks and put boards up against the windows, and we occupied the rectory for more than a month, refusing to leave until the archbishop reversed his decision. That was a very powerful testimony for me to witness and be a part of.
It was during law school that I started discerning religious life. Social justice was like my first vocation. [She laughs.] That seed was deeply planted and sprouting, but there was still this other hunger for something more. I wanted to commit to a life of prayer and spirituality and to have everything that I do come from a deep well within that I can consistently draw from to do the harder work. And I wanted to do that in community with other people.
I entered one order and was with them for several years and then ended up transferring to my current community of sisters.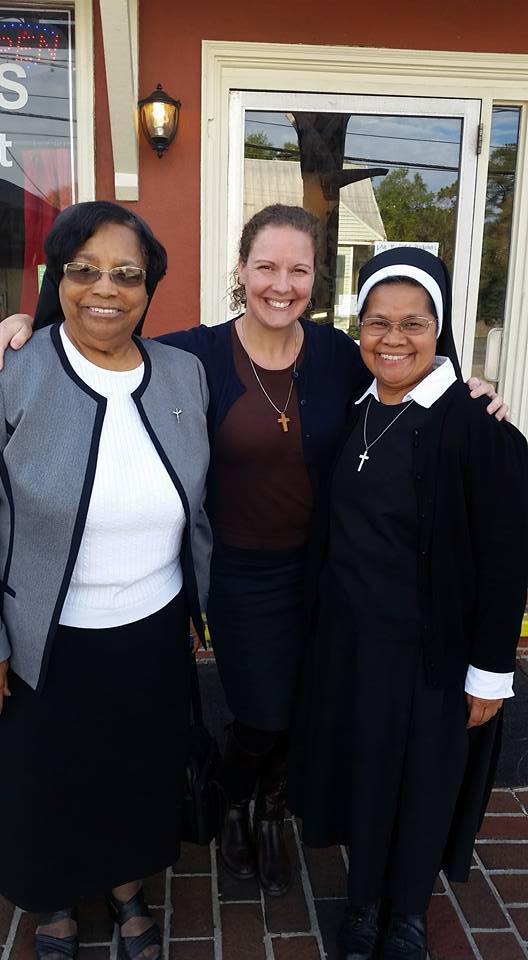 Alison McCrary, center, with two other Sisters for Christian Community members (Provided photo)
Last fall, you became the executive director of the National Police Accountability Project. I would imagine, based on current events, that it's a very busy time for the organization.
[She laughs] It is. And we're a very small organization: I'm the only full-time staff, and I have one part-time assistant. So we do a ton of work with very little resources.
What are you working on right now?
We're looking at what keeps us from winning cases of police misconduct. The police and the government, essentially, are given wide range of immunity, and it makes it challenging to hold them accountable when they exercise their power irresponsibly. How do we overcome that? So, looking at complex legal strategy.
We do a lot of media work. Today, I got the LA Times, NPR and The New York Times all wanting quotes.
And then we also look at larger policy things. Like, how do we end broken-windows policing where the police are over-policing poorer communities? How do we create entities like the Office of the Independent Police Monitor or police complaint review boards so that there is community oversight over the police? How do we limit officers' use of force? How do we change the local policies and practices and trainings around use of force?
We advocate for independent investigation and prosecution of police officers who are involved in the killing of other human beings.
We advocate for community representation in police departments to help democratize policing. In every other form of government, whether it's our city council members or our local, state or national government, we have elections, and the government is supposed to be for the people and by the people. How do we create alternatives where policing can be formed by the people?
We advocate for the demilitarization of the police and also the end of for-profit policing. Police should be working to keep people safe, not contributing to a system that profits from stopping, searching, ticketing, arresting and incarcerating people. So, ending quotas around tickets and arrests that hurt low-income people.
What lessons have you learned as a civil rights activist and lawyer?
There's no solo acts in this work. We have to have community. And that means you have to rub shoulders with people. That means there will be conflict, and you work through that conflict because the values that we share are higher and greater than any conflict that we may encounter with each other. It means having a lot of courage, it means having vulnerability, it means having your heart open to being broken and having your heart open to the amazing beauty of life, as well. And it's not an easy path, but Jesus never said living out the Gospel will be easy. [She laughs.]
I think Easter is a great time to remember that love has a cost; suffering and death will be present, but suffering and death will never have the final word. And to really believe in the paschal mystery and to be an Easter people, be a resurrection people, we live in that hope — that even through the pain and challenging times, that joy and beauty and love will be there in the end.
[Dawn Araujo-Hawkins is a Global Sisters Report staff writer. Her email address is daraujo@ncronline.org. Follow her on Twitter: @dawn_cherie.]