Sr. Theresa Aletheia Noble doesn't do anything halfway.
When she left behind her Catholic upbringing, she didn't just leave the church: She became an atheist. When she became a teacher, it was through Teach for America at an inner-city school in Miami. When she wanted to make a change in her life, she left everything and moved to Costa Rica to work on a farm. When she came back to Catholicism, she didn't just renew her faith: She joined religious life with the Daughters of St. Paul.
So when Noble became fascinated by the ancient Christian practice of memento mori — keeping an object nearby to remind you of your mortality — she went all in: She keeps a small ceramic skull on her desk and tweets the thoughts it inspires every day. Ash Wednesday was Day 214 of the project.
Despite the morbid connotations, most of Noble's tweets about death aren't really about death at all. They're about eternal life in Jesus Christ.
"Every day our bodies are closer to natural death. But if we believe in Jesus, 'streams of living water will flow from within' us (Jn 7:38)," she wrote on Day 170.
When the Rev. Billy Graham died on Day 211, she quoted him, saying, "The way we view death determines, to a surprising degree, the way we live our lives;" and on Day 213, she tweeted: "Death tries to creep into our hearts in a myriad of ways throughout the day. Defy it in the power of Jesus Christ."
Noble, 36, is studying philosophy and theology at Boston College and is an editor for Pauline Books and Media.
GSR: So how exactly does someone so full of life end up with a skull on her desk?
Noble: The idea for the skull on my desk is one I've had for a while. Before I entered religious life, someone gave me a book on our founder, which mentioned in passing that he had a skull on his desk to remind him of his death.
Then I heard a priest on retreat from Italy talk about how he had brought a skull with him and about how he always travels with it. When I said I'd like to try that sometime, a sister gave me a little ceramic skull from Halloween. And I kept having all these thoughts about it, so I figured I'd tweet about whatever I'm thinking.
It is kind of odd, but people have responded to it. People have started getting skulls for their desks and sending me pictures of them. I figured that was a sign of the Holy Spirit moving in my work through social media.
Some people have responded to the tweets kind of quizzically, and one sister in the first few days after I started told me, "I thought this whole skull on the desk thing was kind of weird." I think at first, I was kind of joking, but it became more serious, and I began to realize the depths of the tradition in the church. I was aware that it was really popular in medieval times, but I didn't realize St. Benedict put it in his Rule, and several places in Scripture mention it. The most explicit one is Sirach 7:36, which says, "In whatever you do, remember your last days."
From the response your project has gotten, it would seem that memento mori is not as obscure as you first presumed.
It's everywhere. It's kind of a central issue of our faith because death is what Jesus saved us from. So by talking about death and skulls, I'm talking about Jesus. It's a way to talk about Jesus in a way that's interesting and different. A lot of secular people have been exposed to spirituality because of their curiosity.
This is a really powerful spiritual practice that has fallen by the wayside, but a lot of the church fathers talk about it. A lot of the saints did it. For me, I think it brings in that richness. It has helped me to have less of a fear of death for myself and my loved ones. That's a big thing.
Death, I think, is a very, very unpleasant topic, especially if you don't believe in God. When I was an atheist, it was something I definitely did not want to think about because it's the annihilation of the self. But for people of faith, it has a totally different dimension. We're able to think about the reality of death and how it's been transformed by Jesus.
How did you go from being an atheist to not just a Christian, but a vowed religious?
It's an unusual journey. And thinking about death, that did play a part in my conversion.
When I was with Teach for America in a Miami inner-city school, it was a really difficult experience, and I was struggling. So I began to have a little openness — I started going to Quaker meetings and tried Buddhist meditation — but I still didn't really believe in God.
Then a friend I was really close to died mountain climbing. His death was devastating for me, and it made me think about my life and eventual death. It prompted me to explore the idea of whether we have an immortal soul. That started an intellectual exploration that lasted for a couple of years.
After I left Teach for America, I was working on a farm in a very rural area of Costa Rica, and I was inspired by the people there who have a very deep belief in God, and I remember wondering why. They knew something I didn't know. They had a groundedness to their lives that I wanted.
One day, when I was walking to the farm, I had a conversion experience. I was looking around, and it was so beautiful — just incredible — and I felt this feeling of gratitude for it. And then there was a huge gust of wind, like a tree was going to fall on me, so along with the gratitude, there was also fear. It felt like God was introducing himself to me.
So that started another journey of coming back to the church. It was slow, but through that relationship with God and prayer, I just felt moved to come back to the Catholic Church. I just knew that God existed and had a plan for my life.
For some reason, God tends to deal with me in tidal waves rather than whispers. I attribute that to the fact that I'm hard to get through to!
But I was on the train to my job, and I kept seeing Mother Teresa's sisters, the Missionaries of Charity, out of the corner of my eye. But when I turned to look, they were just a normal person. Finally, I realized God wanted me to consider religious life, and I was like, "No!" But if he hadn't been that obvious, I don't think I would have heard his call at all.
I began looking at different orders, but I felt like a misfit everywhere I went. I just didn't feel right. Finally, I said to God, "This is your idea, and I'm not even that wild about it, so you need to figure it out." Then I met the Daughters of St. Paul and immediately felt like family.
Do you feel memento mori has changed you?
Definitely. Some people say, "I want to do it, but I really think my co-workers would not be able to handle that." But there are coins you can use. Really, anything that is a visual reminder can bring it to mind, and I think that would be helpful to anyone.
As it changes my perspective, I think it's changing other people's, too. It's been a journey for me, and I'm glad to see it's a journey for other people, especially the ones who at the beginning were like, "Sister, I'm a little concerned about you."
It's not made me serious and morbid. It's made me detached and joyful. Facing that fear and walking through it releases a lot of emotional energy that's able to be focused on other things. I think that's one of the reasons the saints have recommended it for centuries.
[Dan Stockman is national correspondent for Global Sisters Report. His email address is dstockman@ncronline.org. Follow him on Twitter or on Facebook.]
Images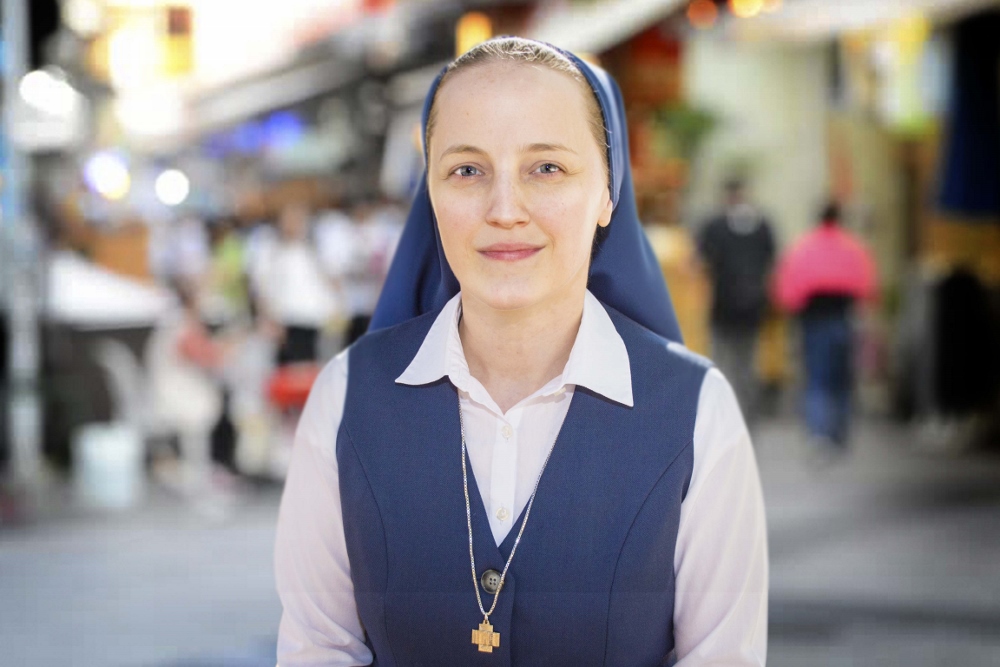 Pauline Sr. Theresa Aletheia Noble (Courtesy of Sr. Danielle Victoria Lussier)