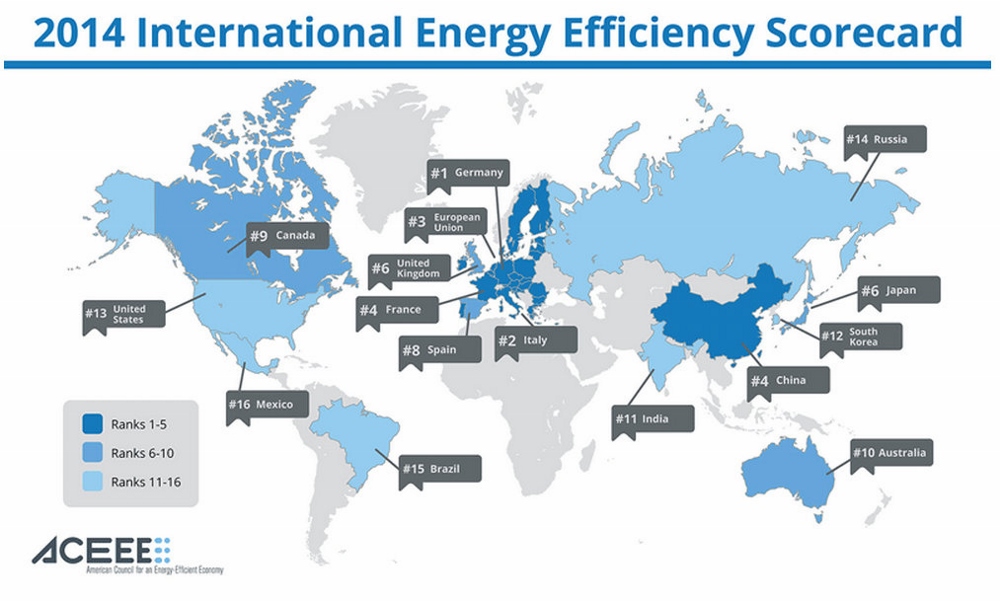 Clip of map from American Council for an Energy-Efficient Economy
Most climate scientists agree that the time to find clean and renewable sources of energy is now. And although officials from Accra to Ontario are moving toward solar power, there are still questions about clean energy best practices.

Last month, an international group of scientists and engineers published a report in the journal Nature Climate Change about the potential for solar power to replace less clean energy sources.

According to the report:
In order for the worst impacts of anthropogenic climate change to be avoided, greenhouse gas emissions need to drop significantly in the next several years. Many governments are aiming for an 80 percent reduction rate by 2050.
Fears that solar and wind energies are unreliable are unfounded. With the right strategies, renewable energy plants can reach 70 to 80 percent reliability with "practically no cost penalty."
Of the regions examined in the study, South Africa and the Mediterranean were best poised to reap the benefits of high solar power reliability with the lowest cost.
This map from the American Council for an Energy-Efficient Economy shows the world's most energy efficient countries. Germany, which in the last two years has made record strides in the use of solar power, ranked first.