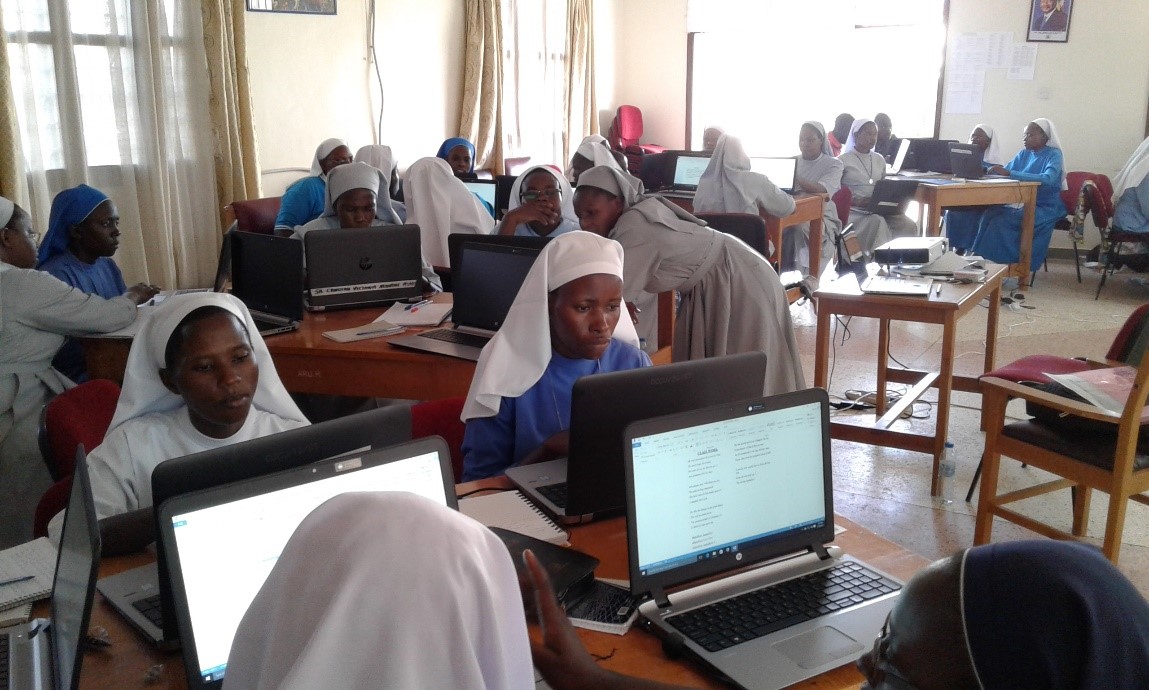 Sisters train in social work as part of Ugandan congregations' response to the country's 2016 rules on child protection. (Courtesy of Sr. Alice Jacan)
Editor's note: This is Part Two of Sr. Joyce Meyer's coverage of a workshop on trends in child care sponsored by the GHR Foundation's Children in Families initiative and the International Union of Superiors General. The event was held May 2-3 in Rome in advance of the UISG's 2019 plenary assemby. Read Part One here. 
"The child, for the full and harmonious development of his or her personality, should grow up in a family environment, in an atmosphere of happiness, love and understanding." — Preamble, U.N. Convention on the Rights of the Child (1989)
It is amazing to me how long it takes for new ideas to become common thinking! In 1989, the U.N. Convention on the Rights of the Child was signed, and it has taken 30 years for this vision to become mainstream. Governments are just now beginning to formulate and implement rules for homes that have cared for children outside of nuclear or kin settings.
I was fortunate to attend an informative workshop May 2-3 on trends in child care sponsored by the GHR Foundation's Children in Families initiative and the International Union of Superiors General in Rome ahead of UISG's 2019 assembly. Sisters from many parts of the world participated. Their congregations have been caring for children who have been separated from their families because of war, famine, poverty and death for centuries.
I was intrigued by a panel that brought forward best practices of the transition now occurring from institutional to family or community care of children. I was particularly interested in a collaborative of the Association of Religious in Uganda in response to the Ugandan government's 2016 rulings regarding children's homes that established, among other things, that the homes need a social worker on staff, to have established child-protection policies, and to meet certain child-care standards.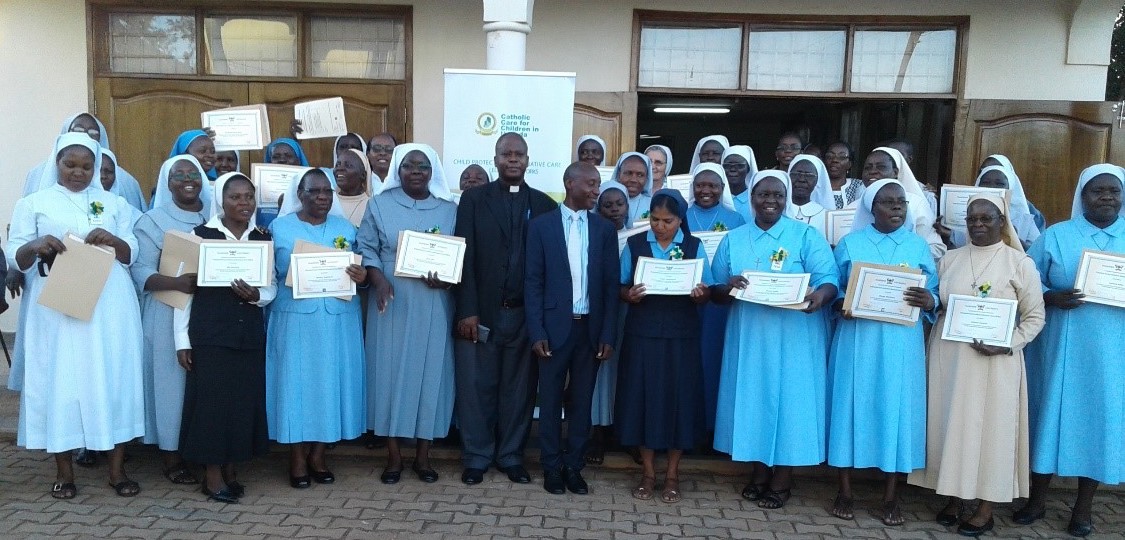 Men and women religious in Uganda pose with their certificates in child protection, one of the steps religious communities in Uganda took in response to the country's 2016 rules on child protection. (Courtesy of Sr. Alice Jacan)
The Association of Religious in Uganda began discussing the potential impact of anticipated rules in early 2015 on sisters' and brothers' institutional ministries for children. Out of 107 congregations, 17 had charisms specifically related to care of orphans, and others had a variety of residential facilities connected to schools. The decision was made to conduct a study to ascertain how these institutions were meeting the legal requirements for child care. 
Upon receiving a grant from the GHR Foundation, the study went forward in 2015 with the assistance of Janestic Twikirize, a social worker, and Sr. Mary Kyomukama as consultants and Joseph Sentongo, a computer scientist, as the research assistant. Sr. Margaret Kubanze, secretary general for the Association of Religious in Uganda, and Kathleen Mahoney from GHR facilitated the final processes. It was a huge amount of work that lasted several months. 
In late 2015, the survey was completed, and the findings were presented to the superiors in early 2016. The presentation to the conference raised fears for some of the sisters and brothers whose institutions had been studied. The data showed many were functioning below minimum standards in areas of record-keeping and monitoring of care and had unqualified staff with little knowledge about child protection or legal requirements and a lack of a common child-protection policy.
For some, fear of losing congregational identity was high. At the heart of the fear was the question: "If our institutions are shut down for noncompliance, what will happen to our mission and charism?" However, the sisters courageously did not allow fear to deter them. The conference appointed a 15-member committee that included administrators of the child care institutions to formulate policies and design a plan to make the needed changes. This group contacted the local government officials to help them. With a second grant from GHR, planning began.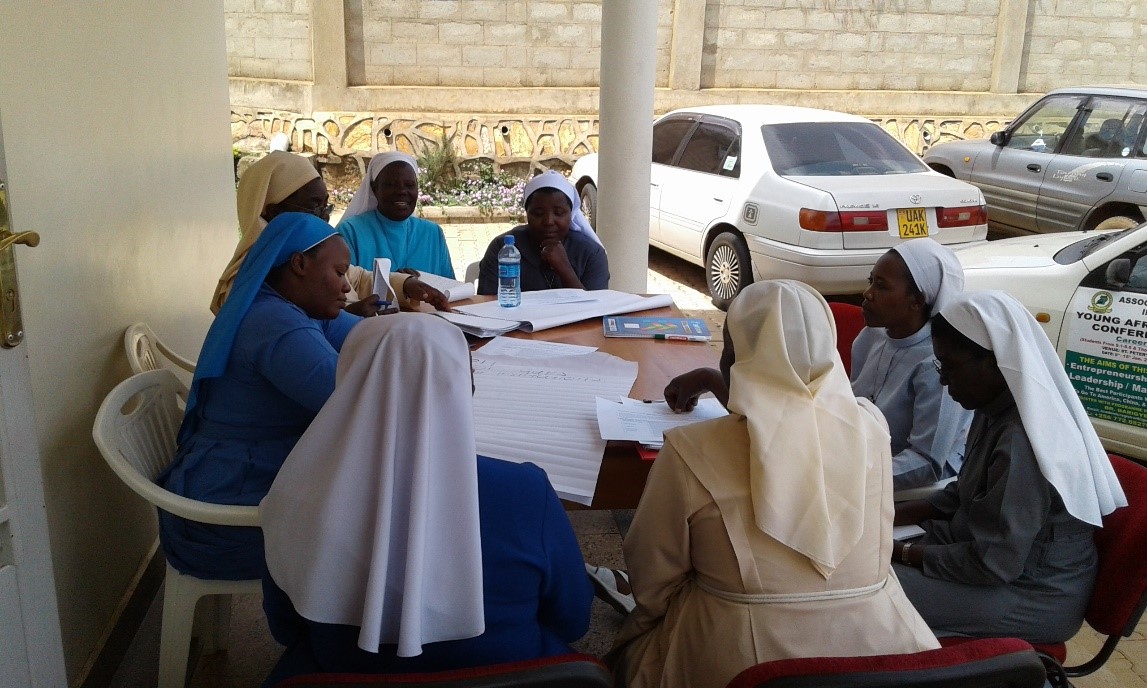 Women religious discuss how to develop a universal child-protection policy as part of Ugandan congregations' response to the country's 2016 rules on child protection. (Courtesy of Sr. Alice Jacan)
In September 2016, the conference established an office for child protection and hiredSacred Heart Sr. Alice Jacan, a human rights lawyer, as the project coordinator. She and the team designed a plan for sisters to be trained as social workers and the entire staff of all institutions to be educated in requirements of child care.
The Association of Religious in Uganda contracted with the general superiors of congregations to over five years help sisters earn diplomas and bachelor's and master's degrees in social work. The GHR Foundation also paid to train sisters as special-needs specialists in physical and occupational therapy and in sign language. No congregation could afford to let sisters study full-time without replacements in their positions, so Sister Alice negotiated with Kisubi University to allow the sisters to study on weekends.
The conference with the help of Janestic developed a universal child-protection policy for all its members. The policy underwent several steps and was launched on Nov. 8, 2017, by the Ministry for Youth and Children Affairs, part of the Ministry of Gender, Labour and Social Development. The policy has been disseminated to all the conference members, and the superiors have resolved to implement the policy to the institutes' members through the Child Protection Committee formed in every congregation.
Part of the contract included requirements for each institution to design a system for sensitization to children's rights and the laws regarding child protection for the staff, local leaders and parents, along with communication with government officers for child welfare. Annual evaluations of compliance are held with the administrators, Sister Alice, the Catholic Care for Children in Uganda team and the advisory committee. There are also annual reports submitted to GHR.
As the implementation plan moves forward, two pilot projects have begun for the next 18 months to plan how to strengthen case management and procedures to transition the children from institutional care to family/kin/community care.
To address the charism issue, social work students engage in workshops to help them re-vision their mission and charisms through programs on servant leadership, child protection, religious life, church teaching on the care of children and how to deal with university life. The religious scholars have a spiritual retreat every semester on charism and mission.
As I listened to this amazing story, I was most encouraged by the openness of these women and men to re-vision their charisms and missions for the sake of the children in their care. Adapting charisms to the changing society needs keeps congregations vital and growing.
[Joyce Meyer is a member of the Sisters of the Presentation of the Blessed Virgin Mary and is GSR's liaison to women religious outside of the United States.]