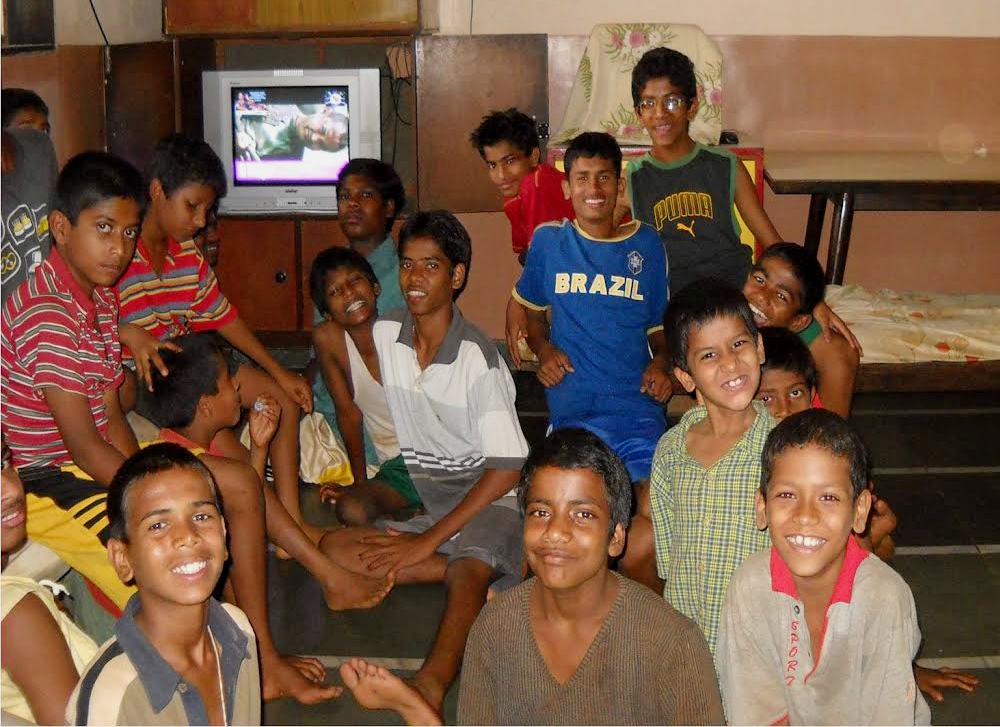 Children watch television in a Snehasadan house in the village of Amboli in the Andheri West suburb of Mumbai, India. (Provided photo)
Mumbai, India — I was horrified when Jesuit Br. Eloy Molines asked me to pose for a picture with my hand around a boy with oozing sores. The brother was the assistant director of Snehasadan (abode of love), a center for street children where I had just joined as one of the house parents.
I suggested that we give the boy a bath first as he was a new arrival at the center. The brother refused. Although the scene where St. Francis of Assisi embraced a leper flashed in my mind, I hesitated to touch the boy. But the brother kept insisting and I reluctantly put my hand on the boy's shoulder, allowing only my fingertips to touch his filthy body.
The moment I touched him, something snapped within me. My initial aversion melted away and I began to experience a kind of liberating closeness with him.
That was in 1980. It was the beginning of my 22 years with the street children of Mumbai, India's commercial capital. They taught me some of the hardest lessons in life.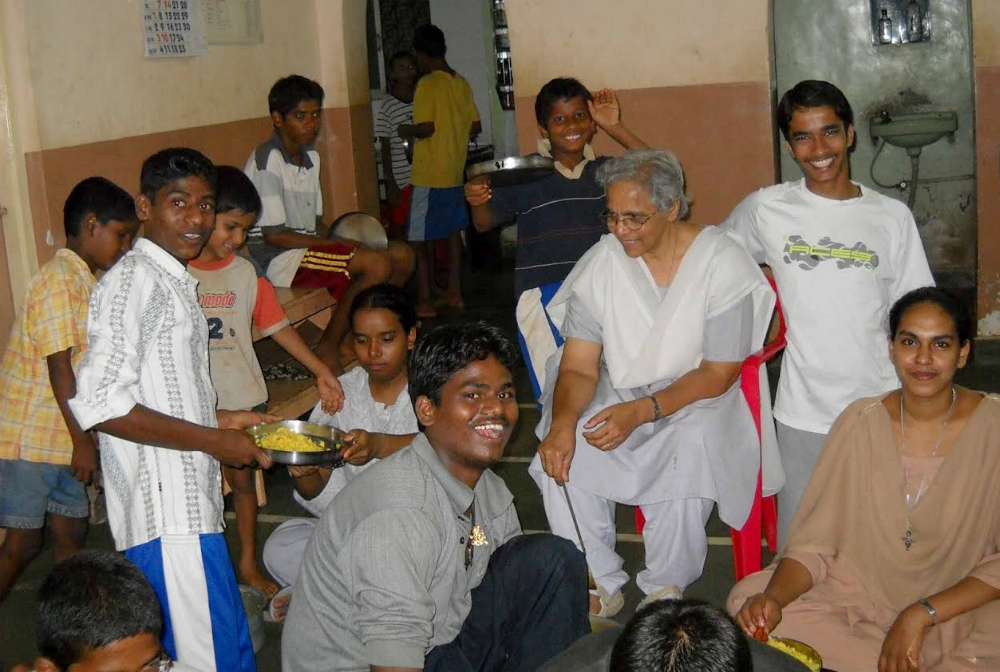 Sisters, including Sr. Cyrilla Chakalakal (seated on chair), tend to children at a Snehasadan home in Amboli, Andheri West, Mumbai, India. (Provided photo)
Living with street children was a new mission that our congregation, the Franciscan Sisters of St. Mary of the Angels, had adopted at our provincial chapter that year. "To heed to the call of the Church, we need to make options for the poor our priority," the chapter declared.
It was then the Jesuits of Bombay province asked us if we would join their center for street children as house parents.
Snehasadan was started by Fr. Ricardo Frances, a Spanish member of the Bombay Jesuit province, who was troubled by the sight of thousands of children in the city's streets and railway stations. Mumbai, India's largest city, draws hundreds of thousands of children, as does Kolkata, the eastern city shown in the 2016 movie "Lion."
Frances invited the children to spend the night in his home. Thus began the first Snehasadan at Andheri, a northern suburb of Mumbai, in 1962. Now the center has 16 branches spread all over Mumbai, with separate houses for boys and girls aged 5-18.
The founder wanted every home to function like a real family to make the children feel safe and valued.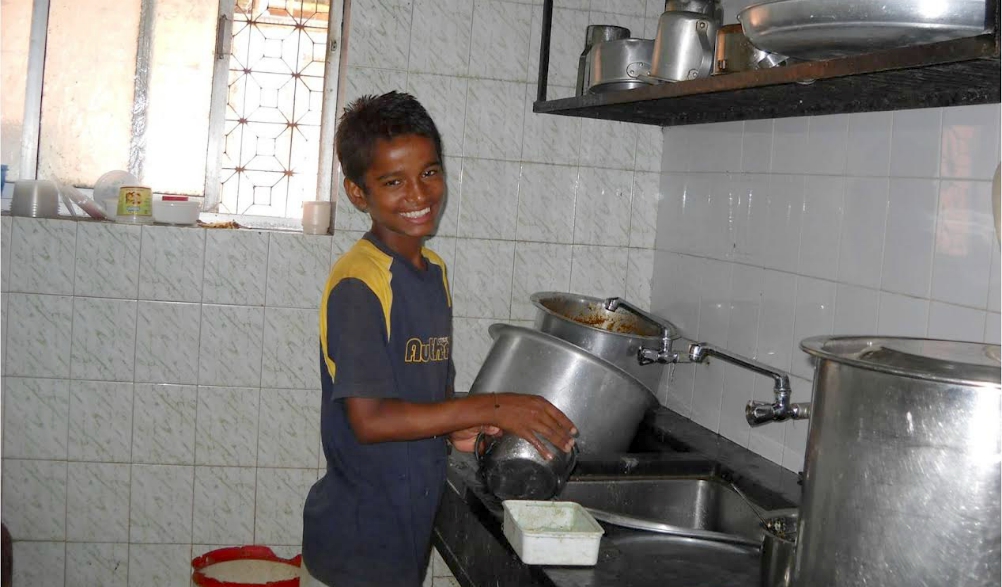 A boy washes dishes in a Snehasadan house outside Mumbai, India. (Provided photo)
The Jesuits and their volunteers pick up the children from railway stations and help rehabilitate them. When I joined the Jesuits in their work, they had already engaged several married couples as house parents, who would serve as mothers and fathers to 20 to 30 street kids as well as to their own children living in the house. In four of the homes, sisters from other congregations were also house parents.
In our home, I volunteered to serve as a house parent with two other sisters from our congregation. We managed house No. 12, in the Amboli neighborhood of the Andheri West suburb of Mumbai. It housed only boys.
Many had warned me against taking up the job, as I was also in charge of the parish school in the afternoon. It was a jump into the unknown. Yet I felt that was what I wanted and the Lord helped me leave the structured convent life's comforts and security.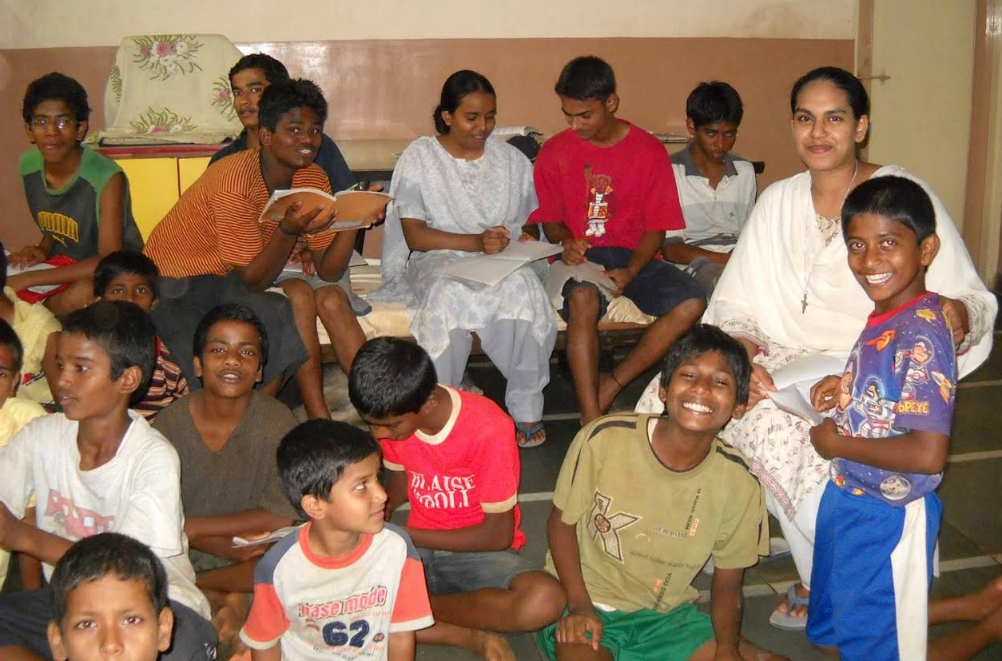 Sr. Priya Francis, center, and Sr. Molin D'Silva, right, tutor children at the Snehasadan House in Amboli village in the Andheri West surburb of Mumbai, India. (Provided photo)
Idealism was fine, but reality was different, I soon found out. The job was tough, daunting and tiring. It demanded round-the-clock total dedication as the children came from harsh street environments. We had to provide parental care and act as role models and teachers. We encountered the problems of handling adolescent boys, which demanded tremendous patience and flexibility. But we had the support of the director, social workers and counselors in extreme cases.
Some of the boys, bored with schooling, would run away. Since the center keeps the houses open at all times, this could happen at any hour. We would go in search of them, send the bigger boys to look or seek help from the police. Most all of them returned later — tired, hungry and dirty.
Although I left Snehasadan 15 years ago, I look back and count the 22 years with those children as the best time in my life. I experienced an inexplicable inner joy with those homeless urchins, who had never known a comfortable life. They eked out their living from the streets. Quite often their food came from dustbins. They slept on footpaths or platforms and had their rare baths under common water taps, or in any water they could find.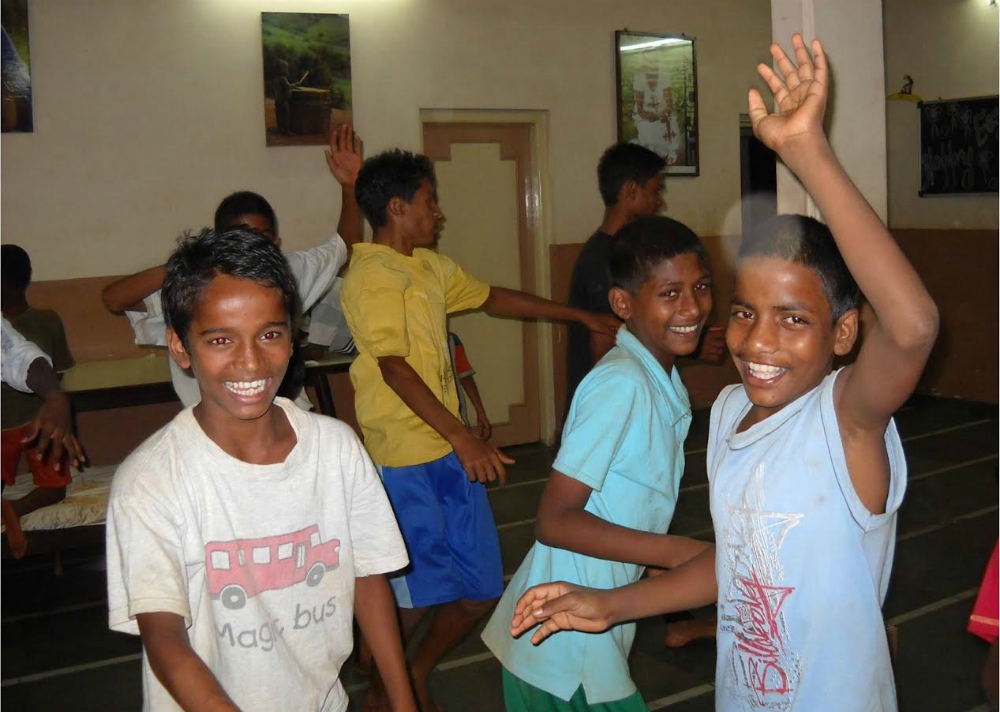 Children of the Snehasadan home dance during their free time. (Provided photo)
Snehasadan has helped more than 40,000 children from 1966 to 2016, current officials say. Several former street children now serve as house parents, one of the rewards of this mission.
I, too, was rewarded for spending time with the children.
As years passed at Snehasadan, I began empathizing with the children more and more. I listened to their amazing stories of how they endured difficulties from a young age. Some had traumatic experiences that few adults would face in life. Like Saroo in the film "Lion," the only option for those kids was to run away — from dangerous situations and, for many, loveless homes.
At railway stations, where they found shelter, the children developed their own philosophy — take life as it comes, live for the day, learn to survive somehow. Life's harsh realities made them rough and tough.
However, beneath all those layers of dirt, I discovered a beautiful child longing to be loved, wanted and cared for. But the revelation came only as a result of tremendous patience and a willingness to let go, which was difficult at times.
The children affected me deeply, to say the least. They enriched, inspired and influenced me. It is they who helped me understand how the greed and selfishness of some drove others to poverty and illiteracy. To many, these children just do not exist or they are seen as a nuisance.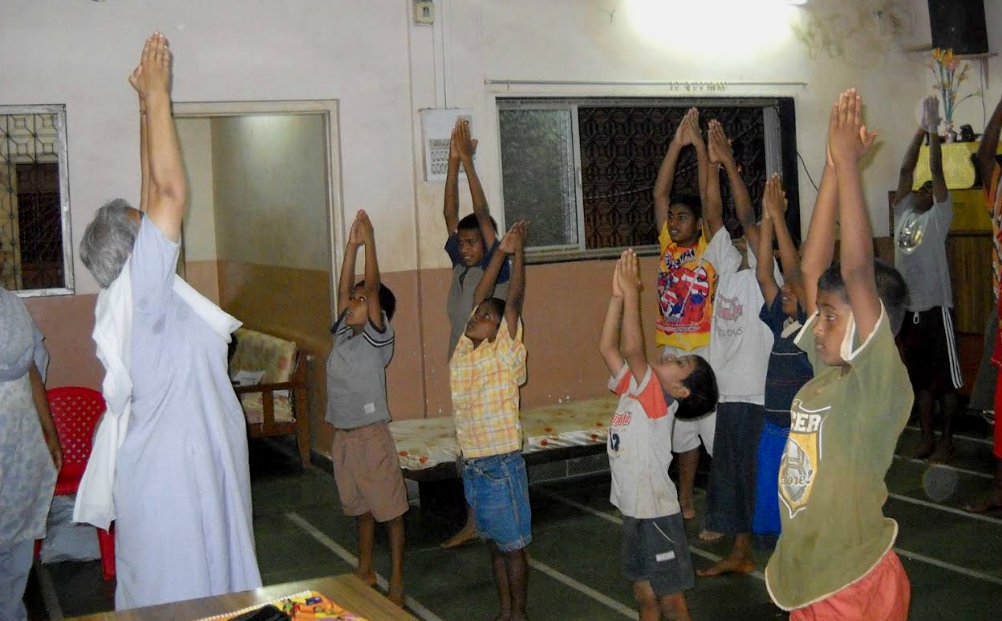 Sr. Cyrilla Chakalakal leads children in yoga exercises at a Snehasadan center for street children outside Mumbai, India. (Provided photo)
As a Franciscan religious, I found my life meaningful and relevant at Snehasadan. The children helped shape my spirituality, simply yet deeply, totally rooted in life's real situation.
They helped me make that paradigm shift to which the Gospels always challenged me. To plunge into the unknown, to take care of the "nobodies" of society away from the comfort of a convent was a big leap. Did not the Lord say, "If you wish to be my disciple, go, sell what you have, give to the poor, then come, follow me"? Again, the Lord said, "The son of man has nowhere to lay his head," and the plight of these children was similar.
They helped me rediscover my own truth, beauty and goodness that in turn equipped me to help others to discover theirs.
I found the children to be creative. We encouraged them to use prayer time to spontaneously seek God's blessings for their parents, even if they did not know them. We had a boy with one eye, who earned his living by singing in local trains. One day during prayer, he said, "O God, my father is dead. My mother is a mental case. And I am here." He stopped and looked at me with teary eyes. To me, that was the best prayer. Tears filled my eyes, too.
Another day, the fan in the chapel did not work. When I tried to adjust it, a 4-year-old boy who sat near me asked, "Will your God be angry, if he does not get the fan?"
I laughed and tried to explain to him that God is full of love and does not get angry with us. It was difficult for him to understand that because he had never experienced love in his life.
When we joined Snehasadan, some sisters voiced concern about whether we would find time and space for our personal needs. It was tougher for me, as I lived between two worlds, seeing the clear contrast with the kids in the parish school every day. All their needs and wants were met. The world of these good parents revolved around their kids, their home, their jobs — a small world.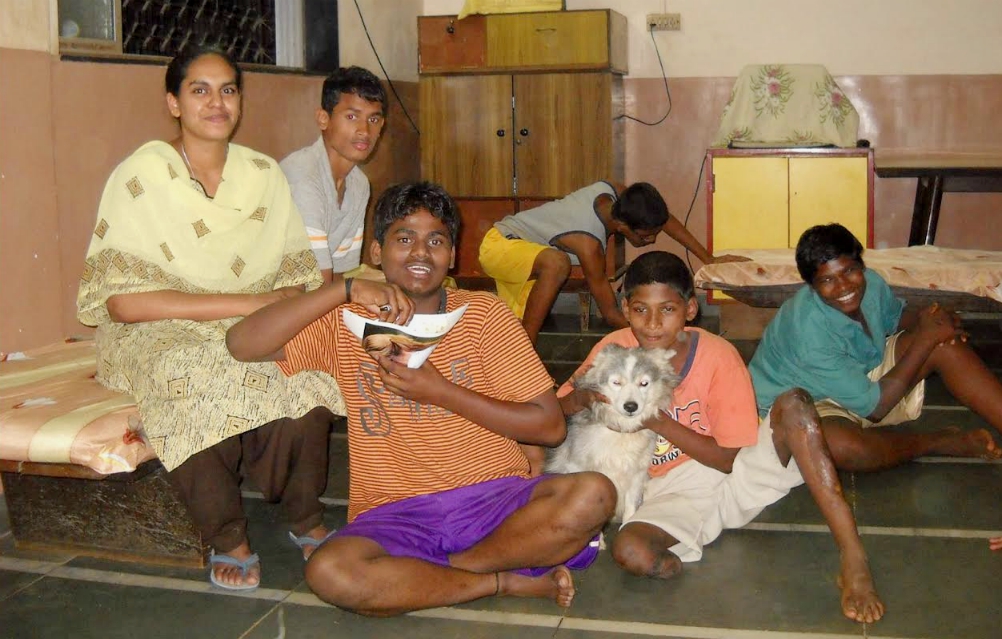 Sr. Molin D'Silva, a house parent, with residents and their dog at a Snehasadan home in suburban Mumbai, India (Provided photo)
But the street children's stories led me to deeper silence and prayer. The helplessness I felt listening to their stories often brought me to my knees. I had to rely on God for strength. Our efforts and kindness were often rewarded with disappointment and frustration, when children would run away for no good reason. A human being is a great mystery.
The years at Snehasadan taught me to learn, unlearn and relearn. I became an incessant learner — picking lessons from everyone, all walks of life and society. The young, the illiterate, the poor, the rich and the old have become my teachers. I recognized God's presence in them, thanks to those children.
I thank God for all the opportunities I received. And I also thank the congregation that trusts me and supports me. I do believe that religious life is worthy and we need more people. The Lord needs us, the poor need us, the church needs us and the world needs us, in spite of our frailties.
[Sr. Cyrilla Chakalakal is the fourth Indian to head the Franciscan Sisters of St. Mary of the Holy Angels and served as its provincial for 12 years. She is a member of the Satya Shodak, a group of female theologians and grassroots theologians, and the Indian Women Theologians Forum.]