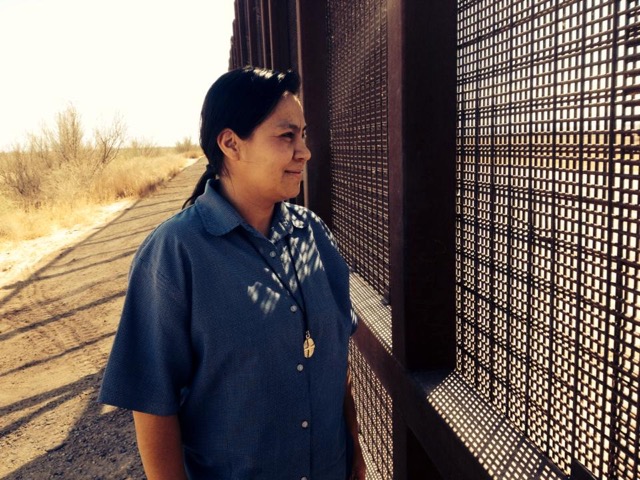 María de Lourdes López Munguía, a Franciscan Missionary of Mary, stands at the border fence between the United States and Mexico. (Courtesy of María de Lourdes López Munguía)
"Father, I consecrate myself for them." (John 17:19).
Thinking about the experience of sharing my life with immigrant children in detention in the United States deeply touches my heart. My time with them was short, only three years, but very profound. Through them, God gave me so much, changed me so much.
I am a Franciscan Missionary of Mary from Mexico who was serving in an El Paso, Texas, diocesan project that cares for immigrant people. When minors cross the border without the presence of a parent and are stopped by the U.S. Border Patrol, the children are placed in custody until they can be reunited with their families or returned to their country of origin. This is how I met Juan and Sara, two children who gave a new meaning to my own consecration.
I walked with Juan and Sara at difficult moments of their lives. I can't say I did much for them, but I think my own consecration deepened because of the feeling of powerlessness, when, at night, I had to leave them in God's hands because there was nothing more to do. As Jesus prayed on Holy Thursday, I can now say, "Father, I consecrate myself for them," not because I was successful, but because God put these little ones into my own fragile and sometimes broken hands. I can say these words because Jesus says these words in my life.
In my heart I see the face of Juan, who was 16 and fleeing the dangers of his life in Mexico. His parents were addicts who left him in the street when he was very small. Juan had to learn to live and to defend himself, and when he witnessed a murder, criminals chased him. Part of dealing with the reality of being detained for nine months on the U.S. side of the border meant Juan buried that long, painful story.
Every week we talked, and I could not help being touched by a life so small and so disrupted. Gradually his heart began to share: We cried together, and Juan was finding life's little beauty.
One day I was surprised to find Juan very angry. He felt that nobody cared for him in his life, and yet, just at the moment when he was ready to return to the reality of life in Mexico, he demanded: "Why do you care for me? Why do you care?"
I remember that for his anger, I had no words. I just stood there in silence, knowing for him and for me, these meetings every week were radically transforming; our meetings gave him the experience of unconditional love, and by giving me a new understanding of maternal love, they strengthened my own capacity to love.
For me, this was a very hard time. Perhaps I was experiencing what many parents do when their children make decisions that lead them to dangerous places — or maybe how God feels about our own decisions. I remember that afternoon when I returned to my community: I stood before God and cried a lot, feeling that I could do nothing. The only certainty was that Juan is a child of God, and I had to give Juan to God. My consecration is all about offering: letting go, living the abandonment as a profound sense of chastity and leaving this boy in God's merciful hands.
There are times, when, like the women who followed Jesus, I would like to see the risen Jesus, but there are symbols that open us to the mystery.
Sara showed me a different face of the Resurrection. Sara, like all teenagers, had many dreams in her heart. She was close to her family — her older brother loved and protected her; her parents watched her grow with tenderness. One day, Sara decided to go to work to help her family, who lived in poverty. A friend offered her a job in the United States, and she trusted her because she had always been trusting. When they reached that place, her "friend" abandoned her into the hands of a young man.
Sara remained trusting and enjoyed this new experience — until they reached where she was going to work. Sara's world collapsed. It was a place she had never imagined being in, a brothel. Heartbroken, she struggled not to be sold but was brutally raped and forced to prostitute herself. Each morning Sara cried, knowing that there was no one to trust. Above all, Sara thought of her family, this family that was her life and now perhaps would not forgive her.
In a moment of despair and loneliness, Sara decided to take her own life, feeling that hers was over. But the strength of friendship made on Facebook helped her escape the brothel, and the power of hope made Sara look beyond her grave. She couldn't return to her village because she thought her family would not accept her, and after all she had lived through, she felt unworthy. The Border Patrol arrested Sara and started deportation proceedings.
The first time I met Sara, I felt the pain in her heart with all of my soul. Sara still did not want to live, did not want to see her family and did not feel able to live and be loved again. But gradually God gave us the grace of sharing, and Sara began to discover a different dawn. I cannot think of a specific time or a word between us that helped this happen; I just know that there was a process. We were long in the grave, but at the end, life prevailed.
The last day we met, nervously. Sara had a handmade bracelet in her hands. We both knew that our journey together had come to an end because she had a new opportunity to restart her life with a foster family in the U.S. It was difficult for me to let go of her because God had placed her life in my heart. In a moment, Sara handed me this bracelet.
That was a moment of Resurrection: Our hearts opened, and I knew deep inside that Sara had finished a beautiful path, a journey of healing and liberation. Jesus has risen for both of us, yes, because through her life Sara has helped me to heal my heart from experiences I have lived and to look again into the horizon with new hope. It is the hope that I can love with no fear.
It is the Franciscan way to live with no possessions, in the profound sense of depending on God. I am convinced that this time sharing my life in El Paso was a time in which God invited me to live the letting go — the letting go of my way of being close to the people, of my dreams about how to help people, of my own way to understand and live justice. These experiences have led me to live my consecration not from my own strength, but from God's love and from the strength of God's people, defending these children's lives and dreams for a better future.
Every child, every story, every face, are part of me now. I walk with them and through them, because they have become part of my own history of salvation and the story of the salvation of immigrant people.
Today, I can only explain being a consecrated woman in the experience of all these faces, tears and dreams that have become the presence of God.
[María de Lourdes López Munguía is a Franciscan Missionary of Mary from Mexico who now lives in Chile.]