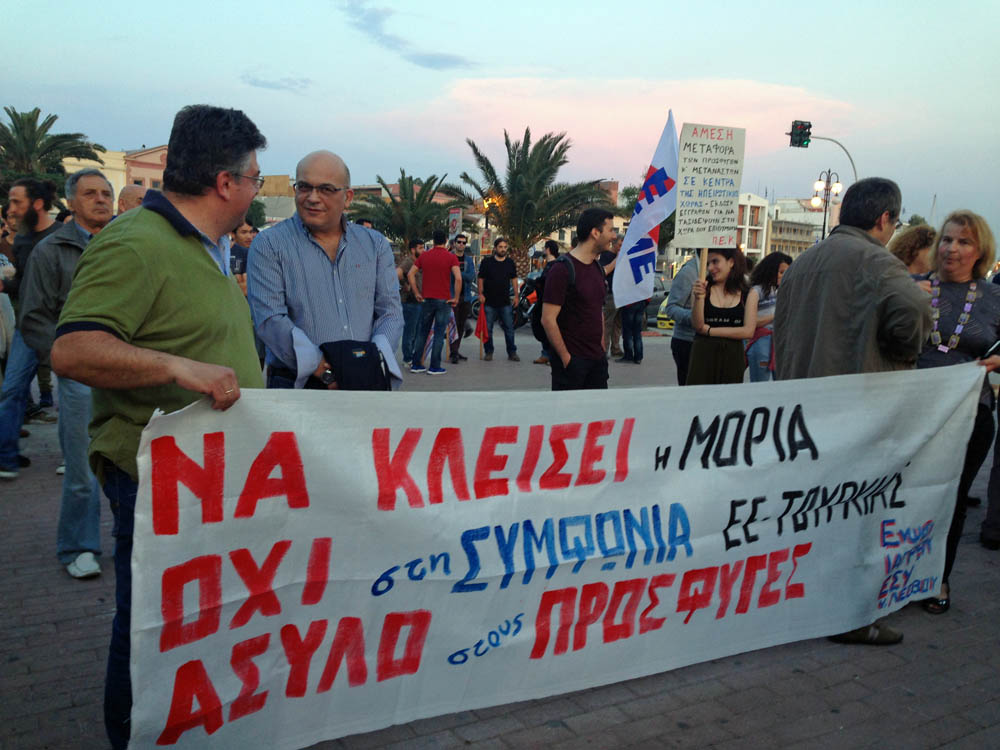 Protesters march through the streets April 26 in Mytilene, Lesbos (Provided photo)
Editor's note: This column was based on a letter from Rosemarie Milazzo, dated May 13, 2018, to her Maryknoll Community, family and friends.
Greetings from Lesbos. After some days of heavy heat we are enjoying a lovely breeze in the mornings; the temperature has dropped and the flowers and trees are rejoicing. The honeysuckle, bougainvillea and roses smile happily, and this morning I noticed some jacaranda trees in bloom. All of this is circled by the deep blue Aegean Sea.

This beauty contrasts with the camps, which are overflowing with refugees. There are still three or four boats arriving each week, with more and more refugees. It is incredible that there could be so many people still running away from hostile environments in their countries.
In the camp where I have been serving, one young man told of his trip from Iran. When his family arrived in Turkey, they had to stay in the mountains so they wouldn't be caught. He told about having to hide in a cave in the mountains in the cold and frost, without food or water.
He was traveling with his mother, who was just recovering from surgery, and a brother with special needs. Then, because there was no money, he was separated from his family to find a job in another town in Turkey. He is only 17 now, and has been here for six months.
When I was here two years ago, I met the Spanish lifeguards who had come to help save refugees arriving in tiny rafts during the night. The lifeguards would sit up all night and guard the coast, waiting for tiny lights indicating that a boat was close. Upon spotting a small light, they would jump in and swim to the raft. In fact, I spent one night with them awaiting rafts that would wash up on the shore. They saved many lives.
In 2016 the European Union and Turkey agreed to work together on the refugee crisis. The EU agreed to pay 3 billion euros to help Turkey support its refugee population. This didn't work — refugees have told of the horrible situation in Turkey. And no one knows where the money went.
After that, there were fewer boats arriving, but these same lifeguards helped refugees become more accustomed to the sea, in a project called "Reconciliation Sea." The lifeguards would bring the children and their parents into the shallow water, and have games that encouraged them to play in the water.

Somehow, this whole project became suspect, and an anti-refugee group accused the lifeguards of being smugglers. The lifeguards have been in court for two years; on May 7, we all gathered at the court house for a final hearing.
The courtyard was packed with nongovernmental organizations supporting the lifeguards; their lawyers; and the representatives of the Spanish government. We all rejoiced when the news came out: "The case is dropped."
One of the lifeguards who had been accused, whom I had worked with two years ago, was so happy at the results, he gave me a huge hug (the Spanish know how to hug) and told me that it had been two years of anxiety for him. All for aiding refugees.
Unfortunately there are still many people who do whatever they can to get in the way of refugee safety. The Pikpa Solidarity Camp, begun by Greek refugees with the help of volunteers from all over the world, is located right on the beach. Tourists complained that some of the refugees were swimming at the beach!
The hotel management claimed that tourists are not coming because of the refugees there, and joined with the government to sue the camp. They are looking for ways to make claims against Pikpa, alleging, for example, that our kitchens are not sanitary.

Earlier, on April 26, we participated in a rally planned by the Antifascist Coordination Group (or antifa) of Lesbos — begun by nonviolent Greek nationals distressed by a fascist group's activities here.
The rally began in Sappho Square, a lovely meeting area right on the sea in Mytilene, the capital of Lesbos, with a huge choir singing. This was followed by the march. Lots of people — young, old, women and men — chanted as they marched through the streets. When we returned to the square after the rally, the choir began to sing again and this time, we all joined in.
The antifa group was very active that evening and kept the group moving in an orderly way through the streets: singing, carrying signs and walking. Some of the shopkeepers were clearly opposed; they shouted at us as we walked by their shops. Others just shut their doors as we approached. But there was no violence, and all went well.
Though the refugees sense lots of opposition to their presence, there are also many who defend their right to sanctuary until they are processed and sent to a welcoming country.

I am working with women in the "conversation group" that I convened when I arrived in the camp, helping the adults with English, and getting them prepared for the interviews that they must participate in when considering relocation. One happy ending was when one woman came and told me that she had gone to the U.N. office the day before, and this was the first time she didn't need a translator! 
There was a small kindergarten in the Pikpa camp. Several camp volunteers worked with small children there. I found books that had been donated or purchased, all available for the refugees to read. I used these to help parents and other refugees to practice reading in English. Another woman told me that she was able to read to her children for the first time.
But it is from those groups that I hear stories that keep me awake at night, thinking in amazement that survival costs so much. 

This morning, I found a church where I attended a Mass packed with refugees from the camps. A bus picks them up and drops them at the church and then takes them back after Mass. They sang with such gusto, such emotion. I often wonder where that hope, that faith, that resilience comes from.

I pray that someday soon, that hope, faith and dreams will be fulfilled, and they will live in a safe place where they can continue their journey through life in peace.
[Rosemarie Milazzo is a Maryknoll Sister from Brooklyn, New York, whose parents migrated from Sicily. Most recently she has served on Christian Peacemaker Teams in the Democratic Republic of Congo, in Kurdistan, Iraq and in Lesvos, Greece.]