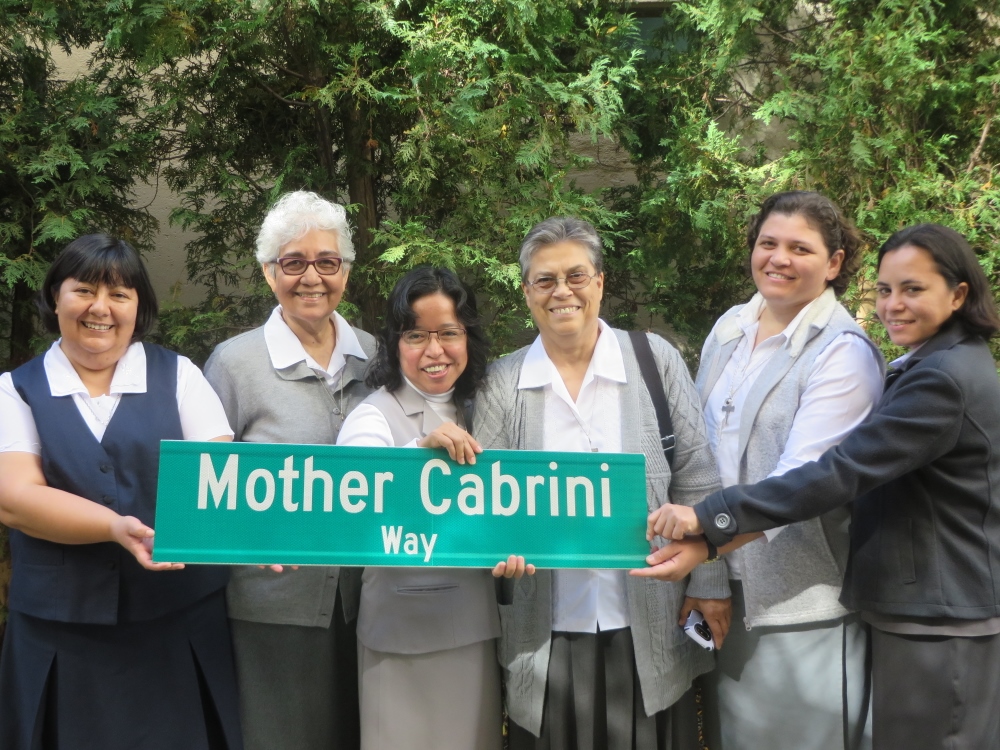 Missionary Sisters of the Sacred Heart of Jesus pose with the new street sign for Mother Cabrini. (Courtesy of Missionary Sisters of the Sacred Heart of Jesus)
Mother Cabrini is still alive and well in New York City. On Oct. 20, 2017, the corner of 19th Street and 3rd Avenue was co-named "Mother Cabrini Way" through the efforts of City Councilwoman Rosie Mendez and the approval of the City Council and Department of Transportation.
We, her Missionary Sisters of the Sacred Heart of Jesus (MSCs) are so excited; it has encouraged us to reflect again on the legacy of Mother Cabrini, her mission in the city, and how she really is a saint for our times.
She traveled to America with six companions on the ship Bourgogne, arriving in New York harbor on March 31, 1889. Her companion, Sister Umilia, described the experience:
Finally after twelve days of sickness and tribulation, we saw the beautiful Statue of Liberty at about 4 o'clock. Oh, how happy Mother Cabrini was. I could read the joy on her face. She called us together to sing the 'Ave Maris Stella.'
Francesca Cabrini came in response to Pope Leo's mandate to care for the Italian immigrants in America. I can just imagine the trepidation of these seven women, immigrants themselves, as they entered a foreign country only to find there were no preparations for their arrival. Fortunately, they had each other and an indomitable faith in their God and the mission entrusted to them.
Their experience is reflective of what many, many immigrants faced as they came to our shores. Some were welcomed, but countless others suffered the hostility and intolerance like that which the Italians encountered during Mother's time. I am very disheartened by the controversies over immigration in our country today. Our fundamental values are threatened; the very pillars of our democracy shaken.
However, as one of her daughters, I am encouraged by the stance Mother took even though it was not popular. She sowed seeds for ongoing respect and service to immigrants and others of the most vulnerable in our society. She modeled for us the ways and means to open our hearts and minds to others.
On 19th Street — now named for her — was Columbus Hospital founded to serve the needs of Italian immigrants through health care and employment opportunities. Later renamed Cabrini Medical Center, the hospital was instrumental in initiating care of HIV/AIDS patients and in offering hospice care.
Today, the seeds Mother planted still bear fruit. Cabrini Apartments on the same street provides housing to our elderly brothers and sisters. Every day Cabrini Immigrant Services in New York City and Dobbs Ferry bring the light of hope to so many. The legal services provided, the 700 families fed by our food pantry every week, and the education programs for children of immigrants, and other works are all testaments to Mother Cabrini.
The work Mother began in serving the poor and marginalized immigrants goes on. The hungry are fed, families are reunited, the vulnerable are protected. However, the true spirit of Cabrini lies in something far more intangible. As women religious working in the field of immigration at this time, we never fail to see how a little love can go a long way.
Though the faces and countries of origin have changed, we continue to walk a journey of hope and faith with those in search of a better life. It is difficult to see those we serve, especially the young people, living in fear at this time in our nation's history. Our steadfast belief in a loving God for all has kept us going in the joyful times and the hard ones.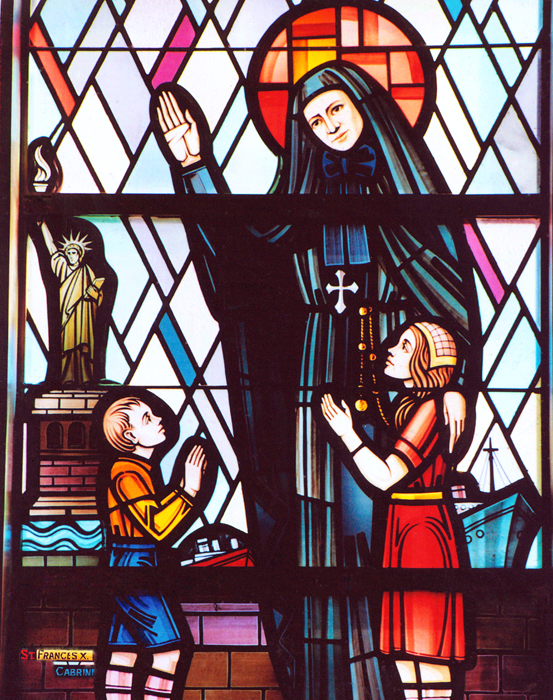 Stained glass image of Mother Cabrini (Courtesy of Missionary Sisters of the Sacred Heart of Jesus)
Mother Cabrini was an exceptional woman, not only because of the work she accomplished on Earth but because 137 years later her charism still inspires good in the world. The work is alive and vibrant in the hearts and hands of the many sisters and lay collaborators who have come to follow her example.
In a letter to our General Superior, Sister Barbara Staley on August 29, 2017, Pope Francis wrote:
Today's epoch-making population movements with the inevitable tensions they create make Mother Cabrini a very contemporary figure. … The great migrations underway today need guidance filled with love and intelligence similar to what characterizes the Cabrinian Charism.
As this street is co-named Mother Cabrini Way, I am so grateful Mother represents every person who is courageous enough to uphold respect for each human life and the principles "of liberty and justice for all."
I believe she would be very proud that New York City embraces diversity, and she would avidly support our efforts to welcome the stranger. With Emma Lazarus I picture her hailing the Statue of Liberty as the "Mother of Exiles" and echoing Lazarus' cry: "Give me your tired, your poor, your huddled masses yearning to breathe free."
[Missionary Sister of the Sacred Heart Catherine Garry is from New York City. With degrees in education and religious education, she has taught at the elementary and high school levels in New York and New Orleans. Her service in administration includes high school principal in New Orleans, Cabrini Retreat Center in Des Plaines, Illinois, and as Provincial and Provincial Councilor of her congregation. Presently she is working in the Province Office for Corporate Business and Archival Matters.]