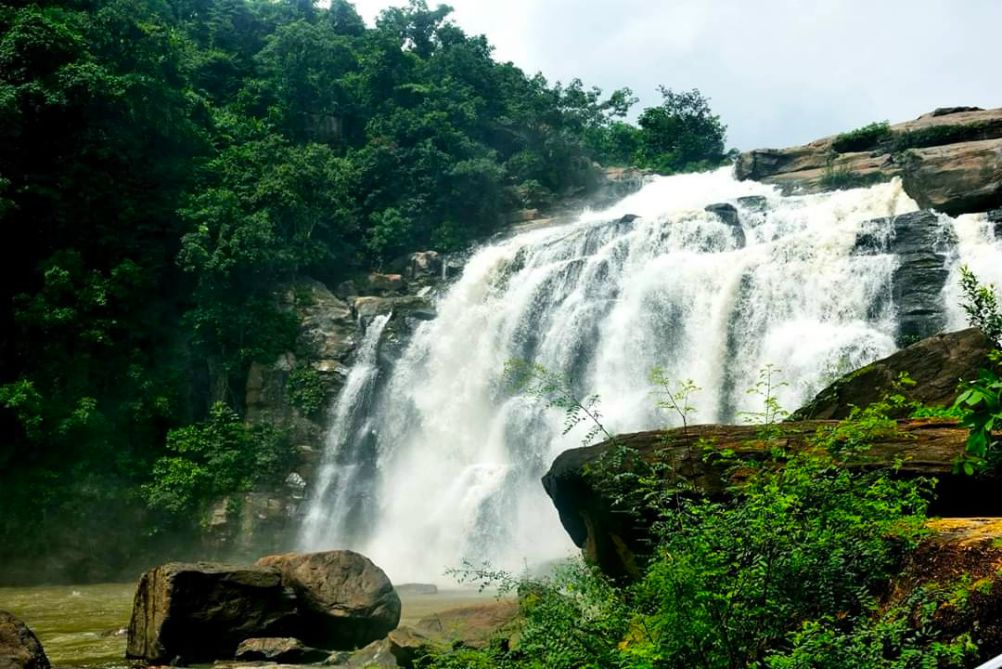 Jonha Falls, near Ranchi Jharkhand, India (Wikimedia Commons/Traveller By Soul)
Becoming a doctoral student in theology is a dream come true for me. It began a few years ago when each sister of the congregation was asked what she hoped for as a "second career." A few years later my provincial, Sr. Sarita Manavalan, asked me to go to the U.S. to study theology.
I was not too enthusiastic about going to the United States; I was afraid I might not be able to adjust since I had never been out of India. But after much prayer and discernment, I left to enroll in religious studies at Spalding University, Louisville, Kentucky, where I received a master's degree in 1996.
I was very happy and proud, for my journey to religious life had many unique hurdles. I was from an aboriginal tribe called Kurukh (also known as Oraon) and only learned to read and write in sixth grade.
My family — father Samuel, mother Francisca Toppo, and eight siblings — lived in the tribal community of Danto Khurd in Jharkhand state, a deep forest surrounded by hills and mountains. We were agriculturalists who depended on rainfall for seasonal crops. We also had some cattle and goats. I was in charge of herding the goats each morning before school and again in the evening.
Once crops were planted and harvested, villagers worked as day laborers to survive. Even though life was hard without electricity, we had lots of fun climbing trees to pick wild fruit and entertained ourselves playing traditional drums and other musical instruments for singing and dancing. Community life in the village helped us become one family, celebrating and caring for one another in good and bad times.
We were fortunate to have a government school at the Catholic mission in Hazaribagh, 40 kilometers away from our village. The three-room school (kindergarten to fifth grade) was a mud structure with a tile roof, built by the villagers and run by two village lay teachers. Usually, only one teacher was present and teaching was done in Hindi, the national language, rather than our local language of Kera Mundari.
At first, none of us could understand what was being taught. We learned by rote, repeating together whatever the teacher said. Discipline was very strict, so as one class was being taught, other students sat in silence out of fear of punishment. Not much teaching was actually done to prepare us for the annual final exams, both oral and written. We usually just copied the questions the teacher gave us and handed them in and were passed from grade to grade. I graduated from primary school in 1968.
My father, a high school graduate with a military and social work background, sent me to continue my education at St. Robert Middle School, run by the Holy Cross Sisters in Hazaribagh. None of my village classmates came, so I was very lonely. I did not know Hindi well and was ridiculed by the other students. I wanted to run away from the school, but there was no transportation to my village. I was living with my eldest brother, and he encouraged me to keep going, promising I would learn the language eventually, which I did. Finally, I passed grade seven board exams with high marks, which gave me confidence to continue my schooling.
It was in Hazaribagh that I discovered the caste system, which did not exist in my village (where we have a clan system). I came to realize here that I belonged to a group looked down upon as backward. Later, as a sister, I was fortunate to be missioned to different parts of India where I learned more about the discrimination so prevalent in our country. "Scheduled Tribes" and "Scheduled Castes" are deprived of their basic human rights and oppressed by the high castes, keeping them marginalized. To get jobs we must obtain caste, income and residential certificates; that takes many days as we are pushed from one office to another.
Our Catholic practice in our village was very simple. In our mud church, we had Mass twice a year, on Christmas and Easter, due to the distance and lack of priests. On Sundays, the catechist would ring the bell for the villagers to come to church to recite traditional prayers, pray the rosary and sing hymns. My mother had studied up to third grade, and she taught us our faith through devotional hymns — our evening prayer together. We also practiced the Marian devotion during the month of May, and at the end of the month the children would put on a cultural program. Occasionally, Jesuit scholastics came to teach the children catechism, and their presence was what first inspired me to be a sister.
In primary school, I talked to my father about becoming a religious sister (though I did not know much about it); he told me that I was too young. But I pestered him to tell the sister in charge, which he did. She gave me the same answer, encouraging me to study hard and complete high school — then I could join the sisters. After St. Robert's, I attended Mount Carmel High School  for grades eight to 11). I took my studies seriously and I did well.
At Mount Carmel, a friend told me that she was going to enter the Sisters of Charity of Nazareth. When I heard "Nazareth," something clicked in my heart, so I went with her to visit them. I was very attracted by the sisters' simplicity and hospitality.
After two years of college, I joined the sisters in Mokama in 1976. There were many challenges, but I never turned back. My father wanted so much to attend my first vow ceremony, but he died when I was in the final year of my novitiate training. He left me a beautiful letter: "My dear beloved daughter, I love you. I am very happy that you have chosen the best way of life — to be with God, so do not be discouraged but go on with your double courage." His words confirmed my vocation for life.
After my profession, I worked two years in parish pastoral ministry and then taught high school until I went to study theology in Louisville, Kentucky. Soon after I arrived in the U.S., Sr. Margaret Voglewede handed me a drivers' manual to learn how to drive. It was such a thrill when I passed the test and could drive myself to classes and libraries around the area. Adjustment to the U.S. educational system was challenging, but my sisters and the staff of the university supported me and made me feel at home.
I loved the study and writing, but it is challenging to take it up again, 20 years after my master's work. As I proceed with doctoral studies, I am excited that the topic of my dissertation is about the role of Christian Kurukh women in the church in Chotanagpur.
In January, I was privileged to attend the "Women of Wisdom and Action" colloquium in Thailand at the invitation of Jesuit Fr. Valan Antony, a professor from Vidyajyoti, Delhi. This connected me with other Asian women theologians. It felt like a homecoming to the field of theology that I am part of once again.
I am ever grateful to my God, congregation, family and friends who continue to support me in my life.
[Rekha Kerketta is a member of the Sisters of Charity of Nazareth. With an undergraduate degree in Hindustani classical music and graduate work in religious studies, she has taught Hindi and English in various schools and is a visiting professor in Feminist Theology at the Regional Theologate Jesuit Center, Arunodaya, Ranchi. Presently she is completing a doctorate degree at St. Albert's College, Ranchi, Jharkhand, about dissertation on the role of Christian Kurukh women in the church in Chotanagpur.]