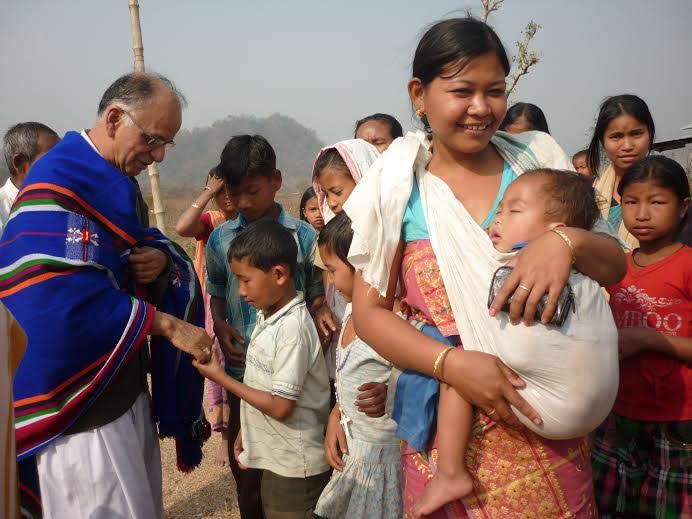 Salesian Archbishop Thomas Menamparampil with the residents of Nagrijuli village in Assam, northeastern India. (GSR photo / Lissy Maruthanakuzhy)
Guwahati, India — I still remember that morning 12 years ago when five sisters left our provincial house for missions in northeastern India. They were ready by 6 a.m. to board the train from Mumbai's main station two hours later.
What struck me was their enthusiasm. They bubbled with joy and I was baffled. Only the previous night, they had shared with us the woes of the three-day journey. Train taps would go dry, electricity would fail for hours and there were chances of robbers striking during the trip to Guwahati in Assam state, some 1,750 miles (2,800 km) northeast of Mumbai.
What made my sisters so happy, I wondered?
I found the answer a few years later when I too was sent to northeastern India. I was then working at Thiruvananthapuram, capital of the southern Indian state of Kerala. I boarded a train to Guwahati with four other sisters from different congregations. By the time we reached the third station, the luggage pile rose almost half the height of the coach. We could not move from our seats as the train was overcrowded. There was no water on the train.
But we laughed and shared our food as the train passed through the states of Tamil Nadu, Andhra Pradesh, Odisha, Jharkhand, Bihar and West Bengal to reach Guwahati, covering 2,135 miles in three days.
My assignment was at the archbishop's residence in Guwahati. However, I had several occasions to visit interior mission stations.
My first mission trip was on my third day in Guwahati. Archbishop Thomas Menamparampil, who headed the archdiocese then, told me to get ready to go to "the farthest mission station." We set out at 6 a.m.
The mud roads to villages were covered with grass and shrubs. On the way the priest in charge of the mission station joined us. We reached the village after several hours of rickety travel. We wanted to start with tea and snacks at a tribal house.
Time passed, and nothing arrived. The parish priest asked the head of the family the reason. With a smile, our host said the house had neither sugar nor sal,t and it would take an hour to reach the shop on foot.
We enjoyed our sugarless black tea and saltless chapati (Indian bread) sitting on the house's cow-dung-plastered courtyard. We moved to the village chapel where people had gathered to celebrate the bishop's visit.
We prayed the rosary walking around the village and returned to the chapel for Mass as it was getting dark.
There was no electricity in the village, so the people used vehicle batteries to light up the chapel and its surroundings.
Lacking the luxury of a change of clothes, the villagers wore soiled clothing and used cloth fans in the heat. I squatted on the floor with them and my neighbor ensured I got the better share of her fan.
Entertainment followed Mass and it was 10 p.m. when we had dinner.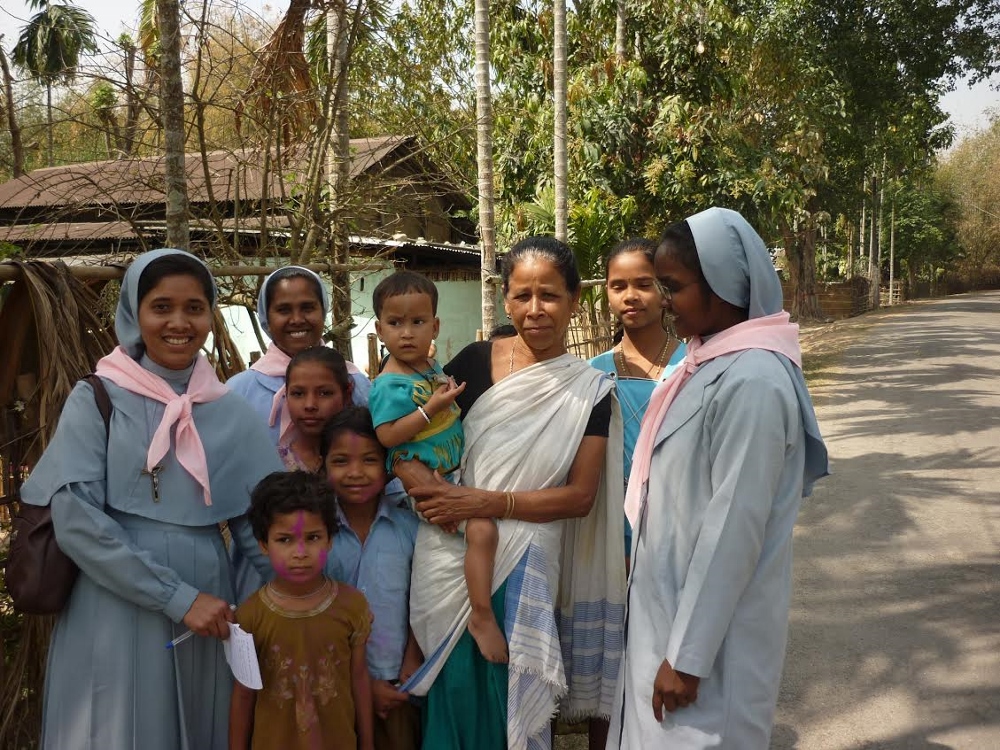 Catholic nuns in Nagrijuli village of Assam, northeastern India, as part of Mission Exposure program of the Archdiocese of Guwahati. (GSR photo / Lissy Maruthanakuzhy)
An overnight blessing
After dinner we walked about 20 minutes through rice fields using the light of a bicycle to reach a thatched house where I was to spend the night. To my surprise I found a neatly spread mattress with bed sheets and a mosquito net. Only in the morning did I realize that the women of the family had slept on the kitchen floor. The mother of the house was apologetic. "We came to know about your coming very late. So we could not prepare for your stay."
The villagers consider it a blessing if a priest or nun spends the night in their house. For me it was a blessing to sleep in that beautiful village home.
As we moved to another mission station, the parish priest described his isolated life. He got outside news only when he went into town every two months to buy provisions. "Here we are cut off from all networks," he told me as I was checking on my cellphone connection.
The priest said he would visit the village soon after morning Mass. "I would reach the village around 10 a.m. Someone would offer me a glass of sugarcane juice that would give me strength until another family offered some juice for lunch," he said.
What a commitment, I thought. I told myself that I had to grow and learn a lot to be in such a place. I was resigned to the fact that I could have a bath only when I returned to my community two days later.
Yet I felt happy. In that remote village, I finally found the reason why my sisters were so happy to visit the Assam mission.
A worldly classroom
My village visits were part of an exposure program that Guwahati archdiocese has organized for seminarians and nuns in training since 2007. Archbishop Menamparampil, who started the program, explained that the exposure would give young missionaries a taste of village life. "It would help them come out of the four walls of secured seminaries and convents and see for themselves the challenges faced by the people in the world," the Salesian prelate used to say.
On one such visit to a village, the parish priest put us up at a thatched-roofed house with bamboo walls. We slept on the floor and in the morning drew water from a common tank for our washing. I felt happy to be close to people in the lap of Mother Nature.
A sister working in the parish told me that she would spend the whole week in villages instructing people in faith and morals. She would then return to her community on weekends to recharge herself, which included a good bath. Most villages suffered water scarcity and lacked other facilities.
The family visits brought me closer to stark poverty and deprivation of those people.
If a village is more than an hour's walk, we went there by vehicles. Otherwise we walked in teams of 10: seminarians, postulants, novices, junior and professed sisters and priests. The bishop would accompany us occasionally. In the village, we would leave the parish at 10 a.m. and return by 5 p.m. for prayer and sharing of the day's experiences. It was a sort of family dynamic.
The visits helped us assess a family's spiritual and economical status. We gathered children, youth and parents in separate groups and taught them prayers and catechism. The visits also provided occasions to welcome to the church those kept away for some reason.
Most families struggled even for a meal a day. We used to give them the snacks we carried. Women and children stayed home while men went to other states to earn a living. They possessed land but could not farm it because of lack of water.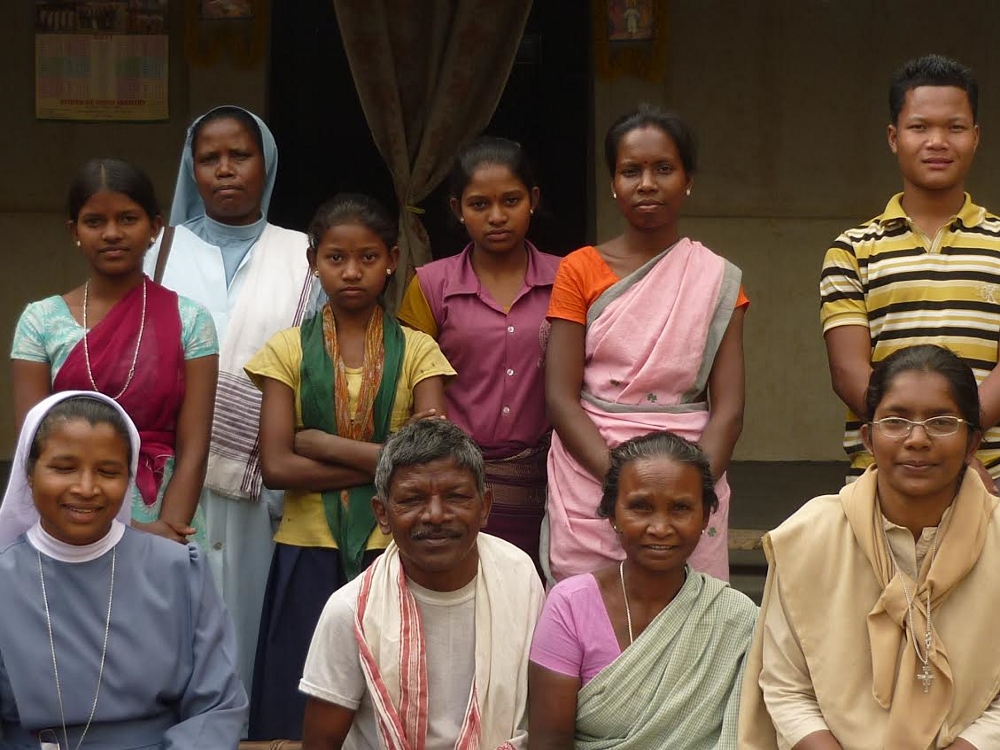 Sisters with residents of Nagrijuli village in Assam as part of their Mission Exposure program of the Archdiocese of Guwahati. (GSR photo / Lissy Maruthanakuzhy)
Called to witness
We also found sick people left at home to recover gradually with the help of shamans.
During a visit, we met a young woman, who had undergone a surgery a year earlier. Her brother, a daily wage earner, had spent over 50,000 rupees (U.S. $760 at the time) on her treatment so far. The father had left them. The mother told us they could not afford any treatment for the daughter, who was in pain as blood and water continuously oozed from her surgery wound.
We arranged for her treatment with the Missionaries of Charity, who had contact with efficient doctors in Guwahati. The woman was restored to normal health after six months of treatment.
On another occasion we met a young man in a one-room mud hut who had injured his back in a fall from a tree. His mother told us she could not take him to the hospital — a two-hour drive. We informed the parish priest, who helped treat the young man back to health.
Besides such encounters, the five-day exposure programs offered our team an opportunity to share our experiences. We came from different backgrounds — education, medical, social work, media and direct evangelization.
One sister recalled her evangelization mission in a village that had no Christians. She felt out of place at first and wondered why she was there. Soon she felt God had a purpose. God did not want her "to do" anything but be present there. She was called to witness Christ. And that is what she did.
She lived with the family the parish priest had arranged for her stay. She slept in the same room with the rest of the family and shared their food. She gathered the village children and bathed them in a nearby river. She also began slowly to speak about Jesus. And in 2011, the village celebrated 25 years of receiving Christianity.
That is the joy of a missionary — a joy that comes from welcoming inconveniences, "expecting the unexpected," as Archbishop Menamparampil would say.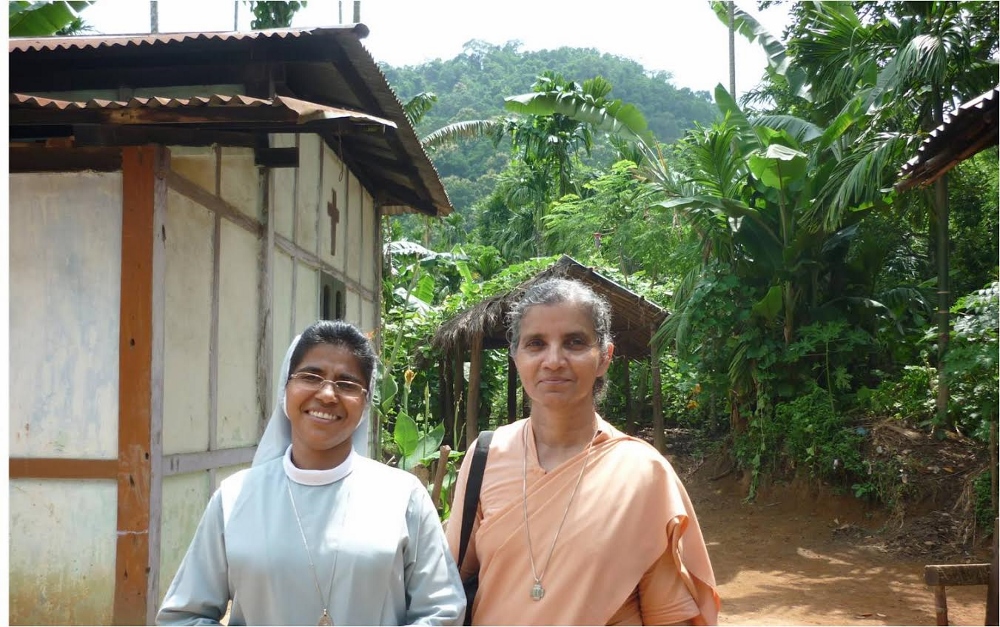 Sr. Lissy Maruthanakuzhy, right, with Sr. Alphonse of the Daughters of Divine Providence in Chayagon parish under the Archdiocese of Guwahati. (Provided photo)
[Lissy Maruthanakuzhy is a member of the worldwide Congregation of the Daughters of St. Paul in India and a correspondent for Matters India. This article is part of an ongoing collaboration between GSR and Matters India, a news portal that focuses on religious and social issues.]