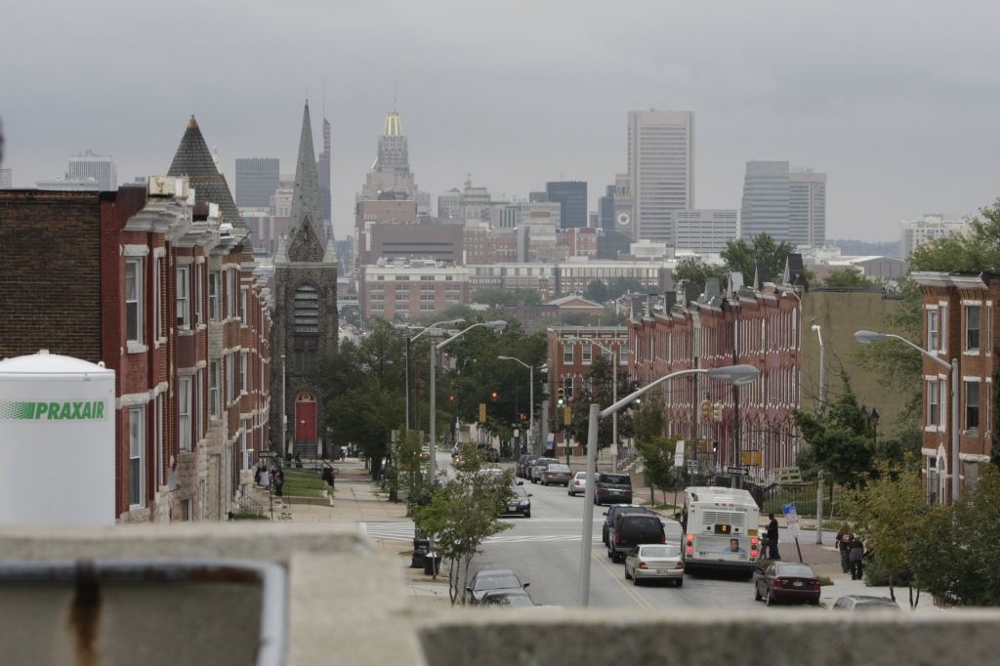 The view from Bon Secours Hospital toward downtown Baltimore, Maryland (Judith Carmichael)
Christmas was a little different this year.
Ever since I was a little girl, Christmas has been one of my least favorite holidays.
Of course, in my family we celebrated with family and friends, and we always received gifts on the feast of St. Nicholas all the way through little Christmas. But for me, it was only stuff.
As I grew up, I began to truly experience Advent. Preparing my heart for the coming of the Christ child opened my eyes to the real meaning of Christmas and helped me journey with the Holy Family to that busy night in the stable.
This past year, when I entered the Sisters of Bon Secours, I knew Christmas wouldn't look the same, but I had no idea of the gifts that I would receive.
As Christmas approached, I decided to volunteer with one of our sisters to visit our hospital on Christmas Day. Bon Secours Hospital in West Baltimore opened its doors in 1919; ever since then, it has been a constant presence in that neighborhood, meeting the needs of the people.
This Christmas, I would get to help hand out gifts!
The gifts were wrapped items that were made or purchased throughout the year — items like socks, hats, gloves or blankets, wrapped with love and ready for Christmas morning.
Christmas morning arrived and began like every other morning. We awoke, said morning prayer, and wished each other a "Merry Christmas." Then I was off to the hospital — a place I went almost every day — but that day would be unlike any other.
That day, we visited each patient, spent time with them, and gave them a reason to smile — two gifts. One gift was our presence and the other was a little something for themselves, to let each patient know that they were loved.
The difference this year was that I not only helped to bring joy to others, but I also opened my own heart and allowed myself to experience the true joy of not only hearing, but feeling, the words of Luke: "Fear not, for behold, I bring you good news of great joy that will be for all the people."
I returned home on Christmas Day just in time for dinner with the sisters, and as I looked around the table at everyone — sisters, family members and friends — I was overcome with a true sense of peace and belonging.
As little Christmas approached, I was reminded that it's the little things that make life worth living: the smile of a stranger, a random act of kindness, the glow of the Christmas lights, hearing your favorite song at just the right time, or reminiscing about fond memories in the still quiet night.
Each of our sisters truly reached out to me in a special way this holiday season, and I am proud to say that I let them in.
Since I graduated with my bachelor's degree in 2005, I have worked with clients every Christmas. I thought this year would be similar, until it actually happened — I experienced something completely different even though I was still working and celebrating with clients.
I have come to deeply appreciate making Christmas a special time for those who aren't able to celebrate Christmas in the traditional sense.
I can't wait to add more traditions next year!
[Jennifer Doyle is a candidate with the Sisters of Bon Secours USA; she entered that congregation on June 18, 2017. Originally from Dunmore, Pennsylvania, she currently lives in Maryland. She has a master's degree in social work, and her ministry is with Bon Secours Community Works, working primarily with families caught in poverty in inner city Baltimore. You can visit her on Facebook.]