GSR in the Classroom can be used in many settings, including large groups, self-guided study, home-based instruction and online learning.
Getting started
Each resource set includes a lesson and an instructor's guide.
Begin by clicking on a topic (e.g. Migration) on the homepage.
Select a lesson within that topic (e.g. Seeking Refuge in Jordan).
A link to the instructor's guide is below the lesson title. Teachers should click that link. They'll be asked for their name, email address and organization name. The instructor guides also include a link to the lesson at the bottom (look for the image and title of the lesson) and an approximate reading time for the lesson.
Links to PDFs of the lesson and guide are found at the top of each resource. If students can't access lessons online, consider printing PDFs for them [tip: click on "grayscale" and other options to conserve toner and paper].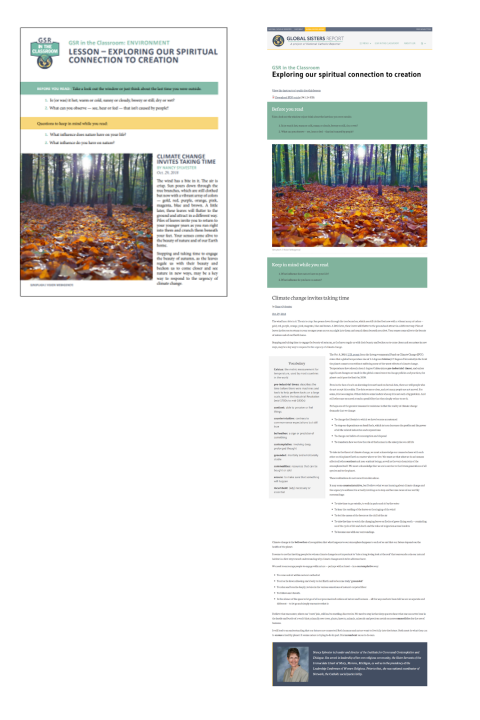 Left, a sample page from a lesson plan PDF. Right, a partial screenshot of a lesson plan webpage.
Instructor's guide
You can assign students to complete a lesson – alone or with a partner[s] – in a self-guided setting. However, the instructor's guide can spark a deeper experience. Each guide includes:
Background and Focus elements: Resources address diverse themes comprising Catholic social teaching and spirituality. Each guide begins with background context, followed by a focus statement connecting more directly to the lesson's theme. This content will affirm or stretch the teacher's understanding. Teachers can paraphrase these elements when introducing the lesson.
Activity: An interactive exercise focuses learners and animates the lesson's theme. Activities are quick and easy, requiring few or no supplies.
Discussion: Open-ended discussion questions connect the activity to deeper learning discovered in the student lesson. Questions avoid simple or yes-no answers. Suggested answers are not provided. Teachers should be ready to affirm or challenge students' responses.
Prayer: A simple prayer is offered. Teachers can either read it to the group or share its text so that all can pray together. This prayer is distinct from the lesson prayer; teachers may use either in the group setting.
Student lesson
Lessons are built around articles or columns from the GSR website. Articles usually focus on current events in which sisters are engaged. Columns often explore a sister's spirituality. Lessons connect these faith stories with the learners' lives, encouraging them to pray and act. Each lesson includes:
Preparatory features: "Before you read" and "Keep in mind while you read" provide insights and questions to get students thinking, alone or with a partner, about the story they'll explore.
Vocabulary: Words that might be unfamiliar appear in bold and are defined in a box near the headline.
After you read: Questions unpack the learner's thoughts while they're still fresh. These can be explored alone or with a partner.
Scripture spotlight: A pertinent Bible passage is offered, along with reflection questions connecting its message to the story's theme.
The church's call: Insights from several sources – including the Catechism of the Catholic Church, Catholic social teaching and papal statements – connect the story to the church's mission. More reflection questions are offered.
Synergy with sisters: Students discover more about a sister or congregation featured in the article. They are encouraged to engage in the sisters' mission.
Act: GSR in the Classroom aims to inspire learners so that the work of sisters will matter in their lives. Action options bring learning alive. These include deeper exploration within the classroom, service outside the classroom or advocacy regarding the root causes of social problems.
Pray: Students discover words to voice the yearnings in their hearts.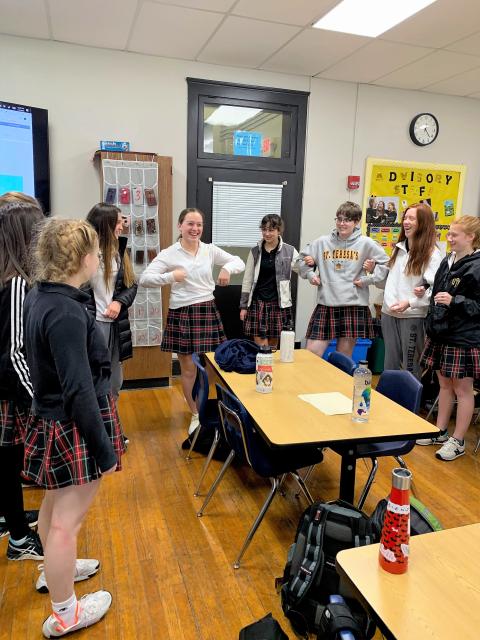 Students at St. Teresa's Academy in Kansas City, Missouri, enjoy a focusing activity from a GSRITC lesson. (Jennifer Greene)
Other features
Lessons include:
Hyperlinks to other resources.
A link to the article in its entirety. Click the date beneath the article's headline.
A link to other stories by the author. Click the author's byline.
Final notes
GSR in the Classroom is a work in progress. We strive to respond to our users. Here are responses to frequently asked questions:
GSR in the Classroom lesson plans are based upon articles of varying lengths. Additionally, some reflection questions within the elements of each lesson will require more time than others. Instructors should review each lesson thoroughly and advise students to focus on particular questions if classroom time is limited.
All resources are free.
Lessons don't include quizzes or other student assessments.
Lessons supplement your classroom content, supporting themes within your comprehensive curriculum.
Resources are updated frequently. Return often to see what's new.
We hope to offer resources in languages other than English.
If you have questions, suggestions for lessons or feedback about your experience, please contact us at education@globalsistersreport.org.
Catholic sisters bring faith to life in so many ways! Give your students an overview of who sisters are and what they do with this special GSR in the Classroom video.