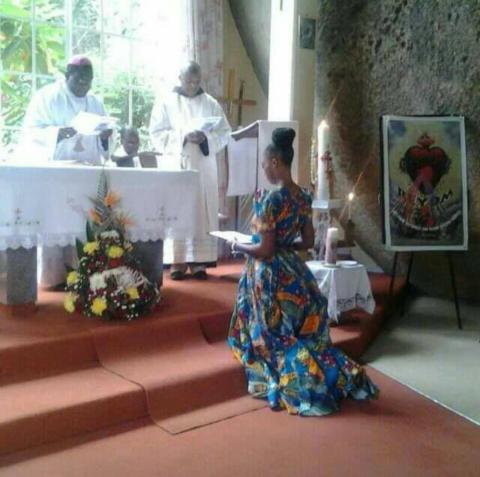 (Courtesy of Hartmann House, St. George's College)
Date of Death
October 22, 2017
Sr. Plaxedes Kamundiya, 49, was killed on October 22, 2017, when she was visiting other sisters at the Mother of Peace Community in Mutoko (Mashonaland East province), Zimbabwe.
Her visit was motivated by charity, as Kamundiya intended to return and bring donations to the orphans who were under the center's care. Before she left, she decided to make a pilgrimage and pray at The Glorious Cross of Life, a secluded shrine located in Mutemwa Mountain about 80 meters from the Mother of Peace orphanage. That was the last time her fellow sisters saw her alive. On her way to the shrine, Kamundiya was brutally murdered and her body dumped in Mutemwa Dam, at foot of the mountain.
Officials revealed in their investigations that Kamundiya was accosted by then 20-year-old Enock Potani, who was found loitering in the same location the nun had trekked to in her pilgrimage. Authorities found in Potani's possession a sack where he had stashed Kamundiya's blood-stained church regalia along with her shoes and hairband. It is believed that Potani raped and killed the religious sister before dumping her body in the Mutemwa Dam.
Kamundiya had aspired to serve her community as a nun since she was 14, a goal she achieved when she said her vows in 1996. Before her death, Kamundiya was a teacher at Hartmann House, an official at St. George's College in Harare, and a music composer with the Harare Composers Association.
The court ruled that Kamundiya's killer was mentally unstable and instructed him to be rehabilitated. The decision infuriated the nation, including then-President Mugabe, who even demanded the reintroduction of the death penalty.
References: http://www.fides.org/en/news/63127-AFRICA_ZIMBABWE_A_nun_killed_the_murderer_arrested_a_young_man_with_mental_disorders
https://www.sundaynews.co.zw/the-murder-of-sister-plaxedes-kamundiya-and-the-process-that-let-her-killer-free/
https://www.facebook.com/events/hartmann-house/requiem-mass-for-sr-plaxedes-ruvadiki-kamundiya/375208792909656/