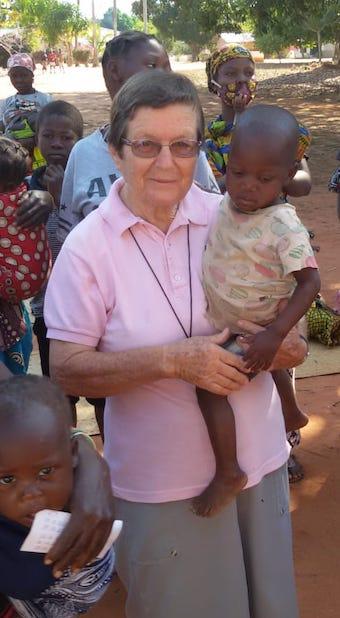 (Courtesy of Sr. Gabriella Bottani)
Date of Death
September 6, 2022
Born in 1939, Sr. Maria De Coppi felt called to be a missionary in Africa, and joined the Comboni Sisters at 18 years old. In 1963, she went to Africa for the first time. She was committed to doing pastoral work, the formation of Christian communities, said her niece, Sr. Gabriela Bottani, also a Comboni sister and former executive director of the anti-human trafficking network Talitha Kum, in an interview about her aunt. "She was very close with the poorest; staying with the people and listening to the people," Bottani said, noting that her aunt learned the local language in addition to Portuguese.
She experienced the war for independence in Mozambique and the effects of a civil war as well as exploitation of parts of the country for its natural resources. "She suffered in other difficult situations and dangers to her life. She was provincial superior when the war was very hard and she never stopped leading the community," Bottani said. Her aunt once suffered an attack when traveling by car when rebels began to shoot. A man who assisted her was shot and she lost consciousness. She recovered and returned to the community. "She witnessed the Gospel in a very dangerous region but she always returned there," Bottani said. "That was her place, her people, she belonged to them and they belonged to her."
She was shot and killed Sept. 6, 2022, by insurgents believed to hail from the extremist Islamist group Ahlu-Sunna Waljama'a (ASWJ). The terrorists raided and torched the Comboni Mission church, a convent, and a hospital at Chipene Village in Nampula Province, Mozambique's Nacala Diocese where she was stationed. She was 83.
Bottani was in Rome and received a voicemail from her aunt, saying the situation was getting worse and the rebels were coming closer to the mission, and that only the missionaries remained. They then spoke via WhatsApp and Bottani asked her aunt when she was going to leave. "We will see," was the reply. During the call, Bottani heard shots fired and later received confirmation that her aunt died on the first shot.
She is buried in Carapira, Mozambique. She was eulogized Sept. 7 in a signed statement by the Southern African Catholic Bishops Conference. Bishop Sithembele Sipuka highlighted her service to the poor and condemned the destruction of the mission's properties. De Coppi, he said, "joins many other innocent lives that have been brutally terminated for greed and intolerance of freedom of belief" and that she "died a martyr's death because she has not abandoned the poor even in such difficult times."
References: https://www.aciafrica.org/news/6628/bishops-in-southern-africa-condole-with-mozambican-church-following-murder-of-comboni-nun